9 Clever Storage Tricks from the 2016 Builders and Kitchen & Bath Show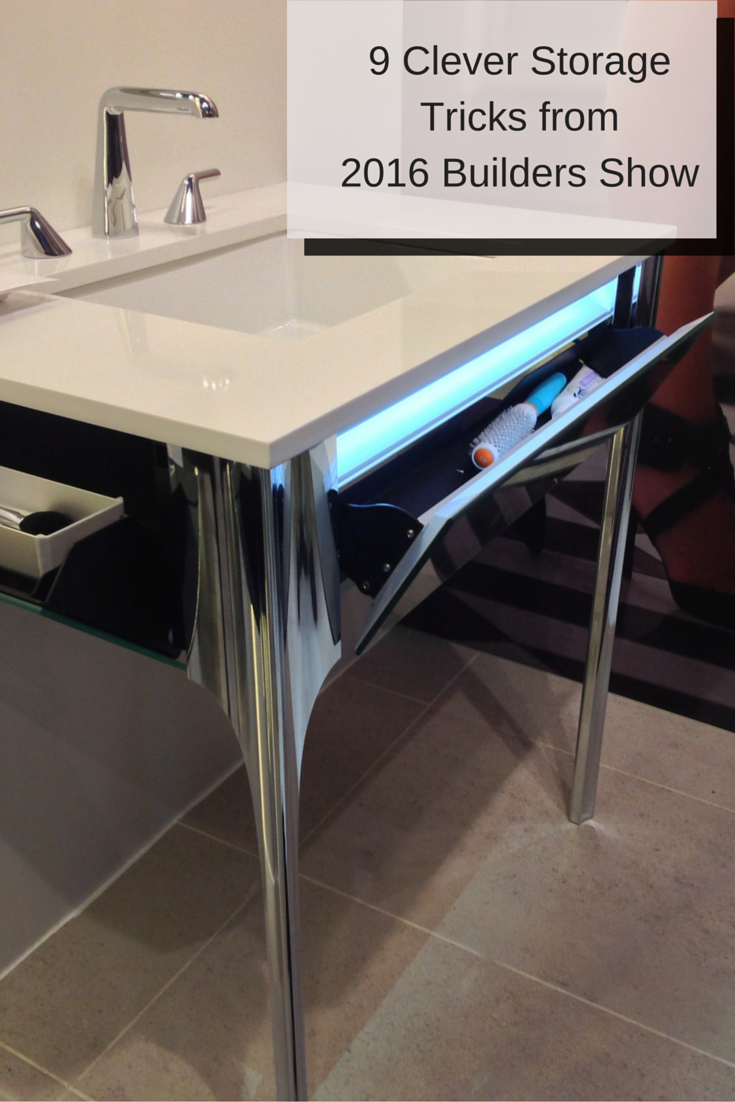 The trend is clear – we are living "smaller" – whether by design (the tiny home movement) or by necessity (access to money is still hampering home sizes). We are no longer living in the explosion of newly built "McMansions" we saw in the mid 1990's. Given that many home, apartment or condo sizes are now trending down – the need to effectively reclaim or repurpose space is critical.
Fortunately many building products manufacturers (including those supplying lighting, vanities, hardware, ironing boards, kitchen storage and home organization products) are designing products to fill your need and desire for more thoughtful storage solutions. I want to take you on a journey to see 9 clever storage tricks I thought were hot (and a bit magical) from the 2016 Kitchen and Bath Industry Show (KBIS) and the International Builders Show (IBS).
Storage Trick #1 – Get rid of your "Bermuda Triangle" corners
Walk in closets and kitchen cabinets are famous for having "dead spots" in corners where it seems our clothing and cans go to never be seen again. For the closets I saw a curved continuous rod from ClosetMaid which won't bury your garments in the corners.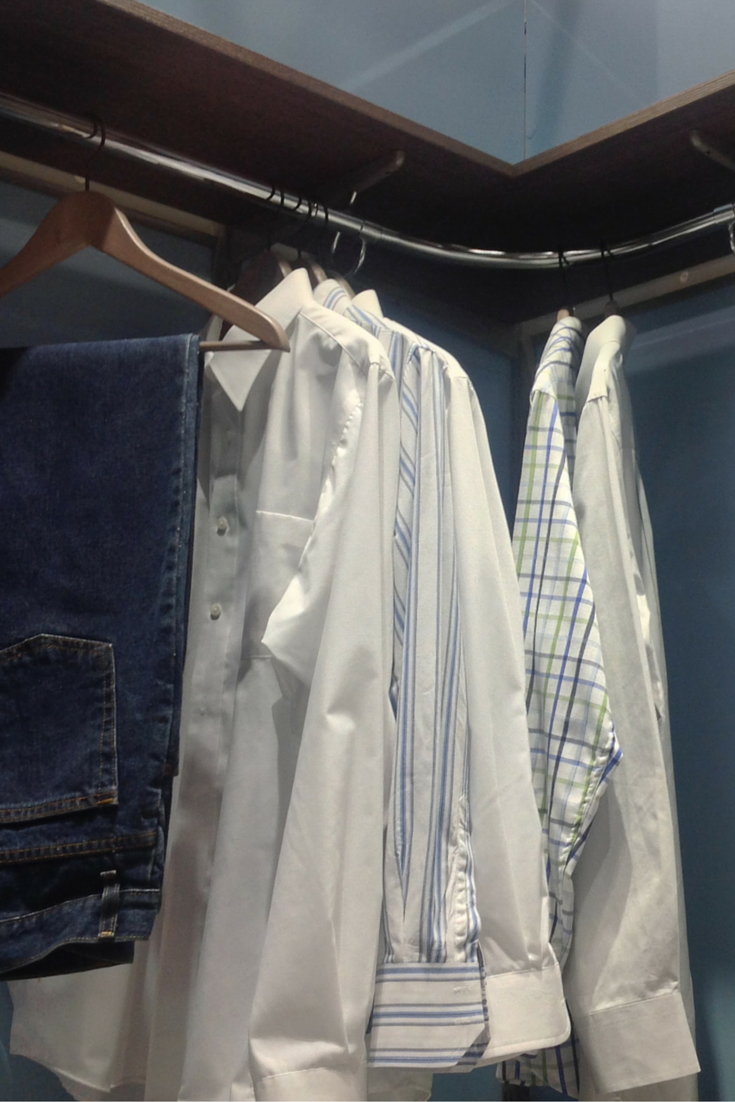 In the kitchen an inventive flex corner unit system from Vauth-Sagel has a series of baskets come out from the corners to provide full access to all of your stored items.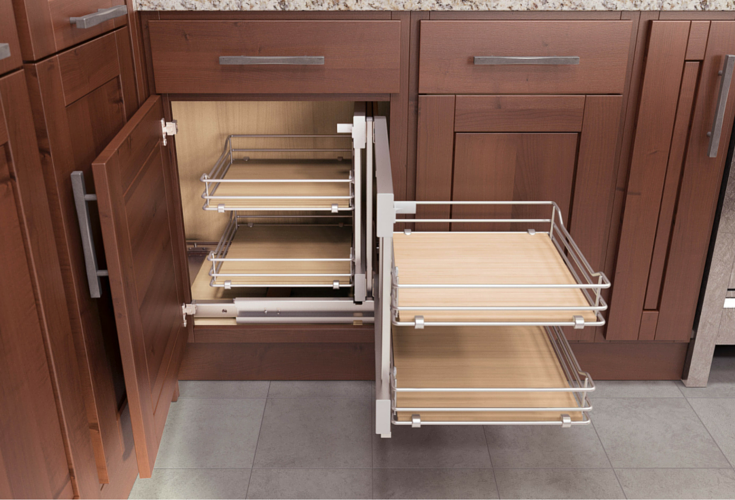 Storage Trick #2 – Small bathroom pedestal sinks with hidden compartments
Wasn't it always great as a kid to find hidden compartments in your toys? Well – hidden compartments are not only for toys – they can be welcomed by "grown ups" – especially those who have small bathrooms. Check out this inventive pedestal sink by Robern .The fold down (tip out drawer) hidden shelving in their "Balleto" line has places for brushes, makeup, toothpaste and even built in lighting to help those who don't have the best vision or who lack natural lighting in their bathroom. This luxury minimalist design will work well in a transitional or contemporary design.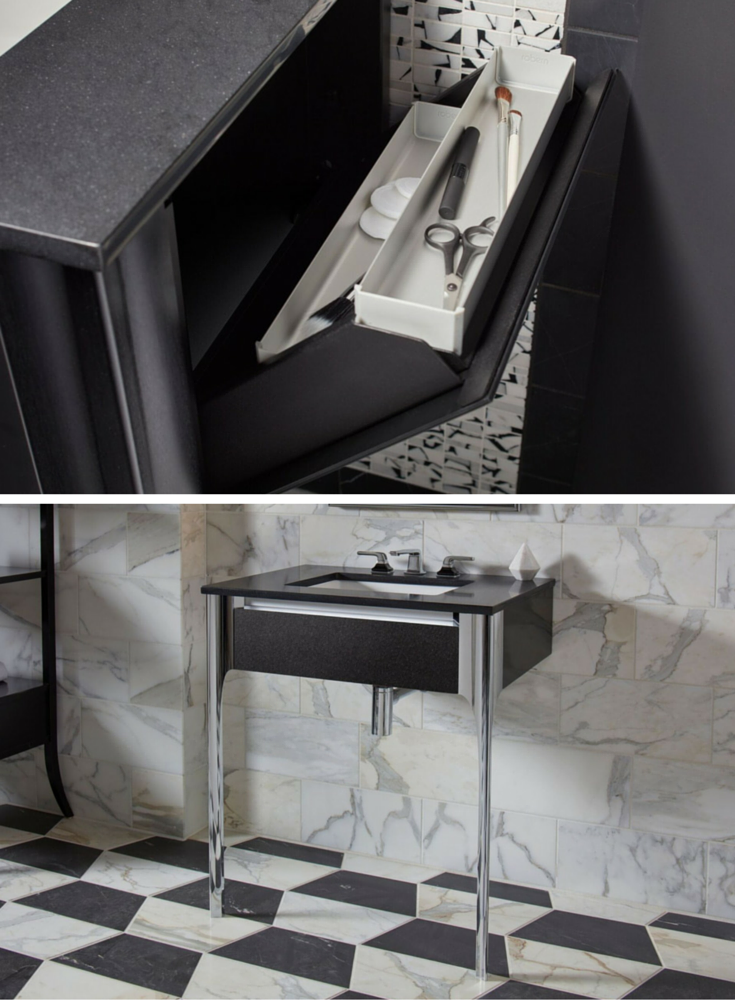 Storage Trick #3 – A minimalist kitchen special – get those "K cups" off the counter
My wife (who is a classic minimalist) would love this idea from Rev-A-Shelf. There are 2 tray levels within this kitchen cabinet drawer which provide convenient K-cup storage (to me it seems like "Keurig" like products are taking over the world – now there is a storage solution to neatly tuck these cups away for quick access while de-cluttering your counters).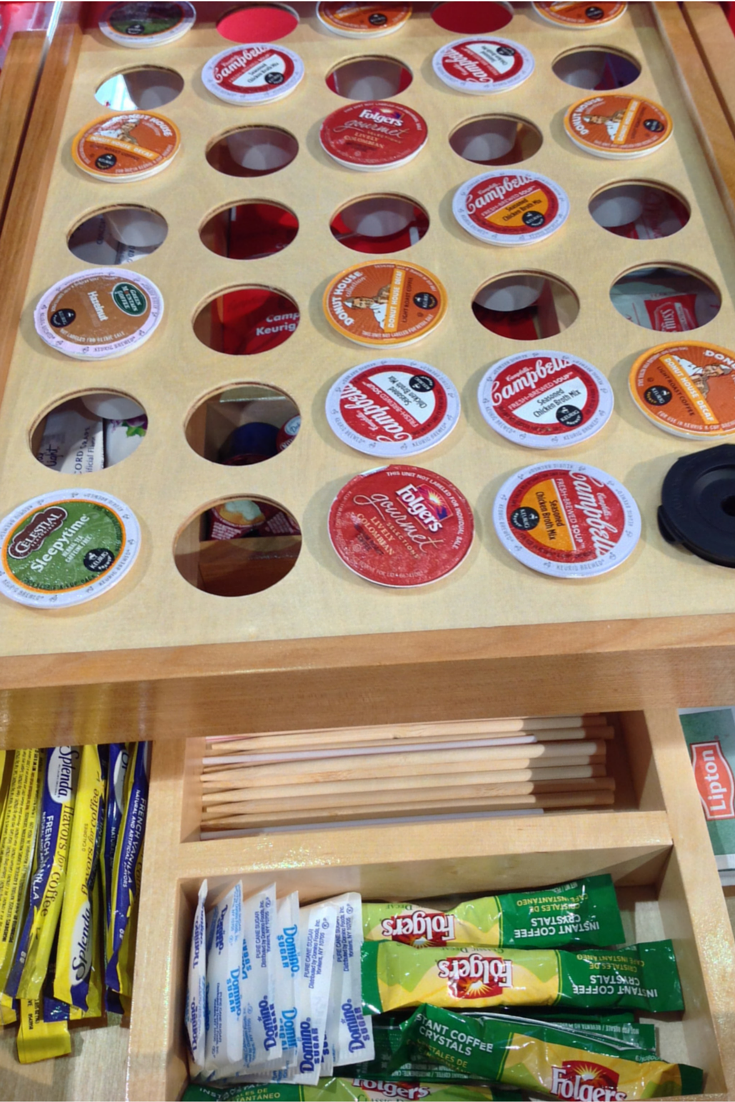 Storage Trick #4 – Hidden charging

If you hate seeing the endless cords and devises hanging out on your counters I'm sure you're not alone. With the "Docking Drawer" you can charge your cell phones and IPads (or even power your blow drier) all from the confines of a hidden cabinet drawer.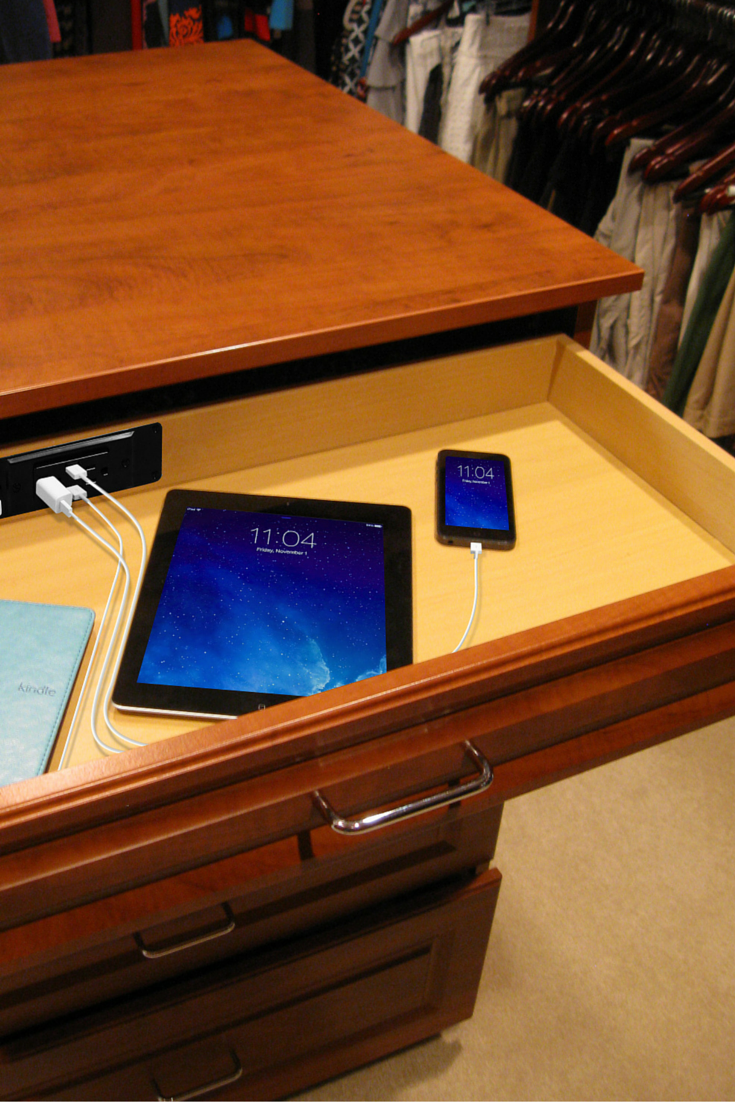 Storage Trick #5 – A get ready quick scheme
You're rushing around in the morning. You need to press a pair of pants or a blouse and don't want to eat up time high-tailing down to the laundry room to set up the ironing board. Check out this ironing board from Iron Away which can fold down and swivel out from your walk in closet cabinetry. It doesn't take any extra space and is super convenient.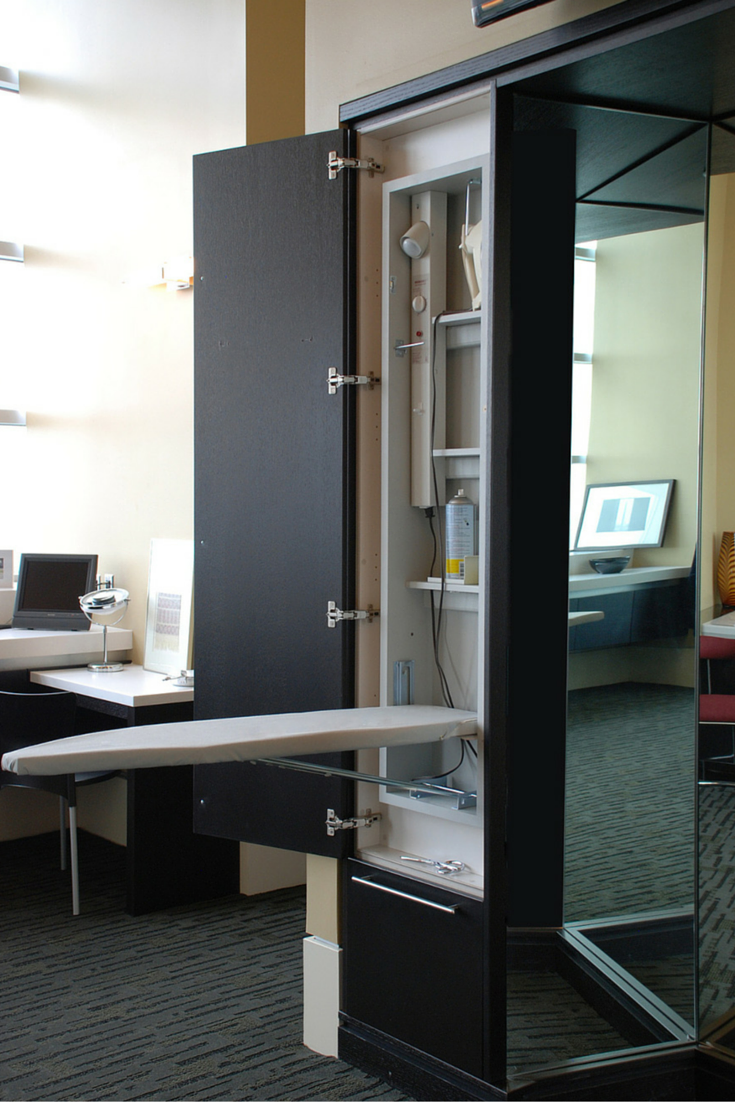 Storage Trick #6 – Let your colors come to light – illuminated closet rods
I have to confess I am color-blind like a lot of guys – telling blacks vs. blues are my downfall. The LED illuminated closet rod can help someone like me pick out matching colors. In addition the extra lighting will help because most closets are just begging for more illumination.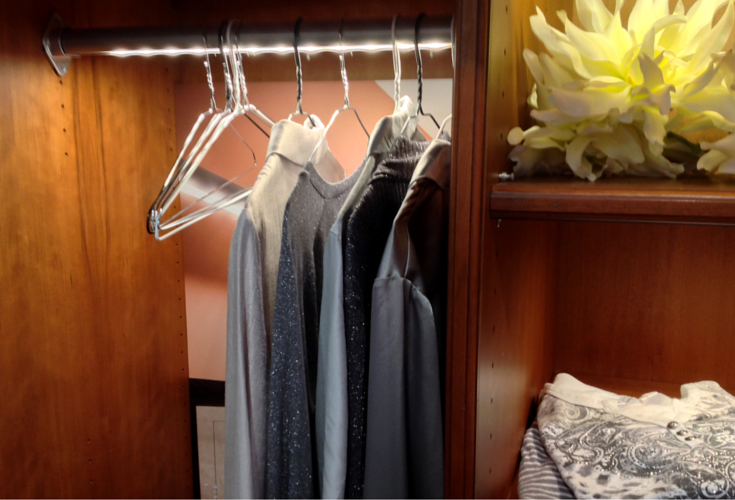 Storage Trick #7 – As they'd say on the Price is Right, "Bring it on down!"
Whether you're vertically challenged (a bit shorter than you wish you were) or you move through life in a seated position (i.e. a wheelchair) there is no reason the top shelf of your closet should be off limits. This handy pull down shelf from Hafele will make upper closet rods magically accessible to you.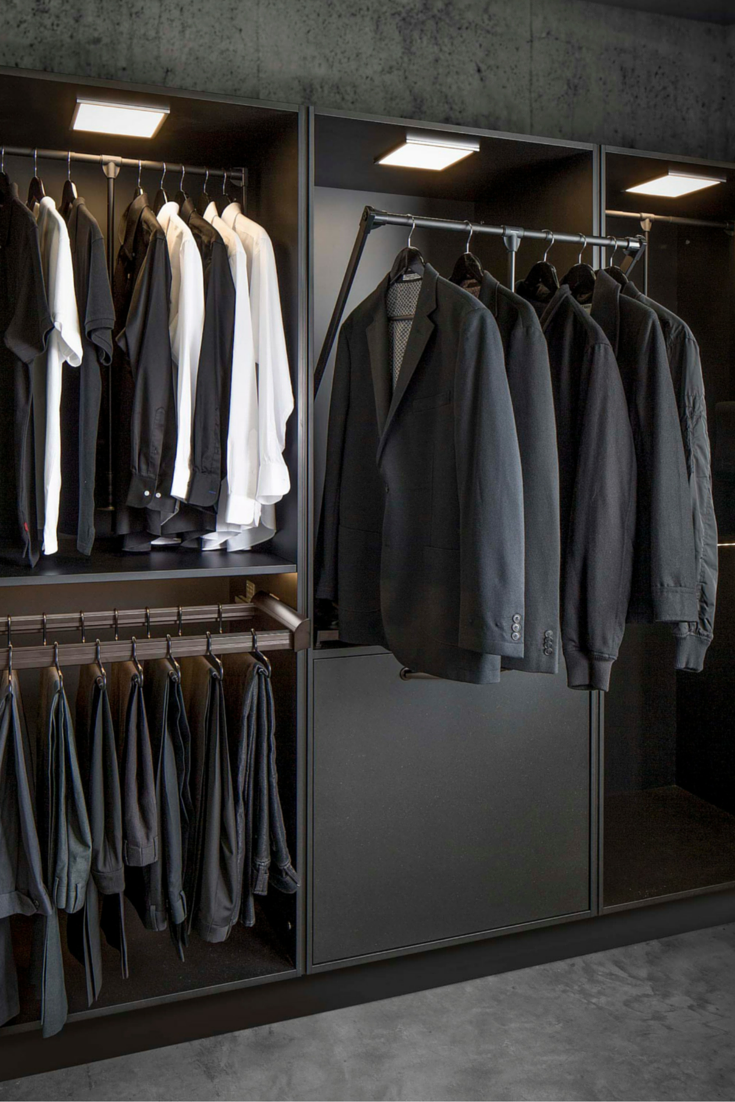 Storage Trick #8 – Organize "in the box" 
You're jewelry drawer or box may not mesh with your specific pieces because the interior slots are pre-determined. This system from Hafele lets you define your own jewelry box spaces to fit the size and number of your necklaces, chains, sunglasses and rings.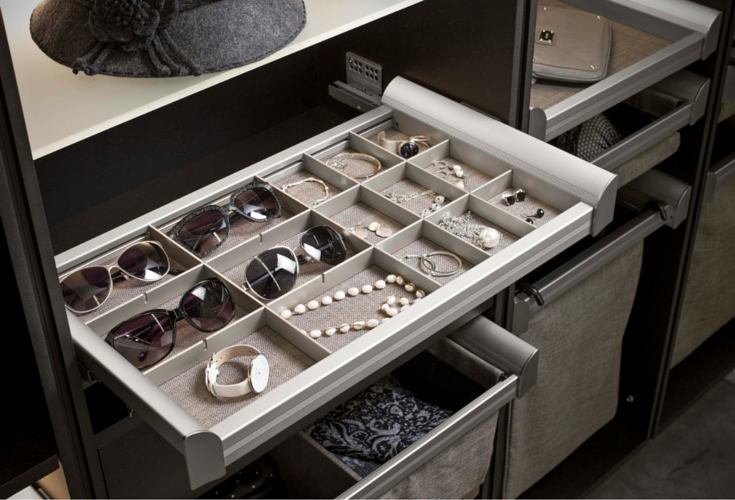 Storage Trick #9 – Stop giving your boots the boot 
Boots are hot right now. Multiple pairs of tall boots are becoming an essential element in a contemporary woman's closet. The challenge is to find a place to put them which doesn't force you to have to bend over and rummage around the closet floor to play "in search of." This multiple height shoe rack from Hafele gives your boots the respect they deserve for today's fashion forward woman and the shelves pull out for easy access.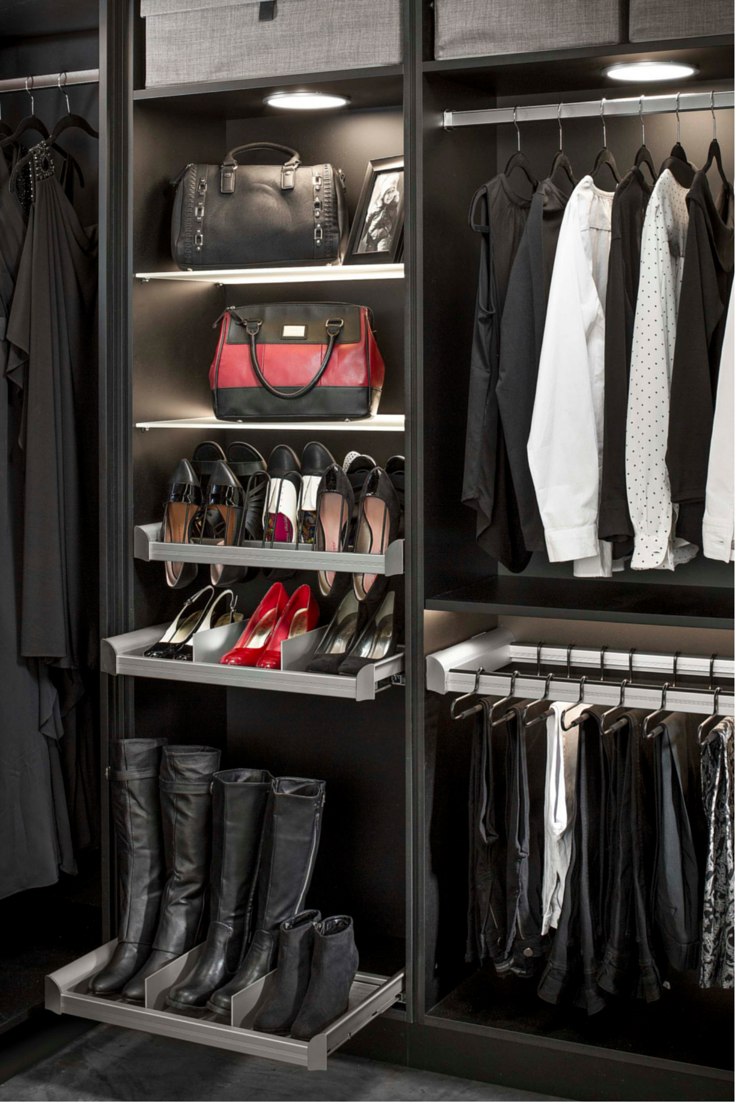 Conclusion
Which of these 9 storage tricks would you like to use in your home right now? Please comment or call the numbers below for more information on storage products or help with a kitchen or bathroom remodeling project.
###
Call Innovate Home Org at 614-545-6888 for a Columbus organization project or Cleveland Design and Remodeling for a Cleveland Kitchen Remodel at 216-658-1270.
Follow the Author on Twitter @Mike_Foti or his company @InnovateBuild.
---
Mike Foti
President of Innovate Building Solutions a nationwide supplier and regional (Cleveland and Columbus) remodeling contractors. Some of our product lines include glass counters, floors, backsplashes, glass blocks and grout free shower and tub wall panels
---