A small bathroom becomes big, bright and beautiful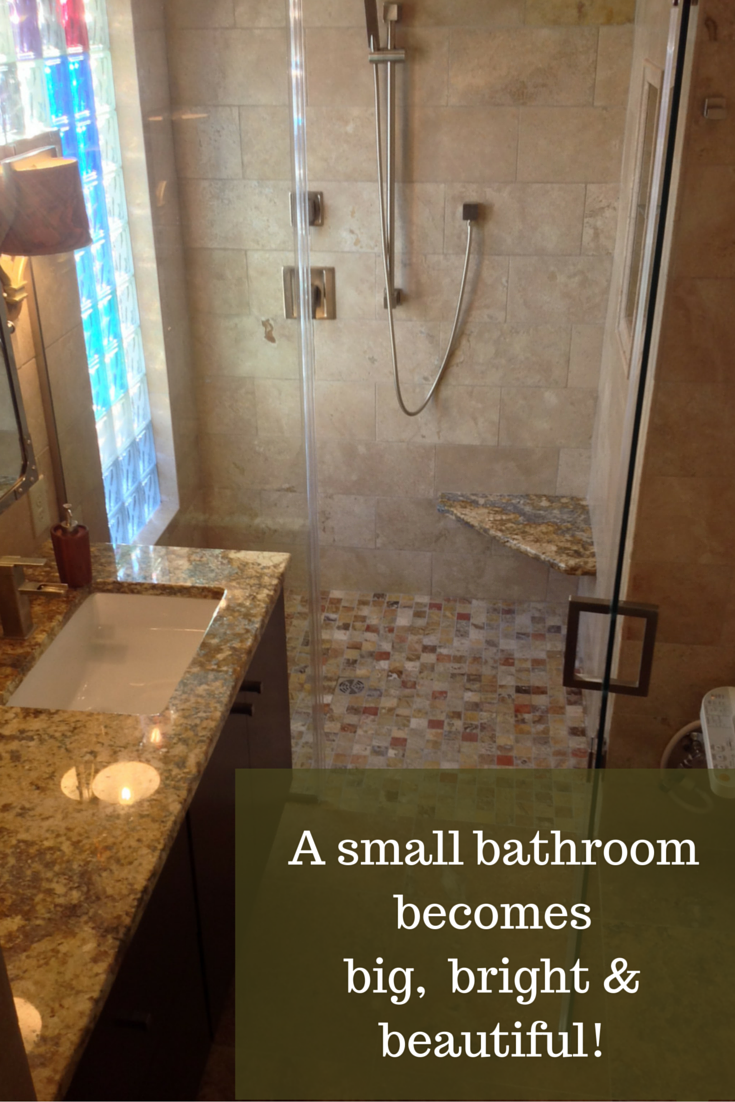 It's easy to have a bathroom which lives big, bright and beautiful when you have tons of space. The question becomes how can you design a small bathroom to create this same sense of beauty, space and function? This was the challenge facing Don Laufersweiler (of Columbus Ohio) when he decided to remodel and convert his poorly functioning existing "Jack and Jill" bathroom into a comfortable luxury master bath.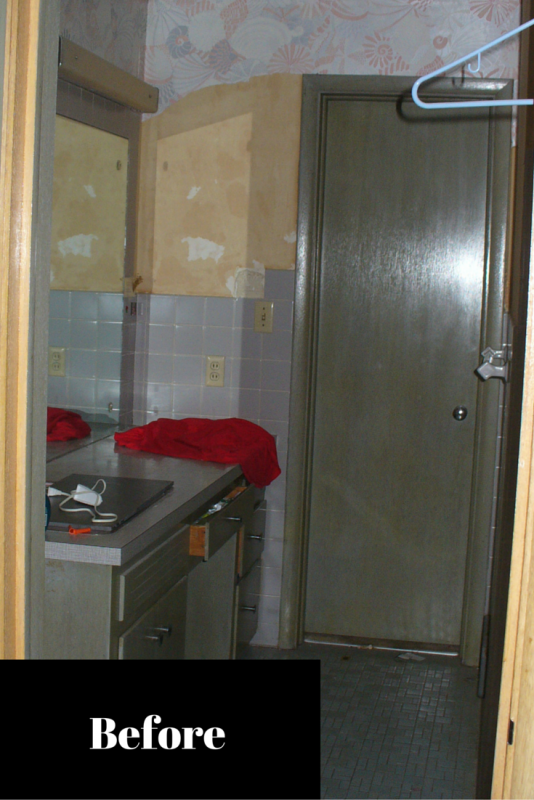 As Don said to me, "My goal is to leave this house feet first – and I needed to design a bathroom I would love and would work for me for years to come." Let's see how Don (in conjunction with his custom craftsman and contractor Al Barnes) were able to design and build a master bathroom which lives big, shines bright and offers distinctive beauty – all in a 5' x 8' space.
Living big in a small bathroom
If there's one thing I've learned in my years in the remodeling biz is if you think like everyone else you'll get a bathroom with the same limitations everyone else has. The key (in my humble opinion) for a small bathroom is to embrace many product and design concepts popular in Europe and Asia where space is more constrained than in our U.S. bathrooms. Let's look at 3 design tips Don borrowed from our overseas neighbors.
Design tip #1 – Eliminate shower barriers
If you want a small bathroom to live big, stop chopping up your bathroom into smaller "cubicles" (i.e. enclosures). Eliminate the shower curb (the step over barrier to entry) from the floor to the shower. This makes the bathroom accessible to all which can be used by friends and family of all abilities. You also won't have to worry about tripping over the curb when you get in and out of the shower.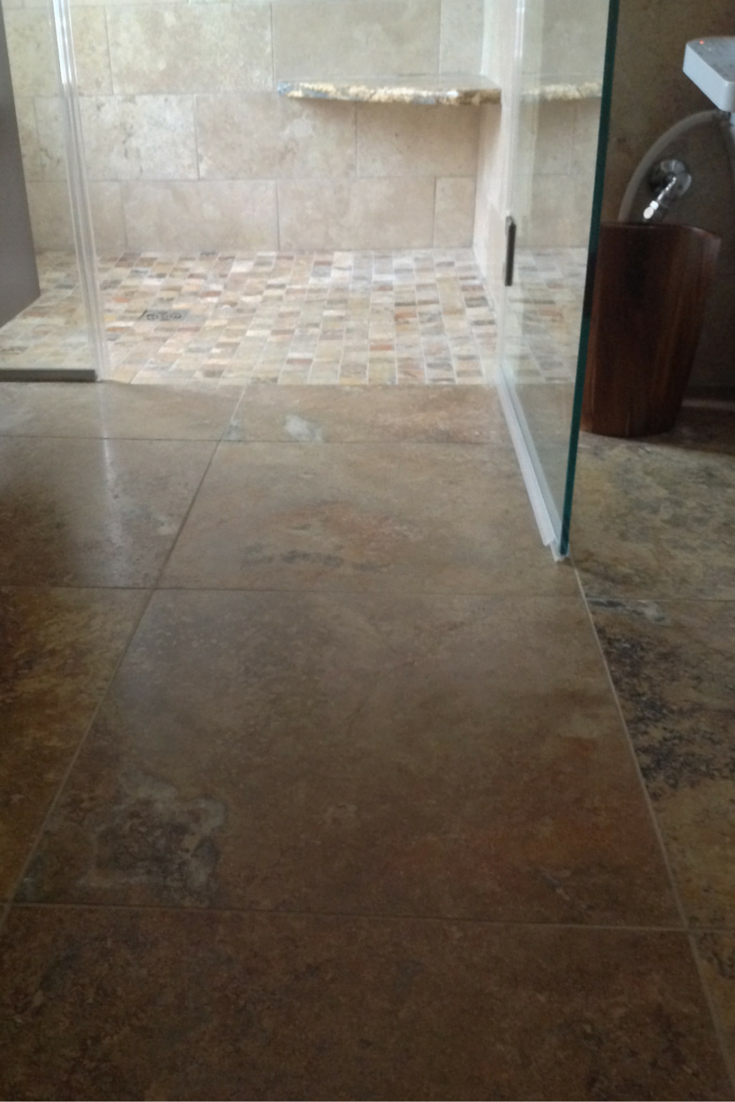 Design tip #2 – Choose compact multi-functioning bathroom products
When you're working with a small space it's critical to get the max out of every square inch. Don liked the idea of a bidet but his 5' x 8' bathroom certainly would not fit both a toilet and a bidet. This Toto wall-hung "washlet" is a combined toilet and bidet. Since this unit is tankless it takes less room than a standard toilet. Don loves the wall mounted design which eliminates the nasty job of having to clean the caulking around the bottom of a toilet which normally sits on the floor.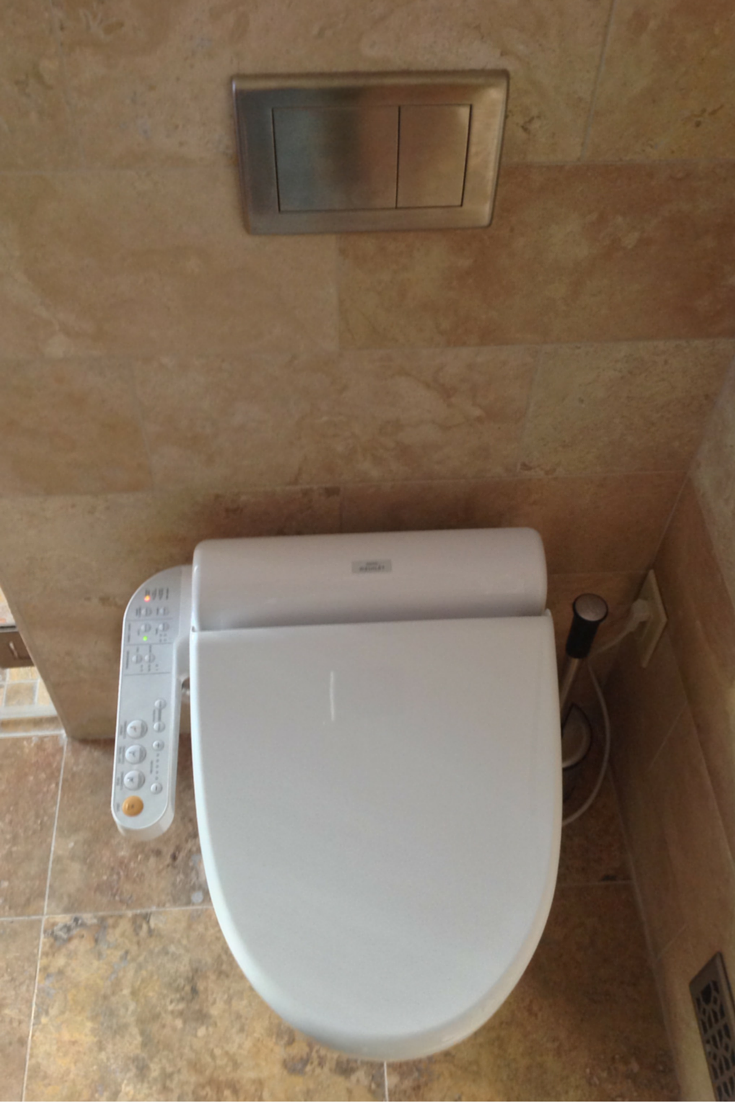 Design tip #3 – Enjoy an ergonomically thoughtful cabinet design
Getting – and staying organized in a home can be a pain. Trying to find what is in the back of bathroom vanities can be a back-breaking and frustrating process (I know how dark and messy my bath vanity cabinets are the further you reach into the back). Don got rid of this challenge by using all slide out drawers – improving his organization and making it simple to find stuff in the back.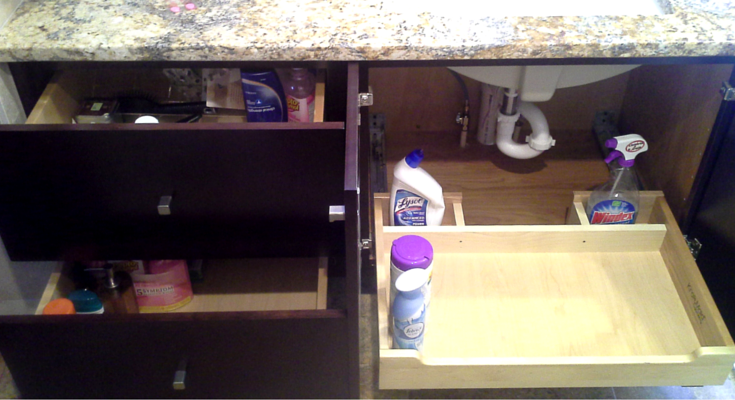 Shining bright –light-filled and a small bathroom are not mutually exclusive
Don's small bathroom before the remodel not only lived small but it was also dark with just one small 18" x 24" window. Since he is a light lover Don not only wanted to add natural light – but also a fresh infusion of color. When you see Don's bathroom he made both an obvious (and also a not so obvious) material selections to add brightness and color to his master bathroom.
An obvious light transmitting choice – a colored glass block window wall
You cannot enter this bathroom without being awestruck by the colored glass block wall stretching from the vanity to the glass shower. Don (along with designer Lillie Burton of Innovate Building Solutions and Columbus Glass Block) worked on the color palette of this window/wall. He chose the reddish colors over the vanity to capture the earthiness of the Rockies (a favorite vacation destination) for a colored glass transom window.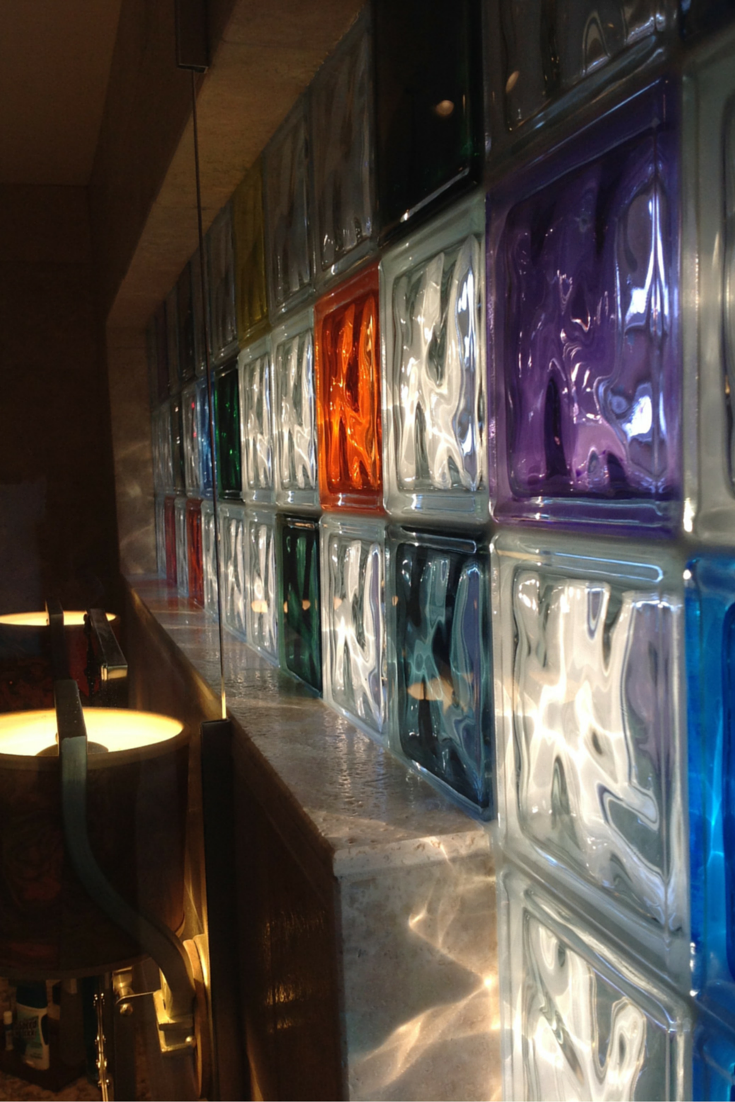 The cascading cool blue colors for the shower glass are also very fun.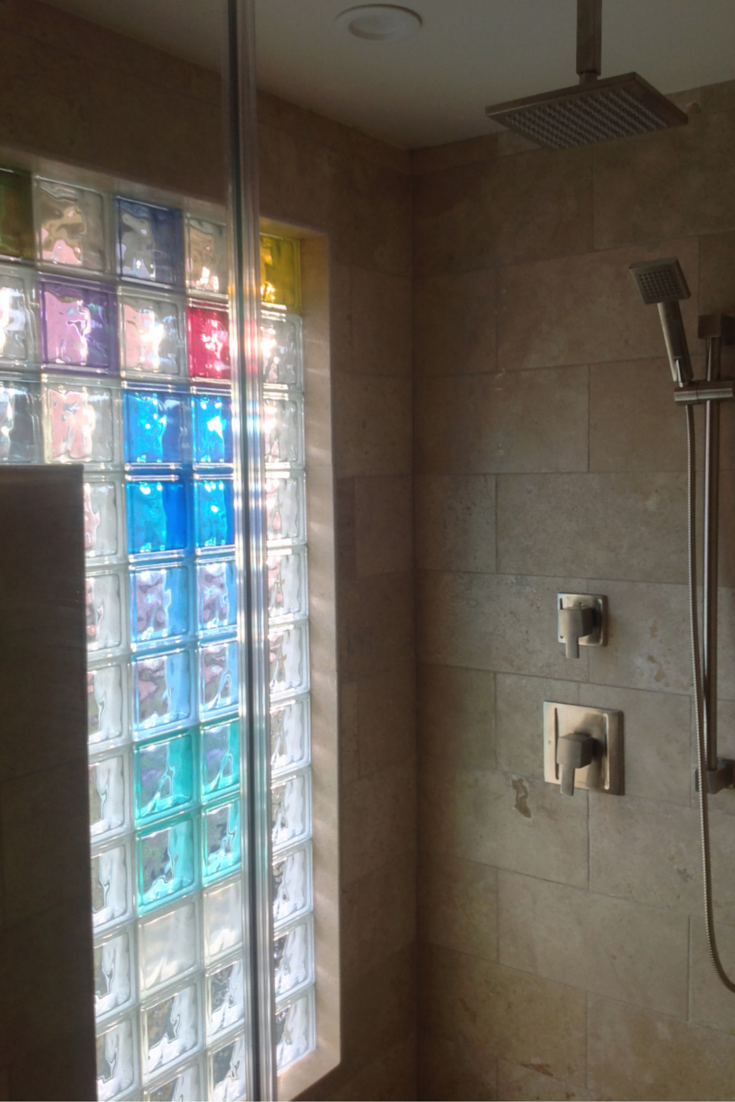 What a difference this colored glass block system made vs. the old small 18" x 24" window. Now color and natural light radiate into the bathroom – while maintaining privacy.
A not so obvious light transmitting choice – granite countertops and a shower bench seat
A carefully selected granite slab can add a shine and light reflection and some surprise colors. I love the sparkly blue colors coming out of the corner of the shower bench seat of this Santa Cecilia granite.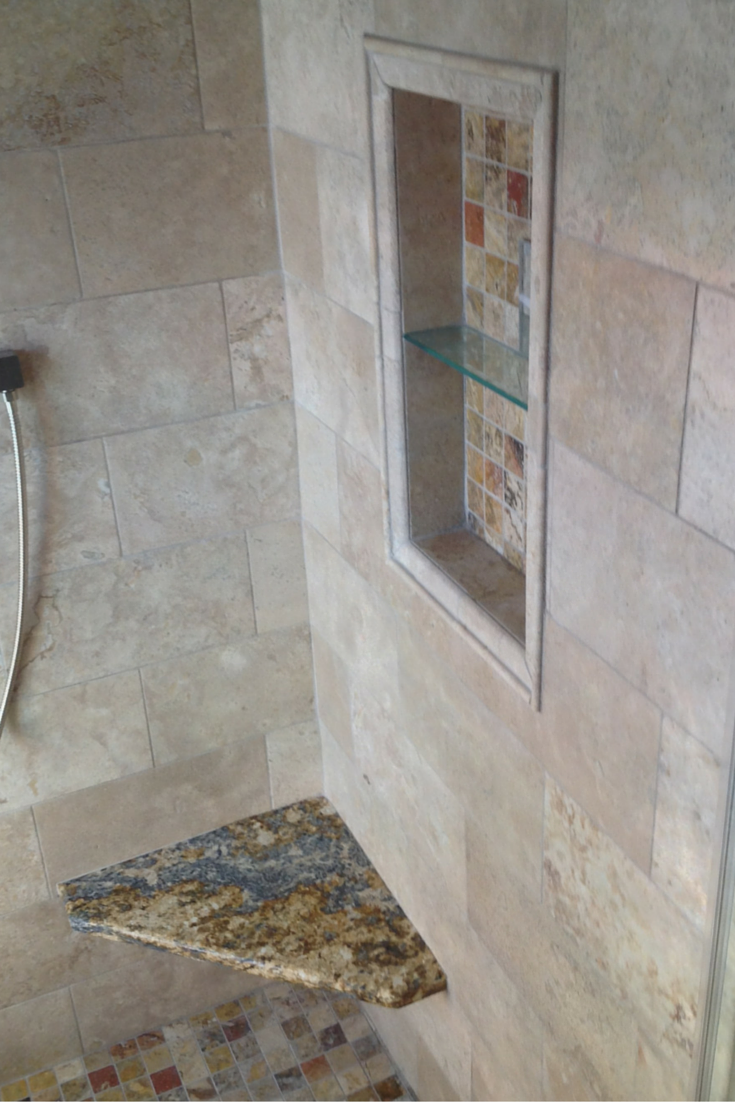 Distinctive beauty in a 5' x 8' bathroom
While beauty can be in the eye of the beholder what you "see" in bathroom beauty can also be what you don't have to "do" (i.e. seeing "visual beauty" and enjoying "low maintenance beauty"). Let's look at 3 beautiful elements of Don's small bathroom design.
Element #1 – Visual beauty – a custom built hand washing sink
Having some fun by adding some whimsical elements in a design can transform a function space (the bathroom) into an enjoyable experience. Even though Don has his primary sink and vanity he loves the beauty of the mini hand washing sink which was custom made by his contractor Al.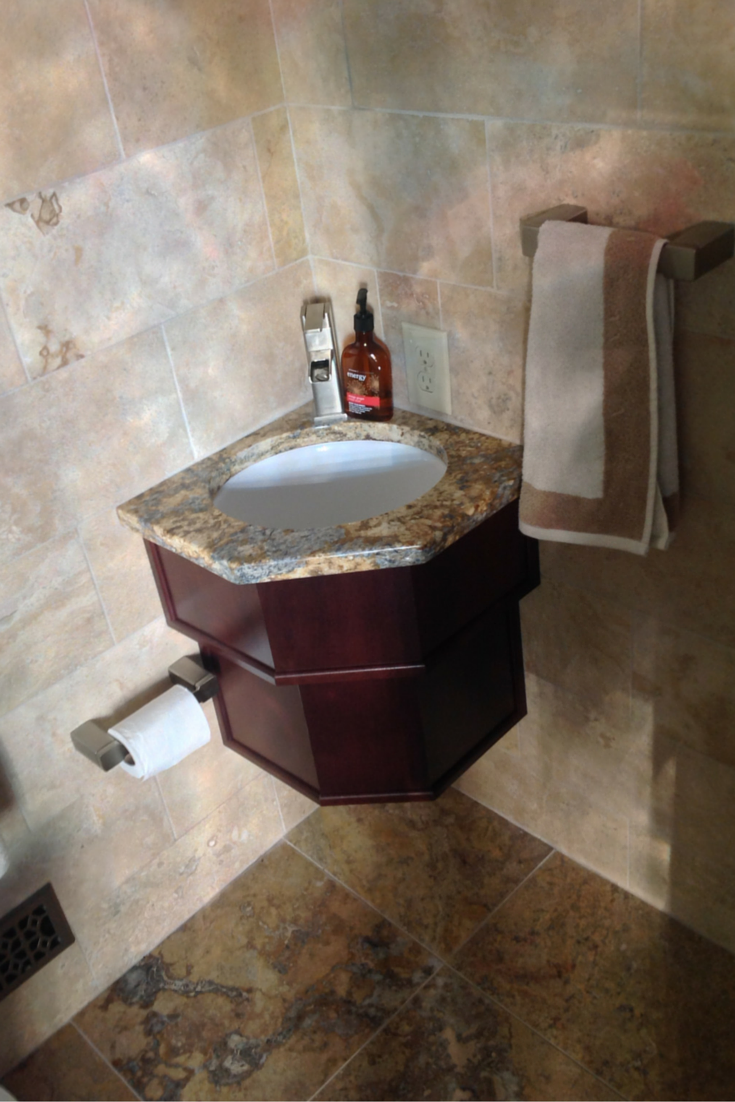 Element #2 – Low maintenance beauty – using wall hung vs. floor mounted cabinetry and toilets
Cleaning the nooks and crannies of a bathroom floor is no one's idea of a good time. Instead of placing the vanities and toilet/bidet unit on the bathroom floor, Don smartly chose to go with a wall mounted vanity. This eliminates the "tasty task" of cleaning the caulking or grout where the toilet and vanities meet the floor. This design creates a contemporary Euro style look. While Don had a custom vanity made for this project – there are many standard sized floating vanities available as well.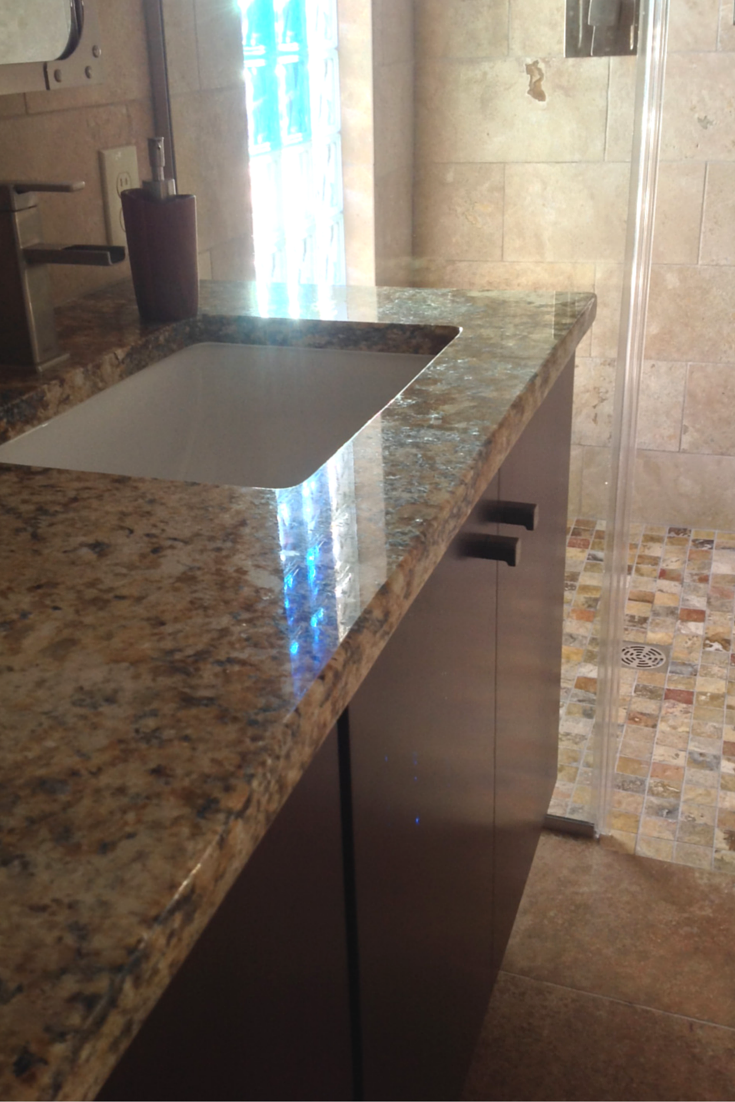 Element #3 – Visual beauty – recycled burl wood lighting fixtures
While Don initially considering only having the natural light provided by the glass block wall but Al convinced him this probably wasn't the best choice. So Don went on a journey to find vanity lights which went beyond function and created a distinctive look. I think the recycled burl wood vanity lighting fixtures (which are made from olive trees) provide a fun mid-century modern and art deco and give more lighting ambiance to the room.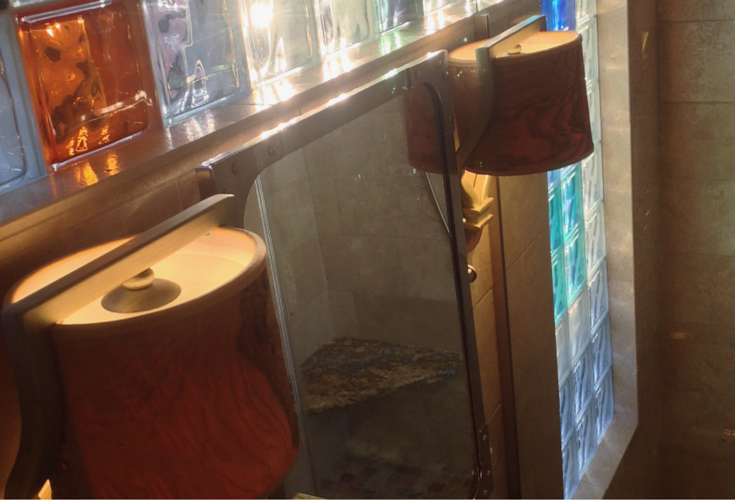 Conclusion
From this article I hope you'll see that "big," bright and beautiful are not the exclusive domain of large bathrooms. With some European bath design strategies and unique product selections Don was able to make this small space come to life.
Please comment or call the numbers below for information on bathroom remodeling or a glass block wall or window.
###
For bathroom remodeling in Columbus contact Al Barnes Residential Remodeling at 614-634-1312 or for a Cleveland bathroom remodeling project Cleveland Design and Remodeling at 216-658-1270.
For assistance and pricing from a glass block design specialist call Innovate Building Solutions on a nationwide basis (877-668-5888) or for a local installation project their divisions including Columbus Glass Block (614-252-5888) and Cleveland Glass Block (216-531-6363).
---
Mike Foti
President of Innovate Building Solutions a nationwide supplier and regional (Cleveland and Columbus) remodeling contractors. Some of our product lines include glass counters, floors, backsplashes, glass blocks and grout free shower and tub wall panels
---