A Luxury Bathroom without Barriers for Active Adults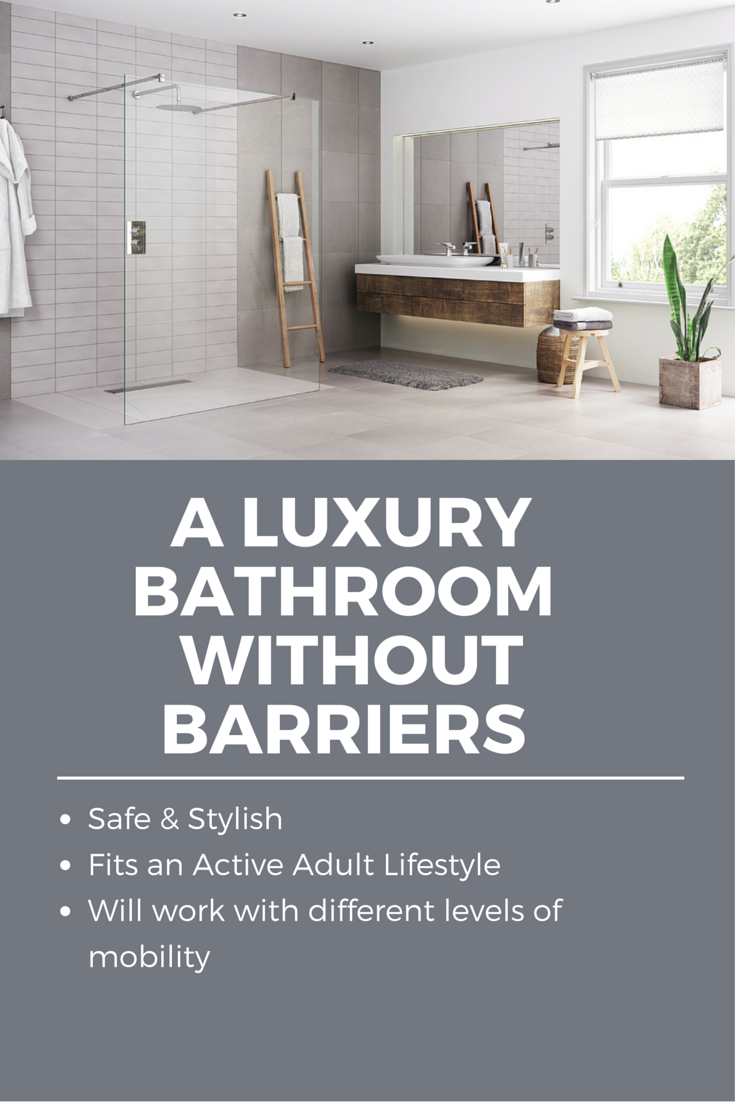 Updated March 3, 2019
When I told my potential customer Anne I was a "Certified Aging in Place Specialist" (this is an earned certification through the National Association of Home Builders to learn techniques and products to help people stay in their homes longer) she said to me, "Who the heck (I've changed the word here to keep it clean) wants to age in place? What do I look like some kind of rock?" I had to laugh and completely agree with Anne. She went on to say, "Mike I want a stylish bathroom which not only works for me today…..but for a good many tomorrows as well!"
I could not have said it better. Whether the aging process causes your abilities (the ability to move, ability to see and ability to sense) to not be what they used to be or a family member has had a challenging life event which has impacted them – everyone should be able to enjoy a luxury bathroom (assuming their budget allows).
The practical question is, how do you make this happen? What product and design considerations are important? In the article below I'll give you 5 essential tips to get rid of common bathroom product and design barriers so you can get the luxury bathroom you deserve – even if you have more gray hairs than you wish!
Barrier 1 – The ability to get into your shower (the step over shower curb)
Possibly the most stylish (space saving) and cool luxury feature for a bathroom without barriers is logically to get rid of the barriers (i.e. the step over shower curb). Many consumers, as well as many contractors, are confused on how to make a one level shower which will work.
In the old days constructing a curbless shower in a one level bathroom involved "dropping the floor." This process was expensive and involved changing the substructure underneath your floor (a scary and expensive process). A far easier, and completely waterproof, method is to create a one level wet room. Using a product called a shower base former a pre-sloped pan is set directly on the floor joists. The floor is then waterproofed and finished with tile. This reduces installation time, saves on your labor costs and improves the finished quality of a one level bathroom.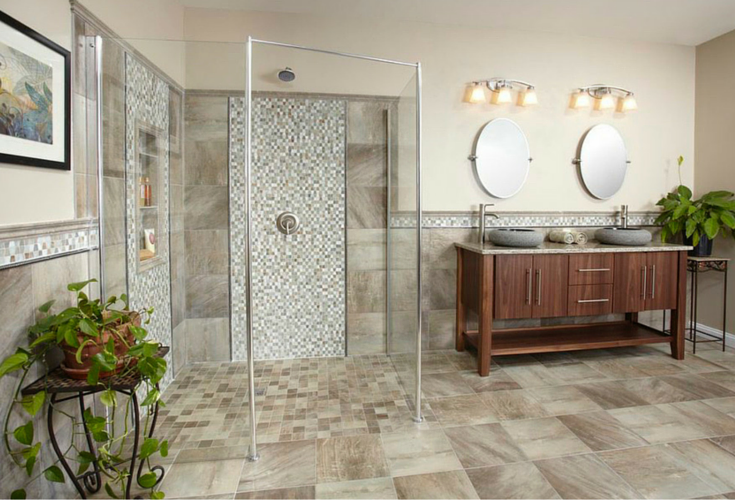 Barrier 2 – Going Au Natural…….with lighting that is
The barrier to see well in the bathroom not only affects how safe and functional the space is – but natural lighting can also create a calm and relaxing bathroom environment. Some strategies to improve your natural lighting include:
• Increasing the size of the window opening(s) – While this strategy may not always be practical (or the lowest cost alternative) larger windows can open up a bathroom and create a fresh, clean feeling of space.
• Get rid of blinds and curtains – You may be saying now, "Mike are you crazy?" Although you might be correct about that (and my daughter would agree I'm a bit crazy) – but it is possible to eliminate curtains and blinds where your neighbor's homes are close to yours. An inexpensive solution for this is to use obscure glass or a frosted glass block window.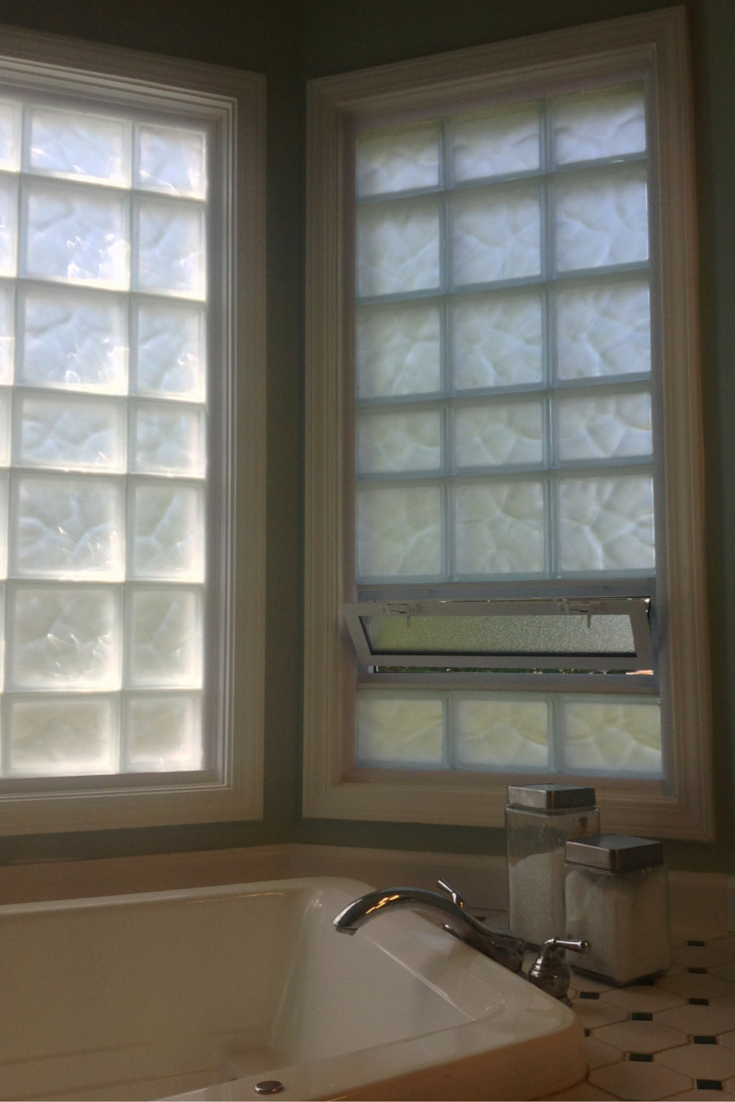 Barrier 3 – Storage in all the wrong places
A lack of storage makes it difficult to have a true luxury bathroom…and if you can't reach what storage you do have it is of no value to you. When designing a bathroom which will work both today and for your future ask questions like, "Could I easily access my soap/shampoo niches if I was in a wheelchair? Could I get supplies from the back of my bathroom vanity cabinets if I used a walker?
For most bathrooms the answers to these questions is no. Here's two simple tips to get your storage right – while ensuring the bathroom is stylish. First – consider placing recessed niches and corner shelves lower to the shower pan for easy access (this will help if anyone in the family need to access them down the road from a wheelchair).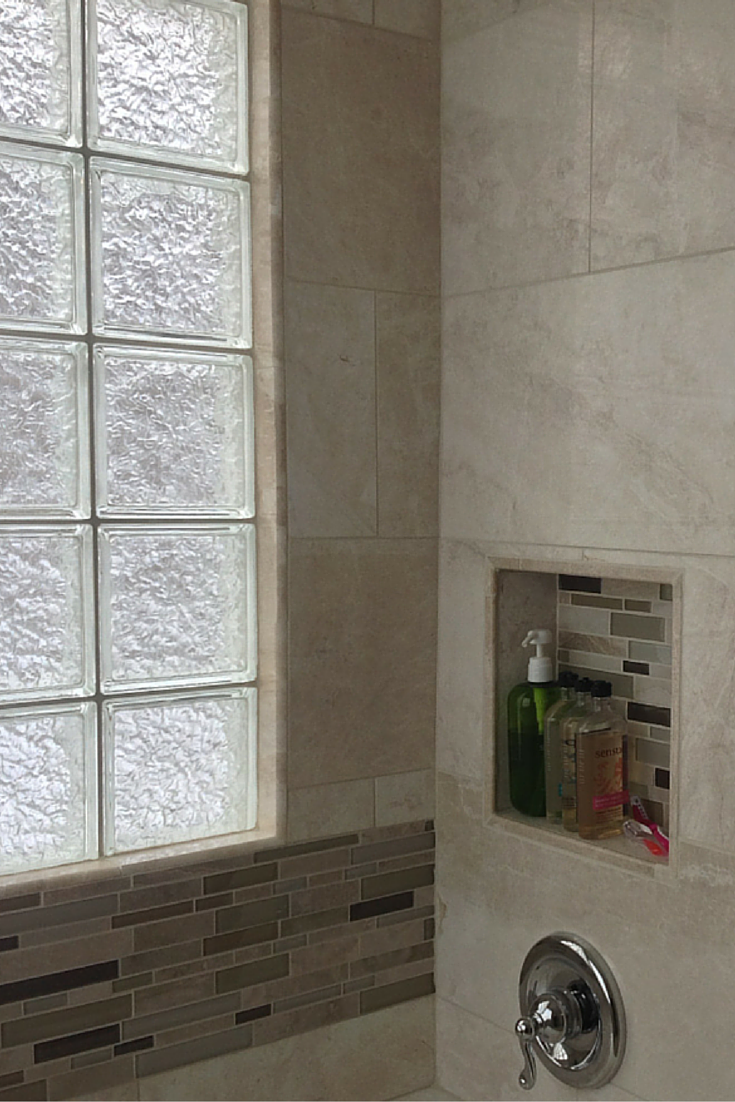 Second – use pull out shelves for the vanity cabinets so you can easily reach what's in the back.
Barrier 4 – Fighting the "hospital look"
Making a luxury bathroom for an active adult could involve the use of two 4 letter words…..grab bars. Ouch! Nothing quite conjures up negative images as much as grab bars. What immediately comes to your mind? Are you like me and the first thing you think is (grab bars = hospitals)? There is no reason with the products available in today's market that a safe bathroom needs to look institutional even if you decide to add grab bars. Check out the image below and you'll see stylish and safety can now be used in the same sentence.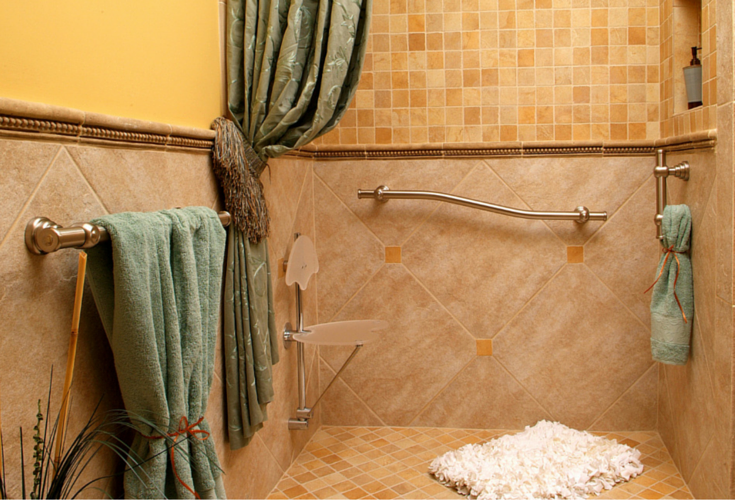 Barrier 5 – Inability to sit and relax
Some benefits of a luxury shower or tub is the ability to sit, relax and enjoy the space as a respite from your hectic daily life. Sometimes the barriers to making this happen are either the shower space is a bit small and/or the bathtub design hasn't been thought out well. Let's look at how you can get beyond both of these challenges:
Making seating work in a small shower – Most "standard showers" (their size ranges from 60" x 32" to 48" x 36") are probably not the biggest or grandest area of your home. This doesn't mean you can't have an enjoyable and relaxing seating area. The two most popular options I'd recommend are to incorporate a small corner bench seat (which usually takes up about 14" x 14" of the shower) or a deluxe fold down seat made of a quality material like teak or Brazilian Walnut.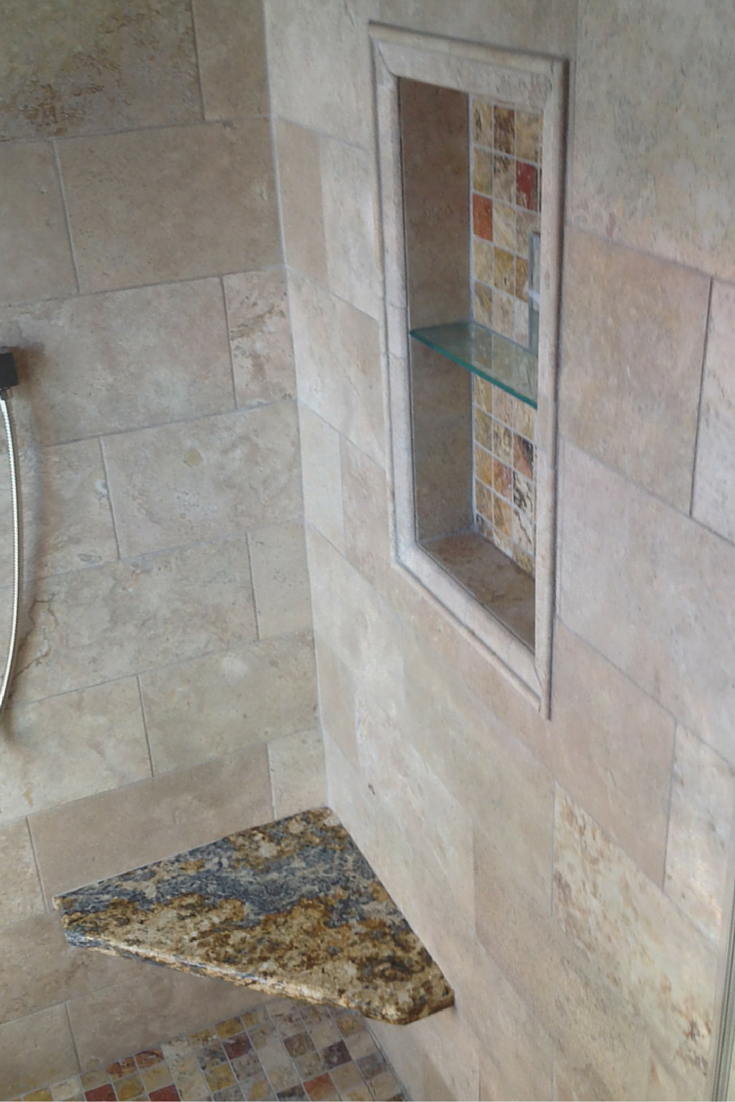 Choosing or designing a tub if your mobility is not the best – Although products like freestanding tubs are a hot interior design trend today – I told Anne choosing this type of product could very well be a mistake in the future (have you ever tried getting in and out of these tubs?). The question is how can you make a tub luxurious and functional which works through the aging process?
One product I would recommend would be a drop in jetted tub with a wider platform (also called a "transfer station") which makes it easy to gracefully slide into the tub.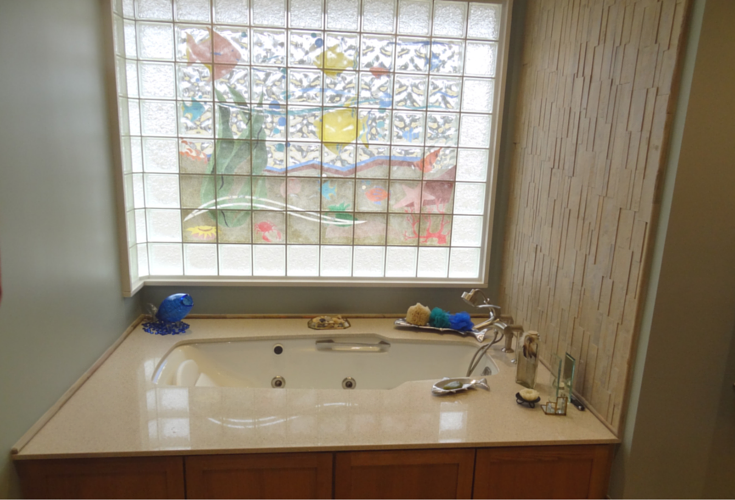 Another popular option is the walk in bathtub. Yes – these can be expensive – but think of the fun you'll have with the aromatherapy and chromatherapy options! Both of these choices are safe to get into and out of and provide you with a relaxing element you deserve in your bathroom.
Conclusion
A luxury bathroom which will stand the test of time is absolutely possible for an active adult. With a combination of the right products, a thoughtful designer and your ideas to personalize the space, you're on your way. Please comment or call the numbers below for product insights or a free bathroom design consultation.
For a Cleveland bath remodeling project contact Cleveland Design and Remodeling and or The Bath Doctor in Columbus (614-252-7294) Ohio. For nationwide supply of low maintenance barrier free shower and tub products contact Innovate Building Solutions (877-668-5888).
If you're a remodeler or builder and want practical advice on remodeling products, industry trends, marketing and sales tips to grow your business (and cut day to day hassles), start reading my newest blog – Innovate Builders Blog. It's packed with ideas you can use now. Click here to Sign Up for the Innovate Builders Blog.
---
Mike Foti
President of Innovate Building Solutions a nationwide supplier and regional (Cleveland and Columbus) remodeling contractors. Some of our product lines include glass counters, floors, backsplashes, glass blocks and grout free shower and tub wall panels
---