A "Marcia Stewart" Special – How to Inject Personality into Your Bathroom Remodel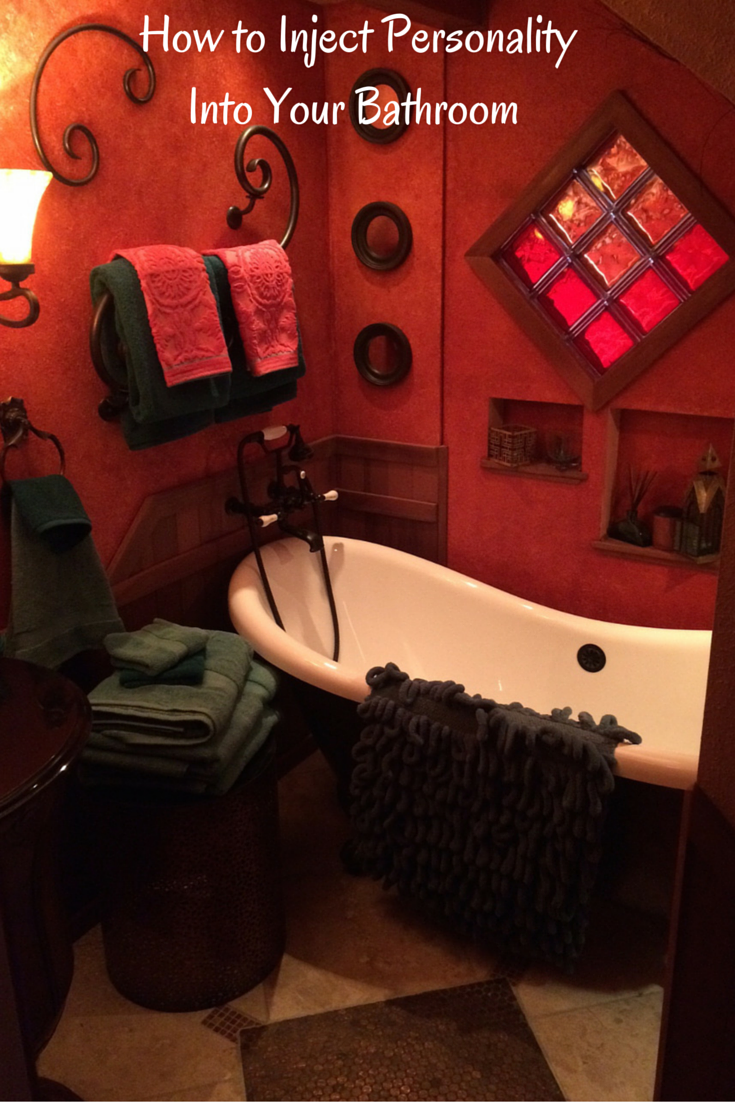 Martha Stewart it's time to meet your California counterpart "Marcia Stewart"…..I mean Marcia Reed.
OK you're probably wondering what's all this stuff about Marcia Stewart (A.K.A. Marcia Reed). When I had the opportunity to talk to Tom and Marcia Reed about their bathroom remodeling project I was blown away with it's fun, distinctive and passionate styling. I knew I had to write it. When Tom mentioned his nickname for Marcia was "Marcia Stewart" because of her ability to put stylish personality into their projects it completely made sense to me from seeing their finished pictures!
You see when many people remodel the first thing they ask themselves (or their contractor) is "how will this bathroom show when I go to sell it?" While this question can be a valid another question you may ask yourself could be "how can I design this space to fit my personal style?" You see Marcia Reed is not defined by the popular brand Martha Stewart (or any other popular brand for that matter) – she is her own brand!
Would you like to inject more personality and fun into your remodeling projects but aren't sure how to go about it? If the answer is yes open up your eyes and get ready to strap on your tool belt (as Tom Reed has been known to do a time or two) and start taking action on these 5 ½ "Marcia Stewart" recommended tips.
Tip 1 – Have a philosophy and don't be afraid
Embracing your uniqueness is not easy. It takes confidence to let your personality shine through your home in an unabashed fashion. In Tom and Marcia's bathroom they wanted to incorporate lots of fun art pieces and the color red (which they feel provides warmth). Tom said to me, "Mike – we believe there should be no bald walls" so you'll see pieces like this artistic tree mural mounted on the underside of the stairs.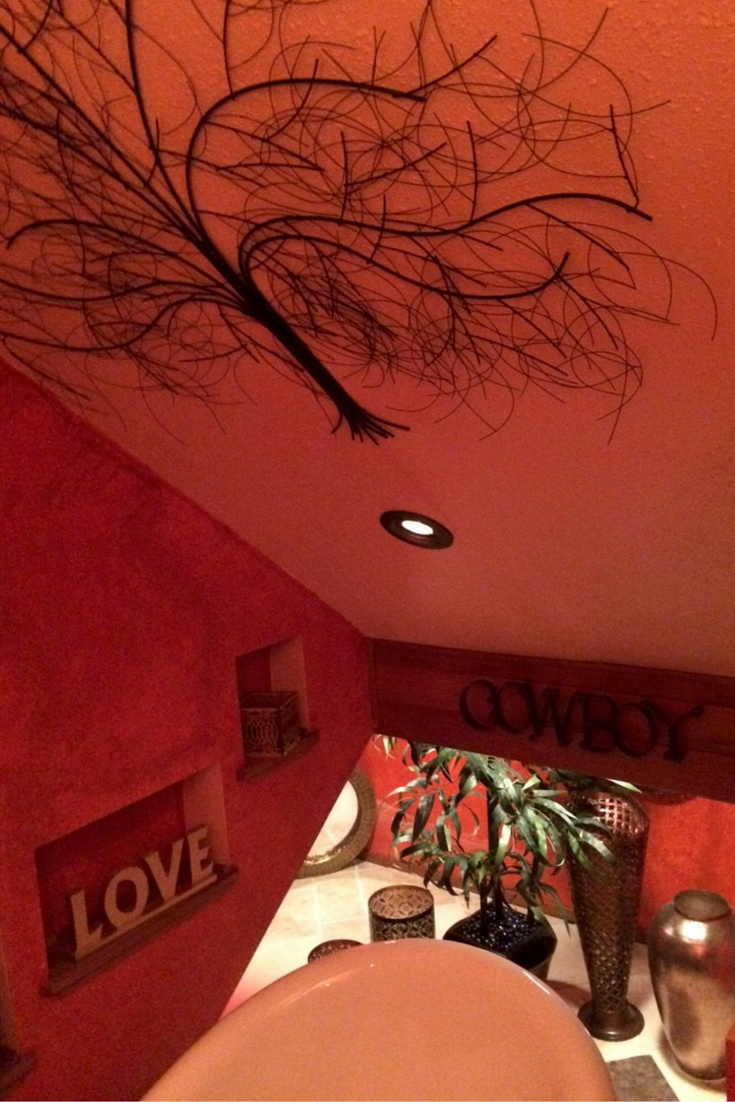 You can't miss the red walls over the wainscoting in this remodeled space. When you combine a decorating philosophy (in this case artistic pieces and the color red) with the confidence to embrace what you like you'll get a room which is distinctively you.
Tip 2 – Look for focal pieces which combine form and function at a good price
Tom and Marcia love the look and ambiance created with copper clawfoot tubs but when they did some shopping for them they were too expensive. So they did more research and found this cost effective "slipper tub" from The Tub Connection. It added a focal piece at a reasonable price.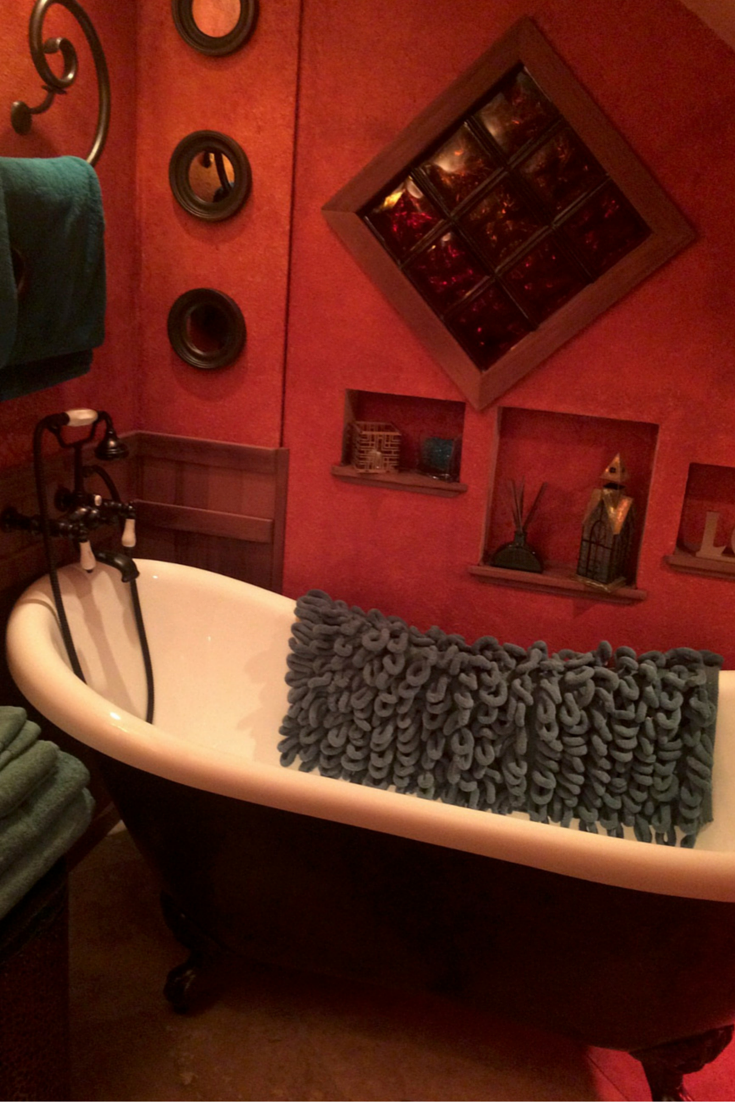 Tip 3 – Set the mood with lighting and glass
Lighting and color can have a dramatic impact on the personality, feel and setting of a room. The Reed's decided to use "cranberry" and "sunset" colored glass blocks to add splashes of natural color during the daytime. In addition they put lighting underneath the glass block window on a dimmer switch for a glowing colored ambiance in the evenings. How cool is that?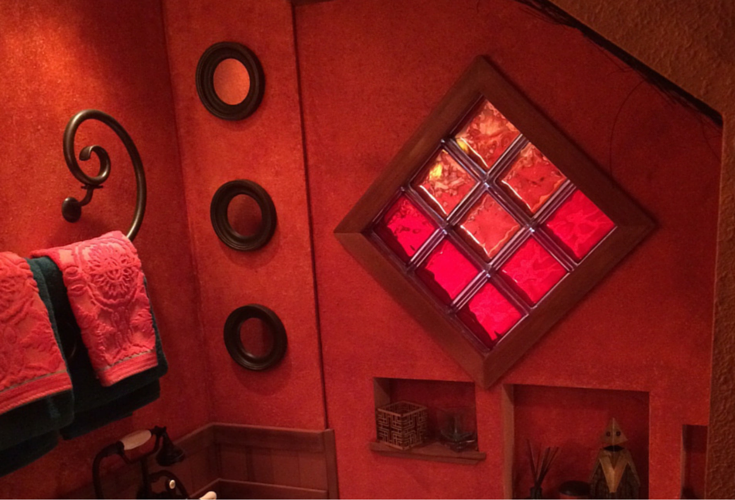 Tip 4 – Inject local flavor
If you love where you live why not be inspired and tie in a local landmark into your design? In Santa Barbara there is a pizzeria and coffee house the Reed's enjoy called The Lucky Penny where the front of building covered in copper pennies. Tom and Marcia integrated this landmark building into their bathroom by purchasing and installing one foot sheets of copper pennies which were pre-glued onto a netting. To make the pennies "pop out" of the floor they used a black grout between the copper coins. It's a fun touch which matches beautifully with the clawfoot slipper tub.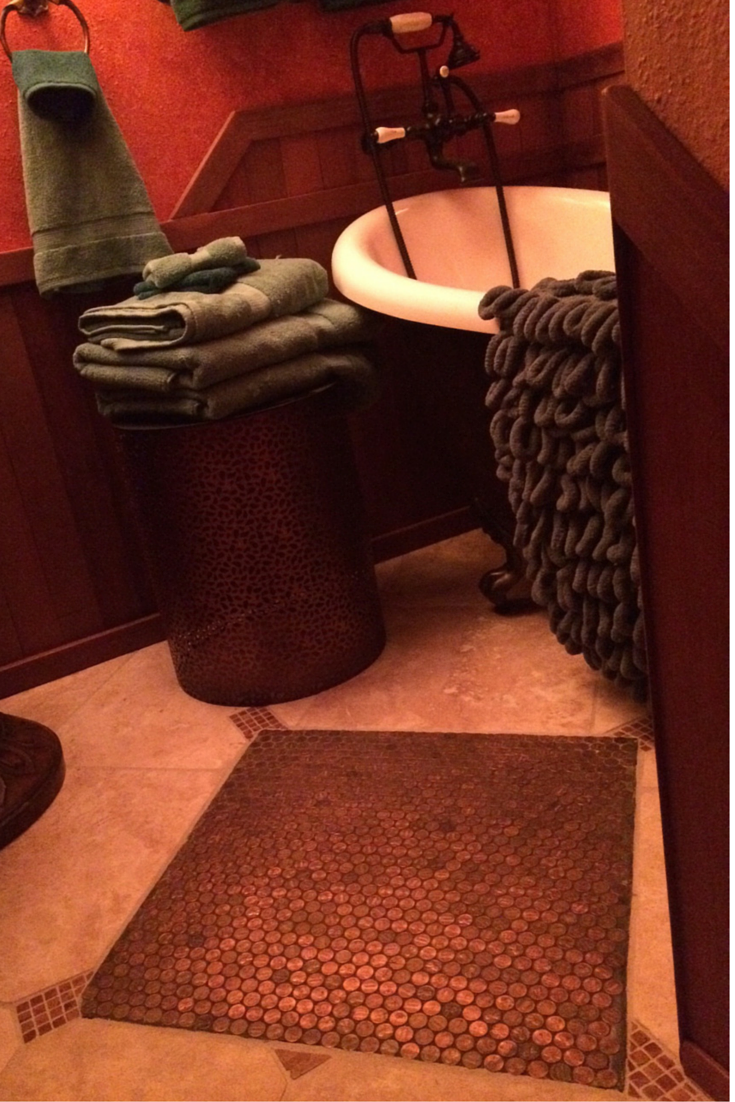 Tip 5 – Find bargain materials with character, then repurpose
Sometimes what is shiny and new just doesn't embody the same character as classic materials (which in some cases you can't even buy new today). This was certainly the case with the clear straight grained redwood Tom and Marcia got from the Habitat for Humanity Restores. Tom was able to repurpose the redwood into an inviting wainscoting room detail (just as a side note this redwood was originally in the home of Star Wars filmmaker George Lucas!).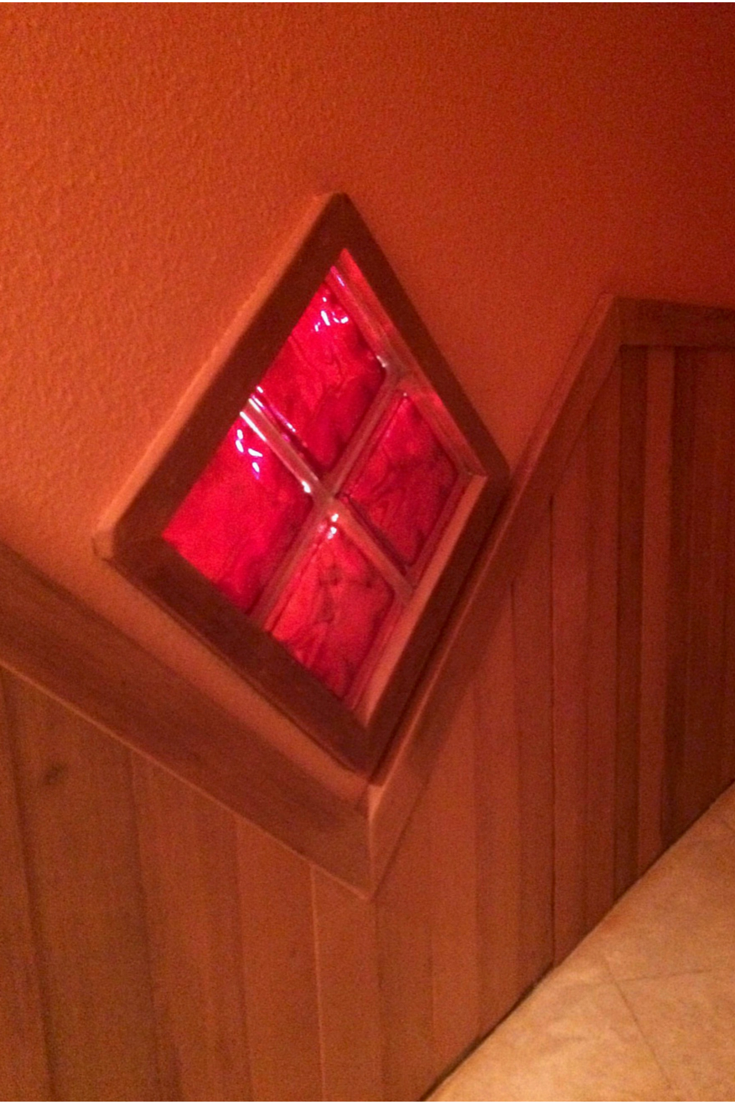 Tip 5 ½ – "Speculate" in funky art pieces, find a home for them later
First you may be asking why is this tip 5 ½ vs. being tip 6….well simply because tip 5 ½ sounds more fun than tip 6 (I also think Marcia would use 5 ½).
Sorry for digressing. Now – getting back to the Reed's project. One of the things I didn't tell you about Marcia is she is a "speculator." No – not a financial market speculator, but a speculator in cool eclectic art pieces. Check out the scrolly (not really a word but it sounds good) scrap metal salvage piece which has morphed into an eclectic towel rack.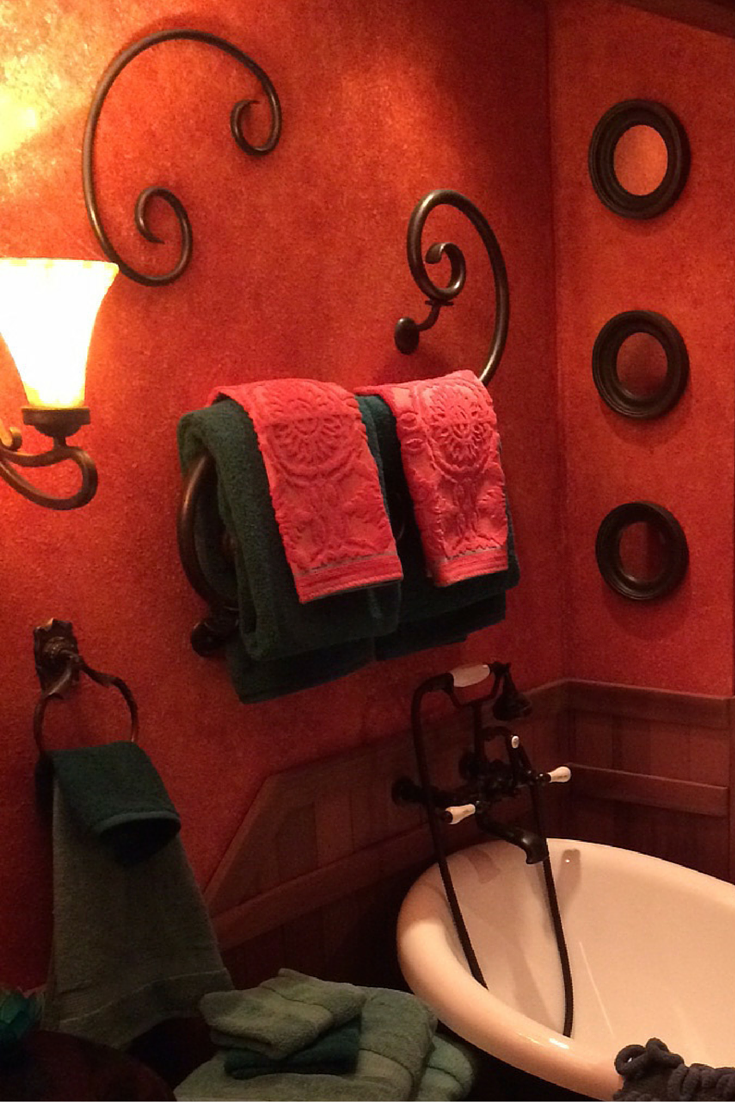 When Marcia purchased this piece she didn't know what she was going to do with it but told Tom, "I'll find someplace for it, don't you worry!" For a room with personality you may need to do a little speculating and then allow the time for your imagination to percolate on how to use what you've bought.
Conclusion
You can see from this article you don't have to be Martha Stewart to create a room with a fun personality….but it would be really helpful to use some of these "Marcia Stewart" tips to get a room which fits you.
Please comment or call the numbers below for more assistance on your next remodeling project. Please note – we are inspired to work with fun people who understand "great minds don't think alike." (note: this slogan is borrowed from my son's school – Lawrence School in Sagamore Hills Ohio).
###
For more information about colored glass blocks walls or windows call Innovate Building Solutions on a nationwide basis (877-668-5888) or locally Cleveland Glass Block (216-531-6363) or Columbus Glass Block (614-252-5888). For a local Cleveland bath remodeling project Cleveland Design & Remodeling (216-658-1270) – we love to work with fun people!
---
Mike Foti
President of Innovate Building Solutions a nationwide supplier and regional (Cleveland and Columbus) remodeling contractors. Some of our product lines include glass counters, floors, backsplashes, glass blocks and grout free shower and tub wall panels
---