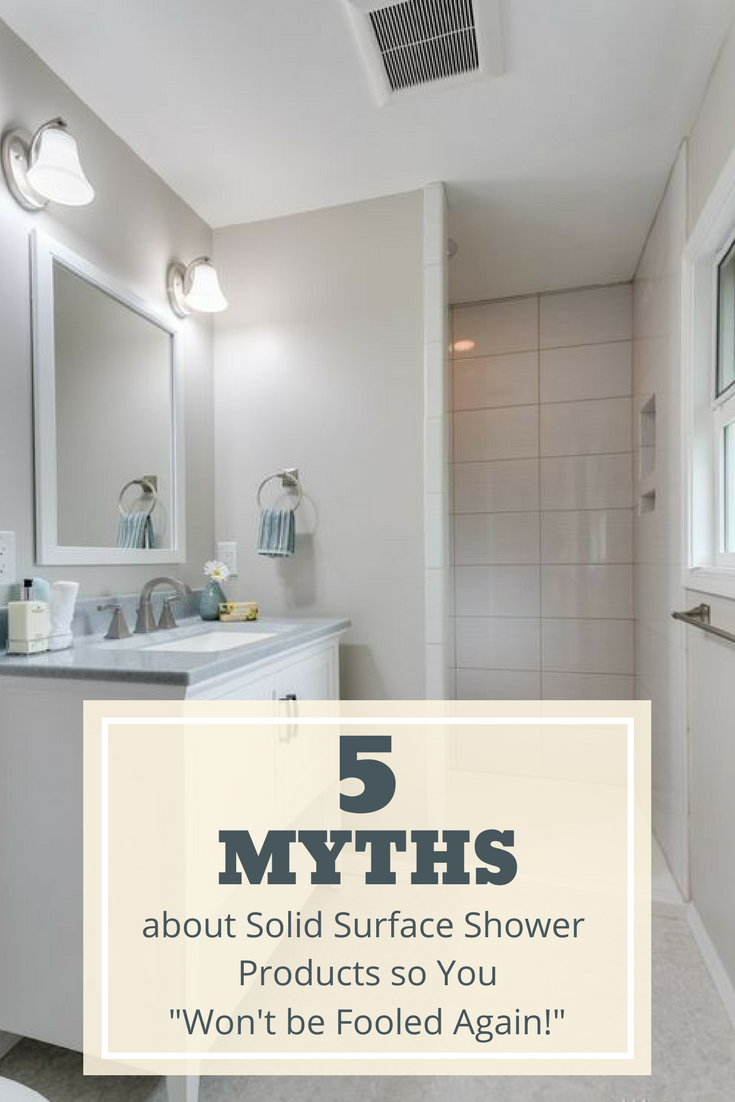 Updated March 23, 2019
I'm going to keep it real dog (in the infamous words of Randy Jackson) and tell you up front most people are confused about solid surface shower products. They'll ask me some of the following questions:
Isn't this product a pain to install because the shower panels are 3/8" thick?
Wouldn't a smooth solid surface material be too slipper to use for the shower pan?
Isn't solid surface the same as cultured marble?
I've heard solid surface showers only come in standard sizes and my shower is custom sizes. Is that true?
I think I've seen solid surface showers before. Don't they come in those white swirly patterns which went out along with big hair, mullets, shoulder pads and leisure suits in the 80's?
The bottom line is – many people are confused about this material.
I'm here to tell you if I've been able to figure out solid surface (and explain this product to members of my team and customers), it ain't that hard! Here's what I'll tell you about my level of "genius":
I didn't graduate "Magna-Cum-Rowdy" or Magna Cum Laude from college. I'm a proud Carnegie-Mellon University "Tartan." A Tartan is synonymous with Scottish guys who wear plaid skirts. Now that's hot. My Kappa Sigma fraternity brothers can tell you I had my share of fun and lost my fair share of brain cells (don't tell my Mom this). I worked my butt off to get through, but didn't exactly have a GPA that blew the roof off the place.
I wasn't the top in my class in high school either. I owned the 41st highest GPA out of 82 people in at the private school I attended – Hawken School in Gates Mills Ohio. Sure, there were some smart kids there – but nobody was worried about competing with ME for valedictorian.
Nobody at the Apple "Genius Bar" is recruiting me. I'm sure they're desperately looking for a 58-year-old guy with ever-so-slightly graying (I lied) hair to work side by side with the techno-savvy-20 somethings. I still have hope I'm going to get the call any day now begging me to join the "Genius Bar" team.
Despite my lack of "genius" I think I can help you dispel some of the mistruths and half-truths about solid surface products. I've been working with the stuff in my remodeling and nationwide product wholesaling business for years and have learned a few things along the way. So, let's take a look at 5 myths about solid surface shower products you need to blow up and 'not be fooled again' (in the words of The Who for you 80's rock band aficienados).