5 Steps to Convert a Tub into a Glass Block Walk in Shower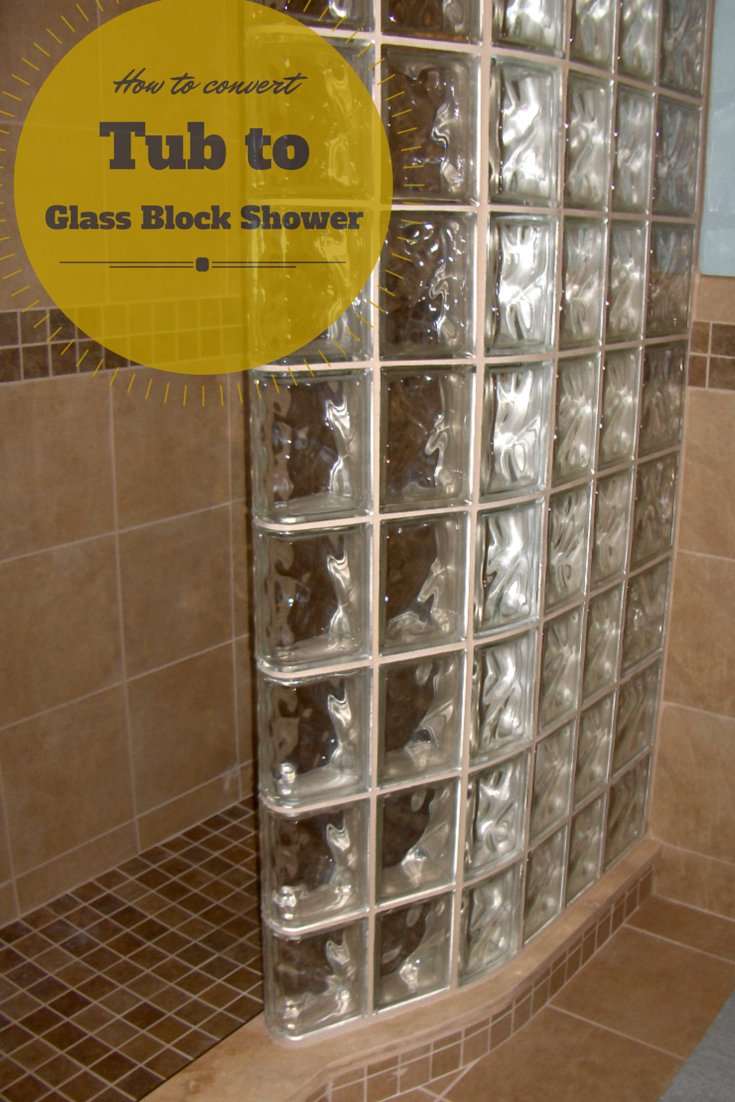 Updated March 3, 2019
Who uses a small alcove tub space for bathing anymore? The answer – practically no one. It doesn't fit our fast-paced lifestyles. Who loves framed sliding glass doors or shower curtains around their bathtubs….probably very few. They're a hassle to clean. If you're like most you'd like to ditch your tub for a walk in shower and assumed you didn't have enough room….well think again. In this article learn how a tub can be converted into a curved glass block shower in 5 simple steps.
• Step 1 – Measure your space and drain location
Measure the width and depth of the shower including the longer "back wall" and two "side walls" (note for the side walls measure not only where the tub ends but the entire distance from the back corner to the end of the stud wall). In most cases the back wall will measure 58-59" wide but it will actually become a 60" space once the old wall materials are removed. To have enough room for a curved glass block walk in shower to work it is best to have 32" of depth (i.e. the side wall measurements) once existing back wall materials are removed and the bare framing is revealed. Next identify the drain location by getting one measurement from the back wall to the center of the drain and another from the side wall where the shower head is positioned.
• Step 2 – Choose your shower pan for your glass block wall 
Glass block shower pans can be supplied with the curvature of the glass blocks already built into the pan which saves time trying to create a base at the job site and ensures a high quality finished product which won't leak. These pans can be designed with different numbers of curved blocks depending on the amount of depth you measured in step one. The 3 most popular pan options and their advantages and disadvantages are:
o Acrylic – The advantage of acrylic is it's easy to maintain, but the drawback is it is only available in one size (60" x 34") with predetermined standard drain location (note the ability to have a custom drain location can save plumbing costs associated with moving the drain) in two colors (white and biscuit). In addition, the acrylic pans are hard to find because there inflexible size has made them lowest on the popularity of these 3 options.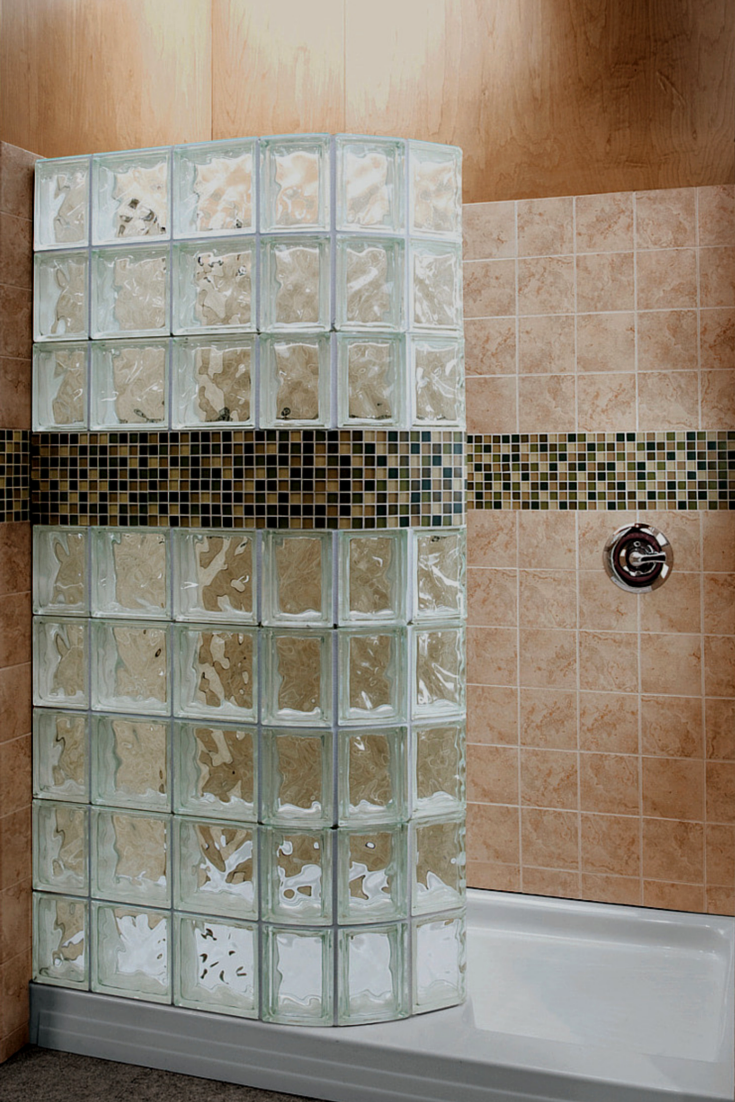 o Ready for tile – The ready for tile pans can be made in any shape or size with customized drain locations. Their main drawback is the maintenance of grout joints around small mosaic tiles and the need to create a curved finishing "cap" (which is usually custom made from solid surface or granite) to finish the top of the shower's curved curb. If you want to lessen the maintenance of a ready for tile shower pan there are now linear drains you can use which work with large format tiles.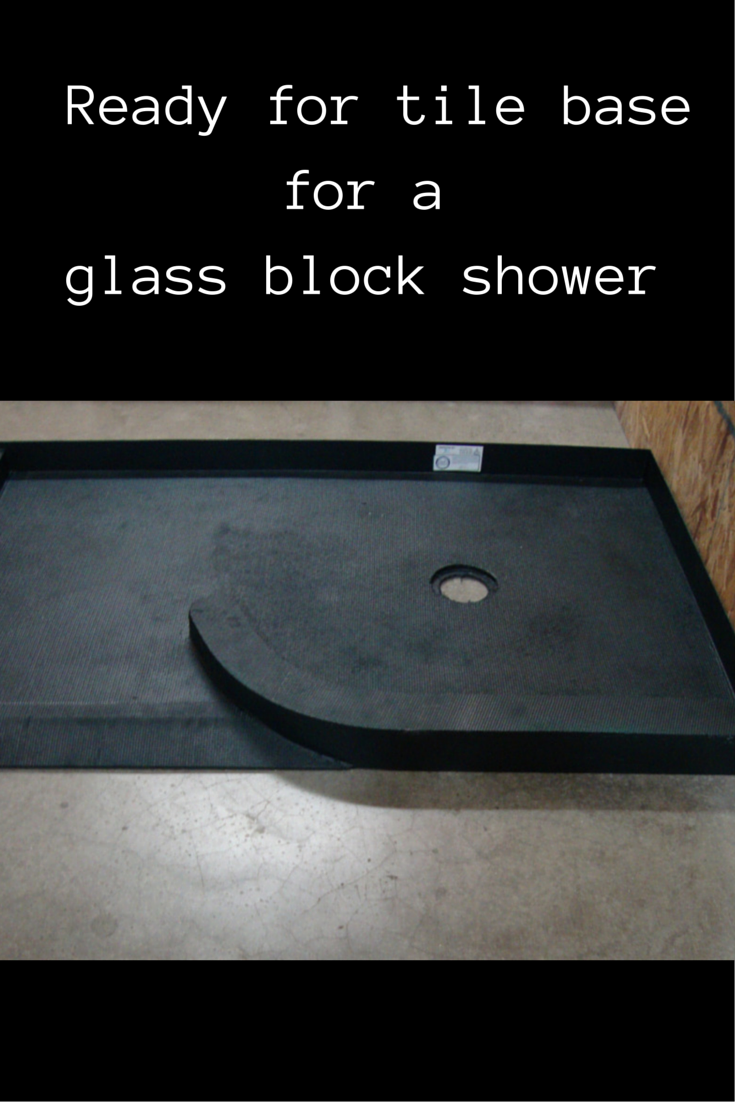 o Solid surface – Solid surface has the advantages of being made in any size or shape, it's available in over 60 different colors with any drain location, and is low maintenance and grout free. It is available in both gloss and matte finishes (note -the matte finish does the best job of not showing water spots). The disadvantage is the initial purchase price of the solid surface base is most expensive.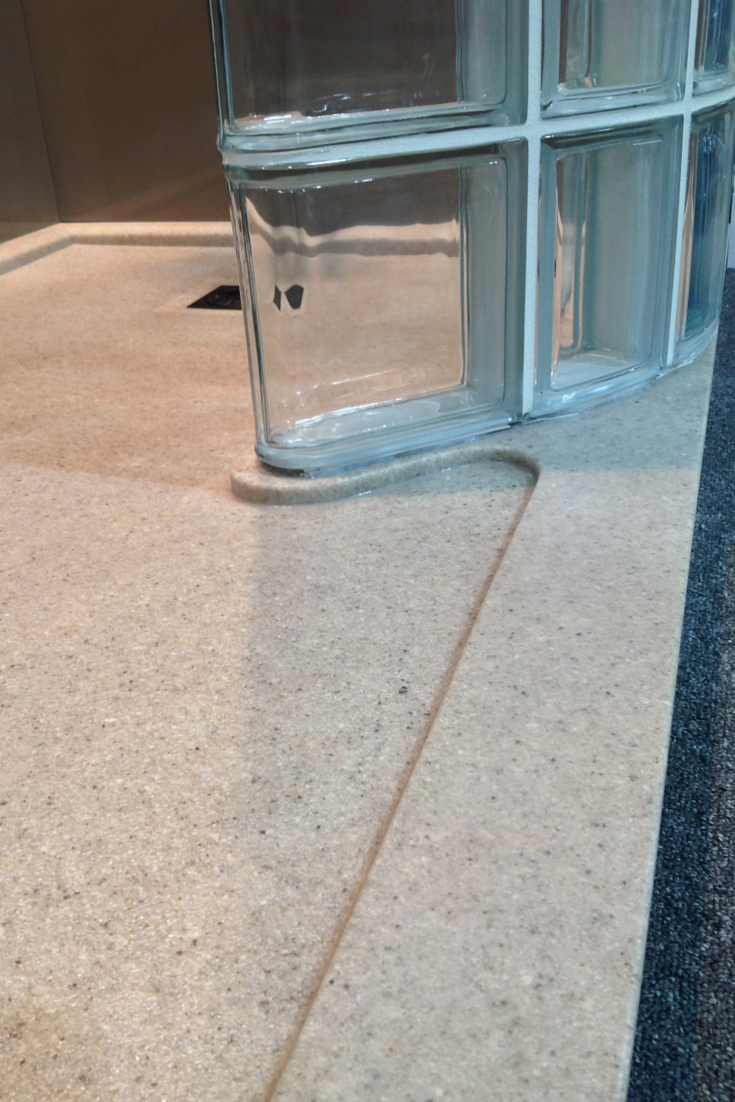 • Step 3 – Integrate your glass block wall with your base
The selection of the glass block wall design is joined at the hip with step 2 (choosing your shower pan). For alcove showers I'd recommend to use thinner (3 1/8" thick) series blocks to maximize the available showering space. The amount and number of the curved block will vary depending on the shower's depth (the goal is to use the curved blocks to keep the water in and provide style but not make the shower too small by curving the wall in too much).
For a 32" to 37" depth one pre-curved glass block (it is called a "radial" block in the thinner series) is recommended. For 38" or deeper spaces two curved blocks can be used. These blocks are available in either a "wave" (obscure) or a "clear" (see-through) patterns. To improve installation quality and save labor costs the walls can be premade to the exact specifications of the bases and are available as a glass block shower kit. For some additional fun and interest include some colored, frosted, etched or even blocks with decorative tiles or metals adhered to the surface.
• Step 4 – Select grout free shower wall panels or tile for the interior surround walls of your glass block shower project 
If your goal is a low maintenance showering environment you'll want to check out using laminated wall panels,  PVC backed composite faux stone units, high gloss acrylic or solid surface wall panels. If you like the traditional look of tile what's trending now is large format tiles – they look contemporary, minimize grout joints and make a smaller space look larger. Even with large format tiles you can get the low-maintenance look with laminated shower wall panels. Check out the laminated shower panels and solid surface options below.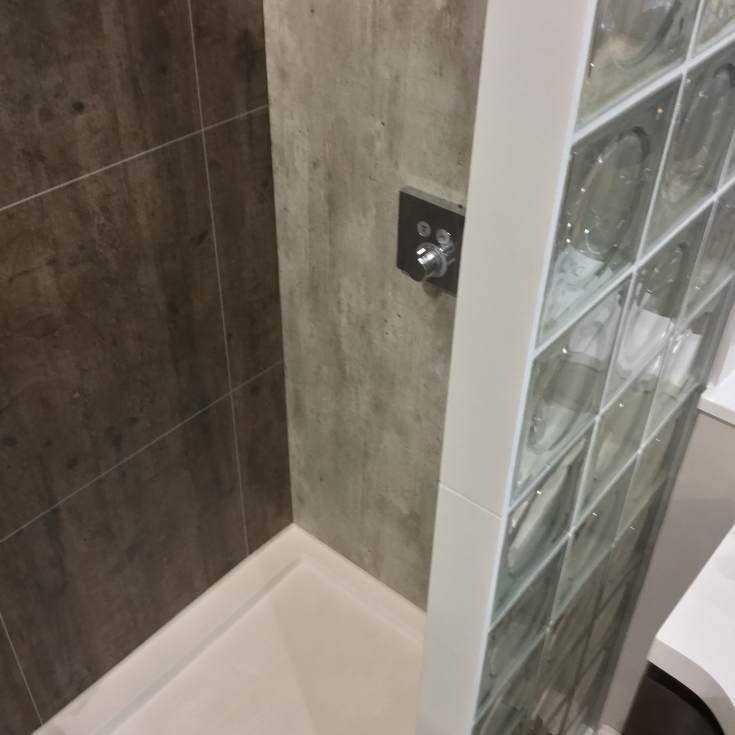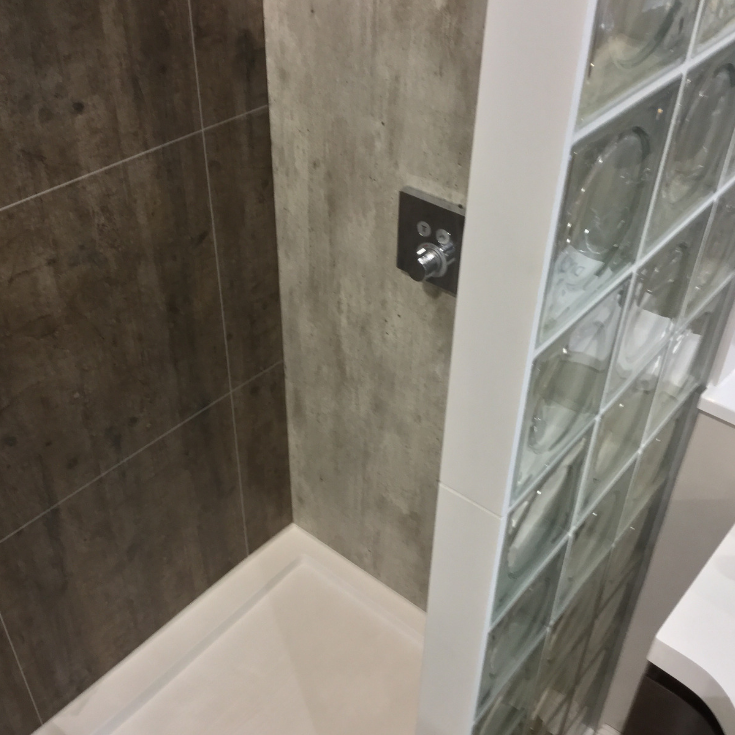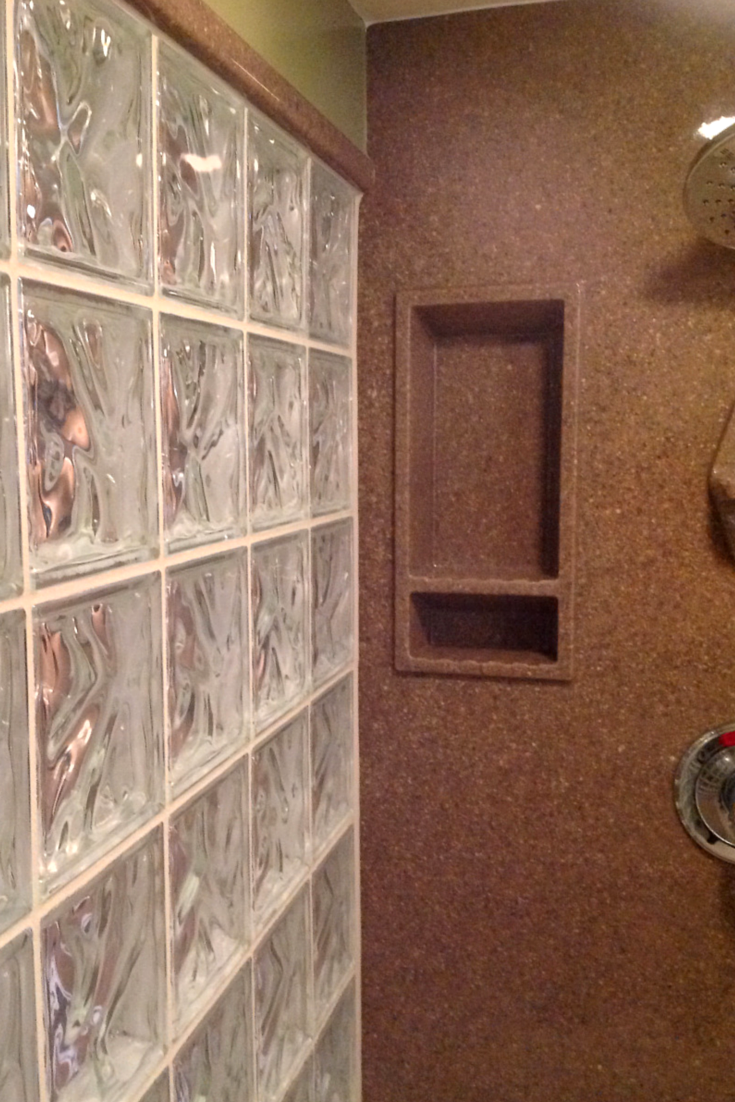 • Step 5 – Accessorize for a spa experience
The right accessories, strategically located, can turn an ordinary shower into a spa-like experience. Consider either a corner seat or a fold down seat for relaxing comfort. Use recessed niches for soap and shampoo to save space and keep slippery items off the bottom of the shower pan.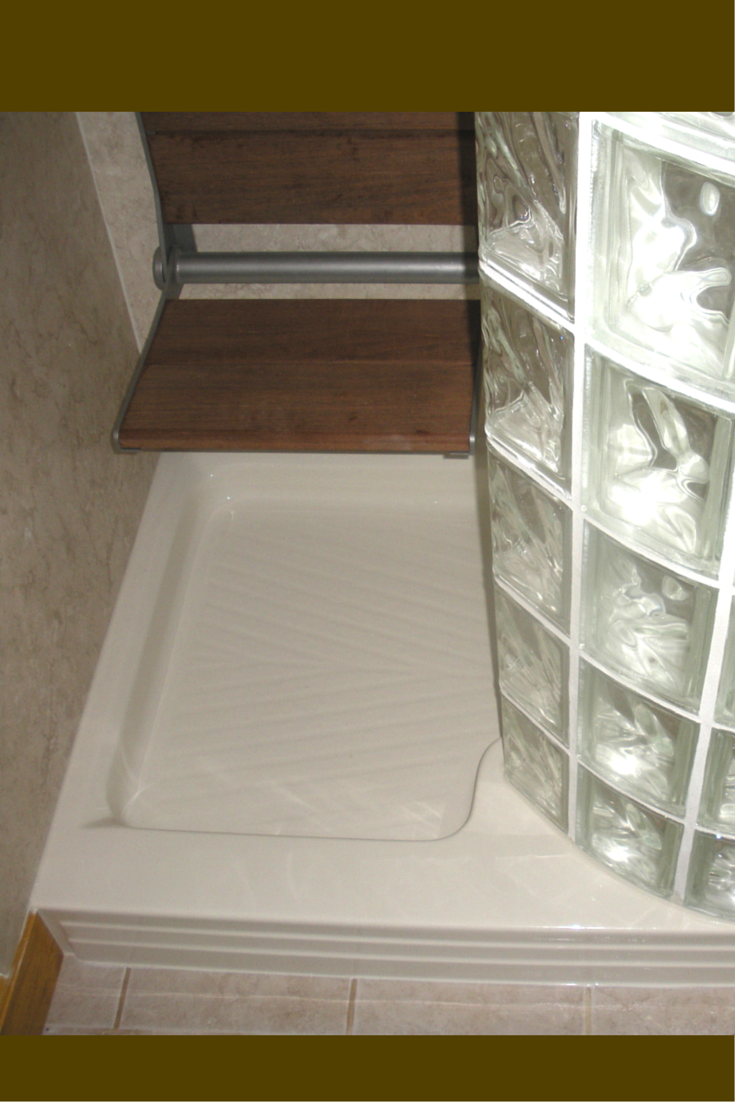 Would you like design or product assistance to convert a tub into a glass block shower please comment or call the numbers below. We'd be glad to assist you with a prefabricated glass block shower wall, a shower base and/or a grout free shower wall surround system.
###
Call Innovate Building Solutions on a nationwide basis (877-668-5888) or for a local project their divisions including Columbus Glass Block (614-252-5888), Cleveland Glass Block (216-531-6363), West Side Glass Block (216-398-1020) or Mid America Glass Block in Akron (330-633-2900).
If you're a remodeler or builder and want practical advice on remodeling products, industry trends, marketing and sales tips to grow your business (and cut day to day hassles), start reading my newest blog – Innovate Builders Blog. It's packed with ideas you can use now. Click here to Sign Up for the Innovate Builders Blog.
If you're in the building business, click here if you'd like to learn how to become a shower wall panel dealer or call and ask for Mike at 877-668-5888.
---
Mike Foti
President of Innovate Building Solutions a nationwide supplier and regional (Cleveland and Columbus) remodeling contractors. Some of our product lines include glass counters, floors, backsplashes, glass blocks and grout free shower and tub wall panels
---