5 Myths about Solid Surface Shower Products You Need to Know So You "Won't be Fooled Again!"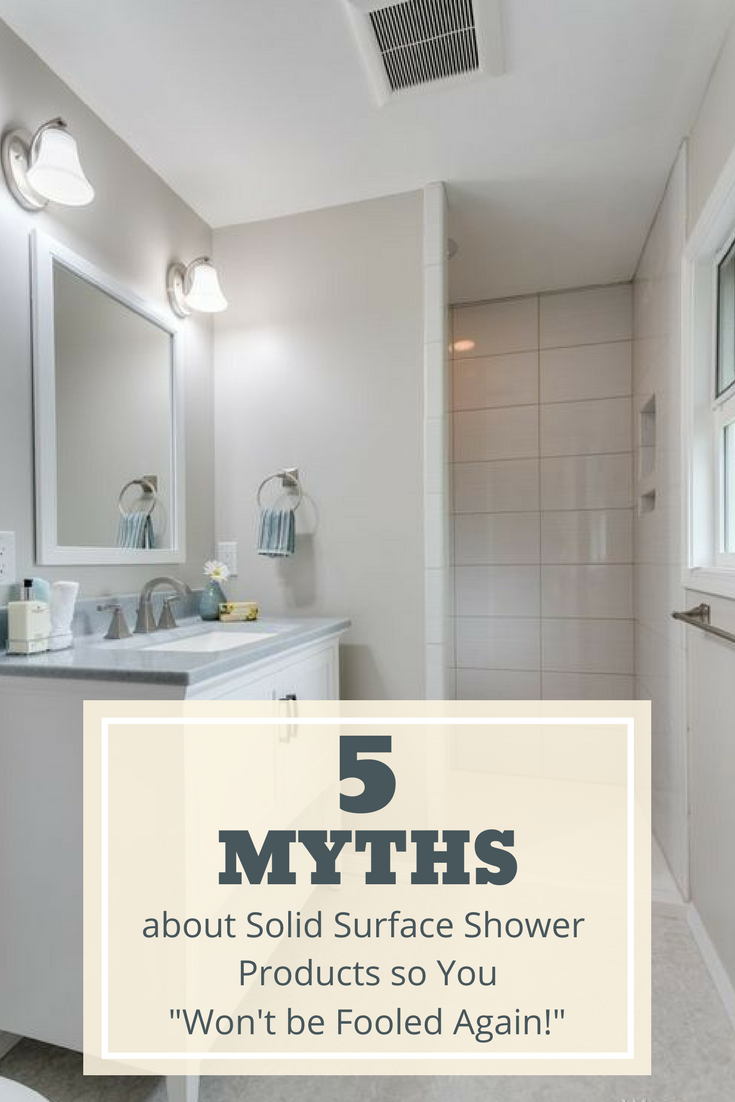 Updated September 20, 2020
I'm going to keep it real dog (in the infamous words of Randy Jackson) and tell you up front most people are confused about solid surface shower products. They'll ask me some of the following questions:
Isn't this product a pain to install because the shower panels are 3/8" thick?
Wouldn't a smooth solid surface material be too slipper to use for the shower pan?
Isn't solid surface the same as cultured marble?
I've heard solid surface showers only come in standard sizes and my shower is custom sizes. Is that true?
I think I've seen solid surface showers before. Don't they come in those white swirly patterns which went out along with big hair, mullets, shoulder pads and leisure suits in the 80's?
The bottom line is – many people are confused about this material.
I'm here to tell you if I've been able to figure out solid surface (and explain this product to members of my team and customers), it ain't that hard! Here's what I'll tell you about my level of "genius":
I didn't graduate "Magna-Cum-Rowdy" or Magna Cum Laude from college. I'm a proud Carnegie-Mellon University "Tartan." A Tartan is synonymous with Scottish guys who wear plaid skirts. Now that's hot. My Kappa Sigma fraternity brothers can tell you I had my share of fun and lost my fair share of brain cells (don't tell my Mom this). I worked my butt off to get through, but didn't exactly have a GPA that blew the roof off the place.
I wasn't the top in my class in high school either. I owned the 41st highest GPA out of 82 people in at the private school I attended – Hawken School in Gates Mills Ohio. Sure, there were some smart kids there – but nobody was worried about competing with ME for valedictorian.
Nobody at the Apple "Genius Bar" is recruiting me. I'm sure they're desperately looking for a 58-year-old guy with ever-so-slightly graying (I lied) hair to work side by side with the techno-savvy-20 somethings. I still have hope I'm going to get the call any day now begging me to join the "Genius Bar" team.
Despite my lack of "genius" I think I can help you dispel some of the mistruths and half-truths about solid surface products. I've been working with the stuff in my remodeling and nationwide product wholesaling business for years and have learned a few things along the way. So, let's take a look at 5 myths about solid surface shower products you need to blow up and 'not be fooled again' (in the words of The Who for you 80's rock band aficienados). Note – I've also added in a 6th myth – you won't want to miss, unless you're 'made of money' (as Dad used to save…..NEVER!).
Myth #1 – Solid surface shower wall and countertops are as difficult to cut (out) as your morning trip to Starbucks  
Any building material which is painful to install should be avoided like the plague. This is one reason our company doesn't wholesale standard 1/8" thick acrylic wall panels which we still (reluctantly) install (if a customer REALLY wants them). They are as finicky as a crotchety women trying to keep you quiet in the library. Acrylic panels can (and do) change in size (through expansion and contraction) from the time you cut them outside to when you 'attempt' to install them inside. That's a pain even for an experienced installer.
If you're a DIY'er cutting acrylic panels, this shrinking problem can be a disaster. If you cut the panel too small, now you're forking over money to rebuy the panel again. This brings me back to the time as a 28-year-old recently married guy I bought 3 pieces of carpet for one small bathroom because of my dumb cutting mistakes! Not a good day!
On the other hand, solid surface panels – while they are 3/8" thick (3 times thicker than most wall panels) can be trimmed, shaped, drilled or cut using standard woodworking tools.
Jig saws, circular saws, drill bits and belt sanders are used most often. Fine to medium tooth finish blades work best. Faucet holes in solid surface countertops can be created with an electric drill and a normal hole saw bit (or with a jig saw or circular saw). Better yet – forego the cutting altogether. Get your countertop or wall panels pre-cut to lessen (or eliminate) your cutting altogether.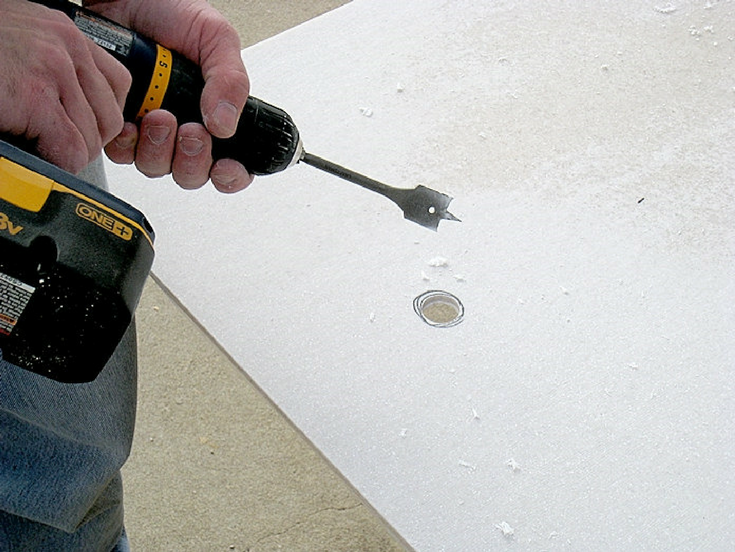 Bottom line – don't be afraid to use solid surface because you're sweating bullets about cutting, sawing or trimming them to fit. They are not a pain to work with.
Myth #2 – Custom solid surface shower pans are as slippery as a baby's bottom. They should be avoided by baby boomers 55 and older  
If you're a Baby Boomer get ready to spend more on remodeling. According to a study by Harvard's Joint Center for Housing Studies it's predicted spending by Baby Boomers on remodeling will grow 33% by 2025. Why is this you might ask?
Well, Baby Boomers or doing their best to help their own Mom's and Dad's (who are living longer thanks for modern medicine) through the aging process. They see their parents struggling while living in their original homes. Many times they are forced to move in with them or move to Independent Living, Assisted Living and Memory Care units.
Baby boomers (like their parents) desperately want to stay in their own homes longer as long as possible. This will require eliminating the danger of climbing over tub rails or squeezing into 3' x 3' phone-booth sized showers. It will require installing safer shower pans. Not only pans with lower thresholds, but also shower pans which aren't slippery at the bottom.
Your cool new shower, must be a safe shower. You need to be able to enter easily and not slip and fall once you get in. If it's not safe, you may end up with the painful (physical) and financial effect from a trip to your friendly "Way-Too-Expensive-General-Hospital."
While solid surface shower wall panels can be as smooth as a baby's bottom (if you buy them with a smooth glossy surface), a solid surface shower pan MUST be safe to walk on. This is why you've got to insist on a shower base which has been approved and tested with a textured bottom.
Solid surface shower pans should exceed the safety (also called slip-coefficient if we're getting technical) standards set in the International Building Code. However, shower pan safety (for those with mobility challenges of any age) should extend beyond a textured bottom surface. Use a low-profile shower pan. A low-profile design can be converted into a roll in shower in the future – if needed. Consider a ramped entry for a family member in a wheelchair or one who uses a walker.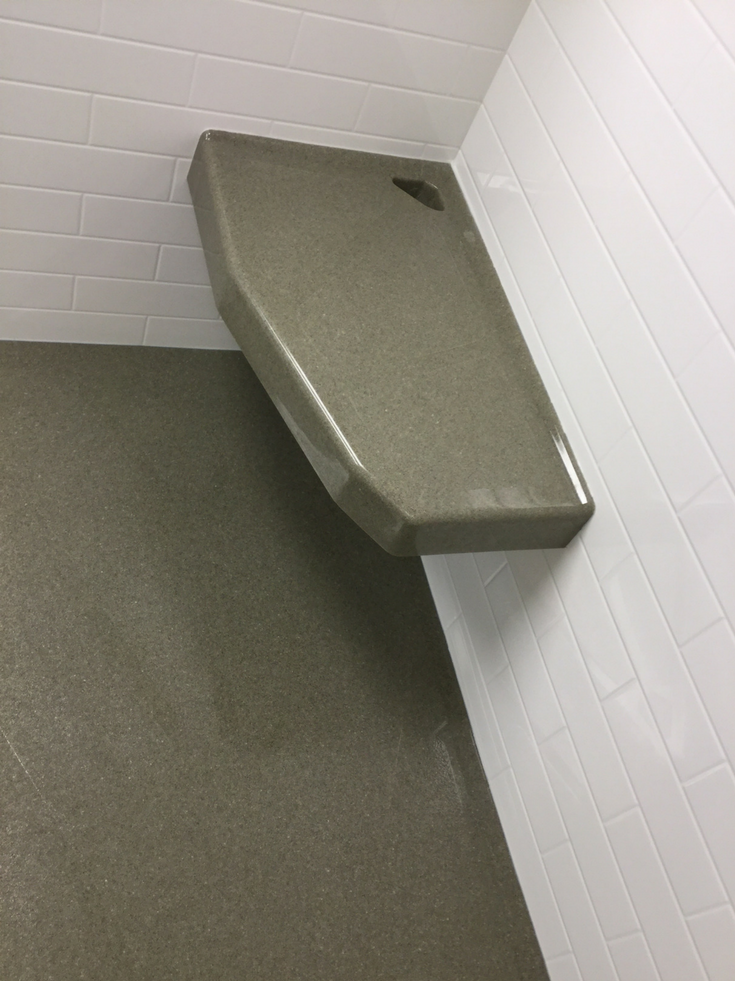 Bottom line – solid surface pans are safe. They offer flexible design options to stay in your home and 'age in place' no matter how 'crusty' the rest of your family thinks you are!
Myth #3 – Solid surface and cultured marble are the same
Solid surface and cultured marble have similarities. They are man-made products with a blend of resin, natural pigments and natural mineral fillers. They are manufactured in a molded process. They are low maintenance materials used for showers and bathroom vanity tops. However, this is where the similarities end.
Cultured marble – while cheaper – has drawbacks many people don't realize (until it's too late). They are made with a porous blend of resins, pigments and fillers. They require a stain resistant gel-coat on the top to create a waterproof finish. The problem is if this gel coat becomes damaged due to chipping, gouging or deep scratches it is no longer waterproof. Then when a repair it will be visible for all to see. In addition, cultured marble is only available in a gloss finish (since the required gel coat on the top is glossy). If you don't like a glossy look, you're out of luck.
Solid surface – on the other hand – while more expensive, has some important benefits. It is manufactured with non-porous resins, pigments and fillers. It doesn't need a gel-coat so minor scratches can be sanded away, and the product still looks like new. It is available in contemporary patterns in gloss and matte finishes (more about this later).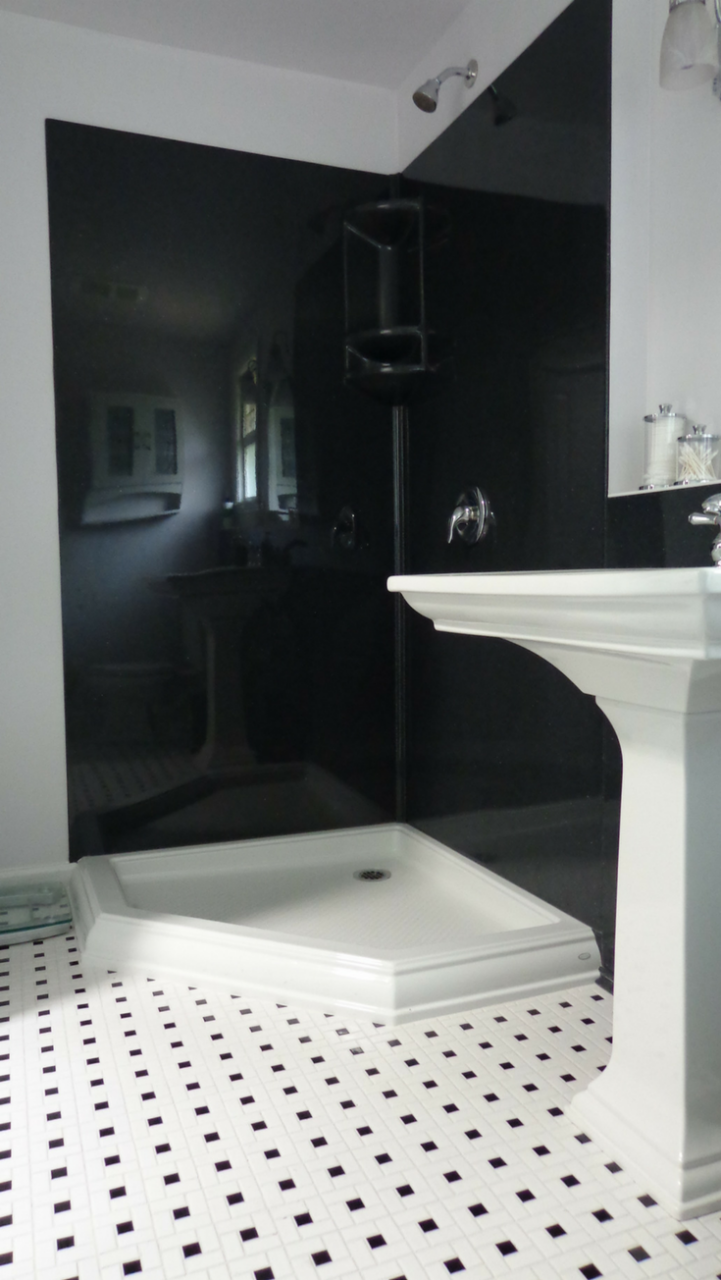 Bottom line – while both materials are acceptable for your shower –solid surface is the more versatile, higher end, more-options brother of cultured marble. In addition,  the solid surface patterns don't look like they belong in a 'so-out-of-style' episode of the Brady Bunch either!
Myth #4 – Solid surface walls and pans only come in standard sizes
Some people with custom tile showers hate grout maintenance, yet still end up settling for ANOTHER tile shower. The reason why….. they couldn't find any decent alternatives.
Think about this. You make a trip to your 'favorite' big box store and see plenty of standard 60 x 36, 48 x 36 and 36 x 36 'builders-grade-special' fiberglass showers. However, these sizes won't work for you. Besides, you wouldn't be caught dead with these ugly, white plasticky units in your home.
Many people assume they'll have size limitations with solid surface. Then they revert to another (high-maintenance) tile shower. However, this assumption you can't customize a solid surface shower cannot be further from the truth.
For example, in the shower trays you can get an 'offset pan' (this is a shower base where you've got 4 inside walls unlike your typical alcove style shower). You can get custom shower pans with curved curbs to accommodate a walk in glass block shower system. You can even get arched and curved pans for corner showers. Virtually any shape and size are possible (check out the size of this solid surface shower pan in the video below. Wow, this puppy is HUGE!.
When it comes to wall panels the same flexibility exists. Solid surface shower walls can be made up to 110" x 100" (although I don't know how you'd fit that bad-boy into your home). They can be cut to size to limit seams as well.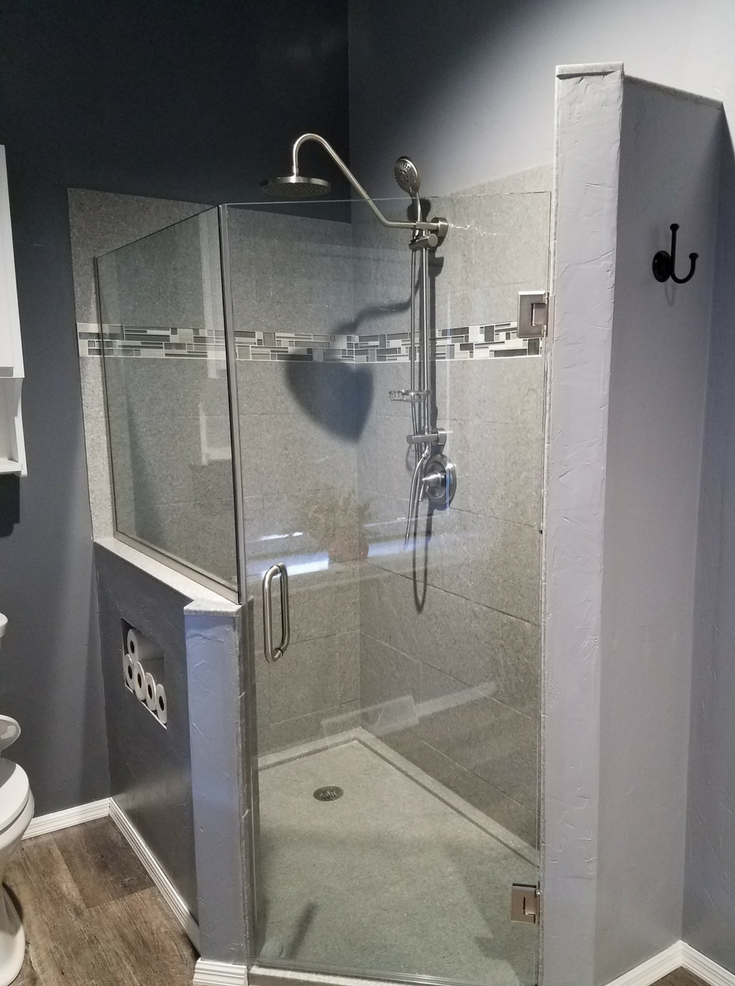 Bottom line – solid surface shower products offer a ton of flexibility, so you can get a custom shower and eliminate grout.
Myth #5 – Solid surface shower wall panels only come in ugly swirly patterns popular back in the 80's and 90's
If you're updating your bathroom the goal is obviously to UPDATE the space. You're not looking to go Back to the Future with an ugly out of date pattern. Maybe you'd like a shower wall panel system which compliments your new shiplap siding. Maybe you'd like a simple, smooth, clean-lines panel to go with your Euro-inspired wall-hung cabinetry.
Solid surface will work in both fashion-forward styles.
Solid surface is not made with the ugly swirly patterns from the 80's (that would be cultured marble you're thinking of).
Solid surface can be made with a subway tile design which works well with the rustic charm and natural look of shiplap siding.
Smooth solid colored solid surface panels also look smart in a sleek contemporary bathroom.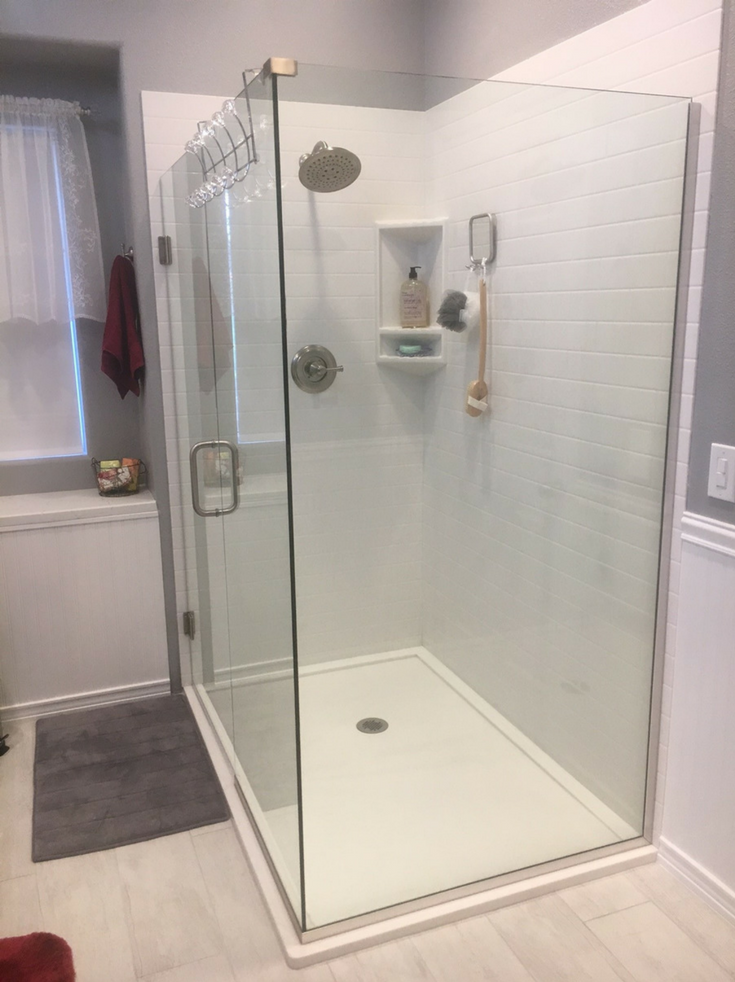 Bottom line – solid surface panels aren't those ugly swirly things you think they are. This material offers design flexibility which fits today's designs styles ranging from rustic to contemporary.
Myth #6 – Solid surface and cultured granite pans cost waaaaay toooo much money! 
OK, I'll level with you and say solid surface and cultured stone aren't the cheapest pans in the shed (although I'm not sure I've seen too many of them in a shed, but you get what I mean). If you want the cheapest pans you'll likely choose a fiberglass or acrylic unit. But, if you want a quality shower base and/or you need one in a custom size – solid surface (or cultured granite shower pans) can be perfect for you. You may think only the 'rich and famous' can buy these pans, but I'd say you're wrong. If you want to dig into the 'nitty-gritty' of the price of these pans then read How Much Do Custom and Standard-Sized Cultured Marble and Granite Shower Pans Cost or click on the image below: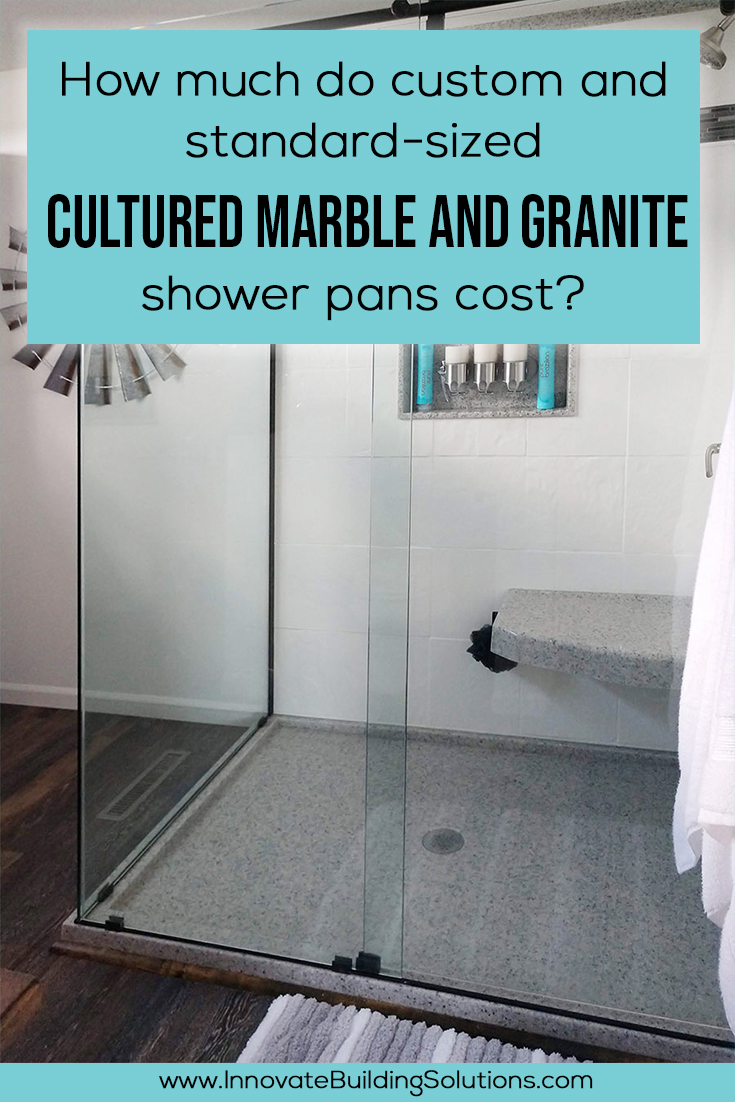 Conclusion
I wish I had a dollar for all the mistruths and half truths I've heard about solid surface. Their contractors (who often aren't familiar with solid surface) will tell them they can't get the material, or it only comes in standard sizes. Home centers (who have employees who can't possibly be an expert on the 35,000 stock keeping units in their stores) will steer them to ugly white fiberglass panels they have in stock.
In the infamous words of the rock band The Who (you can tell I'm in the Baby Boomer generation now), 'don't be fooled again.'
Before you 'settle' for another high maintenance ceramic tile shower or all-too-ugly and boring white acrylic shower – dig into the facts about solid surface shower products.
If you need help call us or add a comment to this article with your questions below. We not only wholesale solid surface shower wall panels and bases across the country (as well as other types of shower wall panels) – we also provide professional installation in Cleveland and Columbus Ohio.
Bottom line – Don't be fooled again! Get the facts about solid surface.
How can I (or my team) help you?
 If you're kicking around using a solid surface shower wall or pan and don't know where to turn – turn to us. Call Innovate Building Solutions at 877-668-5888 for nationwide supply, or for a a local Cleveland bathroom remodeling job call The Bath Doctor in Cleveland at 216-531-6085 or in Columbus at 614-252-7294.
If you're a remodeler or builder and want practical advice on remodeling products, industry trends, marketing and sales tips to grow your business (and cut day to day hassles), start reading my newest blog – Innovate Builders Blog. It's packed with ideas you can use now. Click here to Sign Up for the Innovate Builders Blog.
If you're a Twitter fan follow me on Twitter @Mike_Foti or my companies @InnovateBuild or @InnovateHomeOrg for more input on bathroom remodeling. I'll warn you though – you might have to put up with a bit of bad humor along the way.
---
Mike Foti
President of Innovate Building Solutions a nationwide supplier and regional (Cleveland and Columbus) remodeling contractors. Some of our product lines include glass counters, floors, backsplashes, glass blocks and grout free shower and tub wall panels
---