How much do custom and standard-sized cultured marble and granite shower pans cost?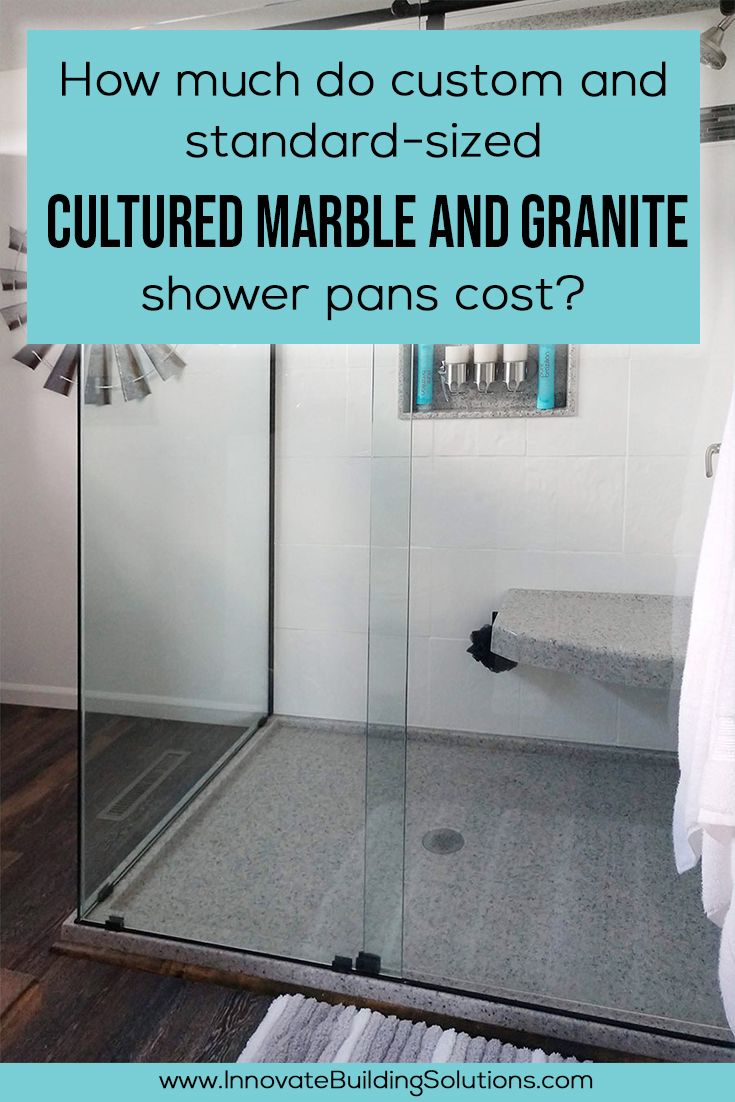 So, you're sick and tired of regrouting your tile shower pan or worried your dingy fiberglass pan is ready to crack any day now.
You're looking for a better alternative. You want one with these benefits:
You KNOW it won't crack.
You KNOW it won't 'bring you to your knees' (literally) to clean tile grout joints.
You KNOW it can be designed to work with a non-standard drain location or curved glass wall.
You've figured out an option which checks all the boxes and has the benefits you want– a cultured stone shower pan. But while you know there are a TON of benefits and options (different curb heights, drain locations, shapes, colors and did I say ZERO MAINTENANCE!) with this type of base to get you excited, you're also scared you'll SHIP YOUR PANTS (I just loved this clever #ShipMyPants Kmart commercial, didn't you?) over the cost.
When you say a 'solid stone pan' or then add the super-scary word 'custom' in front of it, really makes you want to s*** your pants! And to use the trite saying FEAR is False Evidence Appearing Real, sometimes your concern about cost is more fear, than fact.
This brings me to the goal of this article. As a guy who leads a company who not only installs cultured stone pans regionally, but who also has been wholesaling them nationwide for over 10 years, I'm in a position to give you the 'straight-scoop.'
I (and my team) have priced tens of thousands of standard sized and custom cultured marble and granite shower pans over the years. And while I'll tell you they're more expensive than standard fiberglass or acrylic pans, they can, in many instances, save you money (more about that later in the article) and get rid of big-time hassles (and costs) down the road.
I'll dig into 7 factors which impact the cost of a cultured marble or cultured granite shower pan and give you hard numbers so you can see if this product is affordable to you. Let's take a look
Factor #1 which impacts the cost of a cultured marble or granite shower pan – Is it a standard sized or custom pan?
There are several factors which determine whether you need a standard or custom size shower base, but the 2 biggest drivers are…
#1) The size and shape of the shower pan
#2) If the drain hole can be in a 'common' location.
Let's say, for example, let's assume you need a standard rectangular 60" x 32" shower pan (note – this is the most popular pan because it's the size you use if you're pulling out a tub and putting in a shower). In the case of a tub conversion to a shower you can use a standard pan because the drain is in a common location from the tub you're removing (note: the drain will be on the left or right side about approximately 8" from the wall).
For this standard 60" x 32" cultured granite or cultured marble pan expect to pay from $650 to $950 depending on suppliers. On the other hand, if you have the exact same sized pan with a custom drain location add $300 to $600 to this price. While custom sizes 'seem to be' a lot more expensive, they can actually save you money. Here's why. You won't have to move plumbing to conform to a standard drain location in a pre-molded base.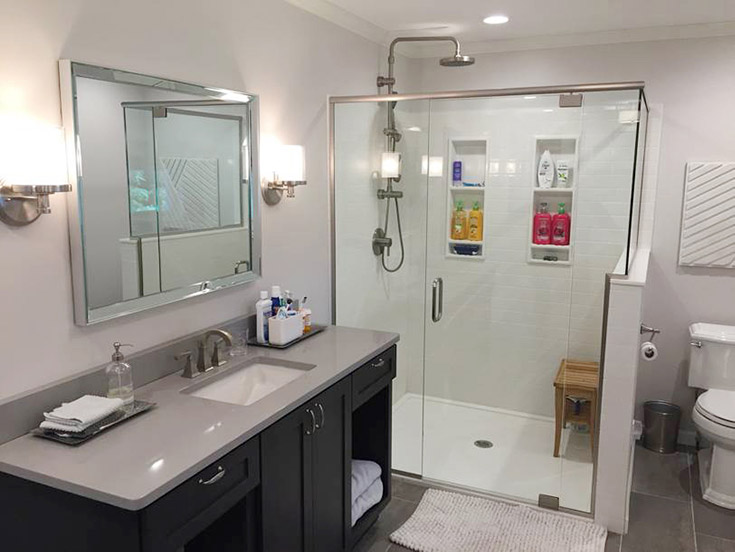 Here's 2 other cultured marble and granite pricing examples for the 2nd and 3rd most popular sized standard shower bases:
For a standard sized (standard drain location) 48" x 36" pan expect to pay between $600 and $900.
For a standard sized (standard drain location) 36" x 36" pan expect to pay between $450 and $700.
If you're wondering why standard pans are less expensive it's because a mold is already produced and the set-up time to manufacture this shower base is shorter.
If you want to figure out the approximate price of a custom cultured stone pans of other sizes, budget from $90 to $120 per square foot.

Factor #2 which impacts the cost of a cultured marble or granite shower pan – Do you need a roll in ramp for handicap access?
Some cultured stone shower pans are made with integral ramps. Other manufacturers create an 'add on ramp' which is placed next to the shower pan. If you need an integral or add on ramp budget from $100 to $200 more to the base cost (see factor 1) of a shower pan.
The advantage of custom accessible cultured stone shower pan is it eliminates messy grout, provide safe access to the shower, and can be designed to use linear drains (see factor 5 below to learn how different shapes and type drains will impact your final cost).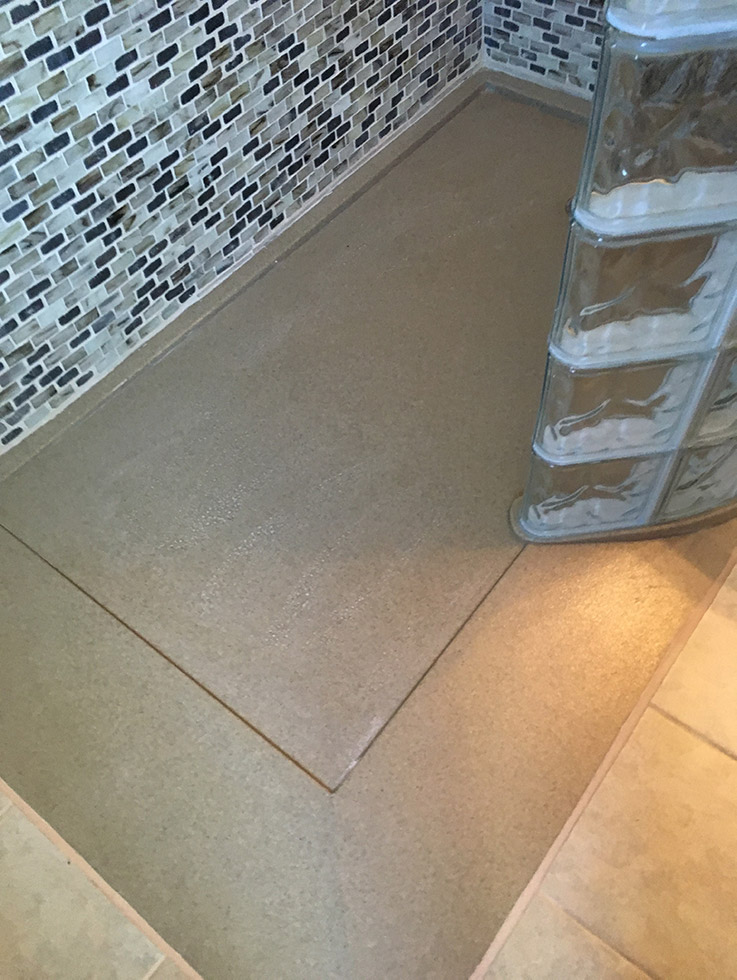 Factor #3 which impacts the cost of a cultured marble or granite shower pan – Do you need low profile, mid height, or standard height shower curb?
While not everyone needs a ramped shower pan, the ability to vary the threshold (or curb height) can enhance the look (and safety) of your shower.
There's usually no difference in price between a 'standard height curb' (this is a threshold which is between 4" to 5" high), a mid-height curb (often 2 ¾" high) and a low profile shower curb (2" to 3" high). In general, lower profile curbs are used to make your shower safer (minimizing tripping when stepping in or out) and are more contemporary looking and higher curbs are used in smaller pans to prevent water from overflowing when your drain clogs.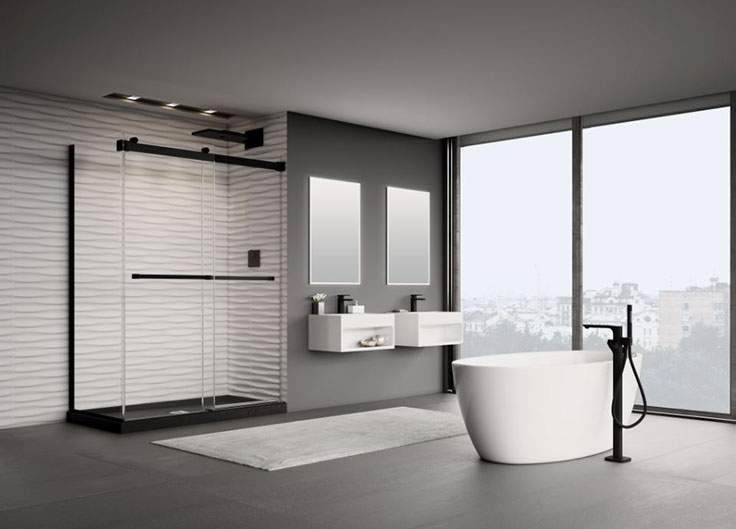 Factor #4 which impacts the cost of a cultured marble or granite shower pan – Would you like a matte or gloss finish?
Some people LOVE, LOVE, LOVE a gloss finish for it's sheen and ease of cleaning. Others hate gloss and prefer the understated elegance of a matte (non-shiny and less slippery) surface (and if you want learn more about the debate of gloss vs. matte finishes for your bathroom read 7 Critical Questions You Need To Know Choosing Between a Gloss or Matte Finish for Your Bathroom or Shower).
When it comes to cultured stone, most people think the gloss finish will be more expensive, but actually the exact opposite is true. Since the clear gel coat top finish (which makes the base glossy) is used in the manufacturing process to make it simpler to remove the finished pan from the mold, when you go to a 'matte finish,' for most manufacturers the 'gloss' must be removed to get a matte look. This extra manufacturing process is why matte costs more than gloss.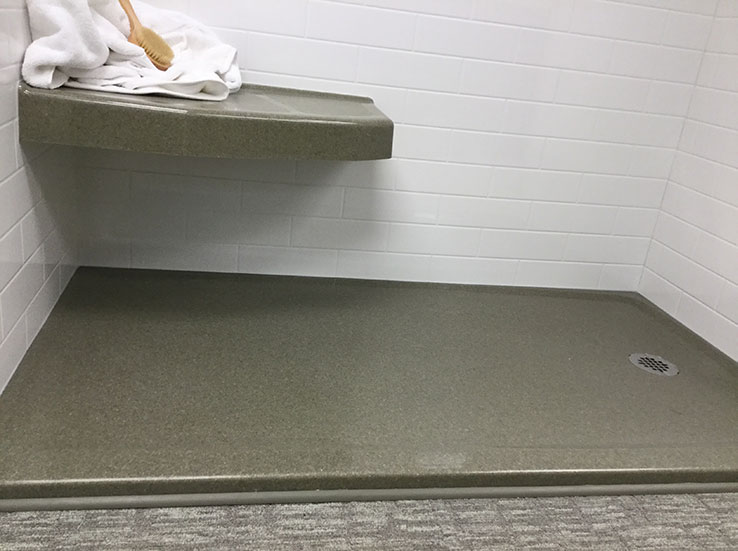 Expect to pay 10% to 20% more for a matte finished cultured marble base than a gloss finish.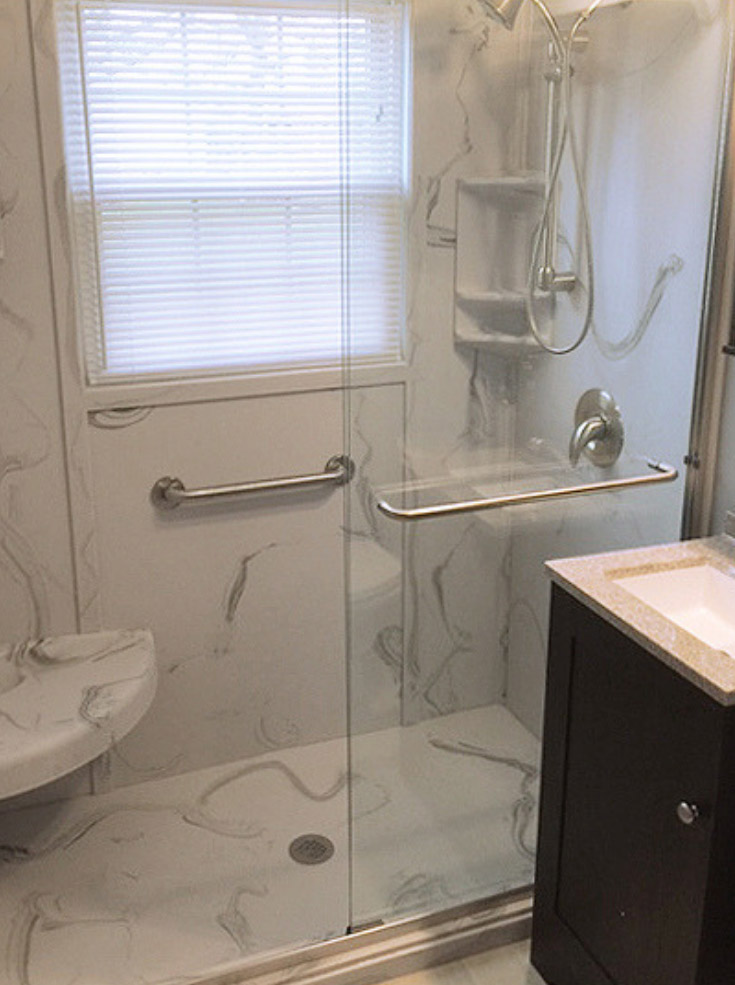 Factor #5 which impacts the cost of a cultured marble or granite shower pan – What type of drain you like.
If you're like me, you think a standard round drain looks behind the times.
If you're also like me, you find a square drain the logical step up from the round drain.
And if you really want a cool look, you think a linear drain is the 'cat's meow' (and does anyone even use that term anymore?). It's contemporary and feels in step with (yes, that bad shower floor pan pun was intended) styles of bathrooms being created today.
However, here's an area where you'll find most (although not all) cultured marble and cultured granite shower pan companies are behind the times (IMHO). For most their forms were created (years-ago) for a round drain holes. And some only offer round drain holes as THE ONLY OPTION. This good news is round drain holes will be standard and won't cost you extra.
However, if you want a square drain hole, you're forced to upgrade to a custom base (if a square hole is even available at all). And like I mentioned in factor 1 you can expect to pay between $90 to $120 per square foot for a rectangular shaped pan molded for a square drain cover.
Lastly, if you want a linear drain, add from $300 to $500 to the cost of the custom cultured granite pan. Sure, they're not cheap, but they are cool and fashion-forward.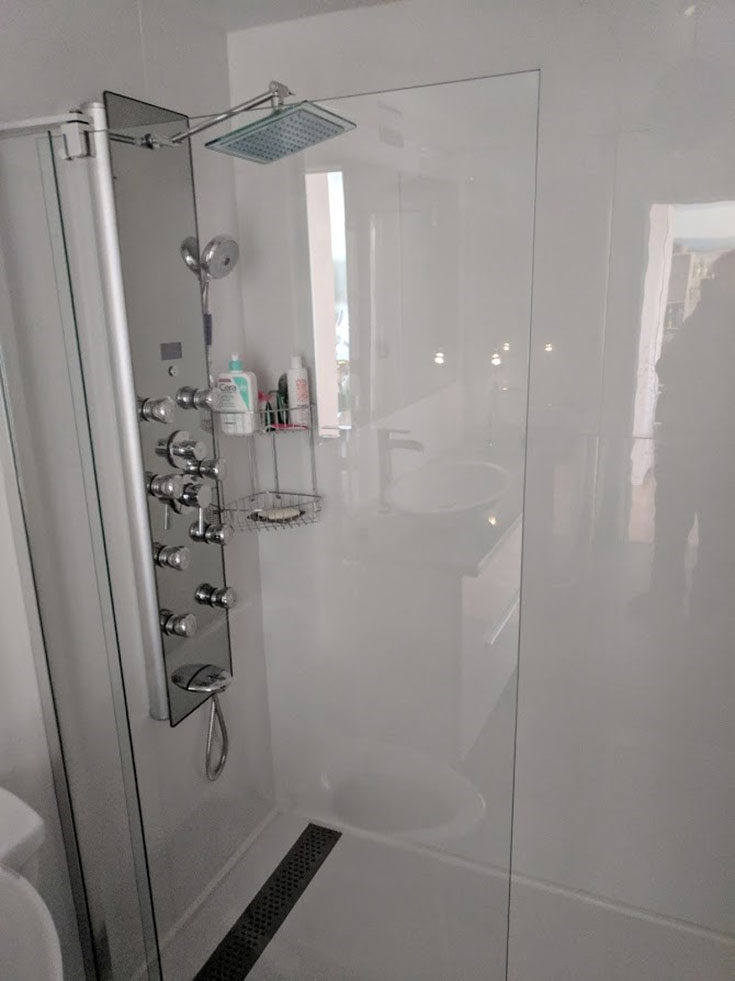 Factor #6 which impacts the cost of a cultured marble or granite shower pan – Do you want a walk-in shower pan with curved glass so you can eliminate the cost of a door?
The quickest way to add style (but also complexity) to a custom solid surface shower pan is to use a curved wall with a curved shower base. The good news is by curving a glass wall, you can actually make a tight alcove style shower roomier (like is the case with a with the curved glass sliding doors you'll see in the picture below).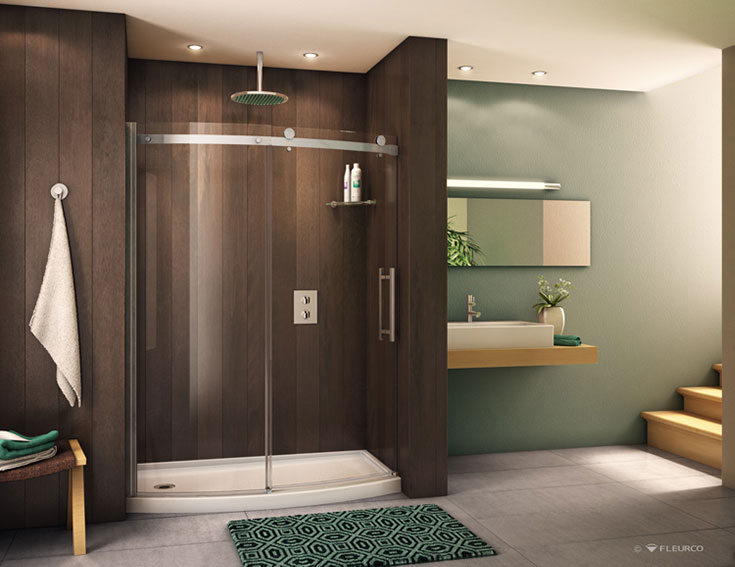 In addition, you can eliminate the need (and cost) of a glass door by using a material like this glass block shower wall. In fact, you can even do a 'crazy-stylish' design like this serpentine wall IF you have enough room.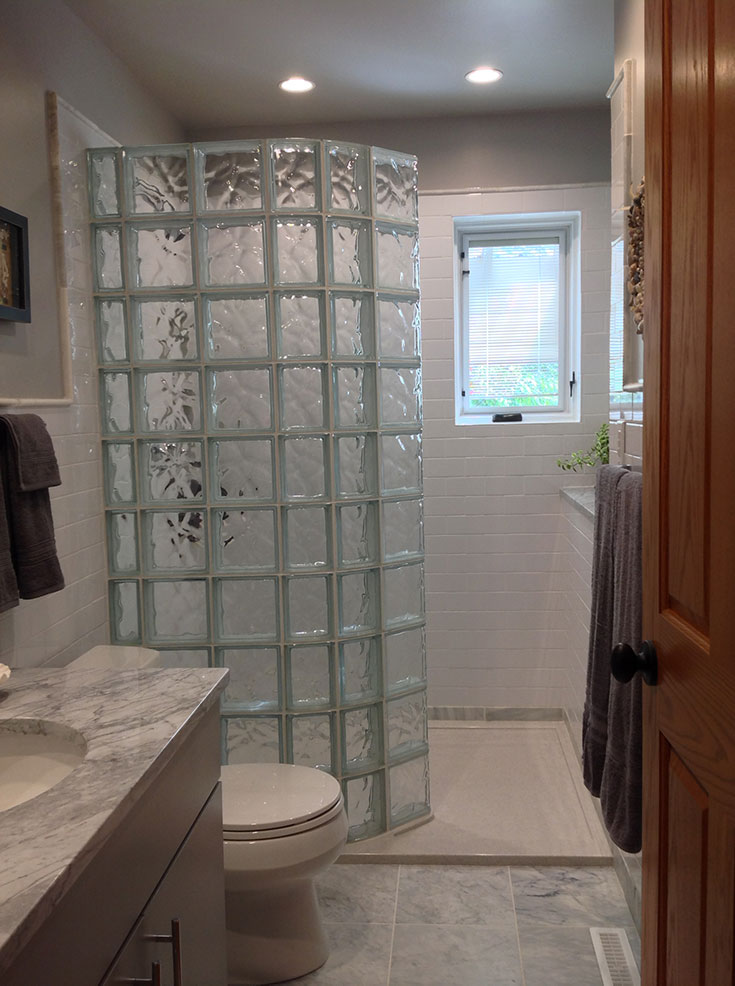 However, while these curved projects are sharp, engineering (wow – that word even sounds expensive!) a custom curved base USED TO BE a pain in the butt to figure out (let alone, find someone to build it for you). And while there are very few custom cultured granite base manufacturers who have the capability of making a curved base – the manufacturer we work with who does know how to do this, does a fantastic job with these bases (as you can see from the image below showing a glass block shower wall in a 60" wide space).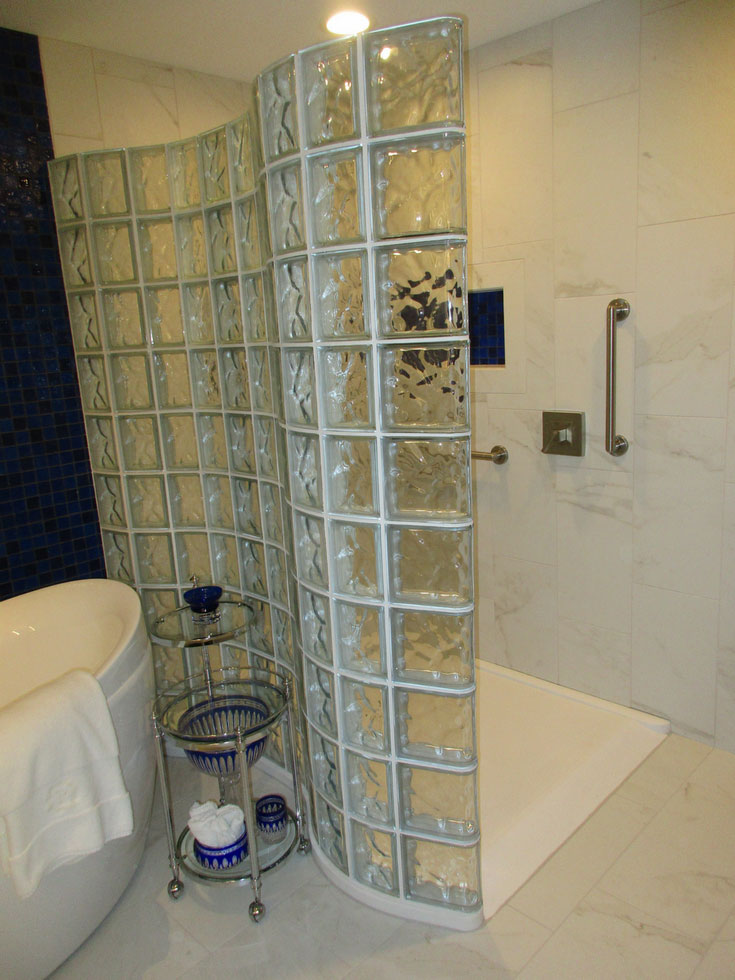 You may be worried how much a curved custom base 'set you back?' And while I'd like to say it was a 'cheap date,' that wouldn't exactly be true. For example, for this 60" x 36" shower base you'll pay between $1,800 and $2,200. Although this may seem like a lot of money, I'll tell you a curved custom tile shower pan of the same size installed by a professional contractor will be every bit as expensive, if not more. In addition, with the tile base you'll also have the 'fun' (sarcasm intended) of never-ending appointments from the "Grout Doctor' to clean out mold and mildew from tile joints as your shower 'gracefully' (more sarcasm intended) ages.

Factor #7 which impacts the cost of a cultured marble or granite shower pan – Would you like a cultured granite base which is 'plain' (in solid colors) or one with a pattern?
OK – this is a trick question, what do you think is more expensive, a cultured granite base with patterns or a solid color?
Logically, you'd say the patterned base would cost more and you'd be….
Wrong!
This is one place where pricing logic is not logical (IMHO). However, due to higher manufacturing scrap rates with solid color cultured granite bases (the manufacturing challenge with solid colors is making sure the color is consistent throughout) the price of solid color units is 10% to 20% higher than the patterned cultured granite colors (these would be the ones which have decorative particles in them).
On the other hand, cultured marble bases are priced the same between the solid colors and the patterns.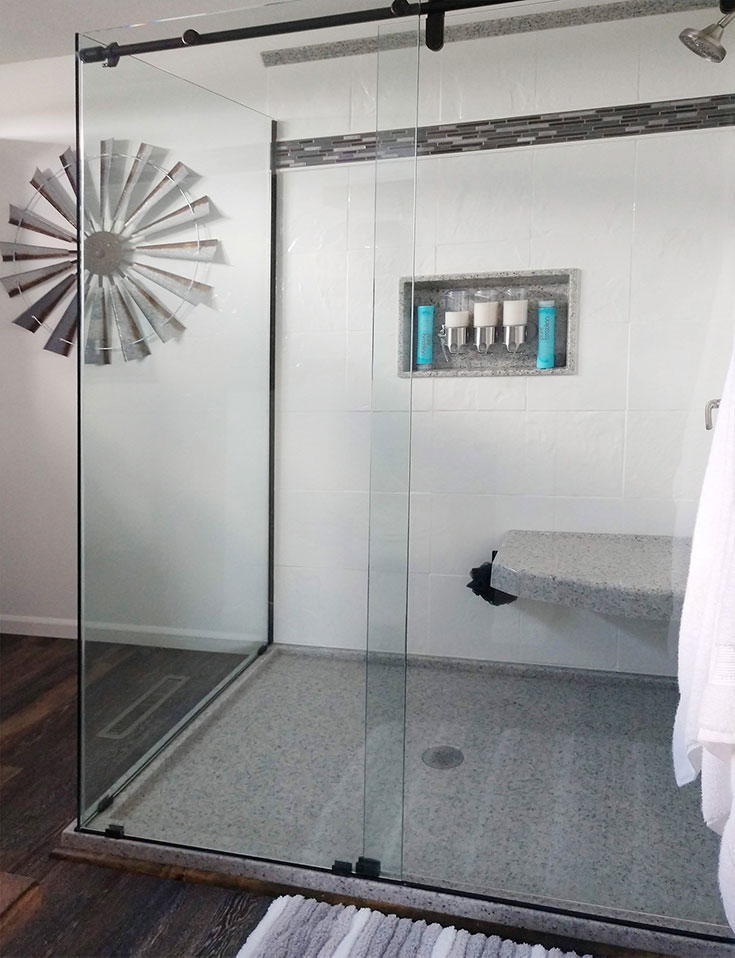 I know that's a little confusing, but that's the way the manufacturers are pricing the product.

What's the next step?
After reading this article you may have concluded there's a lot of variables which go into the price of a custom cultured stone shower pan. And you know what?
You're right!
If you want to get a firm estimate for the cost of a cultured stone shower pan made to your exact need, give us a call. 98% of the time we can give you the price while you're on the phone and can also help you with grout free shower walls, curved glass block enclosures, curved glass shower walls and contemporary shower accessories to go with these bases.
Thanks for taking the time to read this post. If you'd like more input comment below or call us on the numbers in the next section.
How can I (or a member of my team) help you?
Call 877-668-5888 (for nationwide wholesale supply of custom cultured stone shower pans or a connection to a local installing dealer of laminated wall panels). For professional installation call 216-658-1280 in Cleveland or 614-252-3242 in Columbus for product supply.
If you're a remodeler or builder and want practical advice on bathroom remodeling products, industry trends, marketing and sales tips to grow your business (and cut day to day hassles), start reading my newest blog – Innovate Builders Blog. It's packed with ideas you can use now. Click here to Sign Up for the Innovate Builders Blog.
If you're in the building business, click here if you'd like to learn how to become a shower wall panel dealer or call and ask for Mike at 888-467-7488.
---
Mike Foti
President of Innovate Building Solutions a nationwide supplier and regional (Cleveland and Columbus) remodeling contractors. Some of our product lines include glass counters, floors, backsplashes, glass blocks and grout free shower and tub wall panels
---