9 Truly Remarkable Things about Laminate Shower & Tub Wall Panels (and 3 things which could be better)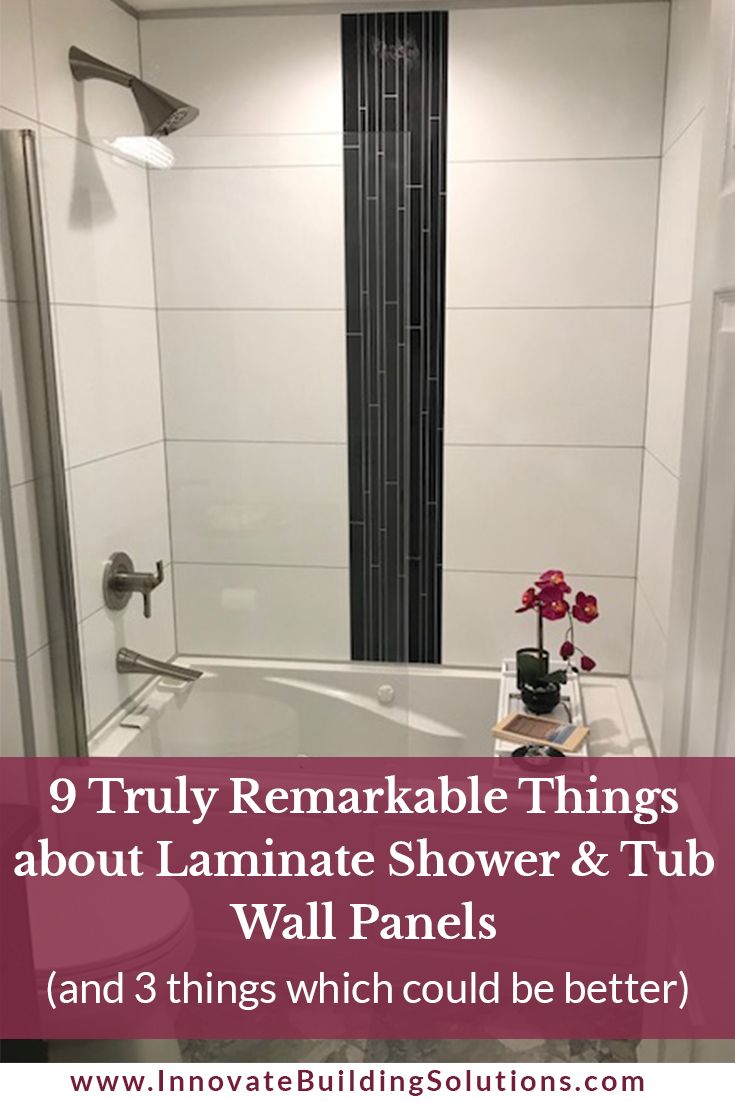 Updated December 26, 2021
Do your ugly, cheap, and yellowed 'builders-grade' fiberglass shower wall surrounds make you want to SCREAM!
OR does your moldy, bacteria-filled tub or shower tile walls look DISGUSTING? And it doesn't take a genius to know you hate using your tile scrub brush to try to clean those nasty tile grout joints. Can you say…
YUCK!
Yes, it's true fiberglass and tile shower wall systems are 'remarkable,' but for all the wrong reasons.
If you've 'had it up to here' (I can still hear my Mom saying those words back in the day) with your existing wall surrounds, I get it.
You want a better shower or tub surround alternative (and as Colonel Nathan Jessup from my favorite movie A Few Good Men would say), you NEED a better alternative. You want a shower or tub surround system which is 'remarkable' for all the right reasons. Here's a few benefits I'd bet you'd like to see.
1) You want stylish walls and a lot of selection (Who exactly wants to spend their hard-earned dollars on a bathroom or shower remodel only for a slightly better result than you have today? You want a cool-looking finished product).
2) You want LOW, LOW, LOW maintenance (Who wants to spend even 1 minute of their time cleaning shower and tub walls??? 'er NO ONE!).
3) You want no mold or bacteria (The Coronavirus will make ALL OF US into germaphobes…eventually.)
4) You want simple to install (If you're DIY'ing the job you want to get done quickly. If you're hiring a contractor, you want it done even quicker – because you're not made of money).
5) You don't want to pay an arm and a leg (Unless you're made of money, like your Dad used to tell you he was…NOT!).
Bottom line is…. you want remarkable…. but 'remarkable' in a good way. But how?
As a guy who has lead a bathroom remodeling and nationwide bathroom products wholesale business for Y-E-A-R-S (OK – I'm old…I'll admit it) and seen the good, the bad and the mostly ugly in shower and tub wall surround systems, I not only feel your pain, I've heard it for years.
Fortunately for you a remarkably better alternative has come along. And while it's not the 'perfect' shower and tub wall surround system (and quite honestly, there's still no perfect system I know of), its head and shoulders above the mundane alternatives offered by most new home builders or remodeling contractors (tile, fiberglass, acrylic and cultured marble put your hands up now).
What is this remarkably better alternative, you ask? They're laminate shower and tub wall panels.
In this article I'll share 9 things which are remarkable about this system. And to keep it 'real dog' as Randy Jackson used to say, I'll also point out 3 things which can be improved about these panels. At the end, I'd love your feedback about what you love (or don't) about them.
Let's dig in and learn more.
9 remarkable things about laminate shower and tub wall panels
Remarkable thing #1 about laminate shower and tub wall panels – They're 'new,' yet they've been around for 41 years
I'll admit I love innovation. I love adopting new technologies and trying new products. And I love a clean, contemporary look in bathrooms. So, when I saw laminate panels for the first time 3 years ago at the Kitchen and Bath Industry Show in Orlando, I took one look at this product and said, "Now, that's cool."
These panels were new and fresh. Look yourself in the video below:
However, what I didn't know is they were developed 41 years ago. They are the dominant grout free wall panel system used in Europe and Asia. As a matter of fact, in Norway laminate shower panels are 1/3 of the market! Take that tile!

Remarkable thing #2 about laminate shower and tub wall panels – They can be installed by one man or one woman
OK ladies – I can hear you saying right now, "If you want it done right, give the job to a woman." And while that may be true, these walls panels can also be installed by a guy – and only 1 guy at that.
Most shower and tub wall panel installations take two people. You need 2 because some systems weigh a lot (cultured granite or cultured marble are prime examples) or because they're flimsy (acrylic, fiberglass or PVC composite products come to mind).
These 2' x 8' x 3/8" thick high-pressure laminate panels only weigh 26 lbs. and click, lock and seal together (like laminate flooring). You won't need to beg a buddy (or buy them a steak dinner) to help you install. You won't need to pay big bucks to your contractor who can be in your home for what seems like forever building a tile shower.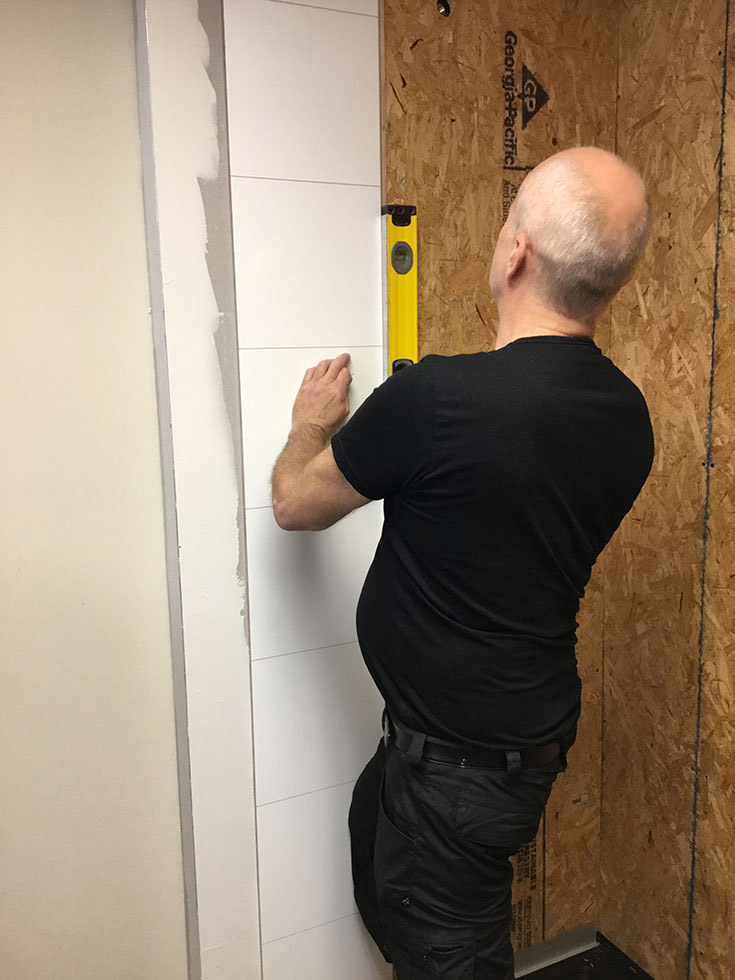 Remarkable thing #3 about laminate shower and tub wall panels – Bacteria and mold HATES these panels
Even before you and I had to get 'mask to mask' to stomp out the Coronavirus we've HATED moldy and bacteria-infested grout joints. Now, more than ever, we know we need bathroom wall panels which stomp out mold and bacteria to keep our family healthy.
Since these panels stop water penetration right on the surface, you'll win the battle vs. MOLD…. forever!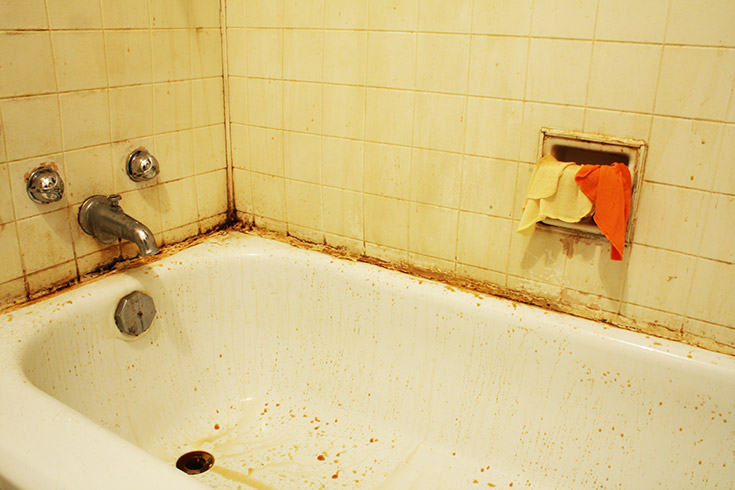 Remarkable thing #4 about laminate shower and tub wall panels – FINALLY there's a realistic wall panel system!
IMHO – most wall panel systems look fake. And if I'm being perfectly honest (as opposed to being imperfectly honest), even though my company used to sell acrylic wall panels (back in the day), I never considered installing them in my own home. You may wonder why? It's because they look plasticky and cheap. My wife wasn't having it (and yes – I don't even pretend I'm calling the bathroom décor shots in my home!).
With these CNC manufactured panels there are actual ('er faux) grout joints which are a different color than the 'tile and stone' patterns on the surface. They come in fun large format tile grout patterns or even fun designs like white subway tile or white herringbone.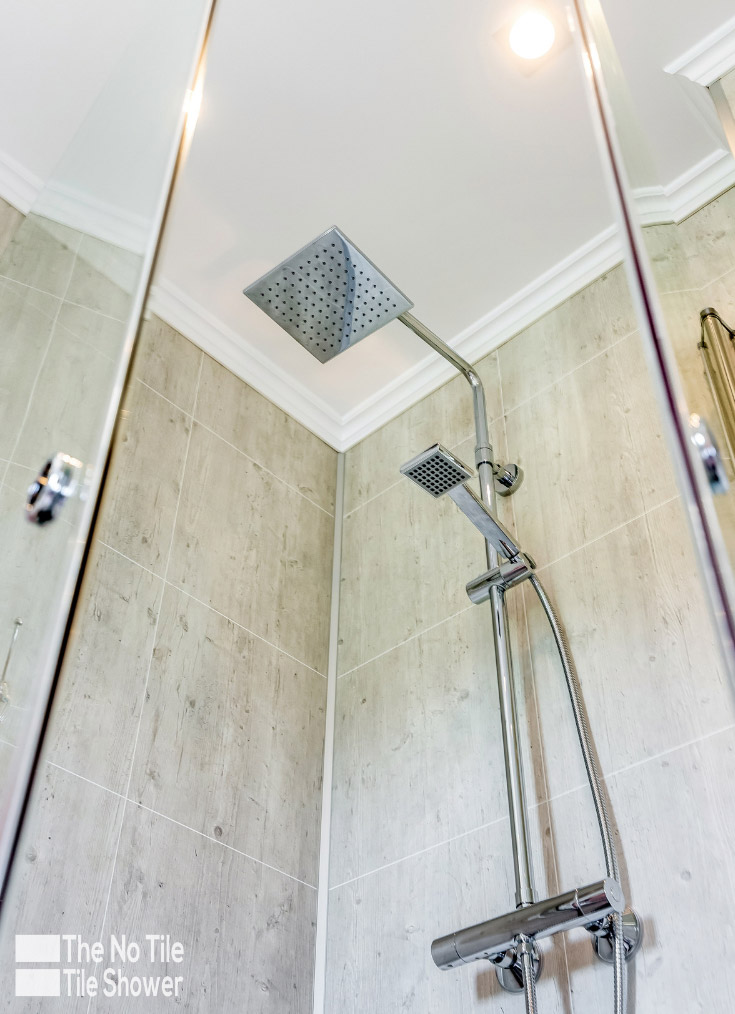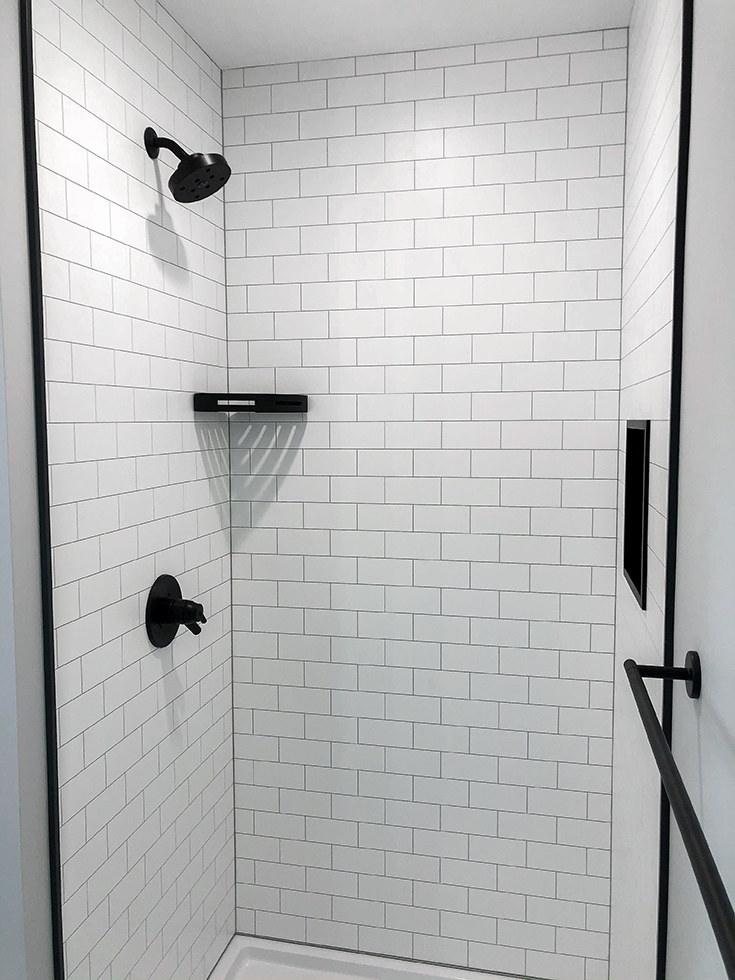 You'll swear they're real (and yes – if you swear, I won't tell your Mom).

Remarkable thing #5 about laminate shower and tub wall panels – It doesn't take FOREVER to get them
So, you just 'sprung a leak' through your shower pan or tile walls. Drops of water are sitting on your new mahogany dining room table. Oh, crap (or fill in your favorite swear word here)!
You need to get your tile or fiberglass shower fixed fast with a system which won't leak. But how? It usually takes 1 to 2 months to get waterproof cultured stone or a professionally installed acrylic wall panel system completed. You need materials – N-O-W!
This is one reason people love laminate panels. They're in stock (and yes – I'll come clean and tell you our company has pallets of them on the floor in our warehouse– insert a shameless plug here). They'll be crated up and sent out as soon as your order is placed. And if you need a shower pan right away – ask about modern low profile shower pans like you'll see below as well.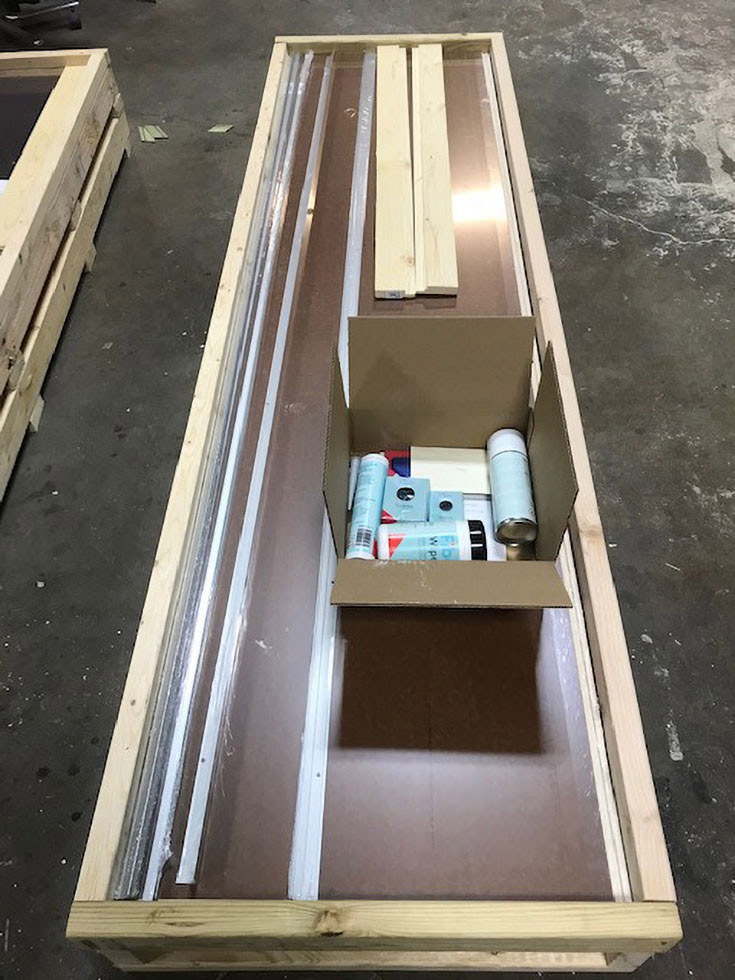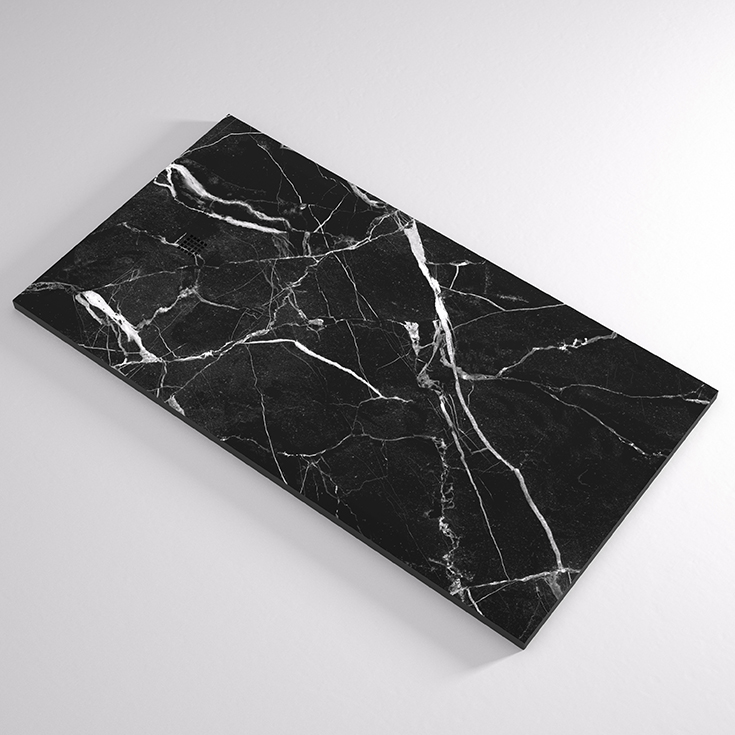 Remarkable thing #6 about laminate shower and tub wall panels – Boring designs can say 'bye-bye Felicia!'
Who wants boring? If you want boring put in another fiberglass surround like your builder slapped in years ago.
While you may want a grout-free shower or tub wall panel system to eliminate leaky or molded grout joints, you don't want a 'generic-looking' bathroom. You want to say 'bye-bye Felicia' to a boring bathroom.
Now, here's the good news.
Laminate panels come in a crazy number of designs. Styles range from Modern Farmhouse to Transitionalist to Minimalist to Contemporary. There are 23 styles stocked in the United States. There are another 700 possibilities in the full catalogue (WARNING – DO NOT REQUEST the full catalogue and show it to your spouse who can't make up their minds about anything!).
Remarkable thing #7 about laminate shower and tub wall panels – You can 'hang' any accessories, at any time
I don't want to get gory with you but it's important to be able to 'hang' (now don't think about your teenage son or daughter here who got yet another missing assignment from school) things on your shower or tub walls. Perhaps Mom comes to live with you and needs a fold down seat or a grab bar? Or your spouse keeps buying 'lotions and potions' and you're tired of tripping over the shampoo bottles on the shower floor. You need more shower accessories.
Since laminate wall panels are installed over plywood (note – they are screwed to 'Oriented Strand Board' behind the waterproof surface) you can add shelves, seats, and grab bars at any time you like.

Remarkable thing #8 about laminate shower and tub wall panels – You can use any shower pan or wet room system  
If you have an existing shower pan which is in good shape, but your walls look like 'doo-doo' (sorry to get technical here) and needs replaced NOW, you'll like knowing you don't have to rip the pan out also.
In addition, if you want to install a barrier free one level wet room for a small bathroom or for a family member whose mobility isn't the greatest, the laminate wall panels work with this shower floor as well.

Remarkable thing #9 about laminate shower and tub wall panels – They free up your time to do other things
If you love a tile or stone shower but dread DIY'ing the job or paying out the wazoo for a tile setter, these click, lock and seal wall panels install in 1/3 to 1/6 the time of tile. This saves you money and frees up (what should be) time to do more important things – like spend time with your kids or grandkids.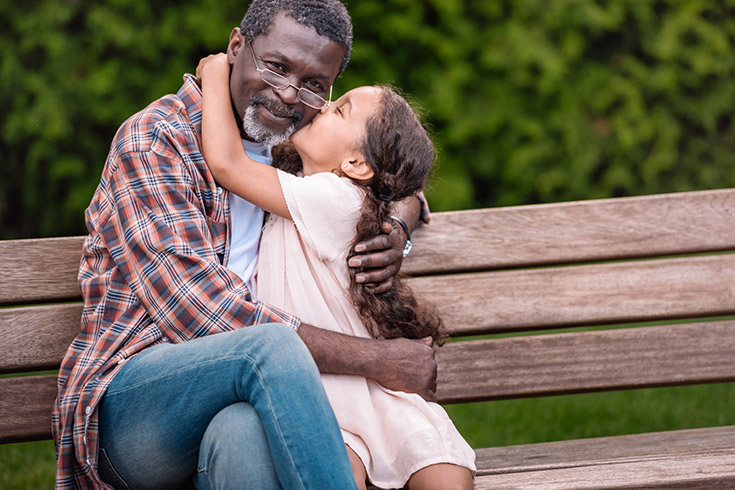 So, what can be better about laminate wall panels?
While I could tell you laminate wall panels are the best thing since sliced bread and are flawless, that would be like my wife saying I'm the perfect man (OK, once I thought I heard her say it, but then I woke up!).
Everything and everybody get an 'N.I.' (Needs Improvement) on their report cards every now and again (even my precious lovely – now grown 'children' Grant, Parker and Jade can relate to that!).
Laminate shower and tub wall panels – while very cool (IMHO) are (like us all) a work in progress. Here's 3 things – in my opinion – which could be better.
#1 thing which could be better about laminate wall panels – They should be made in wider sizes
While the click and lock system works very well – it would be nice to have less panels. There has been discussion about making the wall panels in 36″ widths (vs. the 24″ widths they come in today) – but this design concept is still on the drawing board.
#2 thing which could be better about laminate wall panels – A premade window trim kit to match the wall panels doesn't exist yet
With some wall panel systems there are pre-manufactured window trim kits. For example, if you're installing cultured marble, acrylic and PVC composite you can get a pre-built window trim kit which saves you time. Trimming around a double hung or transom window to waterproof your tub or shower can be a PAIN.
Today, with the laminate wall panel system you need to create your own 'window trim kit' using cut-offs and trim pieces or use cultured stone molding to trim your window out. These options do look nice, but they take extra time.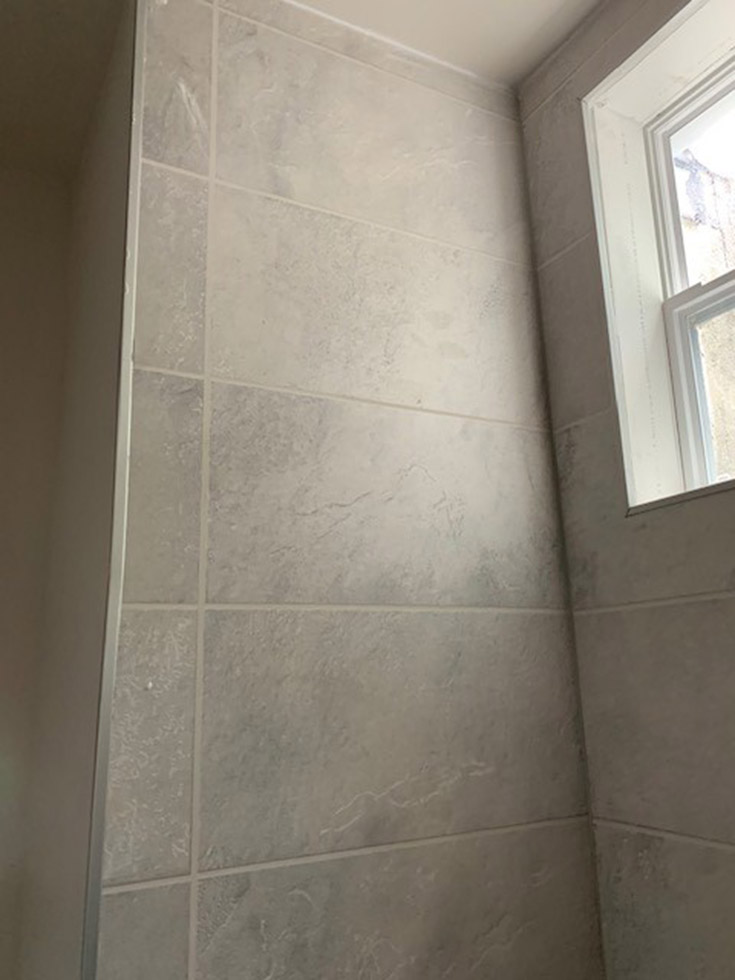 #3 thing which could be better about laminate wall panels – It would be nice to have shower pans specifically matched to the wall panels
In some shower and tub wall surround product categories (like cultured marble, cultured granite, and PVC composite) you can get a shower base which matches the wall panels. In the case of laminate panels, you'll need to pair them up with a base made from another material. And while you can use any base (see remarkable thing #8), you still need to coordinate colors.
How can we help you next?
There you have it. 9 remarkable things about laminate wall panels and 3 things which need improvement.
After reading this article what's your opinion about laminate shower wall panels? Do you give them a Siskel and Ebert 'two-thumbs' up or does another system seem better to you?
If you have questions or want feedback on your project, put them in the comments below – or better yet – call 877-668-5888. Me or my team (and yes – I PROMISE YOU – my team IS NOT as wacky as I am!) are here to help.
Our company sells nationwide (both direct and through a network of installing dealers) and installs tub and shower wall panels regionally (including 3 other types of wall panels beyond our laminate offering). We'd love to help you.
Mike
---
Mike Foti
President of Innovate Building Solutions a nationwide supplier and regional (Cleveland and Columbus) remodeling contractors. Some of our product lines include glass counters, floors, backsplashes, glass blocks and grout free shower and tub wall panels
---