The Pros and Cons of Acrylic Shower Wall Surrounds and Tub Liners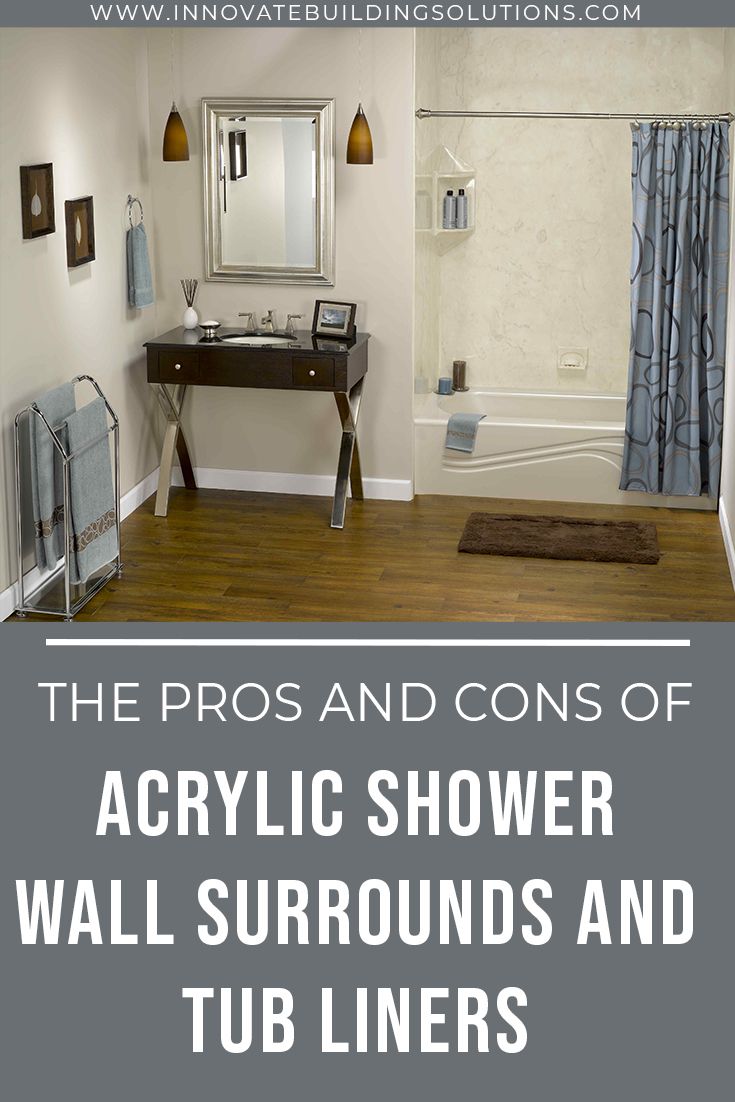 I'll tell you right off the bat my company started in the shower and tub wall surround business 15 years ago selling acrylic wall surrounds and tub liners. However today we sell them once in a blue moon (OK – I've got to admit I've never actually seen a blue moon – but if I had to guess if you see one it's pretty rare).
You may be wondering what caused our company to 'semi-retire' this line when it's where it all 'started' for us? I can state it in 4 words or less….
Better options are available
I'm not here to tell you all acrylic wall and tub liner products (and the companies who sell them) are bad or you should never use them. As a matter of fact, I'll show you 6 'pros' (or advantages) which are darn good reasons to use acrylic wall panels. However, since they're aggressively PUSHED in homes, I've seen owners mislead by overeager acrylic salespeople who tend to stretch the truth. Too many homeowners are misinformed about acrylic wall panels and other options to get rid of tile and ugly fiberglass surrounds.
You deserve to know more about the pros, cons (and alternatives to) acrylic wall and tub liner systems to make an informed choice. A tub to shower conversion, or tub installation or complete shower renovation aren't cheap. You have options. You need to know the pluses and minuses to make the right call for your bathroom (and budget).
So, towards this end let's dig into the pros, cons (and alternatives) to acrylic shower wall surrounds and tub liners.
At the end let me know your experiences with acrylic walls and tubs. Let me know what you like (and don't) if you've used (or considered) this product. Let's dig into the pros and cons.
Pros (or advantages) of acrylic tub liners and wall surrounds
Here's 6 smart reasons to consider acrylic shower wall surrounds and tub liners
Pro #1 of acrylic tub and shower liners – They have Z-E-R-O grout!
Grout is evil!
There I said it. The only way grout isn't evil is if you're not the one who has to clean it or deal with the mold or bacteria living in it. Besides, who wants ANYTHING (other than an occasional plant) growing in their master or kid's bathroom?
Grout joints (and the tile they're joined to) look beautiful… initially. However, it's the eventually which sucks (sorry to be so real, but you know I'm right). This 'eventually' (literally) brings you to your hands and knees. Or this 'eventually' forces you to call the 'Grout Medic,' and who wants to invite over a 'medic' to get rid of mold and bacteria between grout joints anyway?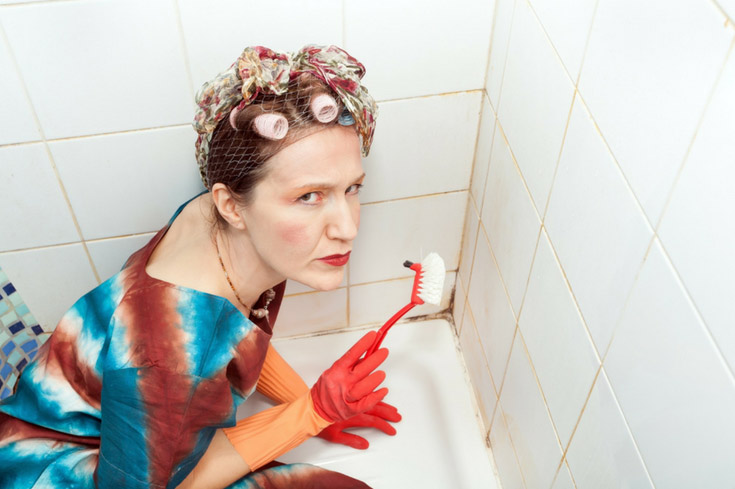 Acrylic wall panels eliminate grout. A B-I-G pro – IMHO.
 Pro #2 of acrylic tub and shower liners – They're (often) installed in a day
Do you like to have contractors in your home? If you're like ('er everybody) the answer is no way! Even if they're the nicest guys and gals in the world, contractors are an interruption to your life. They make a mess. They take you out of your routine. And especially after living through a pandemic – the shorter amount of time a contractor can be in your home the better.
'Bath in a day' acrylic companies get in and get out quickly. They make this happen by installing shower and tub surrounds and liners over old materials (like your old cast iron or steel tub or tile walls). Who doesn't love a quick installation?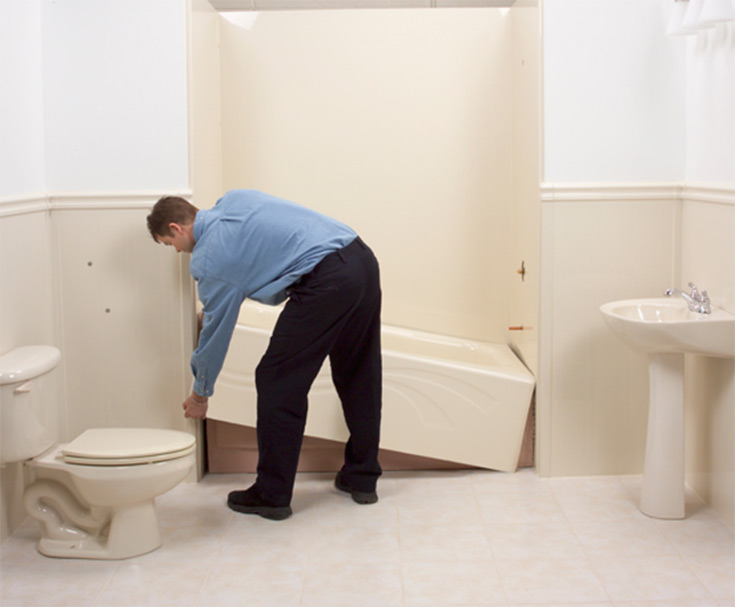 Pro #3 of acrylic tub and shower liners – The product is cheaper than tile or thicker shower surround panels (or at least it should be)
If you're looking for an upgraded look at a low-price acrylic tub liners or wall surrounds should be on your 'get an estimate' list. They install in 1/3 to 1/6th the time of tile. You'll save money vs. bringing in a tile setter who you swear has become the reincarnation of Eldon the Painter from a rerun of Murphy Brown (AKA the contractor who NEVER leaves your home!).
The only time you won't save money on an acrylic job is if you 'bow down to' a 'high-pressure' acrylic company who uses 'Tin-Men-esque' sales techniques. These 'slick salesman' will 'start high' and see if they can get you to buy (at prices even higher than tile and higher quality shower surrounds like cultured granite and laminate wall panels). If you don't want to sign now, they'll call their 'Sales Manager' to get you a 'once in a lifetime deal.' However, you've got to sign today to take advantage of this (quote/unquote) 'sale.'
Pro #4 of an acrylic tub and shower wall liner– There are multiple molded designs and patterns  
In the beginning of the acrylic wall industry there was one choice – glossy, white sheets of acrylic. This is no longer the case. There are tile patterns, stone patterns and colors and marble blends. Add pizzazz vs. tired and stained tile grout joints or yellowed fiberglass walls.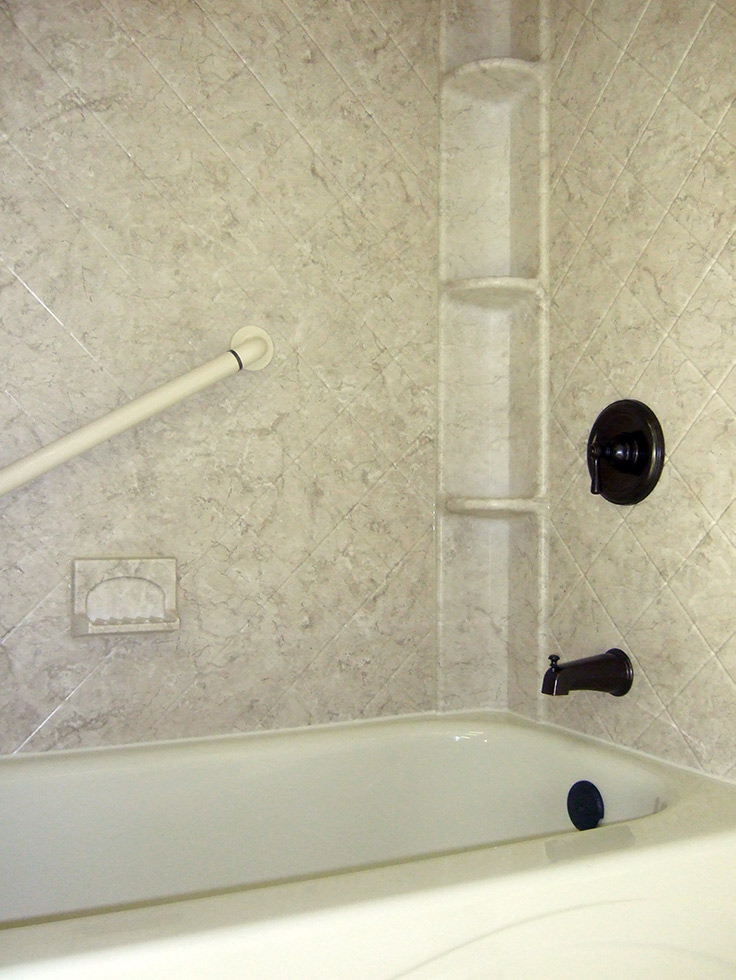 Pro #5 of an acrylic tub and shower wall liner– They won't stain, fade or yellow over time   
If you're living with a yellowed and dingy fiberglass one-piece shower the original home builder 'slapped-in' to save a few bucks, you know how frustrating these ugly existing wall panels or shower pan can be. You can't get them clean no matter what you do.
With acrylic tub liners or shower surrounds you won't need to worry about staining, fading or yellowing. The product is colored throughout and won't discolor.
Pro #6 of acrylic tub and shower liners– When professionally installed you'll get a lifetime guarantee
A long warranty is HUGE when buying a home improvement. While the manufacturers lifetime warranty doesn't cover installation, it's still comforting knowing most acrylic manufacturers offer lifetime warranties.
Cons (or disadvantages) of acrylic tub liners and wall surrounds
So, with all these pros you may be asking, why shouldn't an acrylic system be the 'slam-dunk' choice for my next remodel? And you may be wondering why does my company only use acrylic in those 'blue-moon' situations mentioned in the beginning of this article? Here's 6 'cons' (or disadvantages) you need to know before choosing the best wall panel system.
Con #1 of acrylic tub and shower liners– Acrylic wall panels aren't realist (to say the least)!
Hey – lets face facts.
A molded piece of plastic is a molded piece of plastic.
While you DESPERATELY desire to dump your tile, you don't want to replace it with a shower which looks cheap. You want luxury. You want low maintenance. You want an upgraded look without draining your savings. However, a 'low-rent-district' shower or tub isn't what you have in mind.
Point blank, if you want an upper end look you won't get it with (plastic) acrylic shower walls. Here's 2 better-looking (and reasonably priced) alternatives you can not only use in your shower alcove, but look cool enough to extend through all your bathroom walls:
Laminate shower wall panels – These panels aren't molded like acrylic walls but have actual grooved faux grout joints. They're sleek. They're thicker than acrylic. They've been used in Europe for over 40 years. They have textures and fun designs to eliminate grout in a Modern Farmhouse to Modern Minimalist bathroom.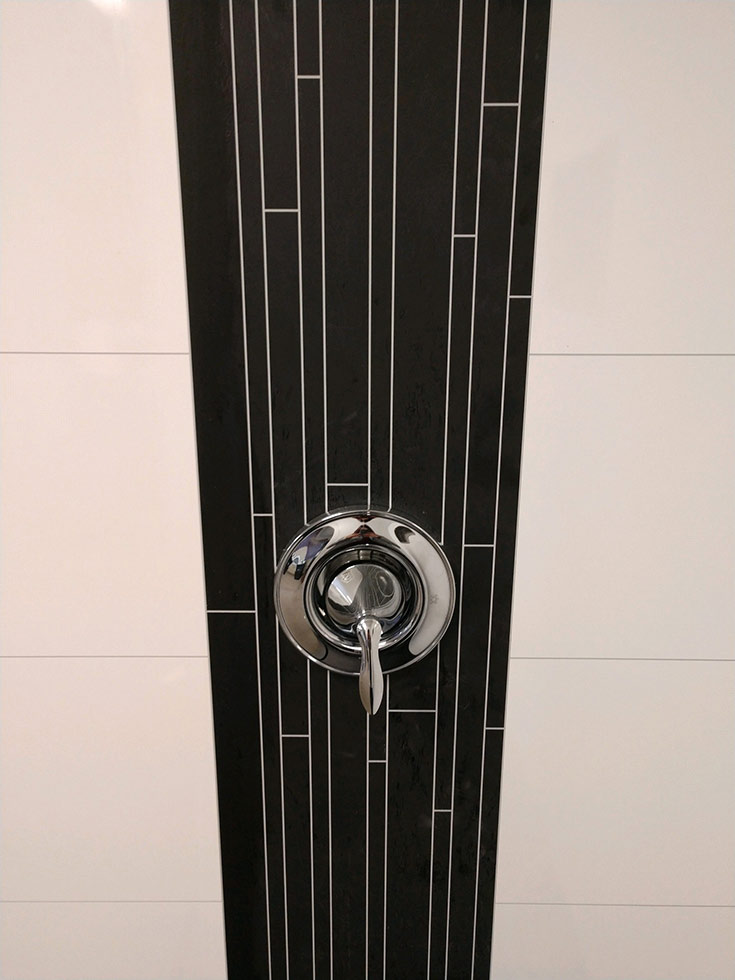 Decorative PVC wall panels – Marbleized patterns give an upscale look. They're digitally printed replicas of the real thing. They're also super-easy to install.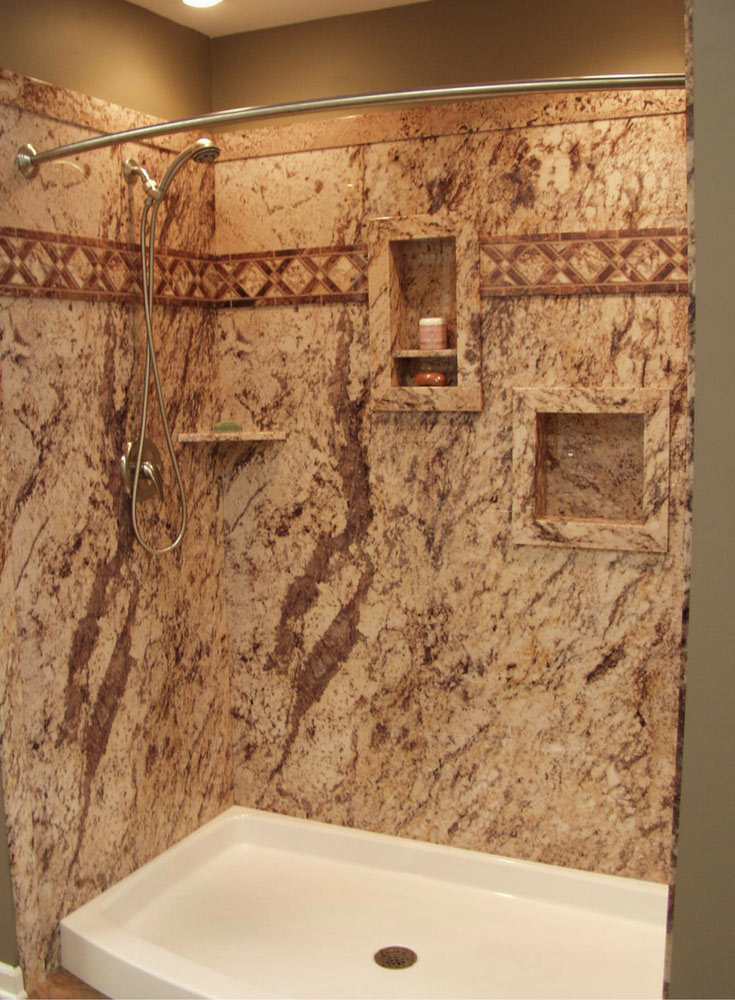 Con #2 of acrylic tub and shower liners– The accessories look like they were designed 20 years ago – and that's (largely) because they WERE!
Just like your purse and shoes make the dress, it's also true bathroom accessories can visually make (or break) the look of your shower or tub.
I don't know about you, but when I see 'corner caddies' and recessed soap dishes with acrylic wall panels, they look chintzy.
You want to be proud of your new shower and its accessories. How about a brushed nickel recessed niche or a matte black shower shelf for your new bathroom which are also a breeze to clean?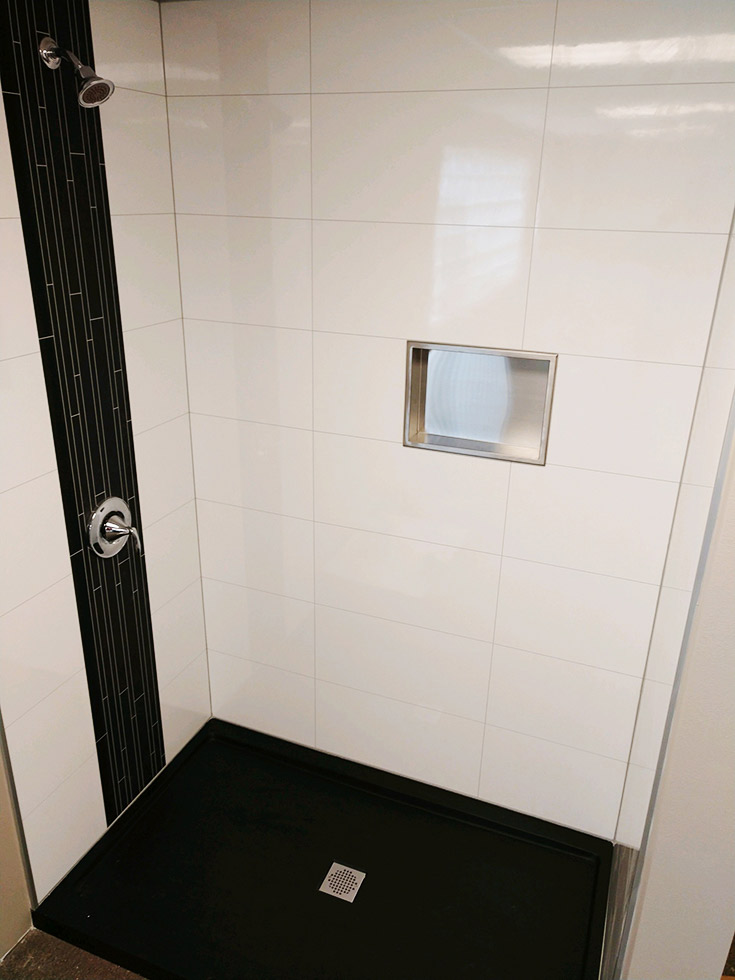 Shower accessories can (and should) make the shower.

Con #3 of acrylic tub and shower liners – Trying to buy this product as a DIY'er can be a major hassle
You wish you had the money to get the job professionally installed. However, maybe hiring a contractor doesn't work with your razor-thin budget, but you do desperately want to rid yourself of your nasty bathroom. And the 'white plasticky' stuff you can pick up at your neighborhood home center (who does cater to DIY'ers) just ain't cuttin' it!
So, you call your local acrylic franchise to get prices on their colorful or marbleized patterns. However, you get turned down faster than a geek asking the head of the cheer squad to go to the prom! You're told the product isn't available for sale to DIY'ers.
This is frustrating. However, don't fret. The acrylic franchises' no answer to you can be your gain. There are thicker and higher quality systems you can buy and install yourself. These products will save you money (when you DIY the job) vs. a professionally installed acrylic walls. Here's 3 options you'll want to research: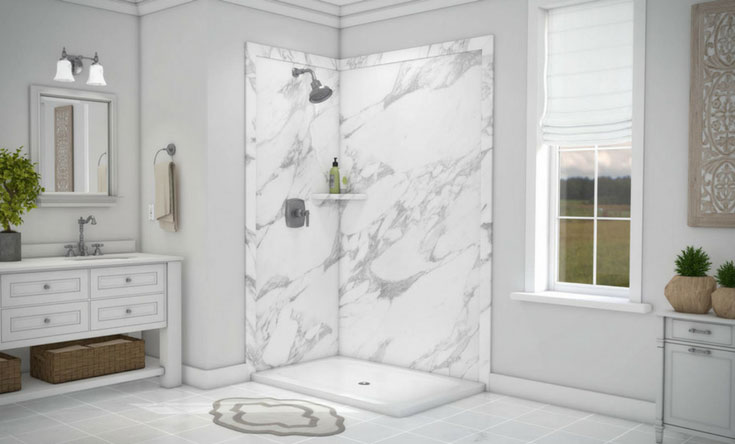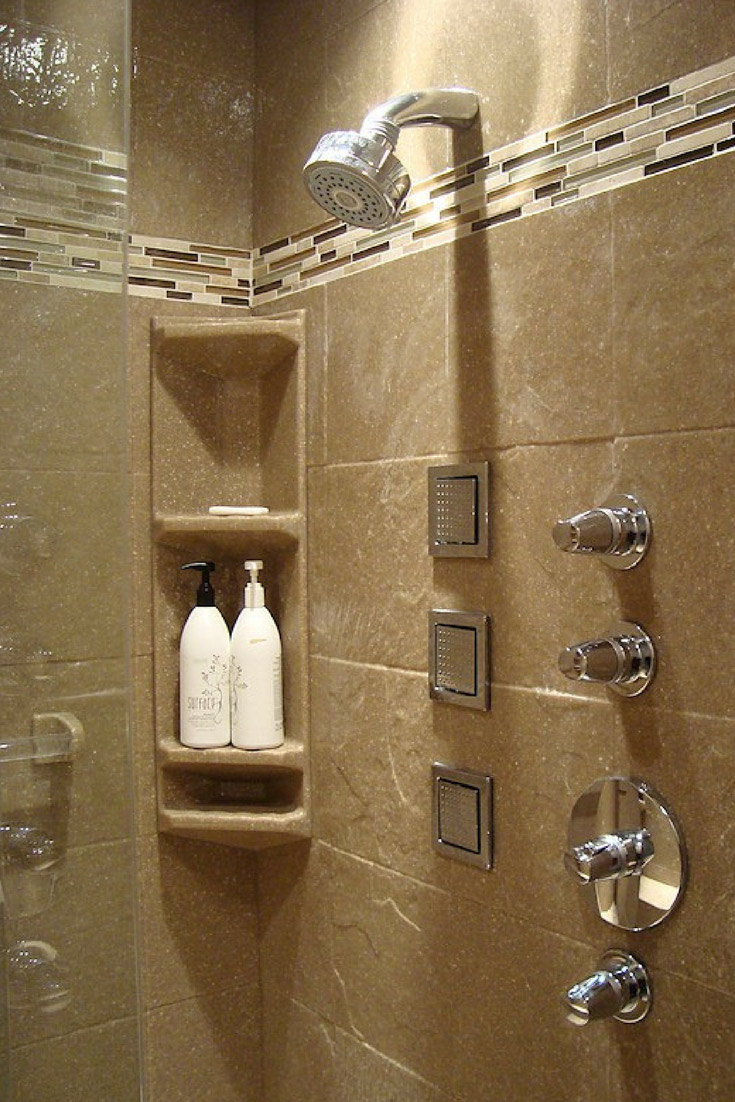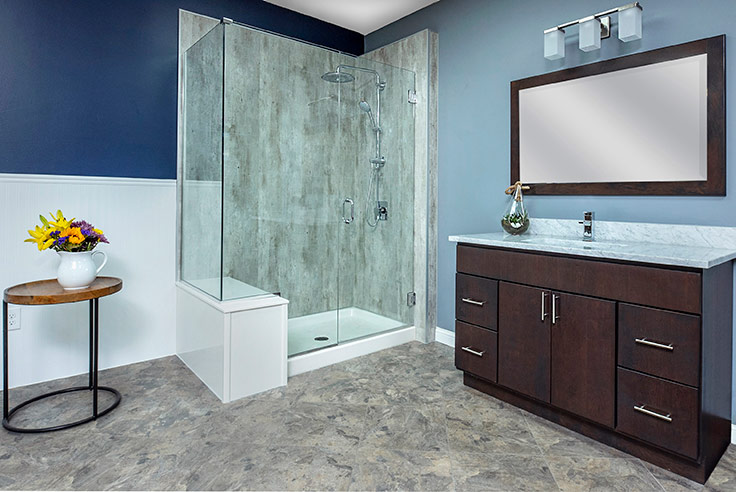 Con #4 of acrylic tub and shower liners– Too many 'one-call-close' salesmen want to give you an 'deal you can't refuse'   
Let me start by saying there are some very fine companies who sell acrylic wall panels. However, I'll also tell you there's too many 'Tin-Men-esque' high-pressure sales companies representing these products. And I'll tell you it's one of the things which turned me off (as a potential supplier and installer) of this product type.
Since there are SO MAAANY acrylic manufacturers and local dealers. There are too many local dealers competing with another, so some end up using 'old-school' high pressure selling tactics to get jobs sold quickly.
For example, these companies won't run (what they call) 'one-legers.' Don't know what a 'one leger' is? Well it's an appointment a company won't schedule with you because 'the husband' can't attend 'the presentation' (note – 'the presentation' is the long drawn out sales call you have to endure to buy the product). Don't you love the sexism (sarcasm intended) in this? It's old-school high-pressure sales at its worst! And besides, maybe you don't even HAVE a husband or significant utter!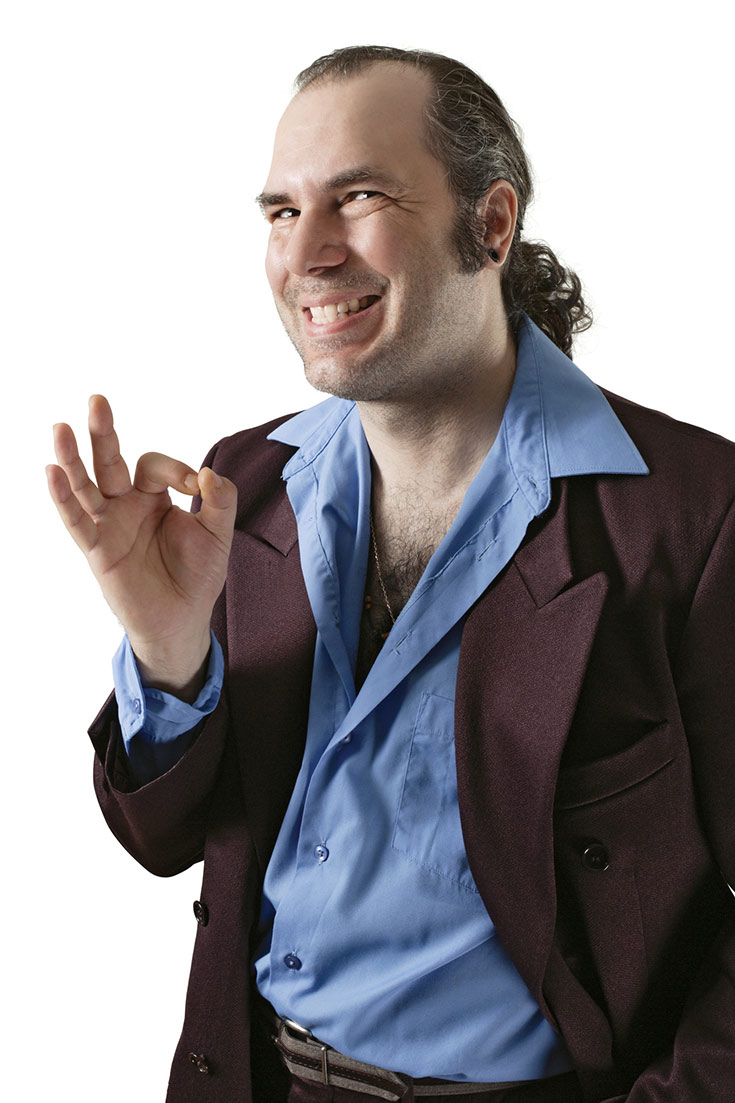 These companies hire 'one call close salespeople.' Their job –to say and do ANYTHING to get a deal done tonight. They won't leave YOUR HOME without it (and yes, they will accept your American Express card!). They'll call their manager and give you an offer 'too good to refuse'…. IF AND ONLY IF you sign tonight.
IMHO – the residential acrylic wall panel industry has way too many 'suede-shoe' sales throwbacks from the Tin-Man era! Refuse to be subjected to this guy (or gal, I don't want to be sexist here!).
Con #5 of acrylic tub and shower liners– Going over old material to do a 'bathroom in a day' is a bad idea
I'm all for doing a job time-efficiently…if (and only if) it's done right.
The concept of going over old tile to get in and out in a day is a VERY, VERY, VERY bad idea (did I put enough 'very' s' in this line for you to know I'm not a fan?).
Here's why I'm not a fan.
If you have moisture behind your existing tile, a 'cover-up' system (it even sounds unscrupulous) will trap water inside. This creates a breeding ground for mold. And if you wanted to stop mold in the first place, why would you cover over old materials?
If you do consider acrylic (or any other type of wall panel system for that matter) DO NOT let your contractor slap up new material over your old stuff just to 'save' (in the short run) a few hours of labor.
If you get mold behind your wall panels, you'll end up tearing everything out. AND THAT will be a VERY, VERY, VERY bad day.
Con #6 of acrylic tub and shower liners– Using a bathtub liner over your existing tub will NOT save money
An acrylic tub liner (which is acrylic pre-shaped to slip over your old cast iron or steel tub) 'sounds' like a time saving idea. It uses the old tub as it's 'foundation.' However, it's not the great solution the acrylic industry makes it out to be.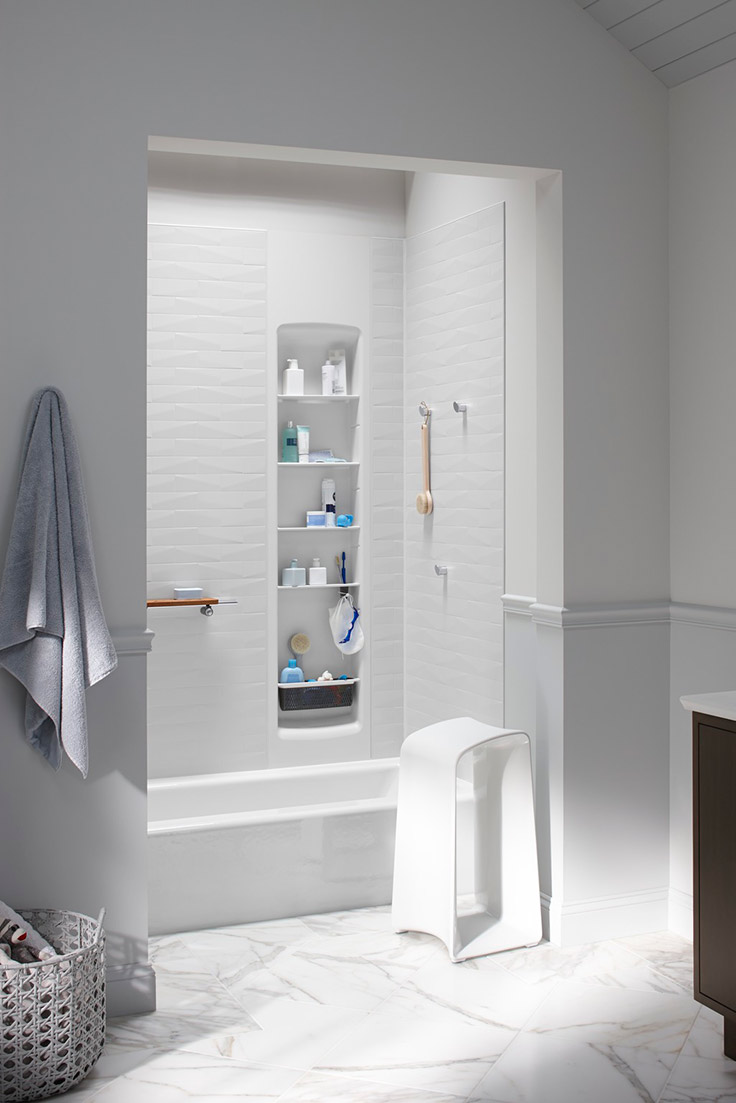 First off, it's often financially a 'wash' to put in a newer thicker acrylic tub (and remove the old tub) as it is to 'line-over' an old cast iron or steel tub.
Second, the challenge companies have with lining over is when water gets in between the liner and the old tub. In this case you'll have (what the industry calls) a 'floater.' A floater is where you'll hear (and feel) water squishing under your feet after it's found its way between the 2 surfaces (it's in between your old tub and the new liner).
Get rid of the worries about floaters (in your bathtub or in your eyes – OK, I'll admit acrylic tubs won't help with your eyes!). Install a new acrylic tub and ditch the tub liner idea.
How can we help you next?
As I mentioned in the beginning of this article – while my company still (on occasion) does supply and install acrylic wall panels, we're not big fans (unless it's a low budget fix and flip situation where the customer demands a low-price, yet decent, product). While acrylic isn't a bad product, the market has evolved with better alternatives. You can get a nicer look without spending much more money. 3 options which will give you a bigger bang for your buck – IMHO – are laminate wall panels, decorative PVC composites and cultured granite.
To learn about shower wall panels systems (and get a quote for products wholesaled direct to you or professionally installed by a shower wall panel dealer network) call the numbers below.
I – and my team (and our network of nationwide dealers) are looking forward to helping you.
Mike
Call or click these links for help
If you're looking for wholesale direct supply (or a recommendation for an installing dealer) of grout free shower panels or durable shower pans call Innovate Building Solutions at 877-668-5888. If you want to be a shower or tub wall panel dealer call Mike at 888-467-7488.
For a remodeling project call The Bath Doctor in Cleveland at 216-658-1270 or for product supply in Columbus call 614-252-7294.
---
Mike Foti
President of Innovate Building Solutions a nationwide supplier and regional (Cleveland and Columbus) remodeling contractors. Some of our product lines include glass counters, floors, backsplashes, glass blocks and grout free shower and tub wall panels
---