How to Compare Shower Pans for a Glass Block Wall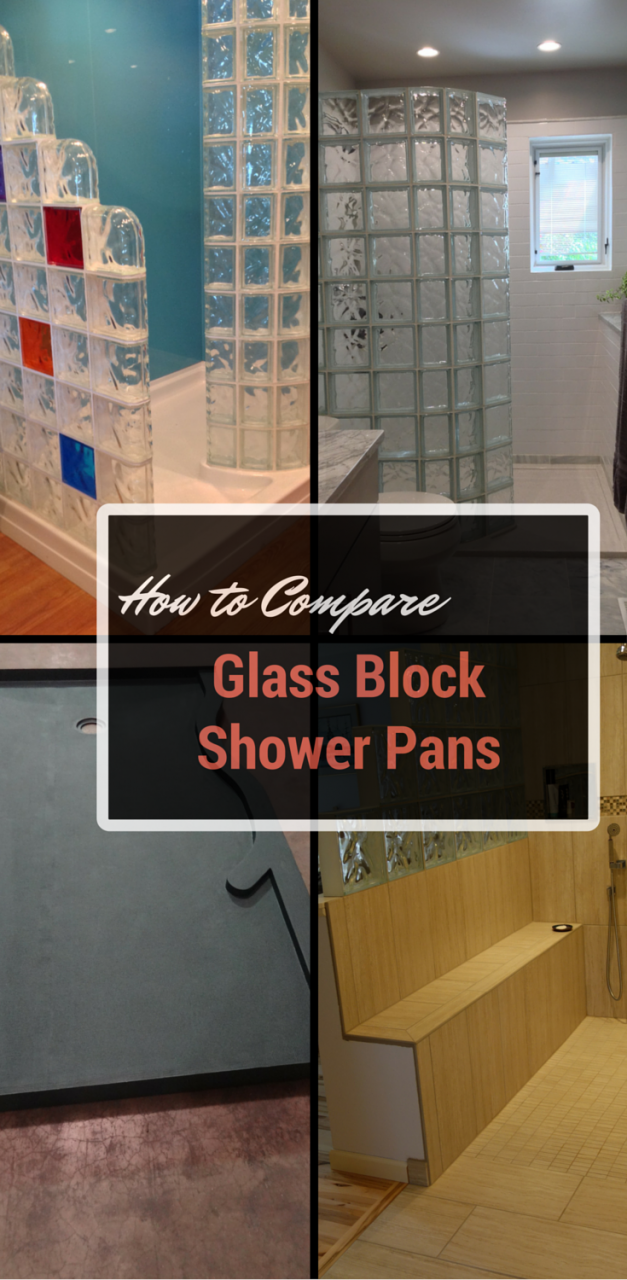 3 Steps to simplify your glass block shower wall project
Updated February 10, 2019
I have to tell you I hate when I get a call and the person on the line says, "We've got our shower pan completely done – now we're ready to include the glass block wall." While at first glance this sounds good because the project is ready to go, I know it can be a bad situation for this person. They might have wasted money, or got the design wrong, by installing a base which may not work well with the glass block wall.
When you're designing a glass block shower wall it's best to remember Stephen Covey's saying to "begin with the end in mind." Just like a new home you should design the plans for the foundation (a glass block shower's "foundation" is the shower pan) before you start to frame the upper level walls (in this case the glass block shower walls). If you don't design the shower pan first (especially in the case of an angled or curved wall) you can end up with a situation where the wall doesn't fit correctly. This error can cause the joints to be too big and/or to have block sizes which aren't symmetrical or the best choice.
My goal in this article is to help you eliminate the problem of your shower base not working with your glass block wall. Let's take a look at 3 steps to design a glass block shower (a sound layout + the right shower pan + a prefab glass block wall) which can simplify and foolproof your project.
Step 1 – Layout and design your glass block wall
You wouldn't build a home without a set of plans and you shouldn't do a glass block shower without a layout. The layout process allows you to "try on" the shower to see if it will "fit" you and your family. This will help you to answer questions like the following:
• Is the shower opening too big or too small?
• Do I have enough room for a doorless walk in design?
• Where is it best to put the drain, valves, body spray or shower head(s)?
• Do I want a shower with a curb, a barrier free entry or a one level shower?
What's fun (and practical) today is glass block shower walls and bases can be designed with layout cards (they look like little puzzle pieces) which replicate the size and shape of the blocks and even include a 1/8" space for a small grout joint. Doing a layout allows you to "test fit" the shape and size of your shower base or walls before they are built.
If you don't have little fun puzzle piece layout cards like this – don't sweat it. Give us a call and we can email you some replicas which can do the same job. Note – the best time to do the layout is AFTER you've completed the demo – otherwise you won't (in many cases) be able to lay the cards out in the 'wet area' to see how the shower will live and feel to you.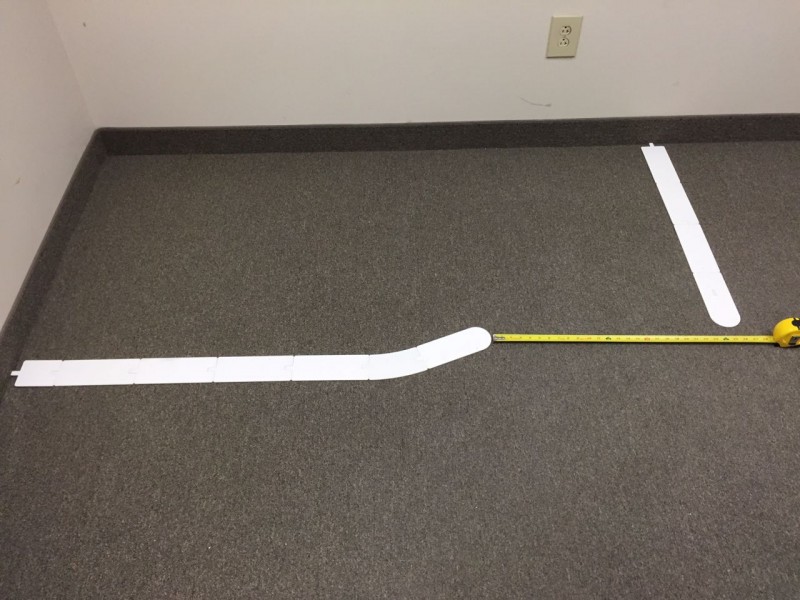 Step 2 – Comparing shower pans for a glass block wall

In the old days a tile contractor or a DIY homeowner would use the "hope and pray" method for a glass block shower. First they would build a mortared shower base by hand and hope it wouldn't leak. Second they would pray the glass block would work with the base when the time came to install the wall. As someone who has seen the aftermath of failed mortared (also called mud set) pans and bad designs which did not work I'm glad the "bad old days" of this outdated installation process are almost over! Let's compare 4 shower pan options which are built to last and designed to work in unison with the walls. You'll see below each one has it's unique advantages and disadvantages (there is no one system which is perfect).

• Option 1 – Acrylic glass block shower pan – most likely a bad idea
The acrylic shower pan is simple to install and clean and is predesigned to work with glass blocks. The reason this base is seldom used is it only comes in 3 standard sizes (60 x 32, 60 x 34 and 72 x 51) which don't work in many bath remodeling projects. In addition there is no ability to customize the curb height, drain location or the size of the base. One other reason acrylic bases are a bad idea – most of the manufacturers who made these bases have stopped producing them.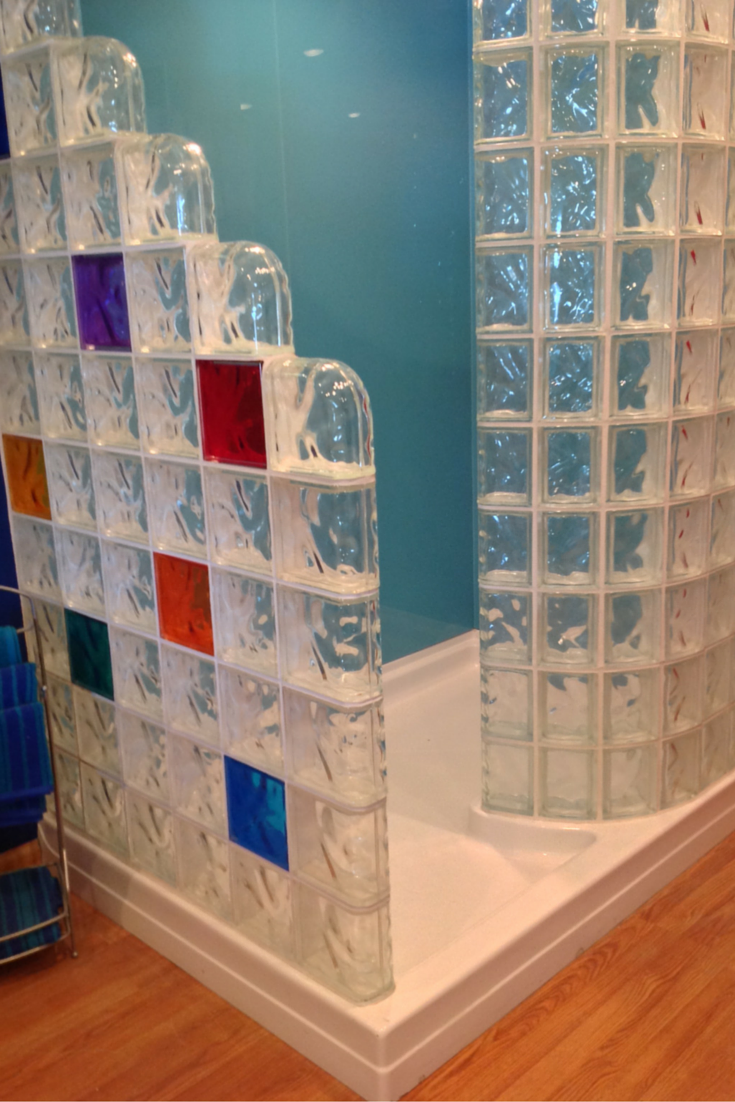 • Option 2 – Ready for tile glass block pan – customizable and light
Unlike it's acrylic counterpart the ready for tile shower pan is completely customizable (the size, drain location, curb height and slope can be designed for any glass block wall). What is also nice is the base is light, waterproof and easy to install. You can even do crazy, funky layouts like the serpentine shower design shown below.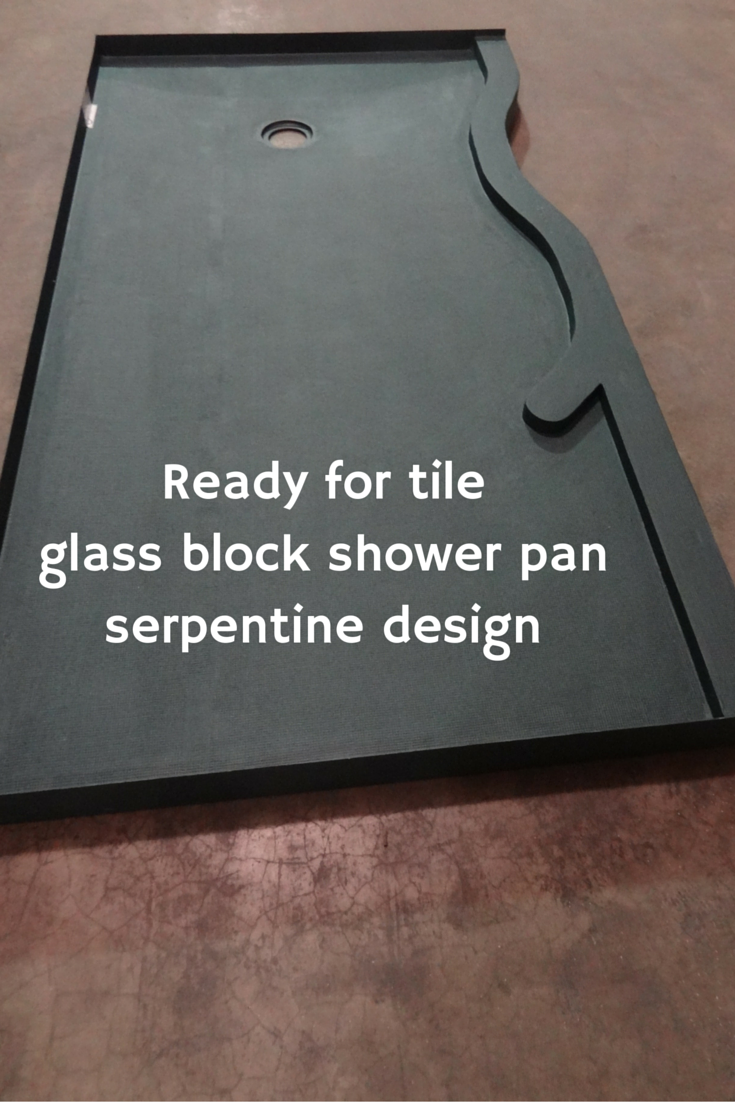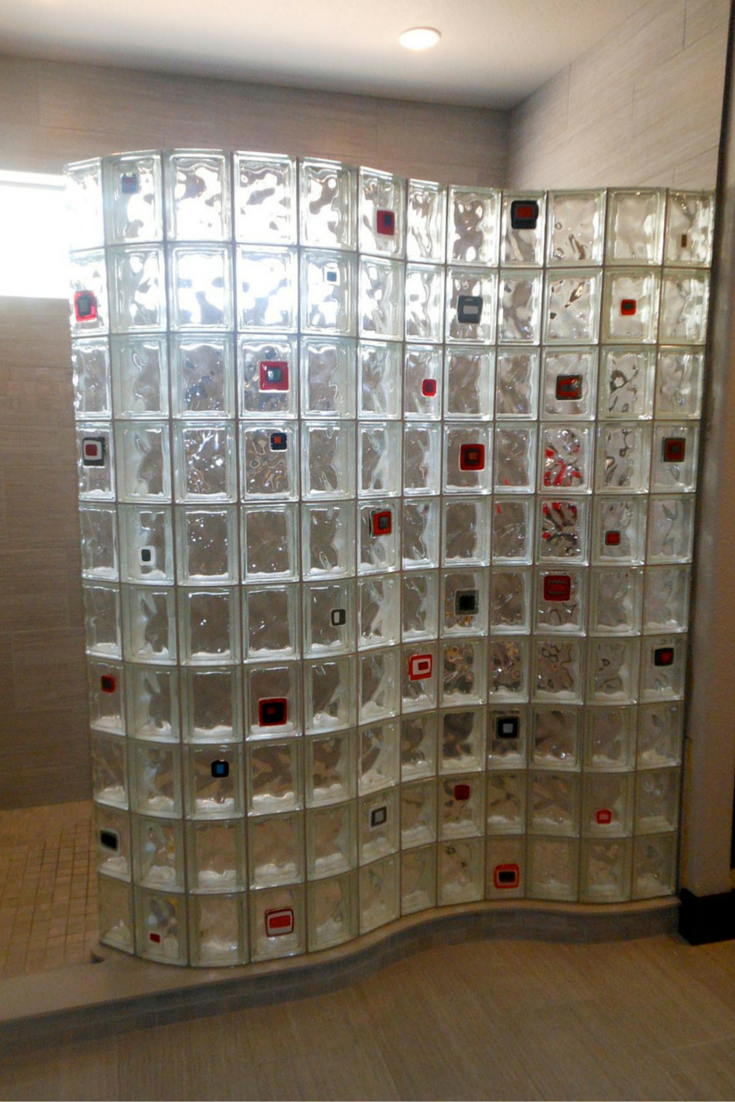 The biggest drawbacks of ready for tile bases are you need to use small mosaic tiles on the shower floor (creating more grout joints to clean), they are not available with a linear drain, and when you design curved walls it is necessary to buy a custom sized curb cap to finish the base.
• Option 3 – Stone solid surface (or cultured granite)  pan – solid as a rock…literally
Stone bases have the benefits of being simple to install (although they do weigh a lot), durable, completely customizable (and also available in standard sizes), with 35 different color choices and with the surface of the base already finished.  These pans are available with different curb heights or ramped curbs for someone with limited mobility. The biggest drawback (in addition to their weight) is they are a pricey alternative.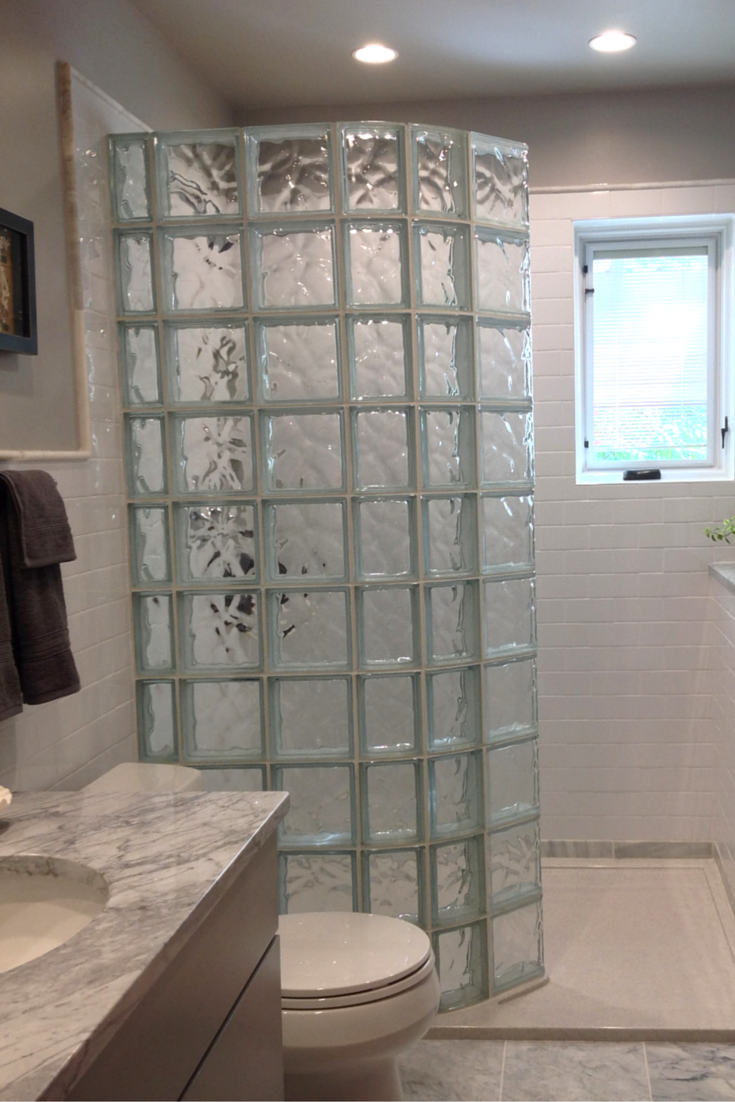 • Option 4 – No "shower pan" at all, the one level wet room – sleek & perfect for limited mobility
When most people in the United States think of a shower pan they envision a product which sits on top of a subfloor. When space is tight, or the mobility of a family member is limited, a pan which sticks out of the floor is usually not best. As many in Europe and Asia already know it's possible to have a one level bathroom (also called a wet room) which is waterproof and eliminates the barriers between the shower and bathroom floor. Shower base former wet room systems are straightforward to install (unlike the old method of dropping the floor to make a one level room) and are completely waterproofed. The drawback with this system is the need to make a commitment to have the entire bathroom floor be tiled.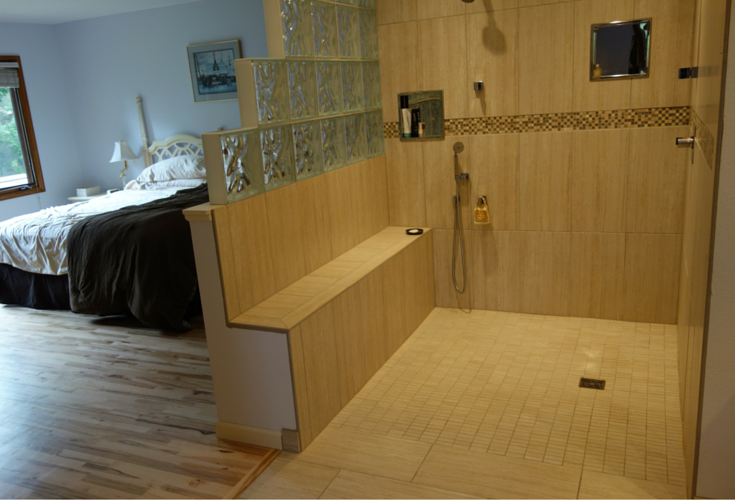 Step 3 – Using prefabricated glass block shower wall panels
To reduce installation time, improve finished quality and reduce grout joint sizes it's a sound decision to use premade glass block panels for your shower design. These sections can be made to fit perfectly with your shower pan. The vinyl spacers between the glass blocks make this stack, anchor and grout system not only stronger but as easy to install as putting together Lego blocks (an adult construction version of Lego blocks).
Doing a glass block shower in a block by block fashion is not only difficult and 'old-school,' with those behind-the-times systems you'll get walls which need to have wire in them which can rust. This is one instance where new glass block installation technology is far better than the old stuff – and it makes it possible for a DIY'er or first-time-contractor to do the job.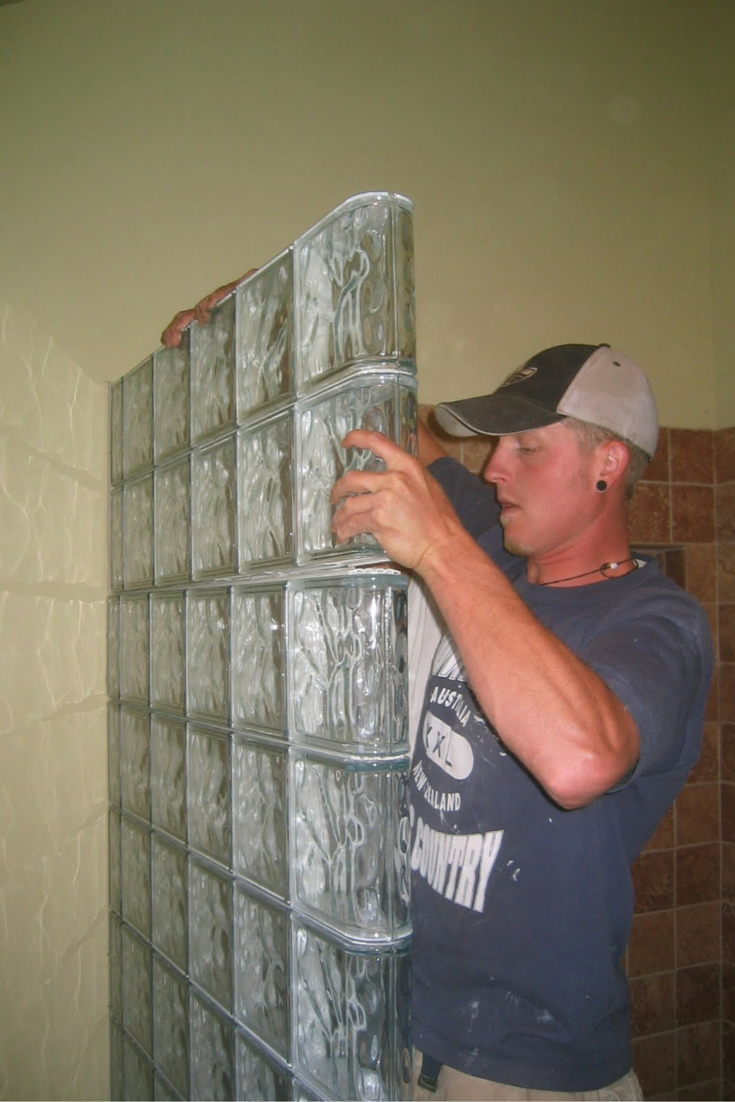 Did this article help you to compare shower pans and the steps to get a glass block shower completed? Feel free to call us for factory direct supply or free design assistance with a glass block shower. If you've got a question or comment we'd love to hear from you in the space below  -or give us a call.
###
Call Innovate Building Solutions on a nationwide basis (877-668-5888) or for a local project their divisions including Columbus Glass Block (614-252-5888), Cleveland Glass Block (216-531-6363), West Side Glass Block (216-398-1020) or Mid America Glass Block in Akron (330-633-2900).
If you're a remodeler or builder and want practical advice on remodeling products, industry trends, marketing and sales tips to grow your business (and cut day to day hassles), start reading my newest blog – Innovate Builders Blog. It's packed with ideas you can use now. Click here to Sign Up for the Innovate Builders Blog.
---
Mike Foti
President of Innovate Building Solutions a nationwide supplier and regional (Cleveland and Columbus) remodeling contractors. Some of our product lines include glass counters, floors, backsplashes, glass blocks and grout free shower and tub wall panels
---