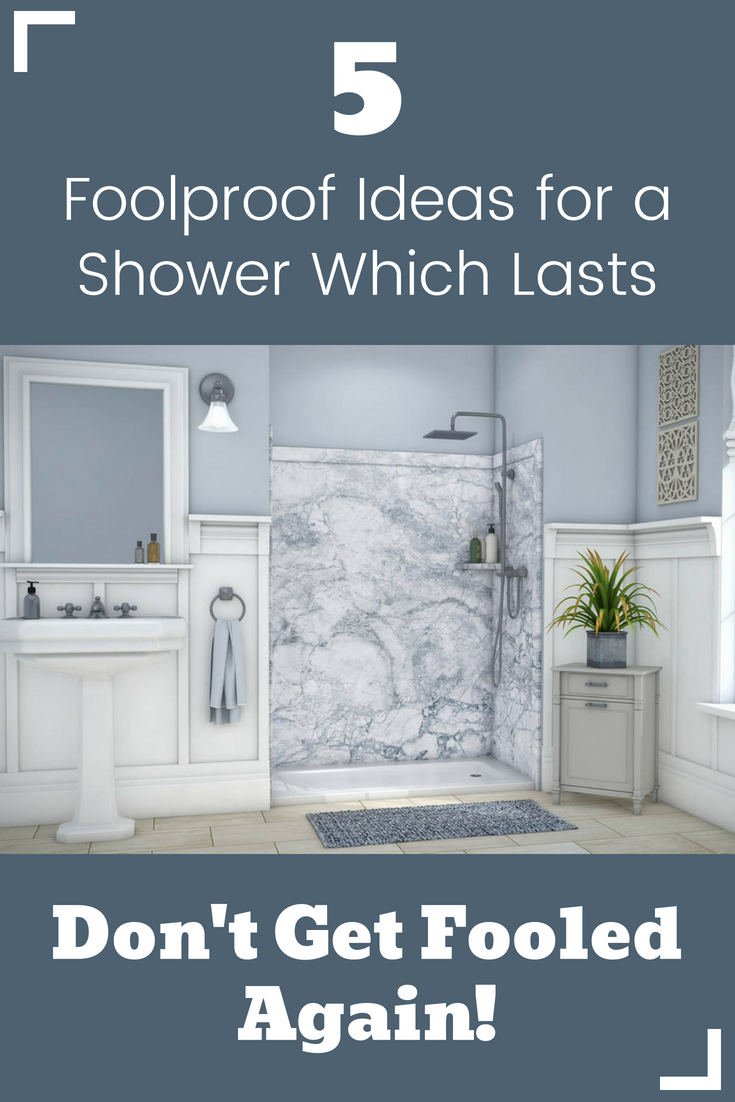 Updated March 23, 2019
You've lived through a shower which was falling apart at the seams. You said you would not get fooled again. You've made these proclamations (sounds very official, doesn't it?).
I'm done with dingy and moldy grout joints.
I will not put up with a cracked shower base which caused a leak onto our dining room table below.
I will not buy or own a home which has wafer-thin plastic wall panels. The last one yellowed and looked nasty.
I won't own another 'brown-ish' shower pan I can't get clean no matter what toxic solvent I use.
I will not get stuck cleaning the bottom track of a flimsy and pitted aluminum framed shower door ever again.
I will spend less money on disinfectants and fighting back mold problems in my next shower.
I will have a shower which will last me for the next 20 years – or it better, because as Dad used to say, "Money doesn't grow on trees."
You've heard the old saying, "fool me once shame on you, fool me twice shame on me."
When it comes to shower remodeling, I will tell you (and I talk to people about shower remodeling every day) I've seen many people get fooled again. They have the best intentions to eliminate the nightmare which was their last shower. However, they get fooled and fall into 'traps' like these.
They tell their remodeler they don't want a cheap-plasticky fiberglass shower. Then their remodeler does what remodelers always do and offer them an upgraded beautiful tile shower. As time goes on they find out they're scrubbing grout joints until their arms are soar. They 'traded off' the difficult to maintain dirty, yellow fiberglass shower pan for another difficult to maintain tile shower.
They say they want a shower which will last for 20 years. Then after a life event happens (for example, Mom's mobility takes a turn for the worse and she needs to move in with you) your cool almost-brand-new 5-year-old shower is getting ripped out accommodate her.
They buy a brand-new home (with the industry-standard-oh-so-impressive – sarcasm intended- one-year warranty) and love, love, love the cool features like the quartz countertops and Shaker cabinetry in the kitchen. They pay no attention to the one-piece fiberglass tub/shower in the boy's bathroom with framed glass doors (it looked so pretty when it was decorated in the model home). In a few short years the bottom of the fiberglass pan is scummy (you don't expect your boys to clean up after themselves now, do you?), and the doors are practically falling off. It looks like it's time to remodel already -and of course, replacing a nasty looking shower 5 years later is not covered under your builders fabulous one-year warranty.
The question is – whether you are remodeling or building a new home – how do you make sure you don't get fooled again with a shower which fails?
If the title of this article reminds you of the song by The Who titled, "We Don't Get Fooled Again" – you might be an ever-so-slightly graying 70's rocker like me. And I'll fess up and say I'm a guy in the late 70's who sported a 'quasi-mullet' as well. But no, I'm not sharing a picture of my mullet here. While this Who song was not exactly written with shower remodeling in mind, I've still included a video below to get you in the spirit of the 'new revolution' of a new shower – so you won't be fooled again.
In this article I'll present 5 foolproof ideas to help you get a stylish shower which looks sharp and lasts, so you won't be fooled again. My list is not comprehensive. At the end of the article add your ideas 6,7 and 8. Let's learn from one another.