The benefits and options of an exhaust ventilation fan in a bathroom remodeling project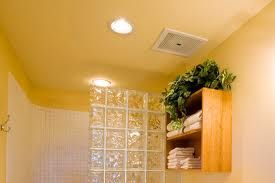 If your bathroom has mold, mildew, deteriorated plumbing fixtures, peeling paint, failing drywall/framing or cabinetry and doors that are warped you could benefit from the installation of a ventilation exhaust fan. Even if a home has an operable window the humidity caused by showers/tubs, whirlpools and toilets can leave behind the harmful effects of moisture and bad smells.
In the article below learn the benefits and options of a bath ventilation fan and other key considerations in choosing the right fan for your home.
Benefits of an Exhaust Fan
When you install a fan in a bathroom remodeling project you will get the following benefits:
Improved indoor air quality – fans provide an environmentally friendly space which will lessen the chance of family health problems and make a fresher smelling bathroom.
Reduce future maintenance and remodeling expenses – there can be a large cost to ignoring the harmful effects of too much humidity in a bathroom. Not removing humidity can cause mold, mildew and deterioration of walls, doors, ceilings, fixtures and cabinetry.
Help to keep mirrors from fogging up – it's certainly a nuisance to have to wipe down mirrors after taking a shower – a vent fan will dramatically lessen this problem.
Key Considerations in Choosing a Ventilation Fan
Here are some important points to consider when sizing, locating and using your fan:
Sizing – The CFM (cubic feet per minute of air movement) needs to be determined whether you've got a small or large bathroom.
Small bathrooms less than 100 square feet – The rule of thumb you should have 1 CFM of capacity for every square foot of space. So a 5' x 7' bathroom should use a fan that is 35 square feet (5 x 7).
Larger bathrooms greater than 100 square feet – In these spaces add together a CFM capacity of 50 for each toilet, 50 CFM for each tub/shower enclosure, and 100 CFM for a jetted whirlpool.
Location – Put your unit(s) near the tub/shower, toilet and whirlpool areas. If you have separate toilet rooms include a fan inside this space.
Using the fan – Leave the fan running for 20 to 30 minutes after you've used the shower.
Product Options
One size does not fit all when it comes to a fan. When shopping for fans you'll see several options including:
Different size capacities
Lights or night lights.
Heating elements.
Timer switches
Humidistat for automatic operation
Different noise levels.
If you've ever heard the old saying an ounce of prevention is worth a pound of cure – this can definitely apply to using an exhaust fan in a bath remodeling project. What experience and thoughts do you have with this product? Please comment below.
If you're looking for more information or an estimate to install a bath tub wall surround visit The Bath Doctor of Cleveland (216-531-6085), Columbus (614-252-7294), Cincinnati (513-742-6679) or Dayton (937-299-3822) – divisions of Innovate Building Solutions. For complete bathroom remodeling projects call or visit Cleveland Design & Remodeling (216-658-1270) and Cincinnati Design & Remodeling (513-744-2172).
---
Mike Foti
President of Innovate Building Solutions a nationwide supplier and regional (Cleveland and Columbus) remodeling contractors. Some of our product lines include glass counters, floors, backsplashes, glass blocks and grout free shower and tub wall panels
---