How to Compare One Piece vs. Three Piece Acrylic Tub Wall Surround for a Remodeling Project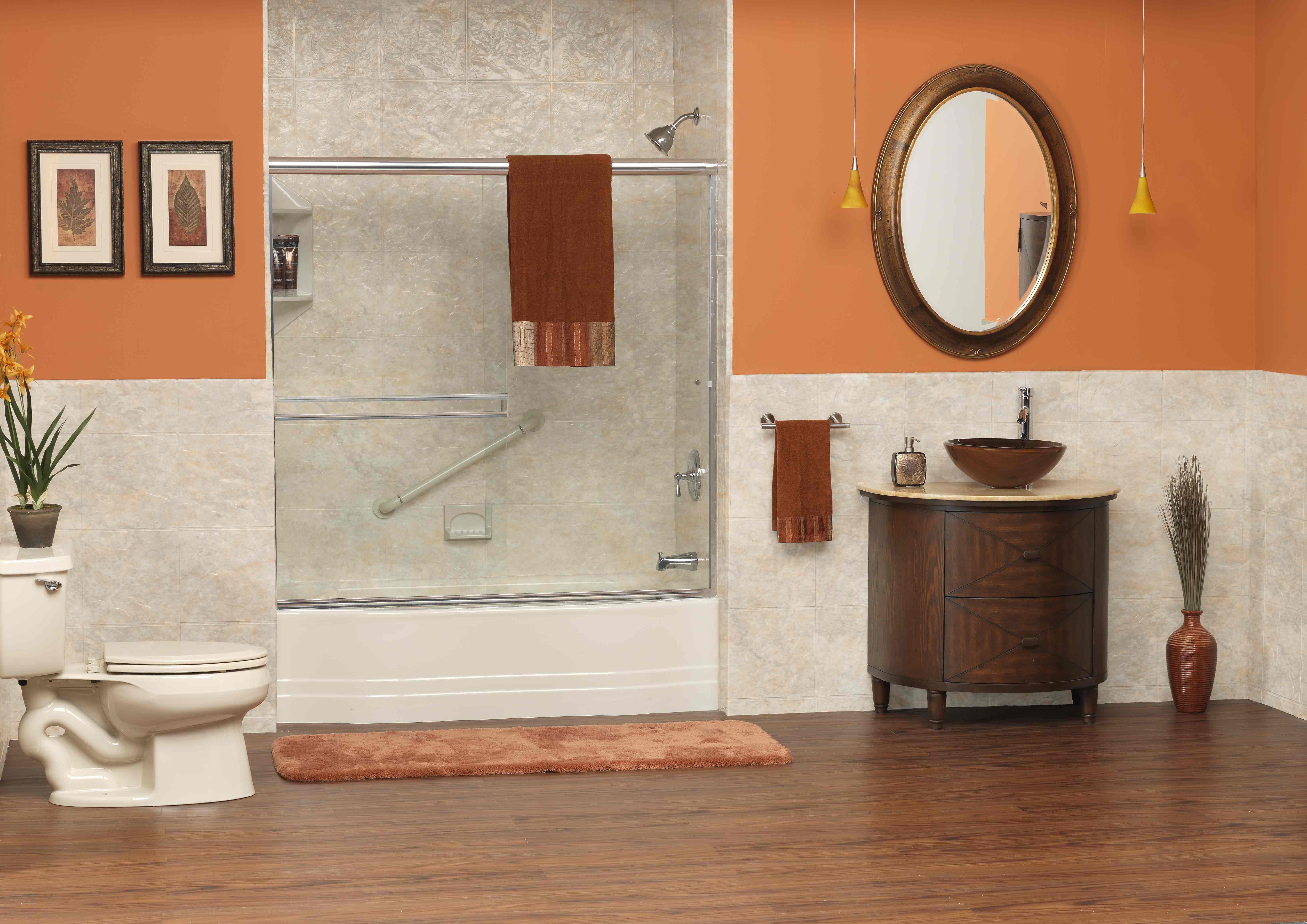 Acrylic tub and shower wall surrounds have become a popular choice for remodeling projects today since they're easy to clean, have no grout joints, are warm to the touch and are available in many colors and patterns. With that being said not all acrylic wall systems are alike. One big difference is one company in the industry (Bath Fitter) promotes a "one piece" system while all the other companies use a three piece systems. Learn below the advantages and disadvantages of each of these systems.
"One piece" acrylic bathtub wall surround system – A one piece bathtub surround will use one continuous piece of acrylic on the back wall, side wall and plumbing wall for a tub enclosure.
Advantages
There are no seams at the 2 inside corners which avoids caulk joints in these two places.
The wall pattern is continuous.
Disadvantages
Many existing walls are out of square which may require forcing the liner into the enclosure space or require excessive caulk to fill in gaps.
Walls are more prone to buckling due to expansion and contraction.
It's hard to maneuver this acrylic sheet into a small 5' x 7' bathroom.
This system can require up to 10 additional trim pieces (including at the bottom of the tub and outside edges) that creates additional seams that could collect mold and mildew.
The entire system will need to be removed if there is a plumbing problem down the road.
A one piece system cannot be used on angled walls.
Walls are thinner than a 3 piece system.
One piece walls only come in 84″ height maximum – which can be a problem in shower projects.
The material needs to be heated and bent creating a weak spots.
Three piece acrylic bath tub wall surrounds – With 3 piece systems each wall panel (back, side and plumbing walls) is custom cut to fit to go over existing bathtub walls.
Advantages
Each wall is custom cut to ensure an exact fit even when walls are out of square.
A 3 piece system allows for expansion and contraction so walls don't buckle.
Don't need to add trim pieces at the bottom or outside edges of a tub space (note – three piece acrylic side walls are equipped with bends to eliminate trim pieces on the outside edges).
The plumbing wall can be replaced separately if there were to be a problem with the valve behind the wall.
Thicker acrylic walls used provide a strong, more durable product over the long run.
It's easier to move three separate flat sheets of acrylic into a bathroom vs. a bulky one piece system.
Disadvantages
There are seams in the 2 inside tub corners (this problem is overcome with a triple gasket sealant system).
Tile or stone patterns will need to be matched up during the installation process.
Which of these wall surround options do you think is best? Please comment below.
If you're looking for more information or an estimate to install a bath tub wall surround visit The Bath Doctor of Cleveland (216-531-6085) or Columbus (614-252-7294) or Cleveland Design & Remodeling (216-658-1270) – divisions of Innovate Building Solutions.
If you're a remodeler or builder and want practical advice on remodeling products, industry trends, marketing and sales tips to grow your business (and cut day to day hassles), start reading my newest blog – Innovate Builders Blog. It's packed with ideas you can use now. Click here to Sign Up for the Innovate Builders Blog.
---
Mike Foti
President of Innovate Building Solutions a nationwide supplier and regional (Cleveland and Columbus) remodeling contractors. Some of our product lines include glass counters, floors, backsplashes, glass blocks and grout free shower and tub wall panels
---