Glass Block Shower Walls – Figuring out the best height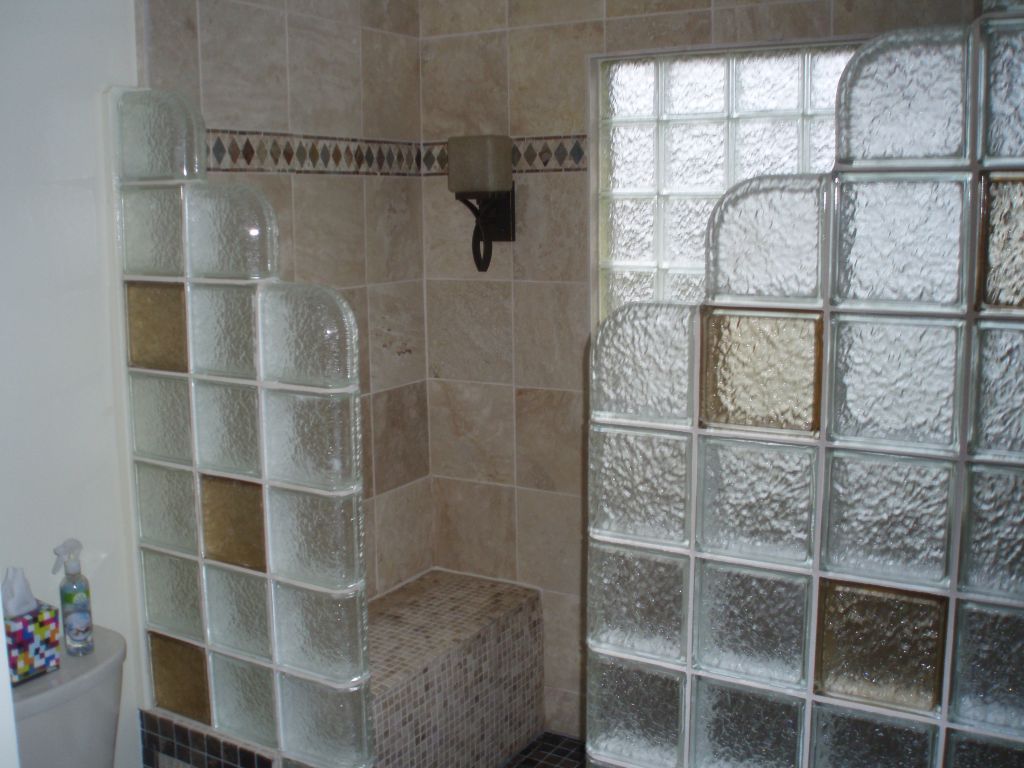 In building a glass block shower wall there are several important criterion to think through. One important consideration is how tall to make this shower wall. Learn below the answer to 5 frequently asked questions concerning the height of the wall.
FAQ 1 – What is the most common height of a glass block shower wall? – 80" tall is what you'll usually find these walls to be – or 10 courses of glass blocks. The reason this size is the most popular is most shower heads are set 84" off the finished floor and with 80" of blocks + a 4" shower curb the blocks sit on,  the wall will finish at the same place as the shower head. This is also a good size because it prevents water from spraying over the top.
FAQ 2 – Would a 72" size wall work? What size increments can I work in? – A 72" wall would work and saves money vs. 80". The drawback to 72" is that if you have people using the shower that are 6' and taller the chance of water spraying over the top increases. Since the finished

end glass blocks

and the shaped curved blocks come in 8" tall sizes you'll need to plan your project in 8" height increments (i.e. 64", 72", 80", 88" etc.).
FAQ 3 – How does the joint sizes impact the exact size? – Most blocks for showers are actually 7 ¾" tall which allows for either a mortar joint of ¼" or a grout joint of 1/8". Using the 1/8" grout system the actual height for each unit will be 7 ¾" + 1/8" (7 7/8" total per block).
FAQ 4 – Can these walls be built in pre-made sections to make the project easier? Yes – using prefab glass block sections will reduce labor time, make it easier to install and improve finished quality (note – it is hard to lay glass blocks one by one because they have a tendency to "swim" – or move around – when they are being installed as individual units). Two advantages of a specialized vinyl stack prefab system are (1) the vinyl provides rigidity in the sections and (2) a vinyl system prevents against future mold or rusting issues sometimes associated with a block by block method that uses metal materials as reinforcements between the blocks.
FAQ 5 – Is there a need for a post at the end of a straight wall to make it sturdy? No – since each of the prefab sections are anchored to the existing jambs (or studs) every 16" to 24" you can do straight

glass block walls

without a post at the end (in fact most walls are usually completed with a nice rounded bull nose block at the end for improved looks).
Do you have any additional questions about determining the right height of a glass block shower wall? Please comment below.
To learn more about glass block shower designs or get a free consultation visit or call Innovate Building Solutions on a nationwide basis (877-668-5888) or for a local project their divisions including Columbus Glass Block (614-252-5888), Cleveland Glass Block (216-531-6363) or Mid America Glass Block (513-742-5900) of Cincinnati or Dayton.
---
Mike Foti
President of Innovate Building Solutions a nationwide supplier and regional (Cleveland and Columbus) remodeling contractors. Some of our product lines include glass counters, floors, backsplashes, glass blocks and grout free shower and tub wall panels
---