5 Reasons to Replace a Whirlpool or Soaking Tub with a Larger Shower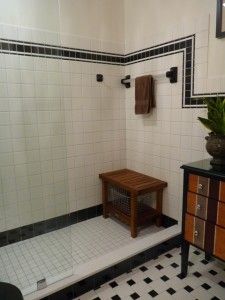 Let's face it just like fashion trends change so do home design and building trends. We use our bathrooms differently than we did in the past. Today the focus in bathroom design is on efficiency, function and comfort.
In bath remodeling projects today wasted space is being reclaimed to add safety, comfort, style and practicality – and one the by-products of this has been the overwhelming trend to remove existing whirlpool and soaking tubs and replace them with larger showers. Learn below 5 reasons why replacing a tub with a larger shower makes sense for how we live today.
Reason 1 – Larger tubs are not being used– Many builders incorporated soaking and Jacuzzi tubs into the corners of master bathrooms with the concept they would be used as comfortable spaces to relax. The reality in most homes is these tubs are doing nothing but gathering dust.
Reason 2 – Showering is in, bathing is out – Most people are pressed for time and are taking showers vs. baths. A larger shower can be much more comfortable than a small stand up unit squeezed into the room. 
Reason 3 – Safety – Stepping over a tub rail can be dangerous. With a shower there is either a small 4-5" curb to step over– or you can even do a barrier free shower that has a curbless design.
Reason 4 – Reduce costs, save energy and water– Jacuzzi style whirlpool tubs can difficult to install and are quite expensive. In addition these units take a lot of energy to run, a lot of water to fill up and can put a strain on hot water tanks.
Reason 5 – Shower accessories are available for a spa like experience – Digital shower heads, rain heads, corner and bench seats, linear drains with LED lights in them are just some of the cool shower features available today. It's no longer necessary to have a tub for comfort – you can use a shower to get the spa like experience and get cleaner than you would have in a bath.  
Are you worried about the impact of removing a tub on resale value?
So you've heard some of the reasons to replace your tub with a shower – but you may still be concerned (or have been told by others) you have to have a tub for resale value. This line of thinking is not entirely without merit (some young families will like the tub feature to bathe a small child). With that being said many homes have a tub already in a hall (or kids) bathroom that can be used for this purpose (making the larger shower in the master bathroom a better option for what most people want who might buy the home down the road).
Another option (if you don't have a tub in another bathroom) would be to get rid of the big tub (and downsize with a new smaller tub) to still make room for an expanded shower.
What are your thoughts about replacing your tub with a shower? Do you agree or disagree with the ideas above? Please comment below.
If you need help converting a larger tub into a shower contact Cleveland Design & Remodeling (216-658-1270), Cincinnati Design & Remodeling (513-744-2172) or  Innovate Building Solutions (877-668-5888) on a nationwide basis.
---
Mike Foti
President of Innovate Building Solutions a nationwide supplier and regional (Cleveland and Columbus) remodeling contractors. Some of our product lines include glass counters, floors, backsplashes, glass blocks and grout free shower and tub wall panels
---