Decorative Glass Block Shower Wall & Sentrel Wall Surrounds Featured at Central Ohio Home & Garden Show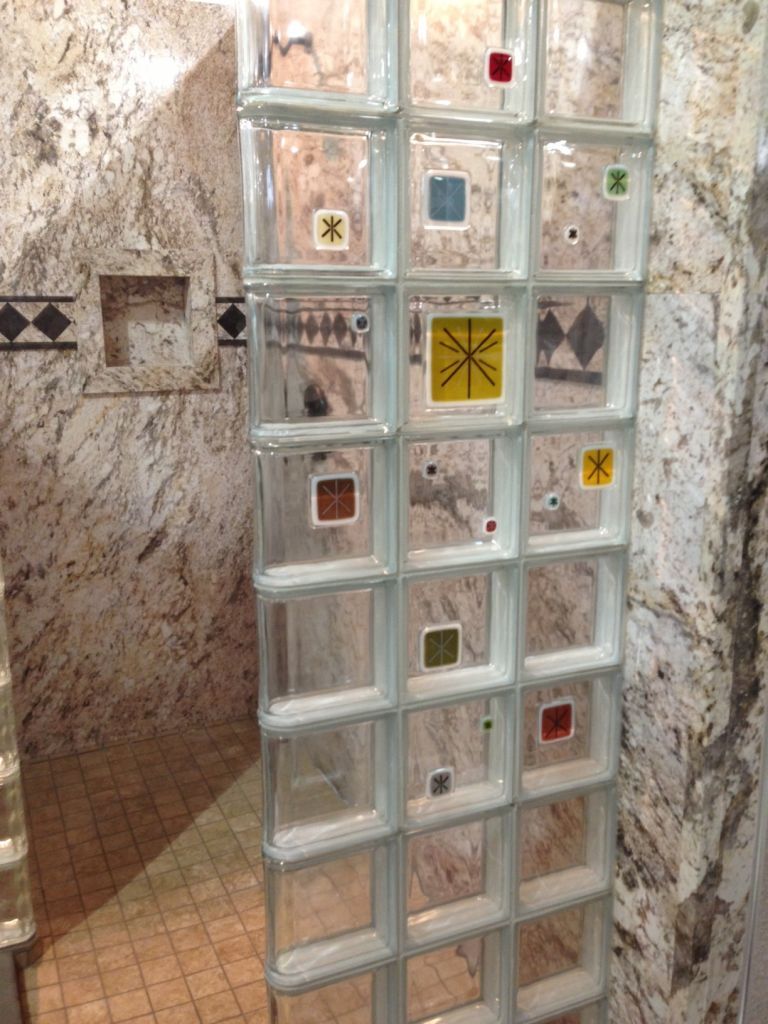 If you're wondering what's hot and new in the world of glass block showers and decorative wall surrounds you need to look no further than the Central Ohio Home & Garden Show. Learn below about this cutting edge shower display from Columbus Glass Block & Bath Doctor (at booths 9N, 10N & 11 N) starting this weekend . If you can't make the show (or don't live in this area go to these web links or call to learn more).
Glass Block Shower Display – Check out the many options
When they used to make the Model T car it came in one color – black! Well the days of the Model T are long over – and so is not having any choice. To quote the famous Burger King commercial people want to "have it their way." What's neat about the glass block offerings of today is you can really have it your way – like never before. Here are some of the options you'll see in this innovative display.
Glass tile blocks fused onto the shower wall – Featuring the "star pattern" of glass tile blocks you'll see a one of a kind artistic glass block wall. Each glass tile is hand crafted – featuring a multitude of colors and sizes in each unit. These glass tiles are then fused onto the blocks – very cool & completely unique!
Different patterns and colors of glass blocks – It used to be you had very few choices of glass blocks patterns (and no colors)– well this is no longer true. In this display you'll see the obscure "Decora" pattern, the high privacy "Icescapes" pattern and the completed see-through "Clear" pattern (this allows a superior view through the blocks to the decorative Sentrel shower walls). There are over 104 different frosted and colored glass blocks to choose from as well.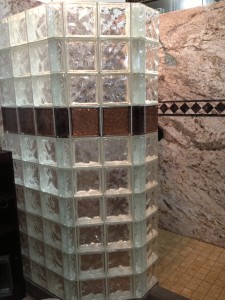 2 thicknesses– Historically glass block walls only came in 4" thick units. The 4" thickness makes a nice and sturdy product – but it is more expensive to manufacture and it adds weight. On display at the show you'll also see the 3 1/8" thick glass blocks. These units are lighter making them easier to install and also less expensive. Since they come in wave and "clear" (see through) patterns and different shaped units (for curved, angled and straight walls) they are very versatile.
Ready for tile bases – The toughest thing about a glass block wall installation can often be making sure the base matches up with the glass block sections. This challenge can now be eliminated with the introduction of custom made ready for tile bases. See how our base matched up perfectly with the walls.
Decorative Shower Wall Panels
Many people would love the look of natural stone – but the cost of these materials and the potential maintenance concerns keeps them away. Check out the use of the Sentrel walls in this dramatic shower. This PVC backed composite wall systems uses a digital imaging process and protective top coating to create a maintenance free shower surround that is a breeze to maintain. The pattern of walls used in this project was called "sandy beaches."
What do you think of this display? Please comment or ask any questions you have about it below.
If you'd like to learn more about using decorative glass tile art blocks in a window, kitchen backsplash, shower or partition wall contact Innovate Building Solutions (nationwide at 877-668-5888) or for regional installations Columbus Glass Block (614-252-5888), Cleveland Glass Block (216-531-6363), West Side Glass Block (216-398-1020) or Mid America Glass Block of Cincinnati (513-742-5900), Dayton or Akron Ohio. For assistance with Sentrel or acrylic shower wall surrounds in Northeast Ohio call Cleveland Design & Remodeling (216-658-1280) or in Columbus The Bath Doctor (614-252-7294).
---
Mike Foti
President of Innovate Building Solutions a nationwide supplier and regional (Cleveland and Columbus) remodeling contractors. Some of our product lines include glass counters, floors, backsplashes, glass blocks and grout free shower and tub wall panels
---