Anatomy of a Universal & Accessible Design Guest Bathroom – A Visit to the Universal Design Living Laboratory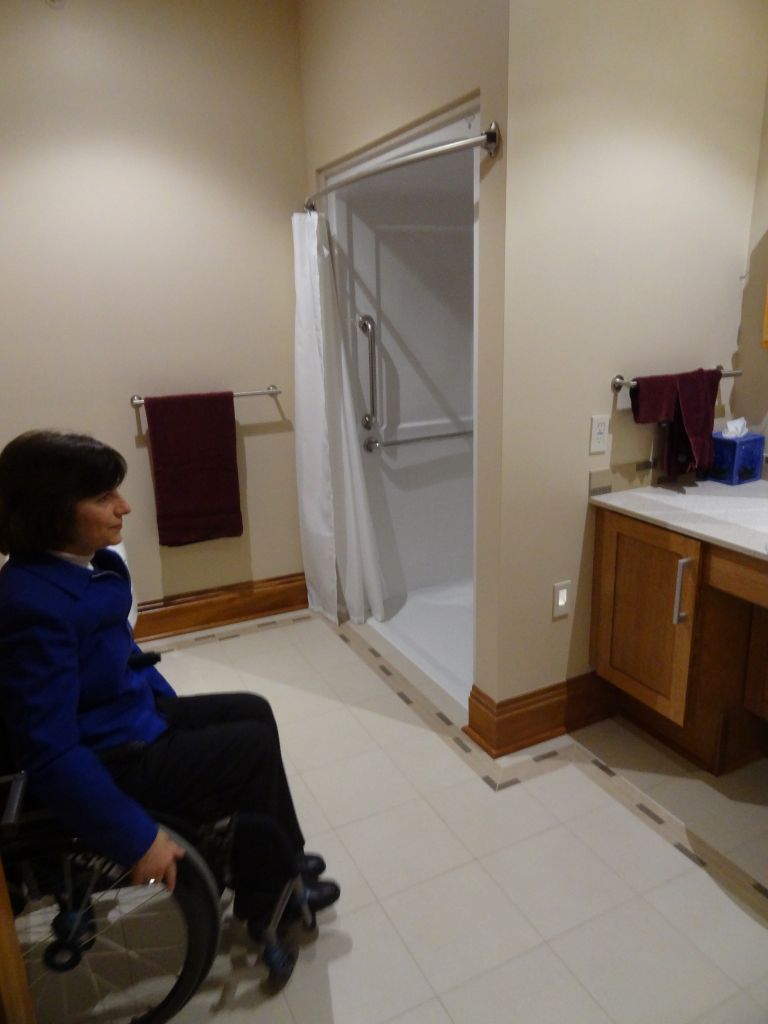 Rosemarie Rossetti in Guest bathroom of Universal Design Living Laboratory with roll in shower, roll under sink and wider turning radius
How easy is it to visit your home for an aging parent or someone with special needs? If your home is like most – the answers is not easy at all! The cool thing is with some planning and thoughtful bathroom design you can have a stylish space which is safe and functional for everyone.
A special home has been developed in Columbus Ohio (called the Universal Design Living Laboratory) which shows how to make your home cool to look at, functional and safe for people of all ages and abilities. This article focuses on key features (and benefits) of a universal and accessible guest bathroom.
Key Components of an Accessible and Universal Design Guest Bath
Nicely done universal design does not look institutional – it looks just like a sharp bathroom design (generally with more room than a standard guest bath). Here are key features to include:
Begin at the door – Doorways should be 36" wide to permit wheelchairs and walkers.
Provide ample turning radius – try to position the toilet, shower (for a full bath) and sink to create a 5' turning radius.
Lower the light switches (48" from the floor) and put the electrical outlets higher (18" from the floor)– this change will allow those in a seated position improved access.
Comfort height toilets – Comfort height toilets (a registered trademark of Kohler Corporation) which are 17.5″ off the floor are slightly higher than standard toilets which make a transfer from a seated position easier. The added benefit is they have also been shown to be more comfortable for those who aren't in a wheelchair as well!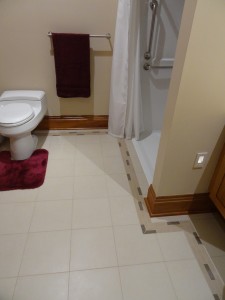 Roll in accessible shower with a hand held shower option and fold down seat – If you're working on a full bathroom a roll in shower can be designed to work for everyone. This particular project used an acrylic one piece shower from Kohler. For a higher end design you can also create a wet room shower (for a wet room the floor of the entire bathroom is at one level) with tile and a higher end fold down seat (consider teak or brazilian walnut). A hand held shower makes it easy for someone in a seated position to shower – and also easier to clean up the bathroom as well. This project used a curtain with weights at the bottom to keep water in. Another option would be to use a curved glass block wall or an open shower shield glass enclosure.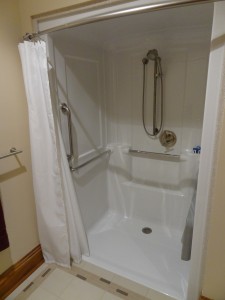 Sleek cabinetry and faucets– these cabinets have extra high toe kicks to move a wheelchair in easier and also a roll under sink. Single level faucets are easy to operate for those who have challenges with motor skills. What's neat about this bathroom is it does not look institutional – it just looks cool!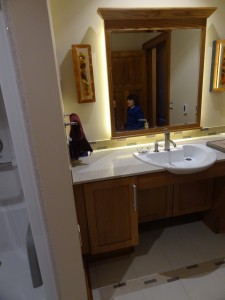 Do you have a need to create a universal or accessible guest or master bathroom? If so – what do you think of these ideas? Please comment below.
If you're looking for more information, design assistance or an estimate to install a universal or accessible guest or master bath visit or call The Bath Doctor of Cleveland (216-531-6085) or Columbus (614-252-7294).For nationwide direct product sales call Innovate Building Solutions (877-668-5888). For complete accessible bathroom remodeling contact Cleveland Design & Remodeling (216-658-1270).
---
Mike Foti
President of Innovate Building Solutions a nationwide supplier and regional (Cleveland and Columbus) remodeling contractors. Some of our product lines include glass counters, floors, backsplashes, glass blocks and grout free shower and tub wall panels
---