Making a low maintenance shower enclosure with high style and function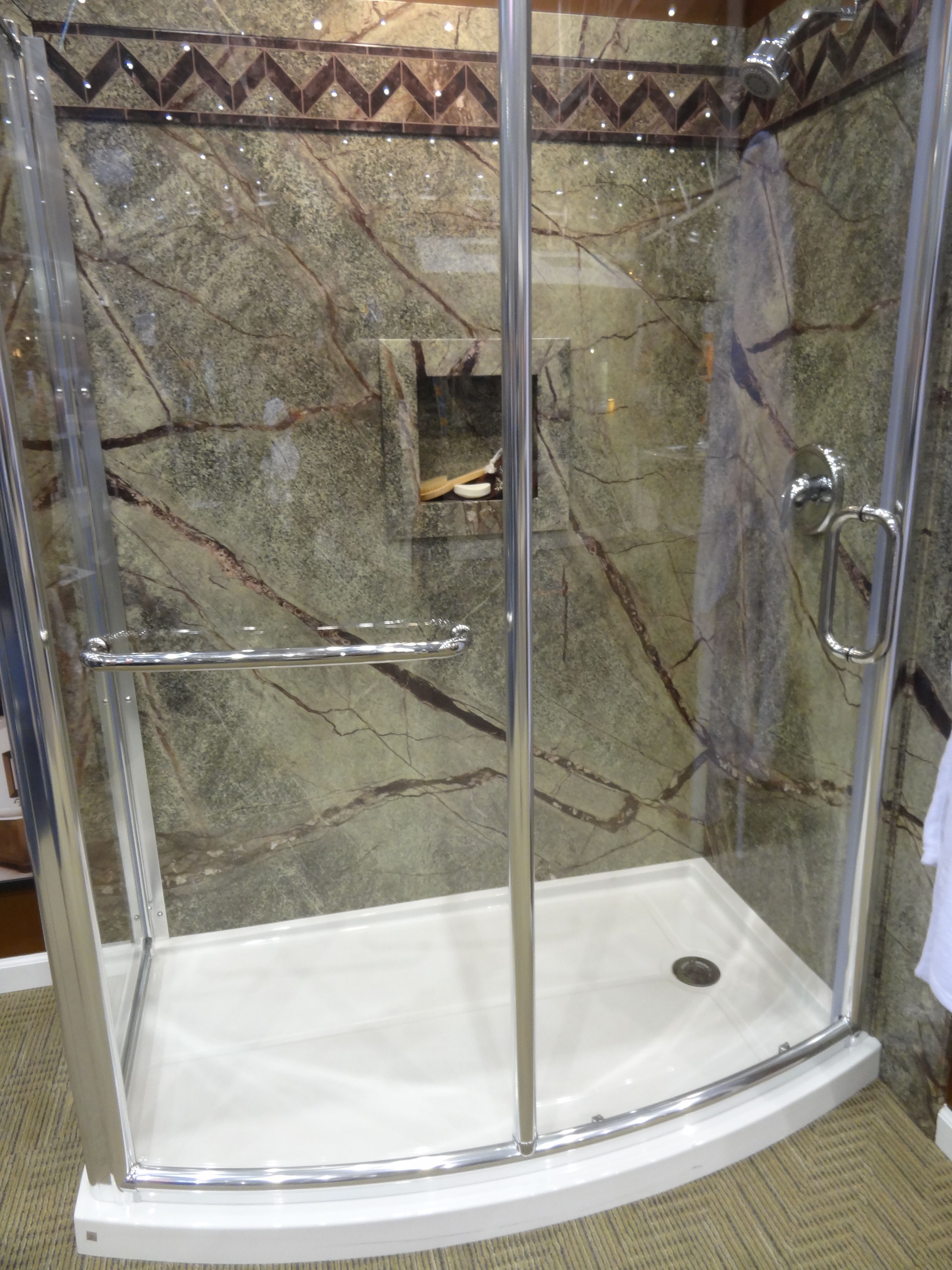 If someone had a dime for every nasty tub and shower enclosure out there – they would truly be a rich person! Let's face it – since tubs and showers are by there very nature wet spaces they can certainly get unpleasant over time – moldy walls, dirty grout joints, chipped, stained and rusty tubs are just some of the conditions many people find in their baths.
The challenge is how can the bath or shower be remodeled to not only improve the looks of the space – but also to make it more functional, safer and healthier?
Learn below about an exciting approach which can be used for a shower replacement or a bath to shower conversion which can be used for to transform an ugly (and perhaps unsafe) bathroom into one you'll enjoy entering every day.
A Shower Replacement or Tub to Shower Conversion using a Fleurco Shower Enclosure and Sentrel Wall Surrounds
The goal in most bathroom projects these days is to find low maintenance products (because everyone lacks time) that look good and will stand up to the test of time (and the test of our families!). Combining a Fleurco enclosure and Sentrel walls is one excellent way to accomplish these objectives.
Fleurco Bowfront Shower Enclosure
This application used the Roma shower enclosure line with a Bowfront base from Fleurco. What makes this product unique is it combines a cost effective curved acrylic base (available in a white or biscuit) with curved glass shower doors (available in chrome and brushed nickel). This allows this shower stall to be used in the same space where a tub used to be (for those people who want the safety of a shower vs. having to step over a tub rail this is an excellent choice!).
In addition since the base and walls are curved there is about 6" more room in the center of the shower! These shower doors slide from side to side but are engineered to not have a bottom track which makes cleaning much easier than standard framed sliding doors.
Sentrel Faux Marble Wall Surrounds
Using an advanced digital imaging process the Sentrel wall surrounds used in this shower provide a low maintenance high style look. This particular project used a pattern called Rain Forest(this line has over 20 different stone and marble patterns to choose from). Since the walls are made with a PVC backed composite and a Dupont engineered top layer they are made to last – even with the most demanding families.
To maximize room a recessed wall niche was used for soap and shampoo storage. A decorative accent border was used for a nice finishing touch.
What do you think about the Fleurco bowfront base and Sentrel walls? Do you have any questions about them? Please comment below.
If you're looking for more information or an estimate to install a shower enclosure or a bath to shower conversion project visit The Bath Doctor of Cleveland (216-531-6085) or Columbus (614-252-7294).For nationwide direct product sales call Innovate Building Solutions (877-668-5888). For complete bathroom remodeling contact Cleveland Design & Remodeling (216-658-1270).
---
Mike Foti
President of Innovate Building Solutions a nationwide supplier and regional (Cleveland and Columbus) remodeling contractors. Some of our product lines include glass counters, floors, backsplashes, glass blocks and grout free shower and tub wall panels
---