Project Spotlight: Using Art Glass Tile Blocks in a Kitchen Backsplash to add Light, Color, Privacy and Style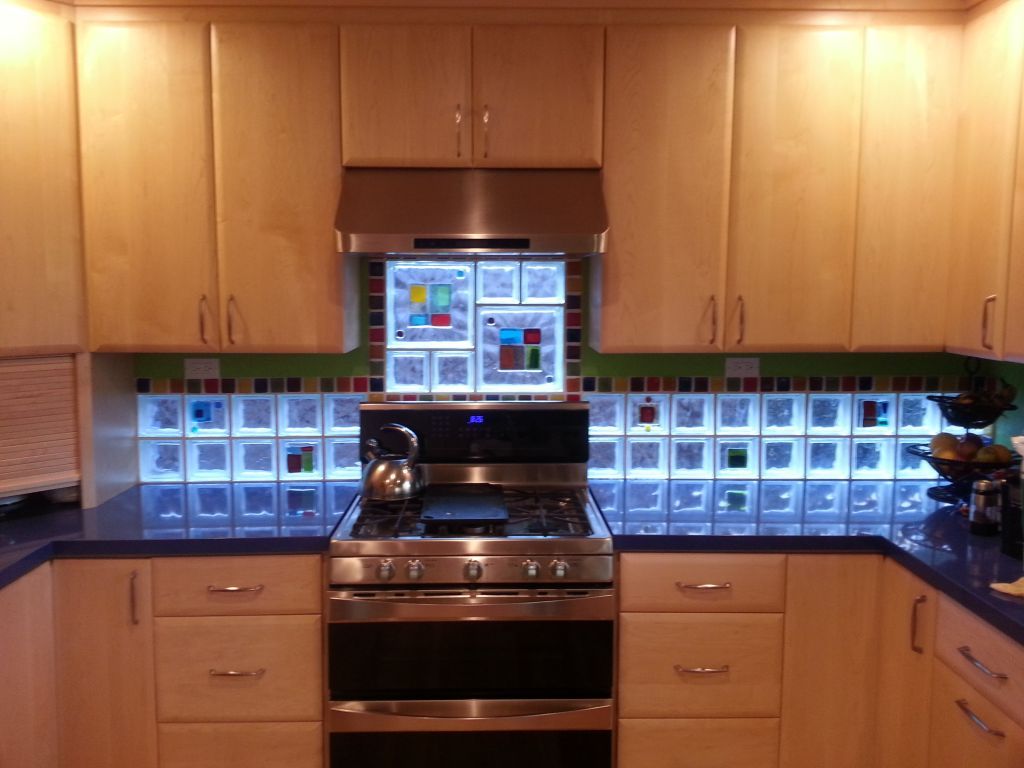 Question – how do you get light, privacy, contemporary style and color through a kitchen backsplash area? Answer – by using decorative art glass tile blocks. Learn below how Erin Cornelius of Davis California was able to create a light filled focal point in her kitchen remodeling project by adding an area of artistically designed glass tile blocks in between two rows of cabinetry.
The challenges with the old space – When Erin moved into this 1953 year old home two years ago she loved the neighborhood but knew a kitchen redesign was going to be essential to create a more contemporary look and to take advantage of the outside views. In addition she and her husband wanted more light and to improve how the space worked for them (both Erin and her husband are tall so they wanted to have the cabinetry at a better height).
The kitchen redesign – The new design required the cabinets be moved to a south elevation which caused the existing window to be eliminated from the design. To maximize views a bay window and slider window were put on the back side of the house – but Erin still wanted to take advantage of the sunlight from the south side– which unfortunately is not the most attractive side of the house.
A solution to the south side cabinetry wall which offered light, privacy, style and color – While doing internet research Erin learned about glass tile blocks available from Innovate Building Solutions. Working with Lillie Burton (one of Innovate's design and customer service specialists) Erin was able to see how using an obscure glass block pattern with fused art glass tiles would provide the contemporary look, privacy and cool style for this area.
To get some additional input into the design the glass artist, Audrey, helped Erin with the colors and locations of the glass tiles (see another image of this project below).  Erin's contractor framed the opening to create sections of glass blocks between the cabinets and above the stove as well. As Erin said, "What's really neat is the glass tile blocks not only increase natural light, but they even bring in multiple colors that will move across our wood floor with the sun!"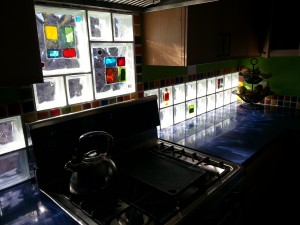 What do you think about this kitchen backsplash project with glass tile blocks? Please comment or ask any questions you have about it below.
If you'd like to learn more about using decorative glass tile art blocks in a window, kitchen backsplash, shower or partition wall contact Innovate Building Solutions (nationwide at 877-668-5888) or for regional installations Columbus Glass Block (614-252-5888), Cleveland Glass Block (216-531-6363), West Side Glass Block (216-398-1020) or Mid America Glass Block of Cincinnati (513-742-5900), Dayton or Akron Ohio. For assistance with kitchen designs in Northeast Ohio call Cleveland Design & Remodeling (216-658-1280).
---
Mike Foti
President of Innovate Building Solutions a nationwide supplier and regional (Cleveland and Columbus) remodeling contractors. Some of our product lines include glass counters, floors, backsplashes, glass blocks and grout free shower and tub wall panels
---