Converting Aluminum Storefront Windows to Glass Blocks in Cleveland Ohio – Benefits and Installation Steps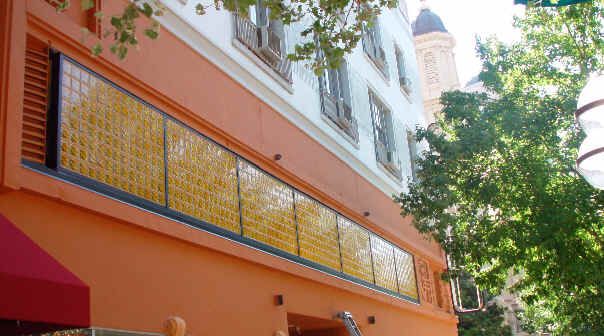 Glass block windows installed in an aluminum storefront in Cleveland Ohio
If you've got aluminum storefront windows that are a target for vandals or cause heating and cooling costs to be high it may be time to consider replacing them with glass blocks. Using a recent project for American Mutual Life Association (completed by Cleveland Glass Block a division of Innovate Building Solutions) learn the benefits and 5 key installation steps for this type of project.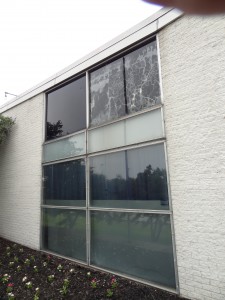 Benefits of Glass Block Windows in Aluminum Storefronts
The most important benefits to choosing glass blocks to replace single pane windows in an aluminum storefront glazed system include:
·         Improved security and fire ratings– Since glass blocks are much thicker (the units range from 3 1/8" thick to 3 7/8" thick) than single pane glass they are much harder to break. For even higher levels of security choose

solid glass blocks

or blocks with thicker interior faces (which can also increase the fire rating to 90 minutes)
·         Reduce heating and cooling costs – The R value of a standard glass blocks is 10 times better than a single pane glazed window.
·         Cut maintenance costs – With storefront glass if someone throws a rock or shoots through the glass the entire opening must be replaced. In the case of glass blocks if one unit is broken only that unit will need to be replaced.
·         Add colors, patterns and privacy – With glass blocks you can make part of the window see-through and other parts of the window obscure for added privacy. If you want to add more style consider using either frosted, colored or etched glass blocks.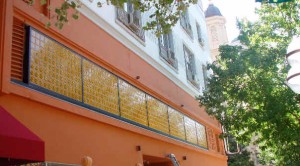 5 Installation Steps
The key to the long term performance of a glass block window in an aluminum storefront is using the correct installation steps. See below the 5 steps Todd Warshawski and Mike Diasio of Cleveland Glass Block used to ensure this project will stand the test of time.
Step 1 – Remove existing glass – Storefront glass must be removed carefully. In this project the stops and gaskets around the glass were taken off before removing the glass. For some of the openings the glass came out in one piece – in other openings the flat glass broke during removal.
Step 2 – Install mill finish aluminum channels at sides (jambs) and top (head) of openings – Instead of mortaring blocks in (which is common in masonry openings) they should be set inside channels to allow for expansion and contraction of the window sections. Below you'll see Mike caulk and use self tapping screws to install the channels.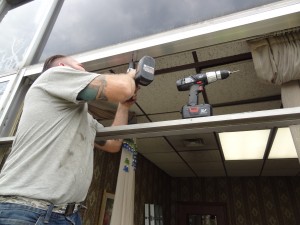 Step 3 – Add expansion strips inside the channel – Much like a control joint in concrete, expansion strips are put inside the channel to allow the glass blocks room for expansion and contraction.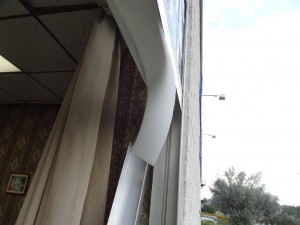 Step 4 – Set prefabricated glass block sections – Working from the sides back to the middle – the glass block sections are set and leveled into the opening (note: the size of these sections will vary based on the size of the opening – get advice from a glass block prefabrication wholesaler to determine the best size for your application). In this project the sections were mortared together (with reinforcing wire for additional strength). Another approach is to use a vinyl spacing system (called the Protect All Glass Block Window system) which can actually make the windows 22% more energy efficient and more secure).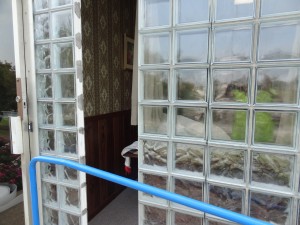 Step 5 – Seal the glass blocks into the channel – This step is done to ensure a water-tight seal.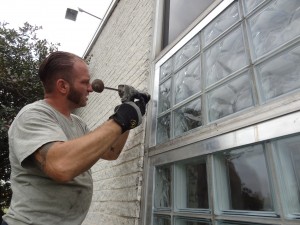 What questions do you have about aluminum storefront replacements with glass blocks? Please comment below.
###
To learn more about replacing aluminum storefront windows with glass blocks or get a free estimate or call Innovate Building Solutions on a nationwide basis (877-668-5888) or for a local project their divisions including Columbus Glass Block (614-252-5888), Cleveland Glass Block (216-531-6363), West Side Glass Block (216-398-1020) or Mid America Glass Block (513-742-5900) of Cincinnati or Dayton and Akron (330-633-2900).
---
Mike Foti
President of Innovate Building Solutions a nationwide supplier and regional (Cleveland and Columbus) remodeling contractors. Some of our product lines include glass counters, floors, backsplashes, glass blocks and grout free shower and tub wall panels
---