4 ½ Stylish Bathtub to Shower Conversion Ideas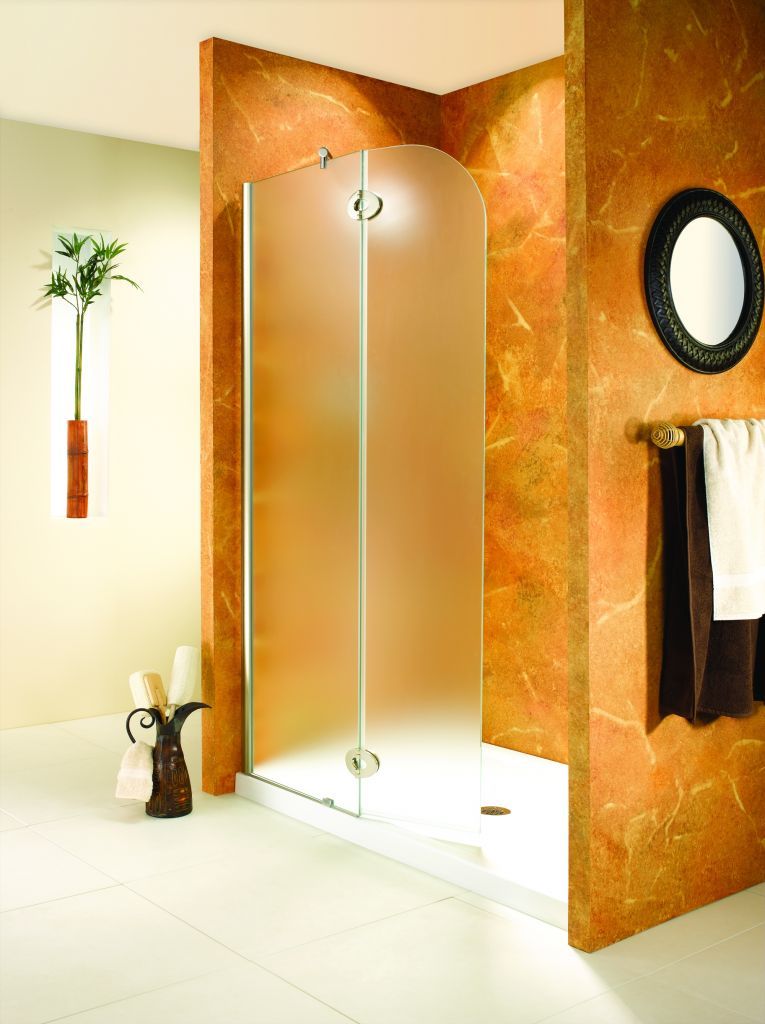 The need to ditch the bathtub has never been higher. With the desire of older homeowners to age in place, and fewer people having the time to take baths, the number of bathtub to shower conversions has been growing steadily. While tub to shower replacements are not a new concept you'll learn in the video and article below 4 ½ new ideas to add both function and style to these projects.
Idea 1 – Shower shield – A shower shield can not only provide a more open Euro design look, they can also provide the function of a walk in shower in a space as small as 60 x 32 (which is the most common size of a bathtub). Check out the Evolution and Banyo series of stationary and pivoting shower shields by Fleurco – very cool and low maintenance.
Shower screen in a obscure mist pattern with an acrylic base
Idea 2 – Curved glass block walk in doorless shower – Imagine not having to clean the scum off the bottom of a framed sliding glass tub or shower door ever again! Using a 60 x 34 glass block shower kit (available with a ready for tile, solid surface or acrylic base) it's possible to create a stylish walk in shower in the same space where the tub used to be. For even more style add a tile row or colored or frosted glass blocks.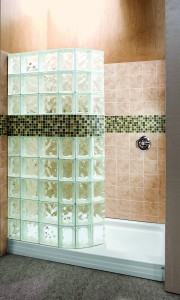 Idea 3 – A zero threshold roll in wet room – This shower and bathroom concept (which is widely used in Europe and Asia where bathroom spaces are smaller than the United States) uses a glass reinforced plastic base that is set on the studs and is tiled over. With this "wet room" installation the entire bathroom is waterproofed. This can be an ideal solution for an accessible bathroom (because there is no lip or curb to step over to get into the shower) or for someone that is looking for a more streamlined contemporary look.
Idea 4 – Bowfront curved acrylic shower base and matching glass shower enclosure – Just like the "bowflex" system allows someone to flex their muscles the "bowfront" curved shower base and corresponding sliding glass doors allows homeowners to flex/increase their showering space. This base – which is 30" deep at the sides and 36" deep at the center – makes a roomier shower in the same alcove space where the tub used to be. In addition this line offers matching sliding glass shower enclosures at different price points without any tracks at the bottom of the door to clean!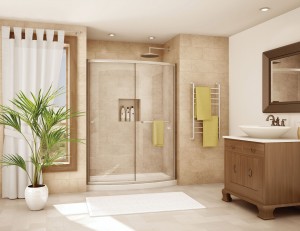 Idea 4 ½ – Get help on choosing the best system – OK a "1/2" idea might seem a bit strange but getting help to choose the right system can often be the most important idea of all! Look to find a Certified Aging in Place Specialist or a company that focuses on bathroom remodeling to gain the best insights on the right bath to shower conversion system for you.
Which of these ideas do you like the best? Please comment below.
If you're looking for more information or an estimate to install or supply a bath to conversion system contact The Bath Doctor of Cleveland (216-531-6085) or Columbus (614-252-7294).For nationwide direct product sales call Innovate Building Solutions (877-668-5888). For complete bathroom remodeling contact Cleveland Design & Remodeling (216-658-1270).  The article was authored by Mike Foti, a Certified Aging in Place Specialist.
---
Mike Foti
President of Innovate Building Solutions a nationwide supplier and regional (Cleveland and Columbus) remodeling contractors. Some of our product lines include glass counters, floors, backsplashes, glass blocks and grout free shower and tub wall panels
---