Introducing Designer Shower and Tub Wall Panels with Real Stone Look
Designer tub (or shower) wall panels
If you'd like to have the look of natural stone in your shower stall or tub enclosure but thought the cost was out of reach – think again! In the video and article below learn the benefits and uses of a cost effective, low maintenance shower and tub wall panel system which is rapidly growing in popularity.
Combining advanced digital imagery with a ¼" thick PVC backed composite
Design Imaging of Orem Utah combined their knowledge of computerized imaging to replicate the look of large slabs of stone and marble. These images are then bonded to a PVC backing and sealed to create designer shower or tub wall panels.
Benefits of designer wall panels
Some of the benefits of this PVC backed composite wall system include:
Wall panels are light and easy to install even for a do it yourself consumer. They can be cut with a carpenter's knife.
Creates the look of real stone at ½ the cost.
20 different patterns provides a large degree of design flexibility for any decorating theme.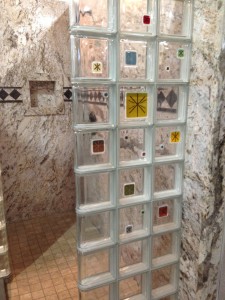 No grout joints eliminate the maintenance associated with tile projects.
There is no need (or expense) associated with having to seal the panels.
These wall panels can be installed over old tile to reduce installation time and disposal costs (note – make sure the tile walls are not spongy to ensure there is no mold behind the backer wall).
Easy to install corner shelves, recessed niches and accent borders improve the look and functionality of the enclosure.
Uses
The primary use of this material is for tub enclosures and shower stalls, but it can also be used for kitchen backsplashes or any other area where a natural stone look is desired.
Purchasing designer wall panels or finding a contractor
On a nationwide basis this material can be purchased by a homeowner or contractor through Innovate Building Solutions. On a regional basis The Bath Doctor of Cleveland, Akron and Columbus Ohio can provide installation service.
What additional questions or comments do you have about these designer wall panels? Please comment below.
If you're looking for more information or an estimate to install these designer shower or tub wall panels contact The Bath Doctor of Cleveland (216-531-6085) or Columbus (614-252-7294).For nationwide direct product sales call Innovate Building Solutions (877-668-5888). For complete bathroom remodeling contact Cleveland Design & Remodeling (216-658-1270).
---
Mike Foti
President of Innovate Building Solutions a nationwide supplier and regional (Cleveland and Columbus) remodeling contractors. Some of our product lines include glass counters, floors, backsplashes, glass blocks and grout free shower and tub wall panels
---