High Security Commercial Glass Block Windows Dress up the Grand Opening of 45 Degree Cycles in Columbus Ohio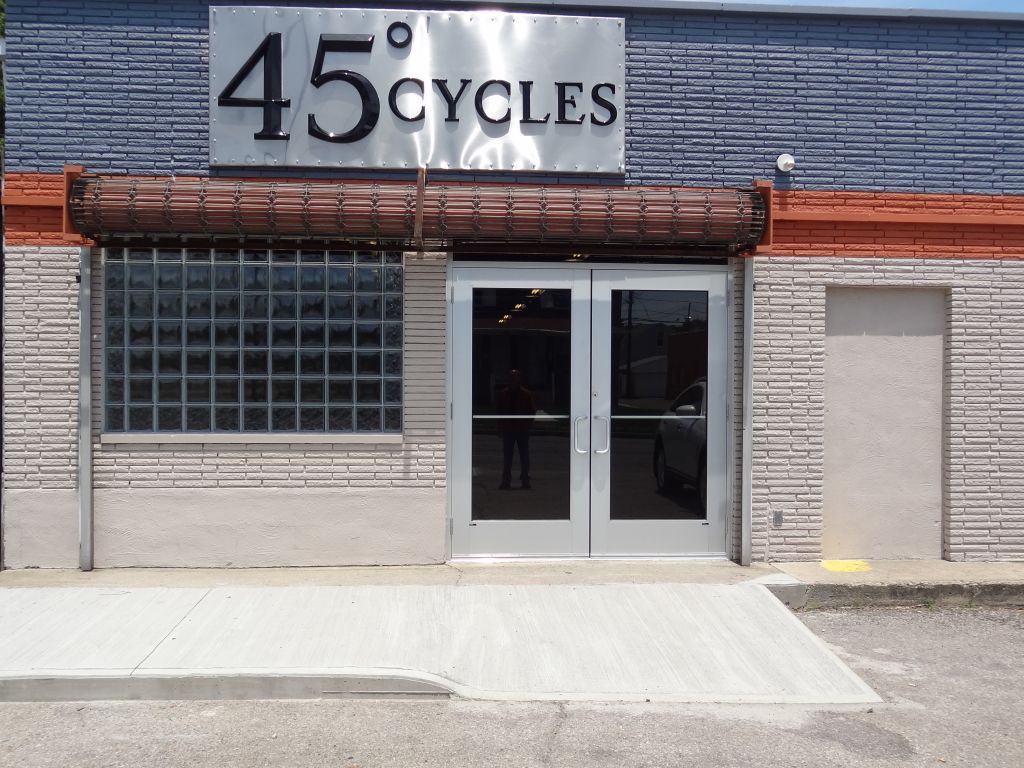 Commercial glass block windows have been used for many reasons – but a driving force in many projects is increasing security and reducing the chance of break-ins or vandalism. When Dean Strasser got the entrepreneurial bug and decided to open 45 Degree Cycles (a motorcycle sales and repair business) at 1748 E. Livingston Rd. in Columbus Ohio he knew he would need to transform the graffiti filled walls and boarded up windows with products that would not only be stylish and inviting to his customers – but also would be secure against intruders gaining entry to the building at off business hours. These objectives led him to use glass block windows.
Learn below about Dean's glass block product choice and the installation approach used by the team of Sean Malmsberry and Isaac Clark of the Columbus Glass Block division of Innovate Building Solutions.
Protect All Glass Block Window Fabrication system – To ensure the highest level of security Dean chose to use the deluxe Protect All glass block window fabrication package. This system uses vinyl strips which are placed both vertically and horizontally and are siliconed together. This approach provides a glass block window which is stronger, 22% more energy efficient and much more water tight than the traditional mortared window.
Clear see-through glass blocks with a decorative border for the storefront window – To maximize the view see-through blocks were used at the left front entrance of the store with a decorative wavy glass block border around them. The clear see-through glass block provides high security and sight to the outside.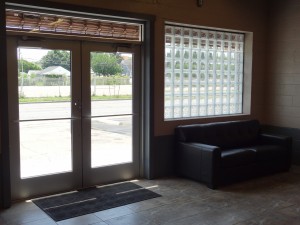 Adding additional light into both the sales, service and office areas of 45 Degree Cycles – Beyond the fact the existing windows were not very attractive several of the window openings over the years were blocked in with grey concrete blocks and the metal bars were added for security. As Dean said, "It is amazing the amount of additional light we have in all areas of the building now with the glass blocks and we still have a highly secure space!"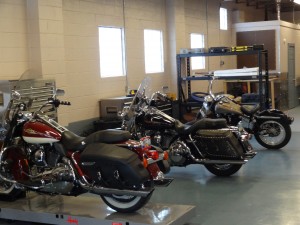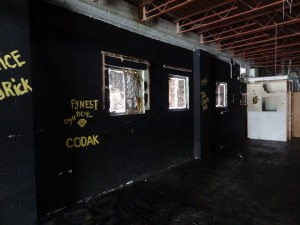 What do you think about the commercial glass block window project at 45 Degree Cycles? Please comment below.
###
To learn more about the use of commercial glass block windows or get a free quotation visit or call Innovate Building Solutions on a nationwide basis (877-668-5888) or for a local project their divisions including Columbus Glass Block (614-252-5888), Cleveland Glass Block (216-531-6363), West Side Glass Block (216-398-1020) or Mid America Glass Block (513-742-5900) of Cincinnati or Dayton and Akron (330-633-2900). This article was authored by Mike Foti.
---
Mike Foti
President of Innovate Building Solutions a nationwide supplier and regional (Cleveland and Columbus) remodeling contractors. Some of our product lines include glass counters, floors, backsplashes, glass blocks and grout free shower and tub wall panels
---