Glass Block Showers – 7 Reasons to Choose a Ready for Tile Base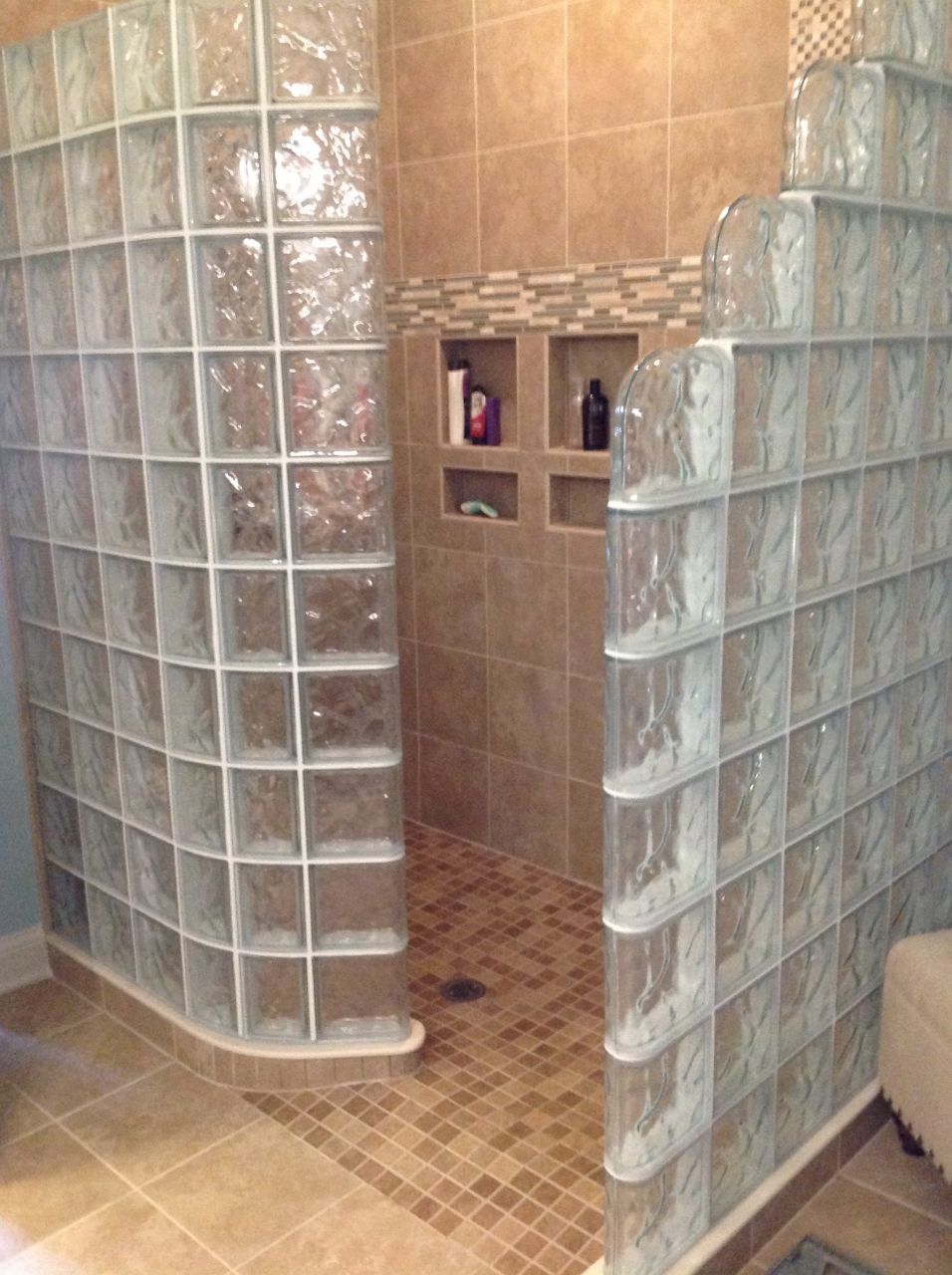 Glass block shower with a ready for tile shower base
When Ric and Cyndi Barrera in DublinOhio were looking to add a walk in glass block shower that would leave them enough room for a therapeutic soaking tub Ed Latorre from Truberry Custom Homes (their builder) began to research options in shower bases. Truberry could have provided the Barrera's with a preformed acrylic base, a custom poured mortar base or a prefabricated expanded polystyrene ready for tile base. In this article learn 7 reasons the ready for tile shower base choice was not only good for the Barrera's, but also for their builder Truberry Custom Homes.
Reason 1 – Safety – Since the expanded polystyrene base can be factory made with a barrier free entry it was preferred vs. the standard step over curb of the acrylic base.  This no curb (barrier free) entry provides Cyndi a more functional shower which can accommodate her Mom if she needs to move in down the road.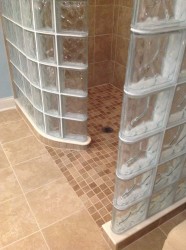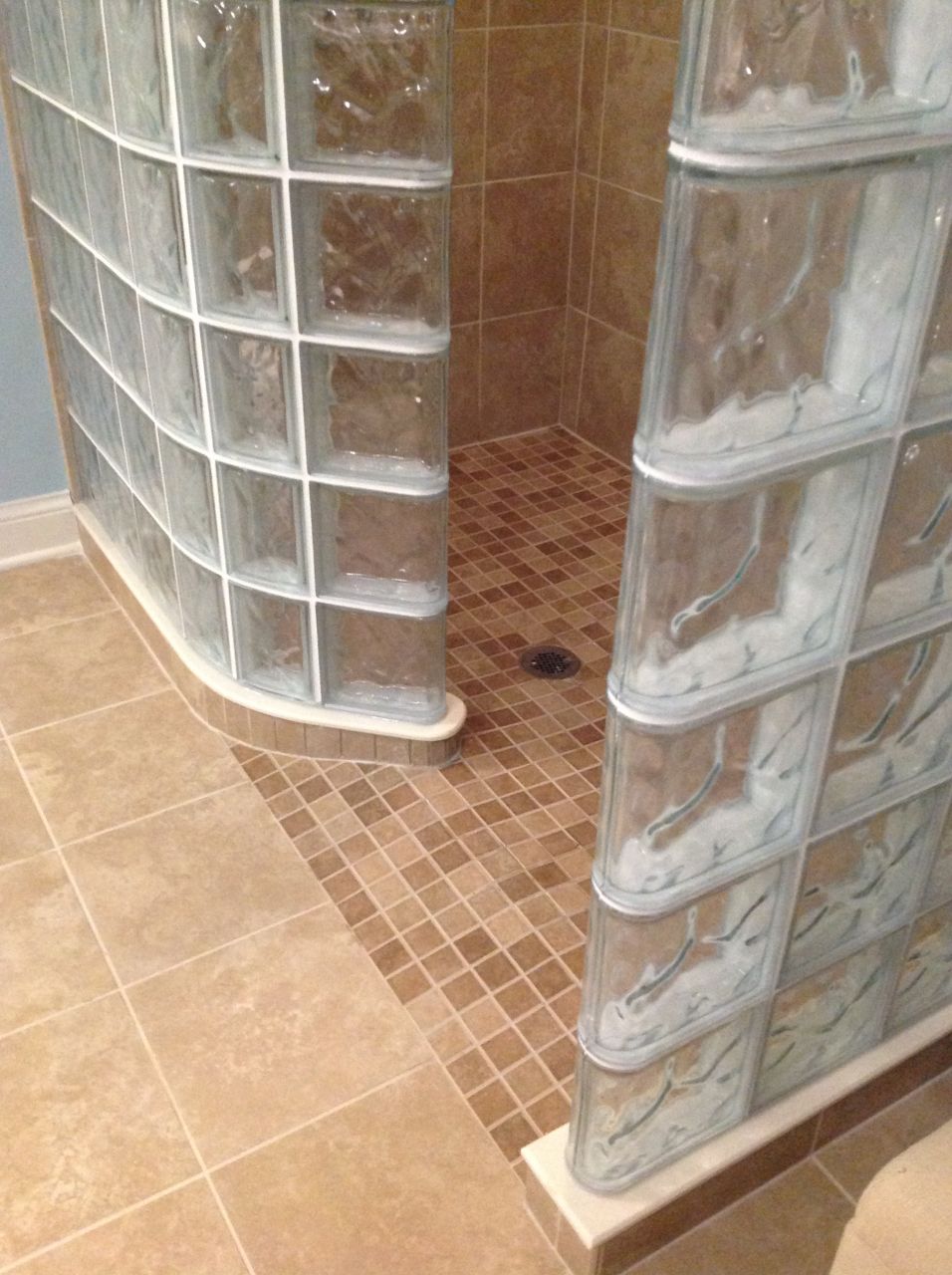 Reason 2 – Customization – Ready for tile bases, unlike their acrylic counterparts, can be made in virtually any size and shape to fit whatever space is available (and the drain location can be customized to eliminate the expense of having to move an existing drain). Acrylic bases for glass block walk in showers, on the other hand, only come in 60 x 34 and 72 x 51 sizes.
Reason 3 – Finishing choices – With acrylic bases you have 2 color choices (white and biscuit) – not exactly providing the luxury shower look for an upscale home. With the ready for tile base the Barrera's were able to choose a mosaic tile that complimented their ceramic and glass tile shower wall surrounds.
Reason 4 – Ease of installation – Both the acrylic and ready for tile systems provide a straightforward installation for a builder or remodeler. The expanded polystyrene ready for tile base is simply thin set to the subfloor and tiled over. To add a more polished look Fred Baum (Project Manager for Truberry) used a custom made solid surface curb cap to set the glass block curved and straight shower walls on.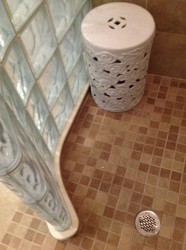 Reason 5 – Design flexibility which saves cost– Columbus Glass Block (a division of Innovate Building Solutions) designed this shower to use the thinner (3 1/8" thickness) glass blocks which not only saves cost vs. the traditional 4" thick units, but also provides the dual benefit of increasing the space within the shower.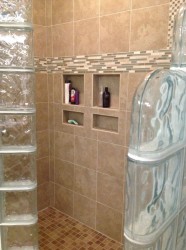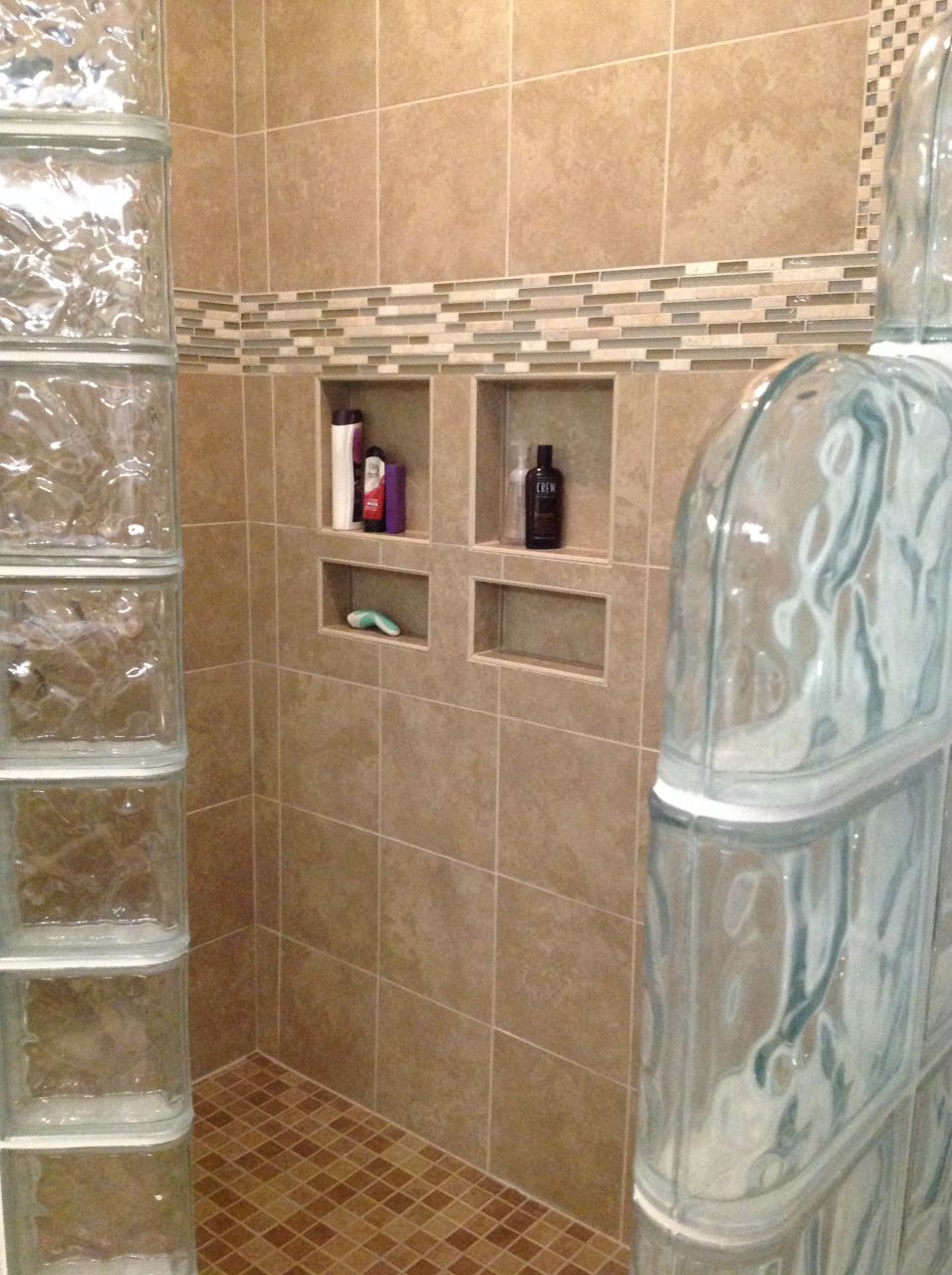 Reason 6 – A complete glass block shower wall and base system –InnovateBuilding Solutions provides a customized system where the ready for tile base is designed to match whatever design of glass block walls is required. In addition the glass block walls are prefabricated with a vinyl stacking component system which will stand up over time and can be shipped to customers nationwide.
Reason 7 – Resale value – If you are considering selling at some point in the future a tile shower is generally perceived as creating a higher value vs. an acrylic shower.
 What do you think about the shower base choice the Barrera's and Truberry made for this project? Please comment or call one of the numbers below for more assistance.
###
To learn more or get an estimate on a glass block wall or ready for tile base visit or call Innovate Building Solutions on a nationwide basis (877-668-5888) or for a local project their divisions including Columbus Glass Block (614-252-5888), Cleveland Glass Block (216-531-6363), West Side Glass Block (216-398-1020) Mid America Glass Block (513-742-5900) of Cincinnati or Dayton and Akron (330-633-2900) or Cleveland Design & Remodeling (216-658-1270). This article was authored by Mike Foti.
---
Mike Foti
President of Innovate Building Solutions a nationwide supplier and regional (Cleveland and Columbus) remodeling contractors. Some of our product lines include glass counters, floors, backsplashes, glass blocks and grout free shower and tub wall panels
---