A Glass Block Shower in a Log Home – Combining Rustic and Contemporary Styles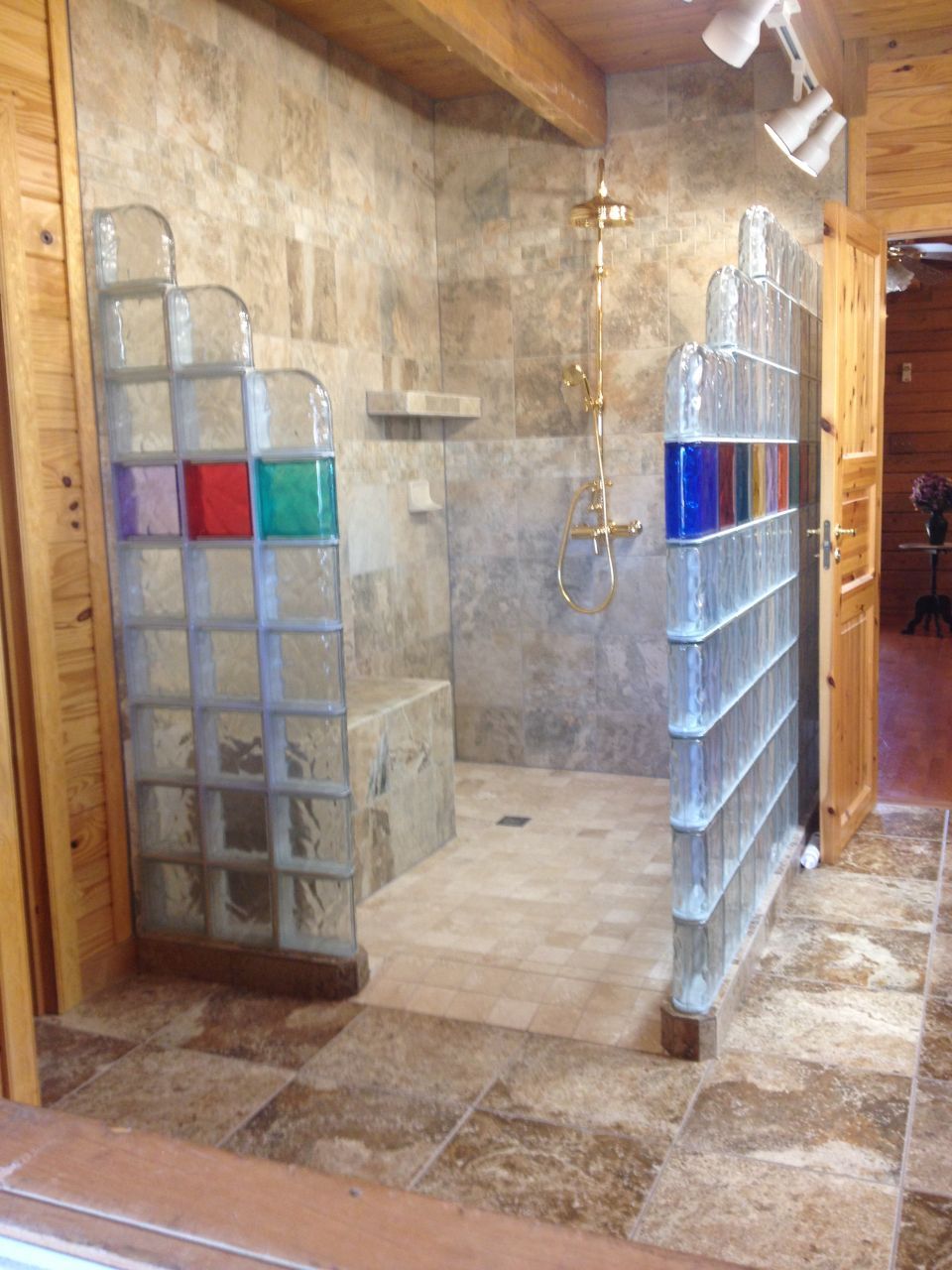 Glass block shower with colors in a log home
When Bob Dewitt of Collins Georgia noticed the shower wall separating from his baseboard and noticed a spongy feeling in the shower of his log home he knew he had a problem. As Bob said, "After I investigated the problem I uncovered a 3' x 3' area under the shower which was badly rotted and action needed to be taken!" Bob's existing acrylic shower base and pivoting brass finished door system did an OK job for many years but it was time for something new.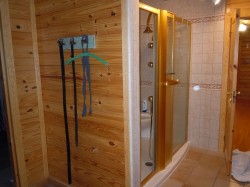 Learn below how Bob combined several new contemporary features in glass block walls and barrier free shower bases to create a functional, contemporary and open-design look in his rustic log home.
 Changing the design to open the shower up – The existing pivoting door and acrylic base system only provided light into one wall of the shower space and had a closed in feeling. In Bob's quest to open the space up he removed one existing wall and designed the entry to be in the back of the shower. With the new design there are now 2 open walls vs. one!
 Improving safety and ease of cleaning – The old Kohler acrylic base with framed glass enclosure had a step over curb and hardware which required stepping over to get into the shower. Bob wanted a system which was easier to enter. Towards this end he chose to use a barrier free (ramped) ready for tile shower base with a doorless entry.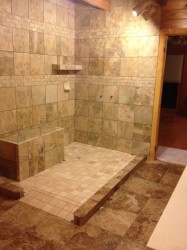 Not just your plain old glass block wall – As Bob said, "I didn't want just a stack of glass block to look at – I wanted something different!" Consequently, Bob chose to incorporate a row of different colored glass blocks to add style and flair to the space. In addition Bob worked with Innovate Building Solutions to design a cascading step down wall which was designed to be higher in the area closest to the water source. Using a thinner (3 1/8" thick) wave pattern glass block wall provides more space and saves on product costs as well.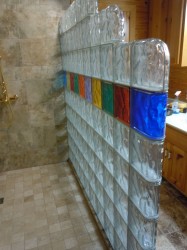 A comfortable and soothing space with unique touches- It's nice to have a shower which can be a relaxing and interesting space as well. Bob used a large bench for seating and incorporated an Italian designed rain head/hand held showering unit. The Italian shower fixture actually had the unique feature of a solid brass mixing valve which is on the outside of the shower wall.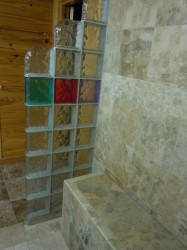 Keeping the rustic look – Although Bob needed to replace the shower it was certainly not his goal to change the surrounding look and feeling of the log home shower. Bob kept the tongue and groove southern yellow pine on the walls and the exposed beam ceiling.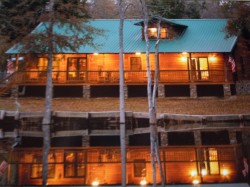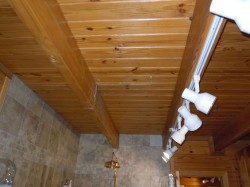 What do you think about combining the rustic look of a log home with a contemporary glass block shower? Please comment below.
 ###
 To learn more or get a free estimate on a glass block shower call Innovate Building Solutions on a nationwide basis (877-668-5888) or for a local project their divisions including Columbus Glass Block (614-252-5888), Cleveland Glass Block (216-531-6363), West Side Glass Block (216-398-1020) or Mid America Glass Block (513-742-5900) of Cincinnati or Dayton and Akron (330-633-2900).