5 Fashion-Forward Glass Block Designs You Need to Try Right Now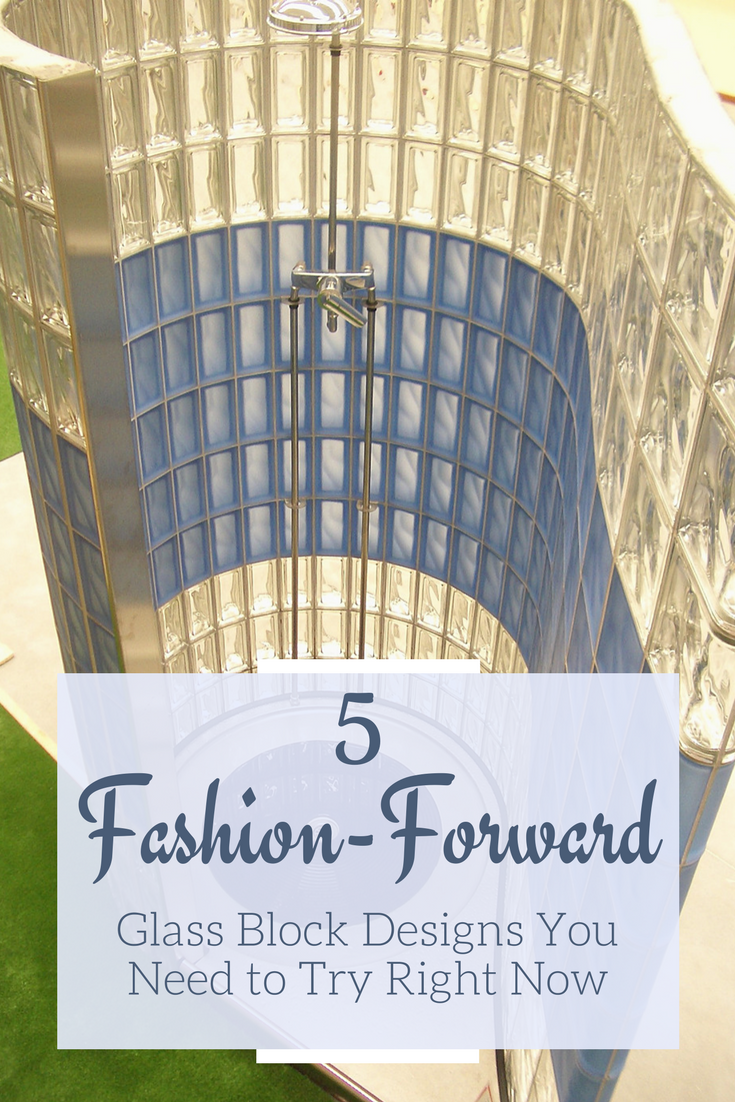 Updated March 23, 2019
"Glass block designs are BORING, Melissa said to me. Aren't those the things used in basement and bathroom windows and old commercial buildings for security? Why would you even THINK (she practically shouted out to me) I would put those inside my new loft?"
Melissa has a point. Glass blocks became as boring as sliced white Wonder Bread in a world of artisan inspired French baguettes. They became functional, pedestrian and mundane. Yes – the traditional blocks are useful. However, when you're designing a sleek, minimalist loft or Boho-chic luxury residence or uber-cool (OK – Uber may have a bad connotation here) commercial office build-out the last thing you want in the same-old, same-old. You want style. You want drama. You want impact.
As styles change product offerings MUST change with them. If not, they will go the way of your Atari game console, Pong arcade game, or bag or cell phone (I remember how cool I was when I spent $895 for my first car phone, but I digress!).
Design must be inspired – the result of late-night creative bursts from fashion designers, architects, interior designers or just regular folks like you and me.
The fashion capitols of the world are the inspiration for many design breakthroughs. Cool dresses you're drooling to get your hands on – if they won't break your bank. Fun features or your new home or 'coming soon' remodeled bathroom or kitchen. Cities like Milan, Paris, London and New York lead the way.
Given these hubs of fashion-forward designs it's of no surprise to me the new re-imagined glass blocks have their origins from a Milan designer named Allesandro Mendini. No, he's not to be confused with escape artist Harry Houdini – but Harry could have been brought in also to help glass blocks free themselves from their boring self.
If you're like most reading at this point, you're probably asking, "So what's so hot about glass blocks. Why should I check out these new designs with a product which feels as dated as a 1980's mullet?"
Read on to see 5 fashion-forward glass block designs which will change your perspective. If you think these blocks are BORING, then please give my wife a call. Tell her I'm even crazier than she thinks already and get me professional help ASAP!
Fashion forward design #1 – Modern abstract art expressed through glass blocks
If you're a fan of modern abstract art and the work of artist and leader of this movement Piet Mondrian, you'll love what you're about to see. Bold colors brought to glass blocks. Mondrian was known for mixing straight lines and primary colors. He used black, white, grey, yellows and blues. He simplified painting to the basic elements. Mondrian believed art reflected the spirituality of nature.
In our hurried times, one popular design trend has been the return to simplicity. Clean monochrome minimalism – are some words used to describe this trend. If you like this look you can take an all-white contemporary loft home and brighten it up with a fashionable wall of color inspired by abstract glass block art. Imagine, modernism and art brought to life in your home with a light-moving wall.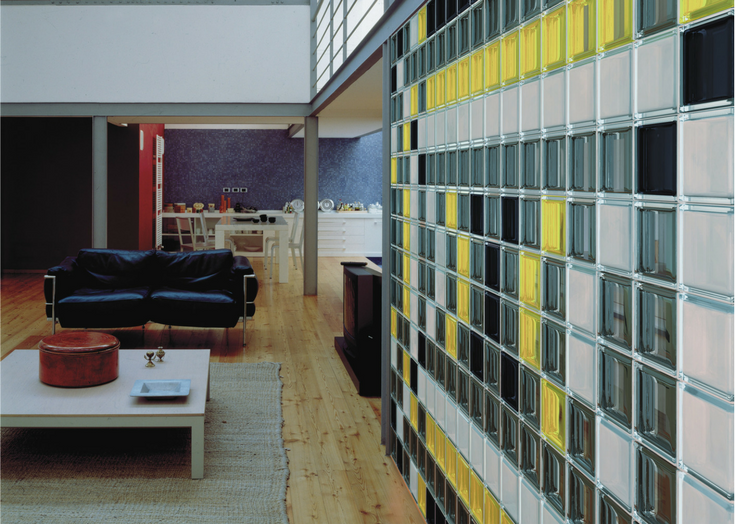 Fashion forward design #2 – Bring the luxury and sheen of metal with reflective glass blocks
Silver has always had a warm place in your heart, around your neck and on your fingers. Beyond jewelry, metals also play a big part in luxury home, condominium or loft apartment product selections as well. For example, with your luxury shower you will choose between polished chrome, brushed nickel or even brass (which is making its own comeback). In your kitchen you may be looking for a timeless metal for your refrigerator or range hood.
With all this thought around metals, what you never hear is, "what metal should I choose for my glass shower wall?" The reason why? The concept of metalized glass has not been popularized in the United States. However, imagine the impact and style with a silver-lined luxury shower with a fun minimalist design. A look so unique and bold your friends will say "wow" when they see it.
Check out this minimalist glass block shower wall with a border of frosted glass blocks. The blocks have a unique metalized finish, so even a dark room looks brighter. Now that's a fashion-forward building trend.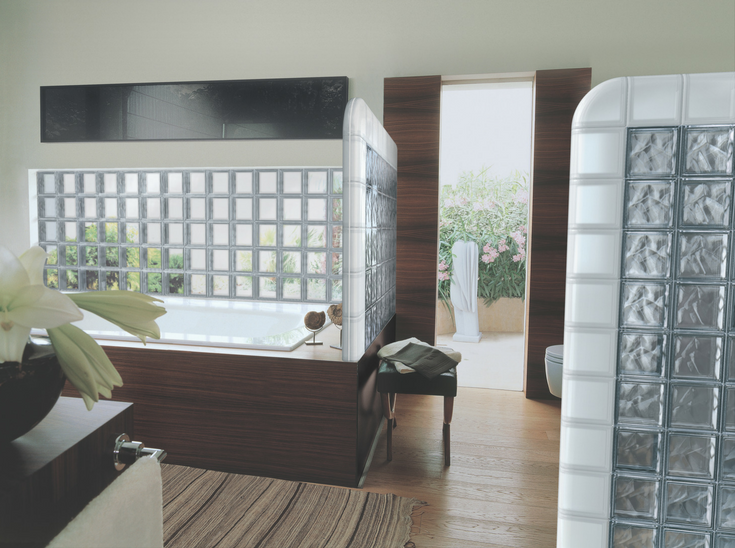 Fashion forward design #3 – You need a simpler life and a home to match. Minimalism captured in glass block partition walls.
"Do you want to change the world? Then change yourself first." Sri Chinmoy
The quote above captures the challenge of our lives. Today we have options our parents could have only dreamed of. With exploding choices comes increasing complexity. Our electronic devises buzzing all day and night. Work demands, family demands never seem to stop. The challenge becomes how can you and I 'un-plug' (at least temporarily) from these demands? How can we find simplicity in a world of complexity?
One way to change our lives towards simplicity is to design and live a simpler life. It can include decluttering your closets and getting rid of half the junk you never wear. Or reinventing and remodeling a bathroom or kitchen with clean, simple lines and cabinetry designs. Or adding pizzazz to monochromatic design with a splash of color with a light-transmitting glass block wall.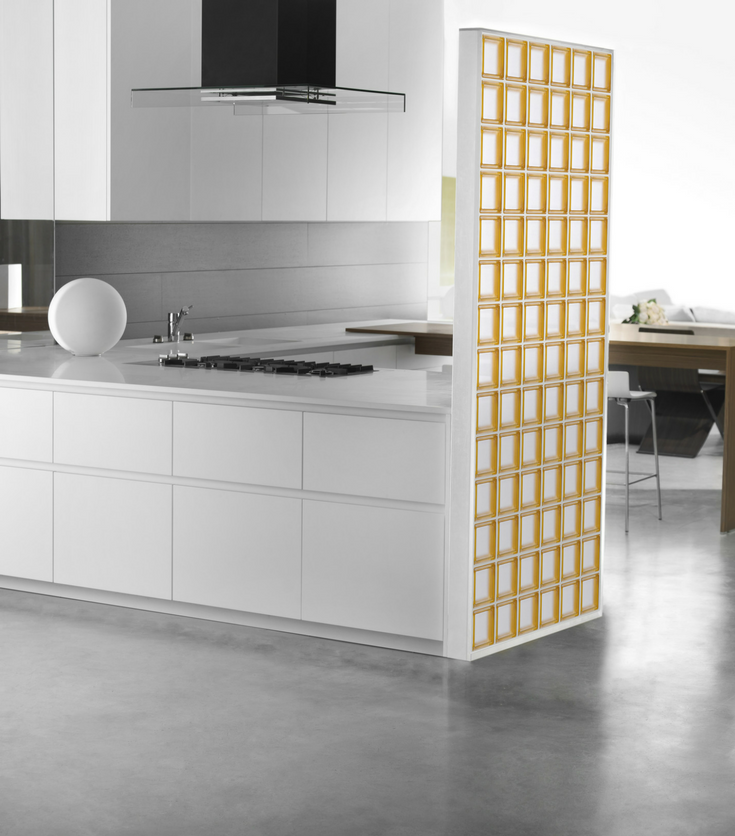 If you want to change your world, a perfect place to start is making your home simpler, and easier to maintain – without sacrificing style. Glass (and glass blocks) are a basic building element which can move light, without sacrificing style. It's a no maintenance wall which will give you time to do more important things (like hanging out with your kids or grandkids).
Fashion forward design #4 – Individualism is alive and well and embraced in Boho-Chic inspired homes everywhere.  
Maybe the modern, minimalist look makes you want to throw up. You feel organization, straight lines and the minimalist look sucks the personality right out of a design. You love to mix styles, textures, colors and patterns which uniquely express YOU. You want your home to embody your uniqueness – whether anyone else likes it or not.
If you're looking to design a loft apartment, condo or home which is 'one of kind'– why not transform light-blocking drywall walls in your home? Blow the door (or wall) literally up (OK –literally may not be a good idea!) and put in a colored glass block wall which demands attention. Check out the eye-popping wall behind this cool couch. Boring it's not. Attention-getting? You betcha!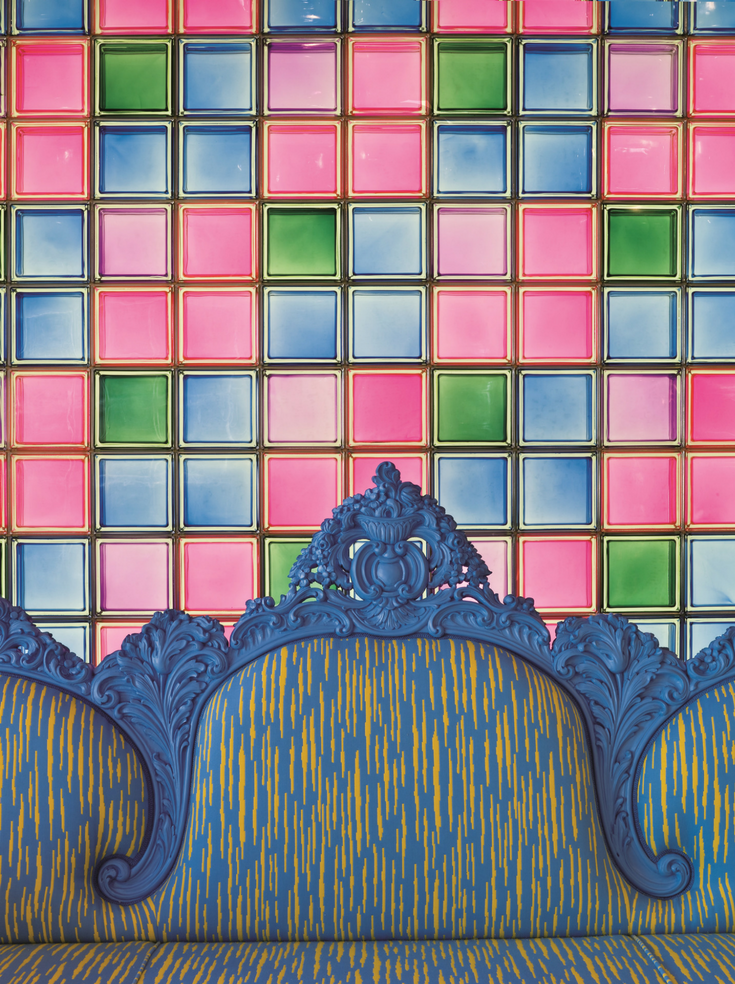 Fashion forward design idea #5 – Using frosted glass blocks for private, reflective, relaxing spaces
The more digitally interconnected you and I become the more we value (and crave) our privacy.
As a kid I had virtually no privacy and it didn't phase me in the least. I remember sharing an 11' x 11' bedroom with 2 beds smashed together with my bigger and uglier older brother Frank (OK – maybe Frank isn't that ugly – or at least that's what Mom says). With a sleeping arrangement like that there was NO privacy – but it worked.
Today you and I (and our kids) demand far more privacy. Sometimes we desperately want to get away from the barrage of ugly news stories about shootings and political debates and cocoon in our homes to feel safe and secure (away from the crazy world we live in). We need to disconnect from our work days, school days. To get a private moment to be with ourselves.
You can create privacy through design. Perhaps a more private front entry, selecting an obscure type of glass for your shower enclosure (people with young kids can relate to them barging in ALL the time) or using lighting and a soft color scheme for a serene bedroom.
The challenge becomes how can you create privacy and not feel closed in with a dark, depressing space?
One answer – frosted glass block walls. Here's two ways you could use them:
1) Put frosted blocks in a front entrance. This will offer muted natural light flowing in (even in the evening). You will have your privacy and can go downstairs at the end of the night in your underwear to eat ice cream without worrying about a stranger seeing you.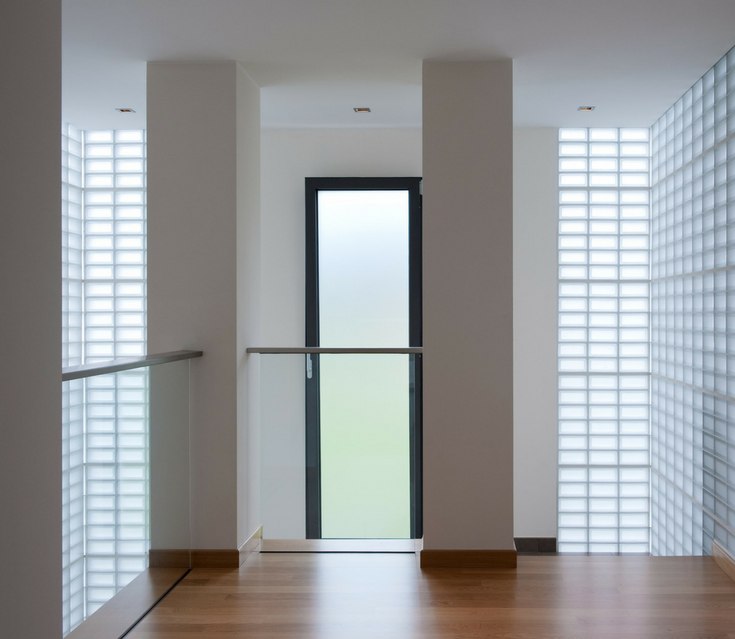 2) Install frosted glass blocks in a shower. When you use frosted blocks in an interior or exterior wall light will move through space without sacrificing personal privacy. You can shave, shower or take care of business (yes – you know what I mean) – in private.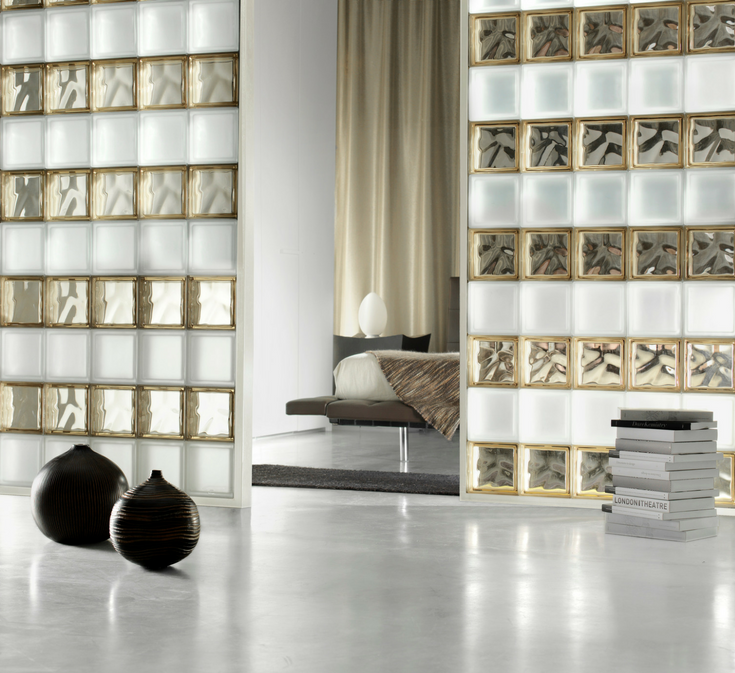 Conclusion
At the beginning of this article I boldly stated these new glass block designs were no longer the pedestrian, boring types you see in basement, bathroom and garage windows for security. Now I have two questions for you:
Question 1) Have I convinced you glass blocks can have a place in a modern, minimalist loft, or an eclectic Boho-chic California inspired home, or a quiet reflective space you're looking to create?
Question 2) Have you seen any designs which have inspired you to see this material in a new light (yes – bad pun intended!)?
If you have any comments or questions about these new glass blocks for your home or business, comment or call me or one of my teammates with the phone numbers below. We look forward to helping you.
How can I (or my team) help you with this project?
For assistance building or designing a glass block wall or window nationwide call Innovate Building Solutions at 877-668-5888. For a local installation service and supply contact Columbus Glass Block at 614-252-5888 or Cleveland Glass Block at 216-531-6363.
If you're a remodeler or builder and want practical advice on remodeling products, industry trends, marketing and sales tips to grow your business (and cut day to day hassles), start reading my newest blog – Innovate Builders Blog. It's packed with ideas you can use now. Click here to Sign Up for the Innovate Builders Blog.
---
Mike Foti
President of Innovate Building Solutions a nationwide supplier and regional (Cleveland and Columbus) remodeling contractors. Some of our product lines include glass counters, floors, backsplashes, glass blocks and grout free shower and tub wall panels
---