5 Surprising Reasons You Shouldn't Listen to Your Remodeler (and five strategies for your project to go smoother)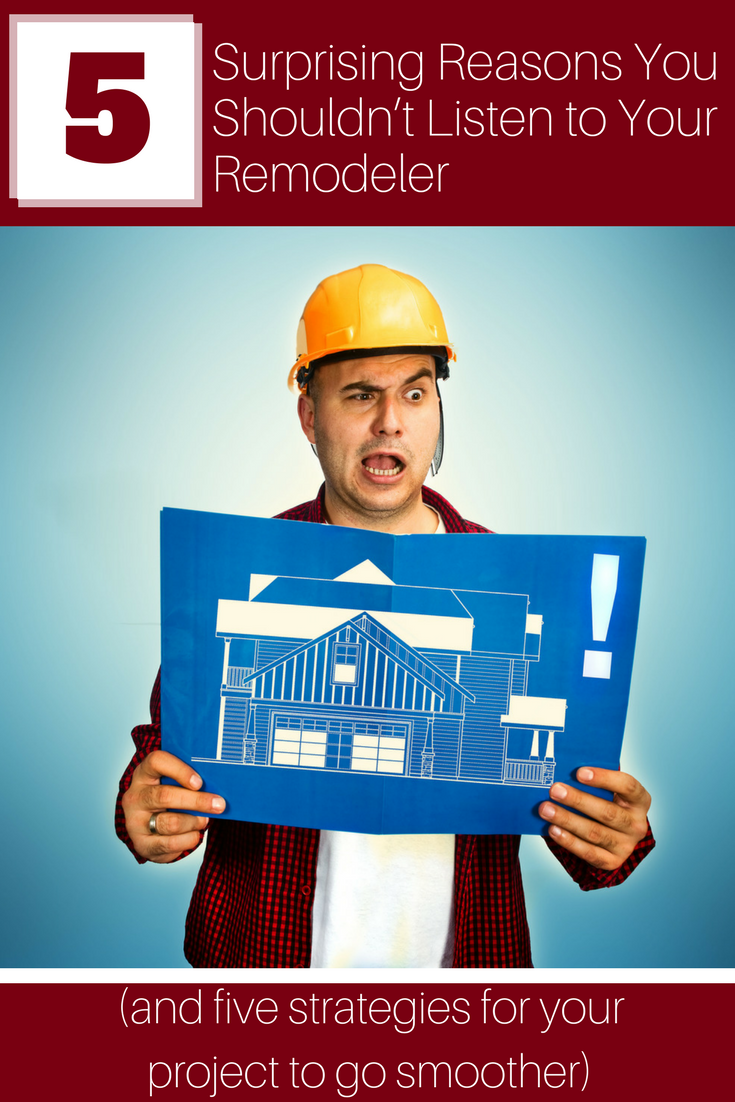 March 23, 2019
This article isn't written to dis(respect) remodeling contractors and companies. Hey – the reality is I'm earning a living in this world. I'm a guy who designs, sells, wholesales and launches new remodeling products into the market – and I've been doing this since 1985 (man – that makes me sound O-L-D!).
Remodelers and remodeling companies (mine included) are simply a group of people. We each have our own strengths, weaknesses, points of view and depth of knowledge. We have been brought together with the goal of successfully completing (and supplying) jobs for you. We want to minimize problems along the way – and make a few bucks while we're at it. Perfect we're not -just ask our wives, husbands, significant others and fellow employees. The only person who 'may' think we can do no wrong is Mom – but even she wonders from time to time.
It's because of our humanity (our imperfections) that I would tell you there are times you shouldn't listen to us. Crazy – huh? Yes, you heard that right, I said it, don't listen to us (I hope my kids aren't reading this now).
There are times you shouldn't take our word for it.
There are times you need to challenge us.
There are times you need to check us out to make sure we're 'legit' (or in the words of the infamous hip-hop artist MC Hammer – 'too legit to quit….your job.'
You need to make sure you find a good remodeler (there is no such thing as a perfect remodeler). One who will work with you. One who won't dictate the terms, conditions and products you'll use on your job (it is your job, now isn't it?). Before entering into a remodeling contract, you need to know the strengths (and limitations) of your contractor, when you should listen to them, and when you shouldn't.
The goal of this article is simple. It's not to slam contractors (we're an easy enough mark as it is). It is to give you a realistic perspective on how to choose, and work with your contractor so your project goes smoother and – most importantly – you get what you want.
Let's look at 5 reasons you shouldn't listen to your contractor and 5 simple strategies for your project to go smoother.
Reason #1 You Shouldn't Listen to your Remodeler. They run out of time to research for you.   
You see images of a sleek minimalist shower (which would also be safe if Mom and Dad come to live with you) on Pinterest and give the picture to your contractor and say, "I want THAT!"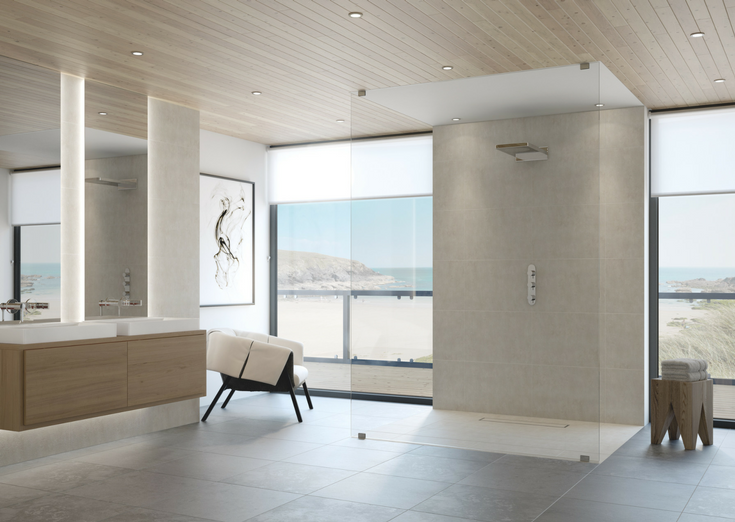 What you may not realize is getting from this image to a finished project requires a leap of faith and a lot of learning (assuming your contractor hasn't done a one level wet room shower before). Your contractor will need to figure out how to install this shower for you. Does the process vary if you have a concrete floor or a wood subfloor? Will the installation be different if you want a standard 2" drain or a linear drain? Is anyone familiar with installing this system in your town?

These questions require research. If your contractor is already booked 4 months out and struggling to keep his/her head above water, they may be unwilling (or unable) to research your special request. Because of time constraints your contractor tells you they won't be able to help you. They only do tile showers with standard curbs.
Strategy #1 to make your job go smoother. Do your own research.  
If you want a product bad enough roll up your sleeves (or digital fingers) and do the research yourself. You'll need to do the following:
Figure out where you can source the product(s).
Get installation instructions.
Call the manufacturer or supplier and ask for referrals to local contractors who have installed this product.
If you want a prime example of a homeowner who became a "Research Warrior" and got what she wanted read Tami's story- 5 Inspiring Tips You Must Know to Endure a Bathroom Remodel. See her finished project below: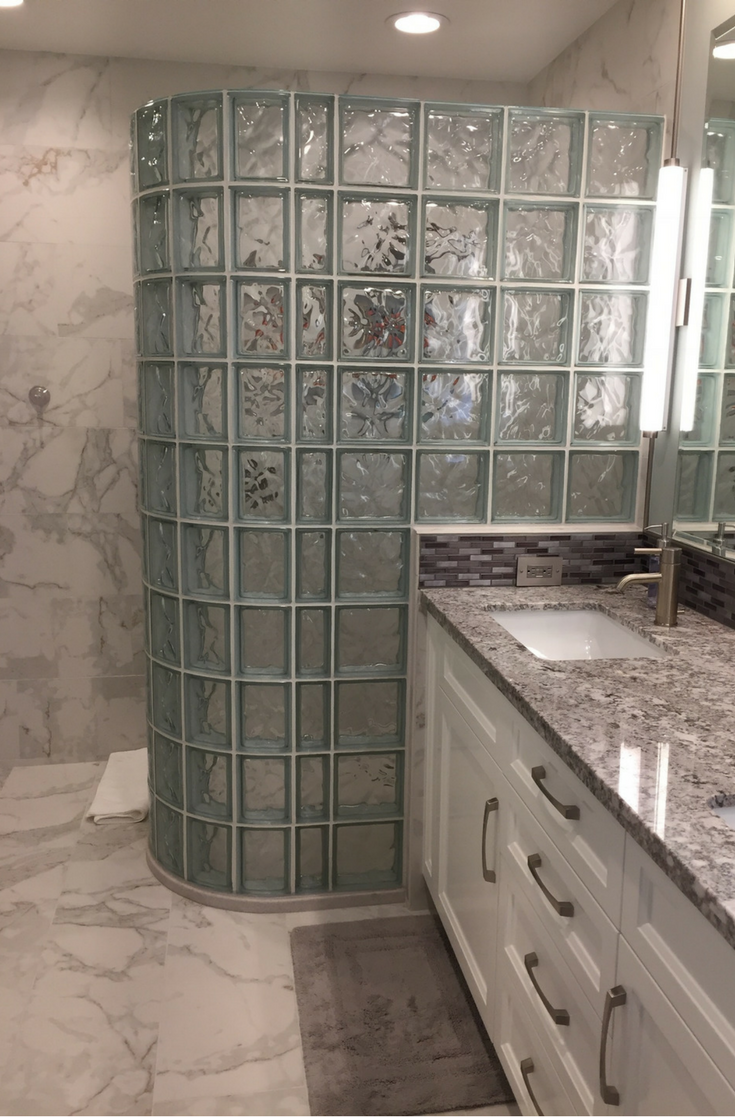 Reason #2 You shouldn't listen to your remodeler. They don't work part time as a psychic.
Your remodeler can TELL you about their whiz-bang products.
Your remodeler can TELL you about their amazing services and team.
Your remodeler can TELL you about their flawless installation and communication process.
All these selling points don't matter one 'dinni-dinny' bit (as Roseanne Rossanaddana would have said on Saturday Night Live) because this job should be all about YOU! Your vision. Your style. Your current and future needs.
Because your remodeler is likely not a psychic (and hopefully they're not staffing the Psychic Friends Hotline either), if they're not a skilled interviewer (notice I didn't say salesperson) – they may not do a good job asking you questions to understand your vision and needs. This disconnect between what's in your mind, and what your remodeler thinks you want can cause your job to go sideways. What can you do to fix this?
Strategy #2 to make your job go smoother. Get prepared before the initial design or sales appointment.
Before you meet a potential kitchen, basement or bathroom remodeling contractor get prepared. Gather as many images as possible through Houzz and Pinterest to show your vision. Think through the following:
Who(m) will be using this space – now and in the future? If you're designing a bathroom is it possible Mom and Dad might live with you and will need a safer low barrier shower?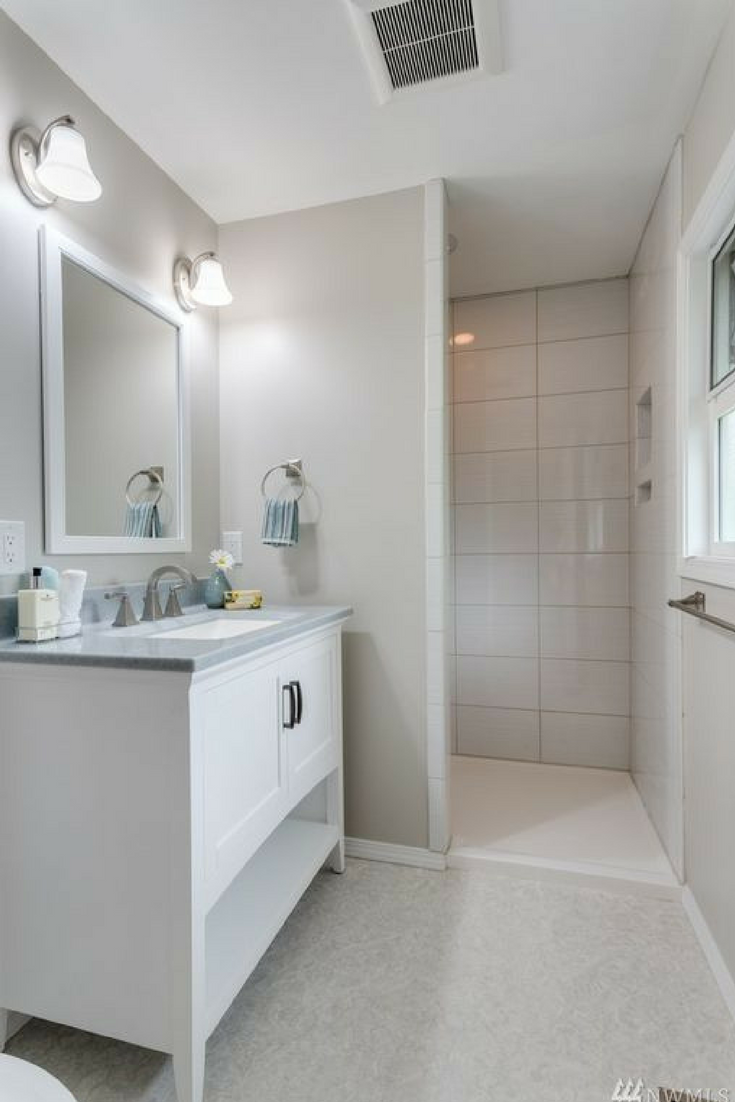 What kind of communication(s) would you like from your contractor? How often do you want to be updated? Most relationship problems (whether it's doing a remodeling project or with your friends, kids or family) happen when communication breaks down. How can you make sure this doesn't happen on this job?
The better you communicate and prepare with your contractor, the better job you'll get.
Reason #3 You shouldn't listen to your remodeler. They recommend what they know.
All of us (your contractor included) are creatures of habit. Here's my weekly routine. Up by 3 AM. Exercise. Get showered and ready for work. Go to the gas station, pick up my newspapers (some old-school habits die hard – or not at all). Head into work. This routine gets me into the groove of my day. I HATE to vary this routine.
Your contractor also has their own routines and 'go-to' products and processes.  For example, if they love the look of tile and have a tile subcontractor who is 'money in the bank,' they'll recommend tile on every job – and it's not hard to love a cool one level tile shower like the one shown below.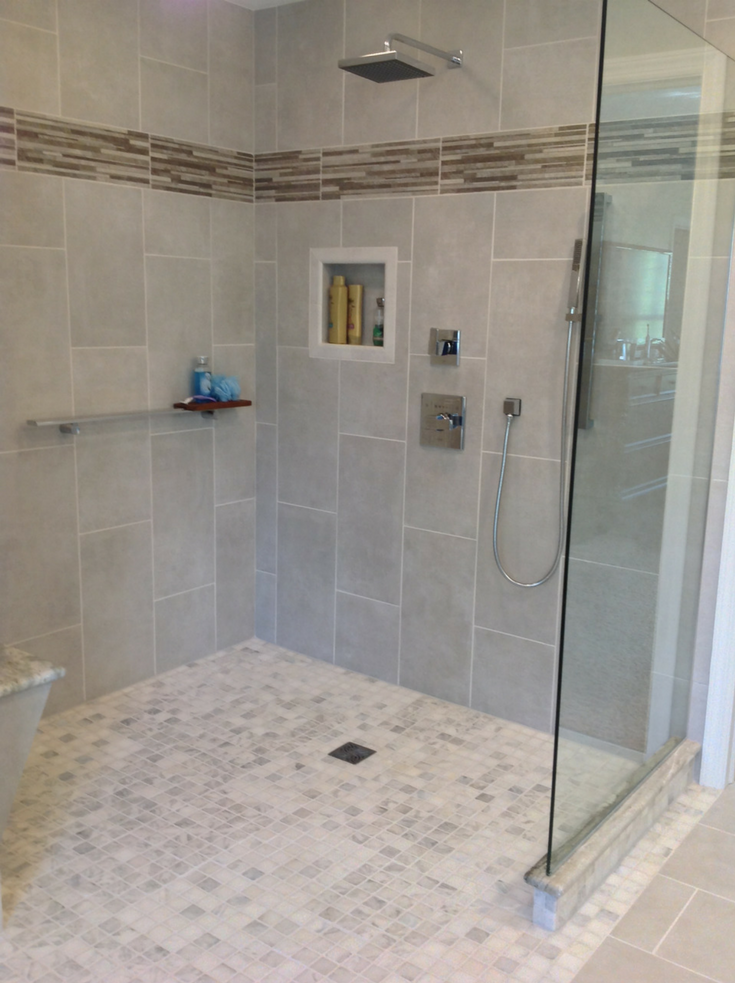 With that being said, your contactors recommendation (and comfort zone) can be a problem for you. If cleaning grout joints to you is as unpleasant as nails on a chalkboard you won't want a tile shower, no matter how cool it looks at the end (like this one below). His tried and true product and process will become an ongoing maintenance hassle you'll have to live with (IF your contractor dictates what's used).
What can you do about this?
Strategy #3 to make your job go smoother. Be thoughtfully assertive BEFORE you sign a contract.
In strategy #1 we talked about doing your own research for a smoother project. I'm here right now to tell you from my experience as a nationwide material supplier – thorough research is not enough. I have seen homeowners who desperately wanted to use some of our unique products (items like glass block showers and high gloss wall panels for example) and their contractor told them a flat out NO (pretty much like you say to your 3 year-old child). Since these contractors were already hired and working on the job, it left owners no choice but to suck up and deal with their contractor's choice.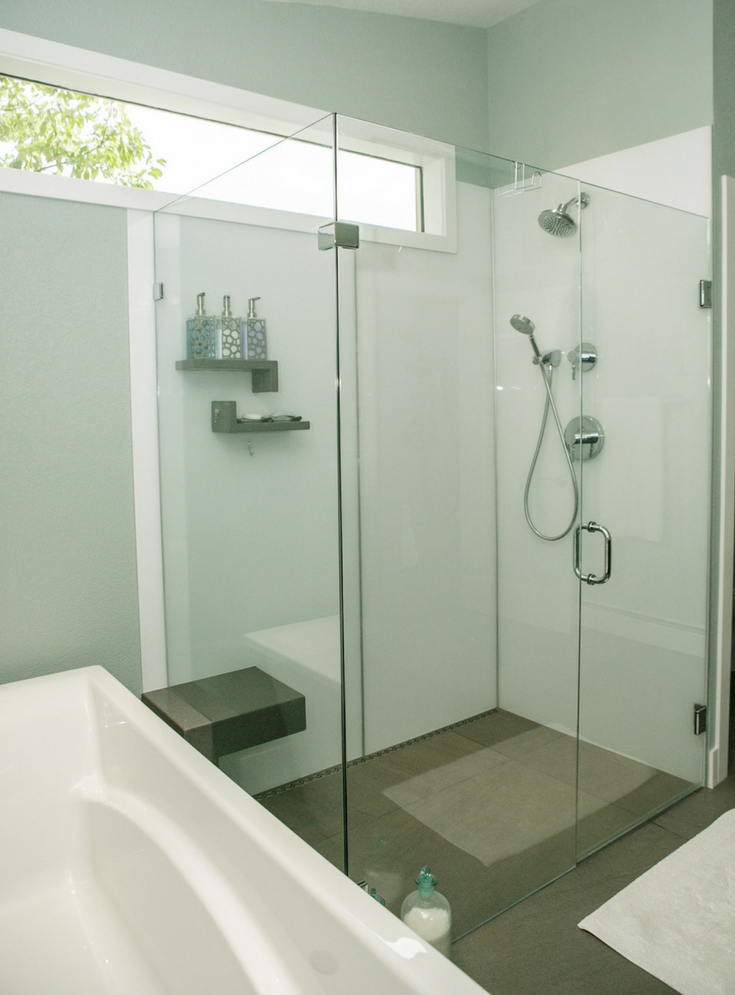 Right now, you may be asking, "Whose home is this anyways?" A legitimate question.
If you don't want to end up on the 'wimpy-kid' side of your contractor dictating selections based on their comfort zone, insist (before you sign the contract) on getting the products you want.
Tell your potential contractor (nicely – but firmly) the materials you want to use. Don't settle on what they'd like to build, insist on what you'd like to live with.
Reason #4 You shouldn't listen to your remodeler. They can be legends in their own mind.
The worst contractor you can hire IS NOT one whose skills are green around the edges. It's a contractor with an ego on steroids! People who are 'legends in their own minds' will not listen to you. They know what you need. They are 100% right…from their perspective.
Arrogant people fuel bad relationships. When your relationship with your contractor disintegrates over disagreements your job may stall – or worse. Your suddenly slick contractor hires the slimy law firm of 'Dewey-Cheatum-And-Howe" and sues you over these differences of opinion! Then you'll remember how nice and sweet he or she was during the sales process. How did your remodeling Dr. Jekyll transform into Mr. Hyde?
How can you make sure you're not hiring a slick salesperson who becomes an arrogant idiot on the job?
Strategy #4 to make your job go smoother. Screen your contractor like a job applicant.
An arrogant, unscrupulous contractor can make your home (and life) a living hell. Hopefully you've not experienced a remodeler who was 50% done, yet been paid 90% and you can't get them back to finish. Or, a builder who finished the project 6 months ago, but won't return your calls to wrap up a small repair (which is still under warranty – theoretically).
Don't end up on the wrong end of a bad contractor relationship. To cut down your chance of this happening do the following:
1) Ask potential contractors to share a story about a job which went bad.
If your contractor doesn't respond at all (and tells you ALL of their jobs have gone well) – you'll have to pull out with infamous 'liar, liar, pants-on-fire' line. Every contractor whose been at it for a while has had some clunkers. You can tell the 'good guys/gals' from the bad, by how they handle adversity. Are they self-aware? Are they honest? Are they willing to share their mistakes? Most importantly, do you feel they learn from their mistakes?
2) Research bad reviews.
Go out to the top review sites – Angie's List, Houzz, Yelp and Home Advisors. See if you can find any not-so-stellar reviews on your contractor. See if (or how) they responded to the bad review. If they 'go defensive' in a bad review this is a HUGE red flag. You'll know you're dealing with a big ego, who will fight first and ask questions later when problems arise.
3) Ask about their change order process
The bigger the remodeling job the more you should expect the unexpected. The change order process is major source of disagreements. Ask your contractor how they handle changes. Do they have a system? How much do they markup extras? How transparent are they about cost?
Reason #5 You shouldn't listen to your remodeler. They may not have all the skills required to do your project.
Just because a remodeler is a good 'builder' (i.e. they are talented with tools) doesn't mean they are a good choice.
Just because a remodeler excels at 'design' and the initial sales process, also doesn't mean they will deliver on their ideas. If they have a bunch of 'yahoos' doing the work, or people who couldn't coordinate themselves out of a paper bag – all the pretty 3D designs in the world won't mean diddly.
How do you find the right mix of design, construction and coordination skills for your project?
Strategy #5 to make your job go smoother. Figure out if you need a designer, a builder or design/build firm. 
Not all remodeling projects are created equal. Doing a room addition or a full gut or kitchen remodel are more complex than installing a new vanity top. The large-scale remodel requires massive planning, a lot of money and the ability to design first and build second. On the other hand, if you're simply changing out a vanity countertop you need a builder who is skilled in disconnecting plumbing and removing and reinstalling a new top. There is not much design expertise needed. It's a straightforward contracting job.
Before bringing people in, identify and categorize your project into one of the following.
Category 1- You need a designer- Your existing space lives horribly. Examples could be (1) a closet design with tons of dead space, yet you still have no place to put things or (2) a shower which is too small and unsafe. You need someone skilled in design who will know products and how to plan spaces.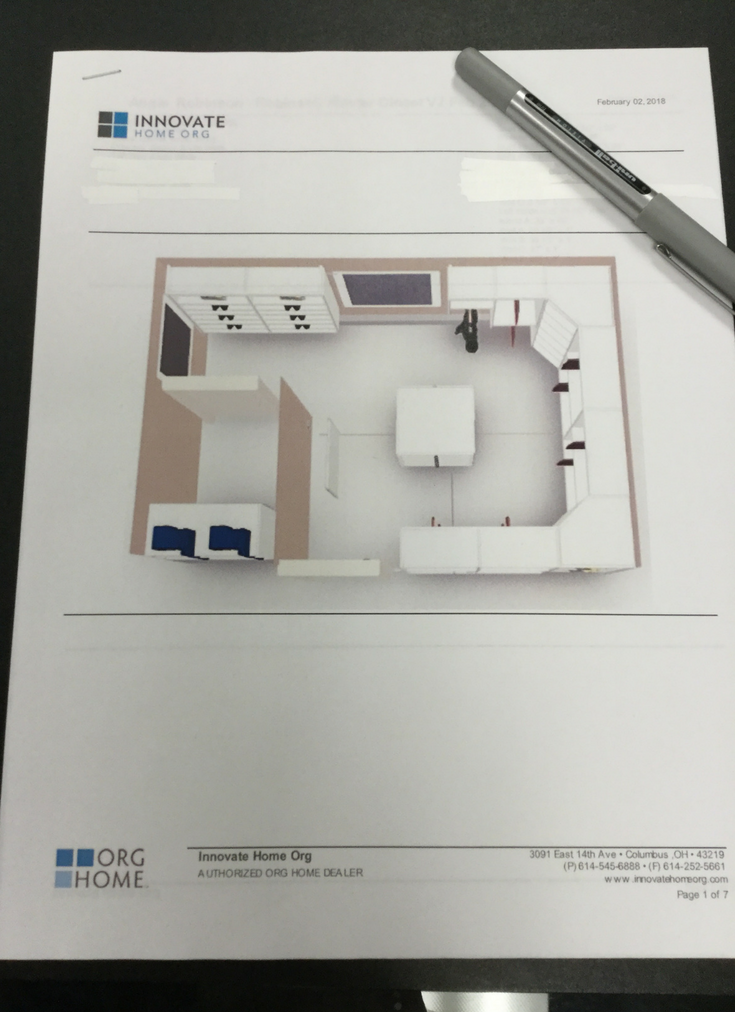 Category 2 – You need a builder – You've got a simple window to replace or counter to install. A builder, contractor or handyman can do the trick.
Category 3 – You need a design/build firm – Your job is a massive scale remodel. You want to tear off the back of the house. You want to remove interior walls and reorient the layout of your kitchen and family room. Big jobs need the design and multiple trade coordination skills of a design/build firm. They can design it, plan it, schedule it and build it professionally.
Conclusion
While no remodeler (or remodeling company) is perfect, if you use a thoughtful approach hiring the right one, your chance of success goes up dramatically. Go into your job with eyes wide open. Communicate clearly your vision and products you want. Think through what skills you need – given the scope and complexity of the project. Stay away from arrogant contractors like the plague!
If you have questions on how to find a contractor, or you need one in the Cleveland or Columbus Ohio, we would be honored if you'd put us on your short list.
How can I (or my team) help you?
If you need help with a Cleveland bathroom remodeling project call Cleveland Design and Remodeling at 216-658-1270 or in Columbus The Bath Doctor at 614-252-7294.
We can also help you with nationwide supply of unique glass block showers, grout free wall panels or shower pans through our nationwide division – Innovate Building Solutions at 877-668-5888. We will assist your contractor with the technical and installation questions they may have to use these products.
If you're a remodeler or builder and want practical advice on remodeling products, industry trends, marketing and sales tips to grow your business (and cut day to day hassles), start reading my newest blog – Innovate Builders Blog. It's packed with ideas you can use now. Click here to Sign Up for the Innovate Builders Blog.
---
Mike Foti
President of Innovate Building Solutions a nationwide supplier and regional (Cleveland and Columbus) remodeling contractors. Some of our product lines include glass counters, floors, backsplashes, glass blocks and grout free shower and tub wall panels
---