5 inspiring tips you must know to endure a bathroom remodel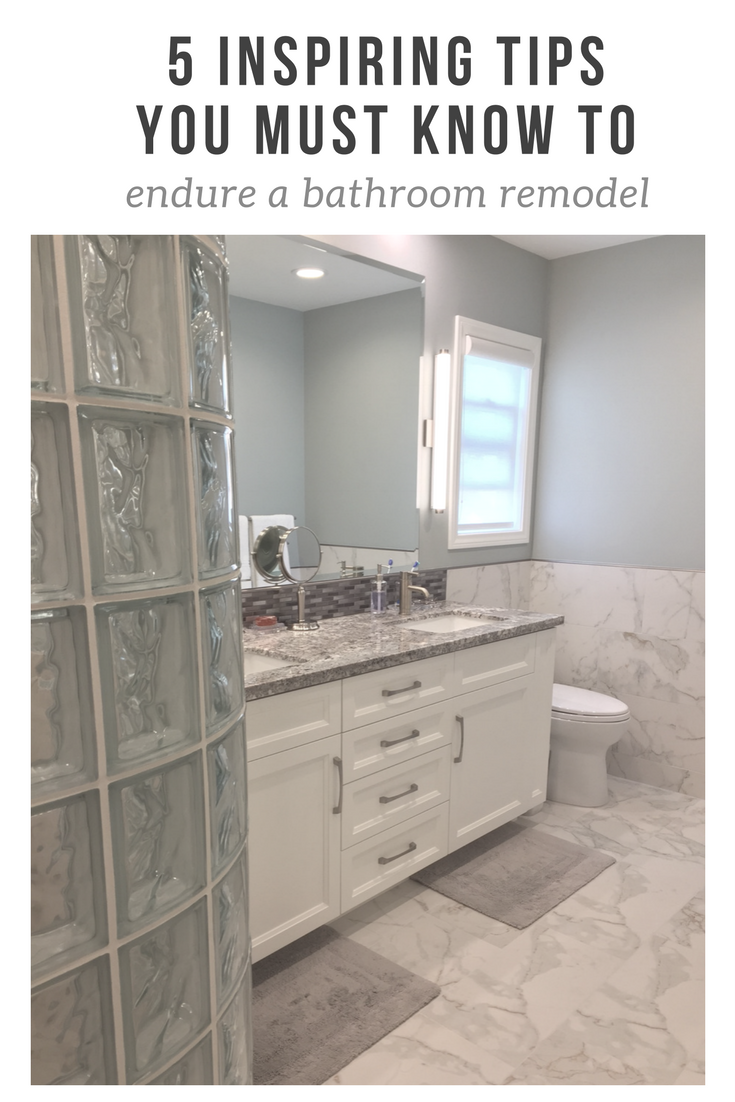 Updated March 16, 2019
Do you sometimes think taking on a bathroom remodel is something you must endure more than it's something you'll love doing? I'm sure Tami of Agoura Hills, California certainly had these thoughts during her journey (along with her husband Todd) to redo a way-too-small bathroom which had not been renovated in 30 years (see the before image below).
You see, Tami's bathroom remodel took 8 months to complete (and a lot of personal research and effort). The project could have been done in a shorter time – but Tami was determined to get the best (and longest lasting) products for her project. It's funny I would be writing this article about bathroom remodeling endurance and perseverance on my Dad's birthday. You see my Dad passed away 28 years ago, and one of his sayings which is cemented in my mind even today is, "An ounce of perseverance is worth a pound of genius, and in this family Michael we ain't got no genius, so you need to work your butt off."
When Tami told me the story of her bathroom remodeling project it's one of patience, planning and above all else perseverance (Dad would have been proud of you Tami). In this article, you'll get an inside peak (and 5 inspiring tips) to see how Tami and Todd not only found ways to push through their bathroom remodel, but achieved an excellent finished product. Let's dig in.
Inspirational bathroom remodel tip #1 – As Steven Covey would say, "Begin with the end in mind." Have a vision.
Whenever you and I start a difficult task it's critical to create a mental picture of what the end (or in this case a bathroom remodeling project) will look like. As Tami said to me, "Mike, my vision was to create an aura in my bathroom and shower of a spa. A relaxing place Todd and I could both use at the same time. A place where all the pieces seem to fit together, but also one which would not be a pain to keep clean. A place which was open, light and airy."
I certainly feel Tami realized her vision. The crispness of large format Calcutta marble-looking ceramic tiles, the expansiveness of the double bowl vanity sink and openness of a door-less walk-in shower transformed the tight and cramped old bathroom into an enjoyable space.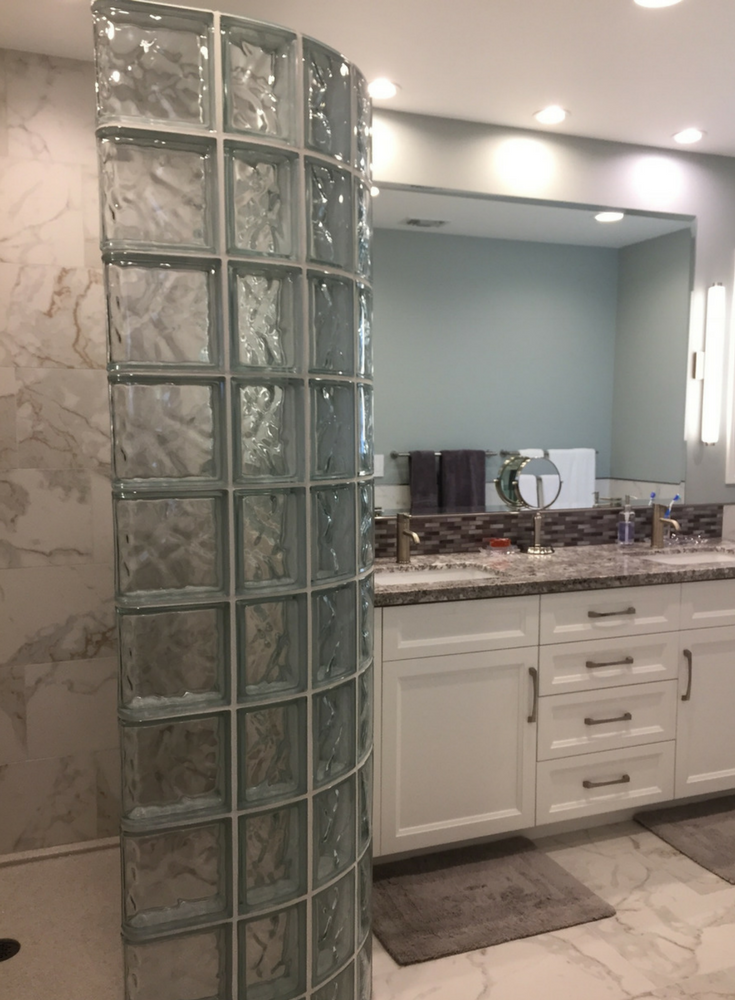 Inspirational bathroom remodel tip #2 – Don't be afraid to bring in (or call on) experts in their field.
I don't want to get philosophical on you (or give you nightmares to reckon back to a college philosophy class – I remember hating mine in college!) but as Socrates said, "I know that I know nothing." While we certainly do know some things, what I believe Socrates meant is as we get wiser, we start to realize how much we don't know. When you start digging into a bathroom remodel project, whether you realize it or not is, you're embarking on a learning journey.
If you're like most people (whether you're planning on DIY'ing or hiring a professional contractor) you'll stay ignorant about the products and process of this project at your own peril. If you took a Greek class (I'm glad I didn't have to take this one) you probably learned the term caveat emptor – which means let the buyer beware. If you don't become educated you may pay the consequences by having to redo your project if it fails down the road.
Tami – was wise enough to understand she wasn't knowledgeable enough to understand all the products and right installation processes for materials she wanted to use. So, she was going to dig in, learn, and bring in (or call on) experts to help her through the process. Here's who she called:
The Wedi Guy – Although many people pronounce Wedi (which is a manufacturer of waterproof shower wall backer boards) like Wheaties, this product is certainly not a crunchy breakfast cereal. It is a high-quality, behind the scenes, component to ensure you'll have a tile shower which is Built to Last (to use the title of the great leadership book by Jim Collins). Waterproof wall backer boards are used behind tile walls so you don't have to worry about leakage of tile joints. Tami liked this product because it gave her peace of mind her project would last. The problem is none of the contractors she talked to were familiar with this product or how to install it. Tami took matters into her own hand. She located the Southwest Technical Sales Representative with Wedi (Austin Rott) and he volunteered to help Kory Carpenter (Tami's contractor from Carpenters West) install the system. Now that's service!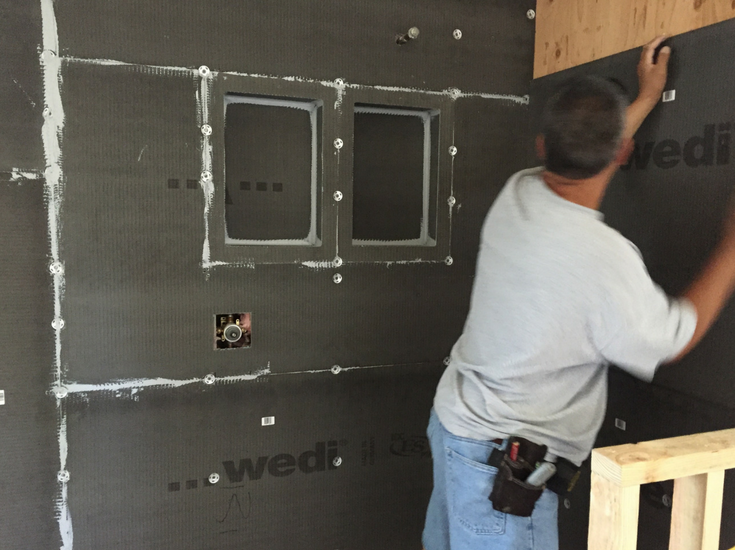 The Paint Guy – Tami wanted a paint color which would beautifully compliment the glass block walk in shower –a key building element in the project. The first paint she put on the walls just didn't look right. So, she went to her local Benjamin Moore store (called Décor Paint). The owner of the company (John Nelson) offers an in-home-paint consultation service. He came out to help Tami find the perfect color to pick up the blue, green and gray colors in the glass blocks (note – the final color chosen is "Silky Green"). Maybe offering a service like this is why this company has been around since 1963! As a guy who is slightly color-blind I can absolutely see the value in this color service.
Some crazy glass block guy – OK – this would be me. While it wasn't cost-effective for me to come out to Tami's house (it's 2,378 miles or 34 hours away from my business in Ohio) to guide her on her glass block shower it was possible for Tami, myself and her contractor Kory to become "phone buddies." We worked on glass block layouts and designs via cell phone and emails. You don't need to be stopped by distance anymore as a homeowner to get what you want. Seek out anyone – even a crazy glass block and building material guy like me – if you think we can help!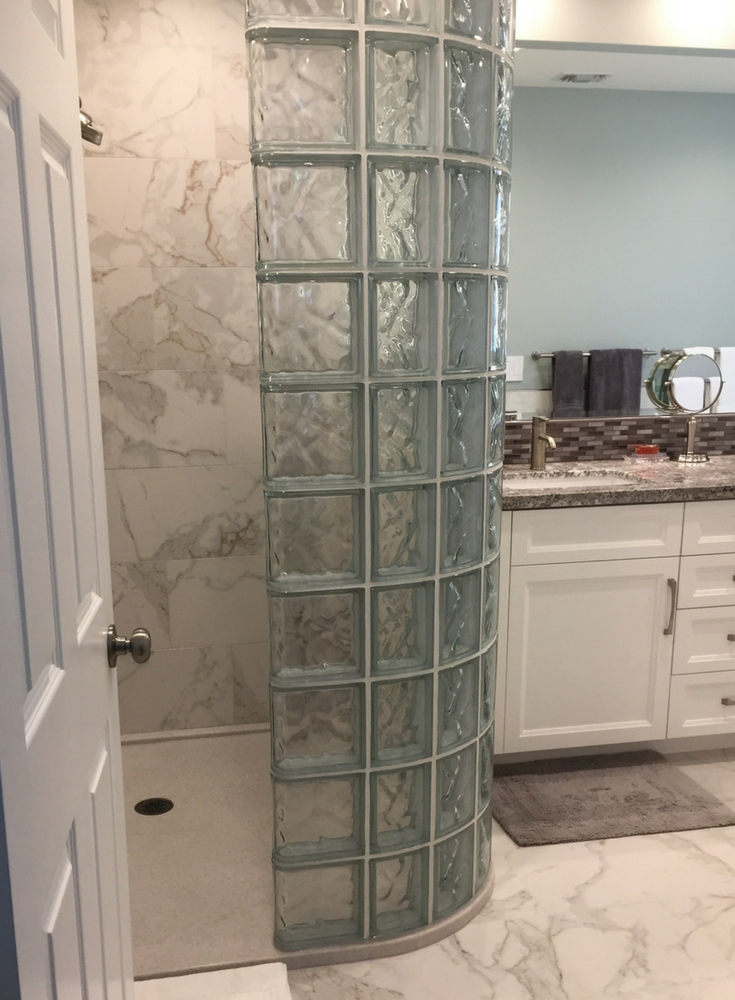 Inspirational bathroom remodel tip #3 – Let others inspiration and creativity soar  
If you really want a better project, you don't want to fall victim to the "N.I.H syndrome" (N.I.H.  stands for Not Invented Here). Special projects are usually born from the "marriage" (yes, I do mean marriage – these guys and gals will usually be in your home longer than you wish!) of passionate and creative homeowners and passionate and creative craftsmen.
When you find a quality and creative craftsman or craftswoman they'll have a portfolio of work and ideas for you. In this project, Tami was wise enough to take many suggestions from her contractor. One example was a corner cabinet idea Corey came up with. It's a beautiful use of a tight space (and aren't most spaces smaller in California homes?).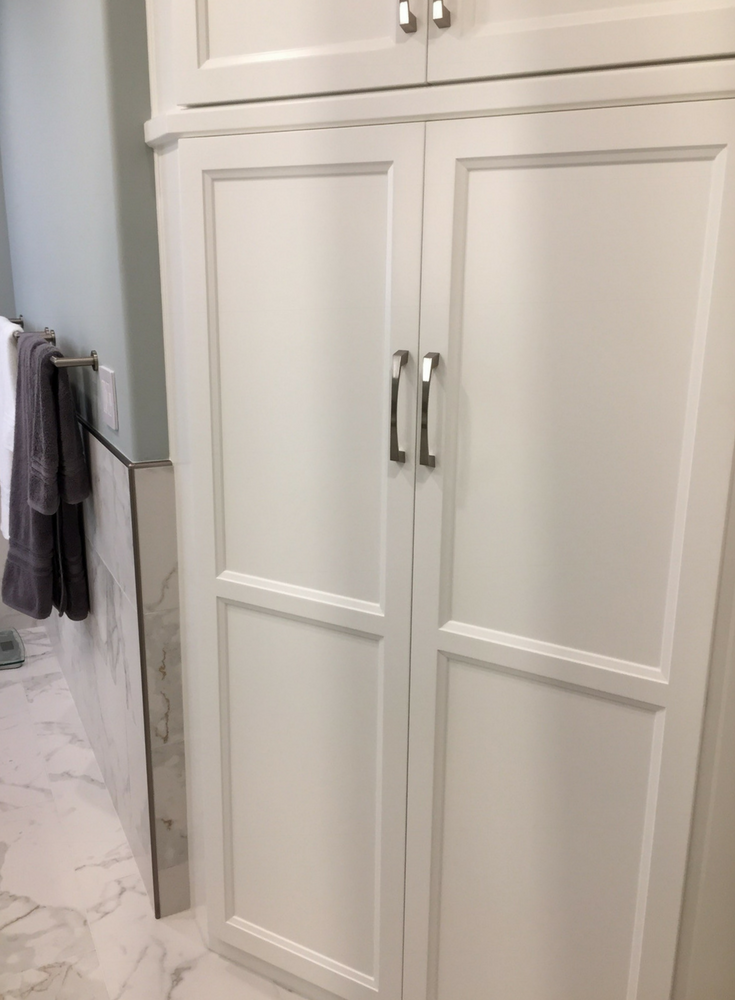 Inspirational bathroom remodel tip #4 – Don't take no for an answer. The perseverance to get what you want, even if it involves personal elbow grease to make it happen.  
The more I work with homeowners across the country, the more I know they must "do battle" with what I'm now calling "Can't do contractors!" You know these guys. You tell them what you want. They give you 10 reasons (or more) it can't be done. And if you want a specialized building material they haven't worked with before – look out! You'll get so many "can't do's" it will blow your mind!
Such was the case with Tami's glass block shower wall and pan system. She loved the material, but finding a mason to install it (nearly impossible). Finding a shower pan designed for it (also not the simplest thing in the world). So, what did Tami do to help her through the process? What a lot of women do in this country do – GO DIRECTLY TO PINTEREST! What's cool about this social media imaging site is you not only will find pretty pictures, but in many cases when you click through the pictures you'll get to articles, information and people to help you get the job done (men in this country need to get on the Pinterest bandwagon as well – although I digress).
This is how Tami and I connected. After Tami, myself and Kory figured out what she needed our Innovate Building Solutions division shipped to her a pre-made Protect All stack, anchor and grout glass block system (below you'll see the premade sections before installation).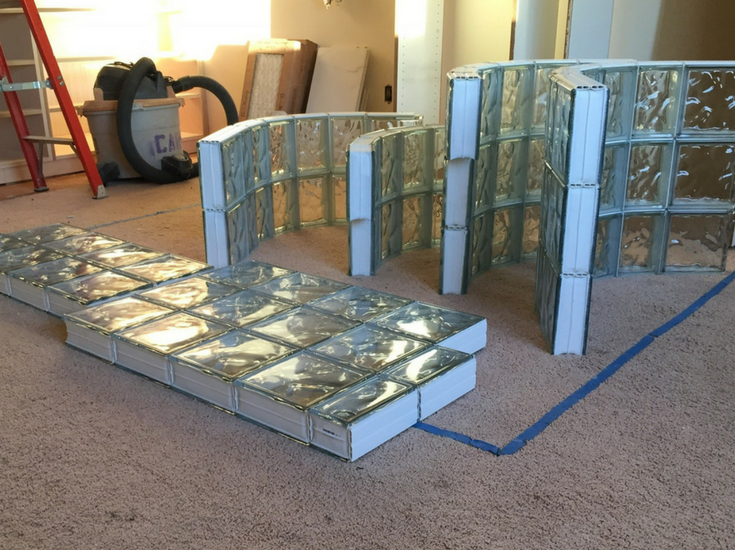 Kory and the team installed this "Lego-block-like" system and all that was left to be done was grout the wall. What's amazing is Tami had the hardest time finding someone to do the grouting (how crazy is that?). In the end, Tami had to grout it herself! Sometimes bathroom remodel persistence may mean you even have to roll up your sleeves and do it yourself (ouch!).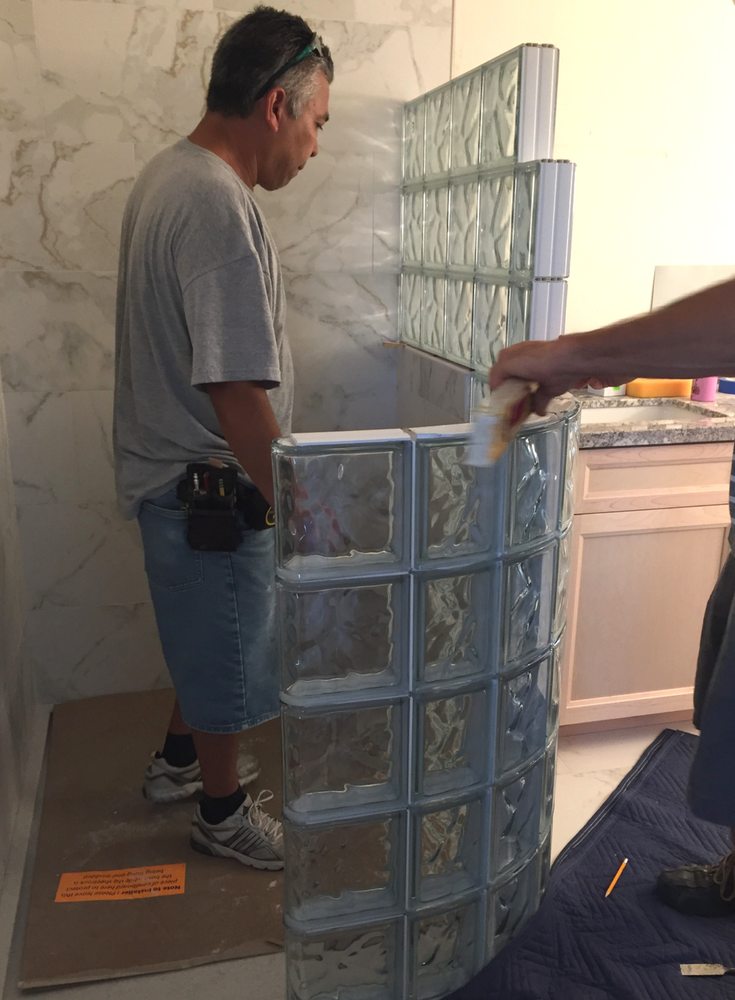 Inspirational bathroom remodel tip #5 – Look for products which are more inspiration, and less perspiration.  
If your bathroom is more of a chore (cleaning nasty mosaic tile shower pan floors or framed shower doors) than a pleasure raise your hand right now. My guess is many people reading this will be raising their hands. What can be done to stop the maintenance and perspiration hassle of cleaning your bathroom? How can you create a place which can "take you away" (Calgone) from a tough day?
The answer is low maintenance, high style products. Tami was determined to remodel her bathroom to so it would be enjoyable and didn't put her on her hands and knees cleaning. Here's a couple of products she chose to make this happen:
Solid surface shower pan – This shower base was custom made with a contour to follow the curvature of the glass block wall. Tami even had 51 colors she could choose from (now that amount of selection can be dangerous – ha! ha!).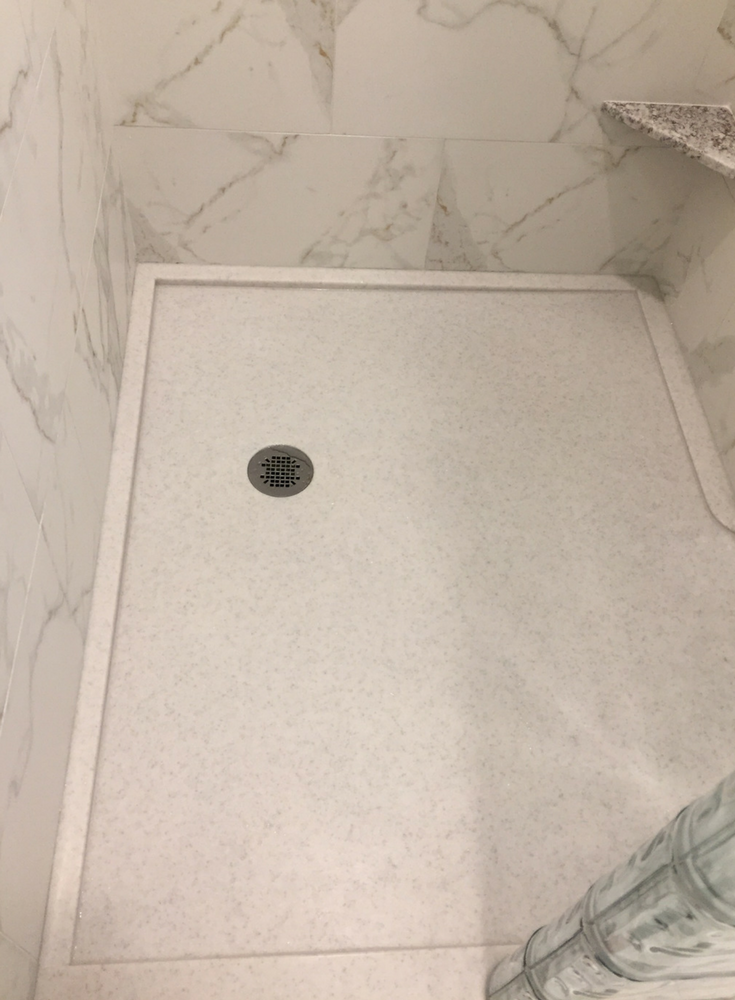 Large format ceramic (marble-looking) tiles with small grout joints – These 24" x 12" tiles have a real Calcutta marble look at a fraction of the cost. Large format tiles are in style and cut down on the number of grout joints. Yes!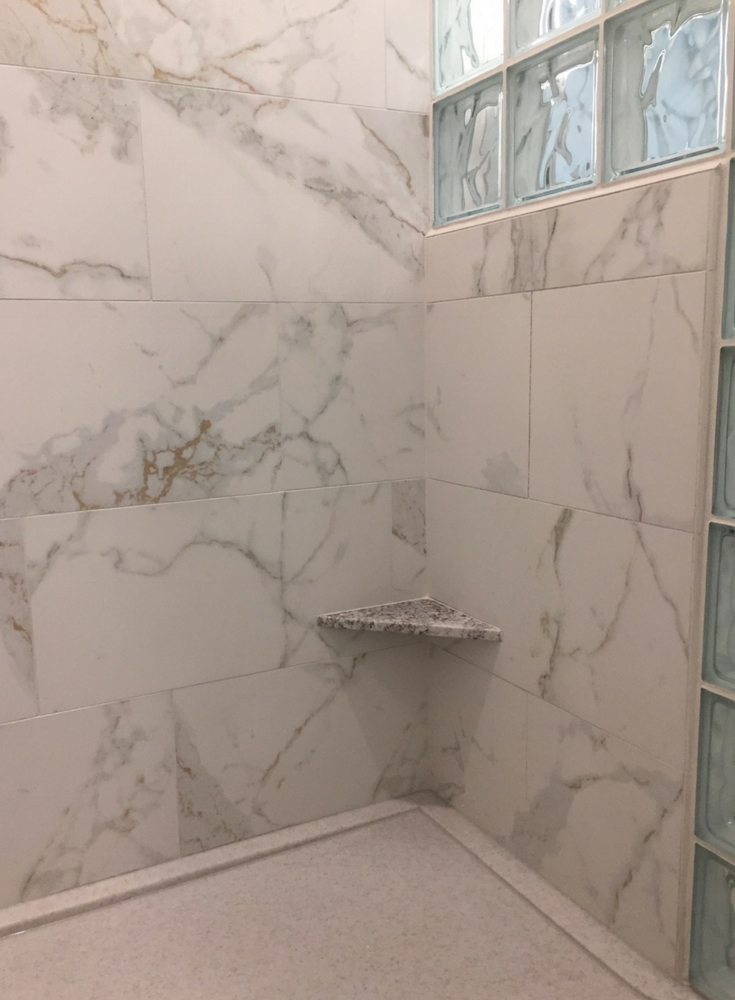 Conclusion
As Tami told me about her bathroom remodel project (or my Dad would tell me if he was still alive today), "something good Mike, isn't going to be easy!" What's nice to know is in bathroom remodeling (or in life) if you and I are willing to have a vision, will reach out for expert help, and are willing to invest some personal "elbow grease" anything is possible!
—————————————————————————————–
If you need help with bathroom remodeling products (glass blocks showers, solid surface shower pans, grout free shower walls) call Innovate Building Solutions at 877-668-5888 for nationwide direct supply. For a bathroom remodel project in Cleveland contact Cleveland Design and Remodeling at 216-658-1270. For a remodeling project in Agoura Hills California call Kory Carpenter of Carpenters West Construction at 805-331-0601.
If you're a remodeler or builder and want practical advice on remodeling products, industry trends, marketing and sales tips to grow your business (and cut day to day hassles), start reading my newest blog – Innovate Builders Blog. It's packed with ideas you can use now. Click here to Sign Up for the Innovate Builders Blog.
---
Mike Foti
President of Innovate Building Solutions a nationwide supplier and regional (Cleveland and Columbus) remodeling contractors. Some of our product lines include glass counters, floors, backsplashes, glass blocks and grout free shower and tub wall panels
---