7 Awesome Tips to Accessorize your Solid Surface Shower Kit
Updated March 16, 2019
As Marilyn told me when she stopped into our showroom. "Mike this isn't my first shower rodeo. When we were younger (yes, my hair was darker) Bill and I bought a fixer-upper special as our first house. The existing shower was a mess. We visited the guy in the orange smock at our local home center store. We settled on a flimsy, generic fiberglass shower kit and installed it ourselves because there was no way we could pay a contractor. Within a couple of years, it looked dingy and yellow.
Now things will be different. We've finally got the kids "mostly off the payroll" Not yet in the job of their dreams, but they are working – and we're not "funding" them. It's now time to put some enjoyment (and cut down maintenance – BIG TIME) into this bathroom remodeling project.
We want low maintenance just the low-budget shower kit we bought back in the day. Now we're savvier and aren't going to settle for junk! We've done our research and keep coming back to the solid surface shower kits as the best option for us. Bill likes the 3/8" thick walls and the fact that the shower pan is built like a tank. But I'm looking at different things.
We've worked like crazy for years. This time I'm getting style and pizzazz in this shower. We're going to enjoy our hard-earned money. I'll be spending less time cleaning the bathroom and more time getting out of "Dodge" and traveling. So, Mike, I want you to show me how I can accessorize this solid surface shower kit to make my bathroom special."
Can you relate to what Marilyn was telling me? In the article below check out 7 tips I shared with Marilyn to dress up her solid surface shower. I'll give this warning right up front and apologize to Marilyn's husband Bill. This shower project will get a bit pricier with these solid surface shower accessory tips I'm going to give!
Tip #1 – Don't be afraid of color. Inject multiple colors or textures into your shower design  
New home one piece white fiberglass shower surrounds are flat-out ugly and lack style." You live in a color-filled world. There's no reason your shower shouldn't reflect this. Why not go with a two-tone color scheme to brighten up your day. Consider having your niches be one color and your walls another. Another thought would be to go with a darker color shower pan (darker colors hide dirt better) and lighter colored solid surface wall panels. Why not have fun with color in your shower?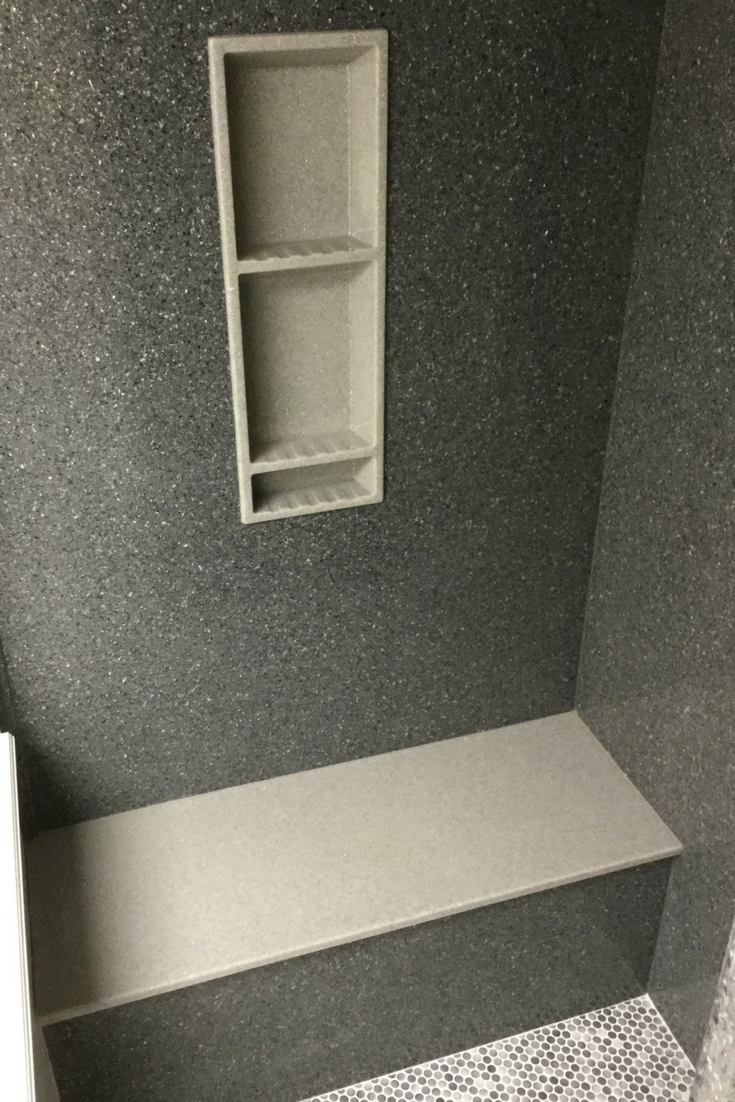 Tip #2 – Solid surface corner trim makes the job easier for him and fancier for you – a double-bonus   
It's neat when adding a decorative touch will also make the shower installation simpler. This can happen when you use solid surface corner trim moldings. As you and your husband know (from too much previous DIY experience) the width of your walls at the bottom is NEVER the same as your wall when measurement at the top. So, when you get a perfectly sized 60" shower wall panel there will be a gap somewhere since the walls are out of square. Here's a decorative tip to solve this problem. Use the 1" wide corner trim molding. When you find out the walls are out of square (yes – they all are) you don't have to worry about it because the trim will hide these imperfections.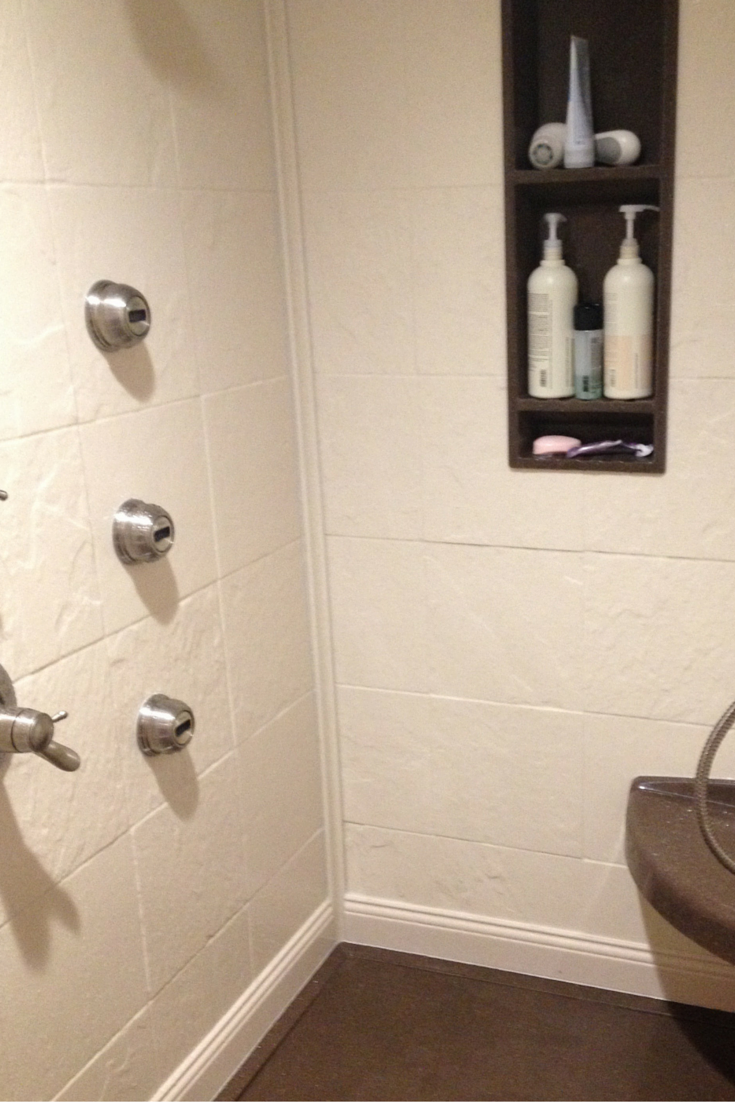 Tip #3 – Take a load off. Choosing the right seating for your shower
Now it's time to enjoy your shower – not simply have a spot to quickly to get washed up for work each day. Seating is a key element to add to the enjoyment of your shower. If you're getting rid of your useless soaker tub next to your existing stand up shower, it's time to take advantage of the extra space of a long bench seat. With this you can sit down and shave your legs – won't that be nice. If space is tighter (60" in width or less) then either a solid surface corner seat or extended bench seat are good choices.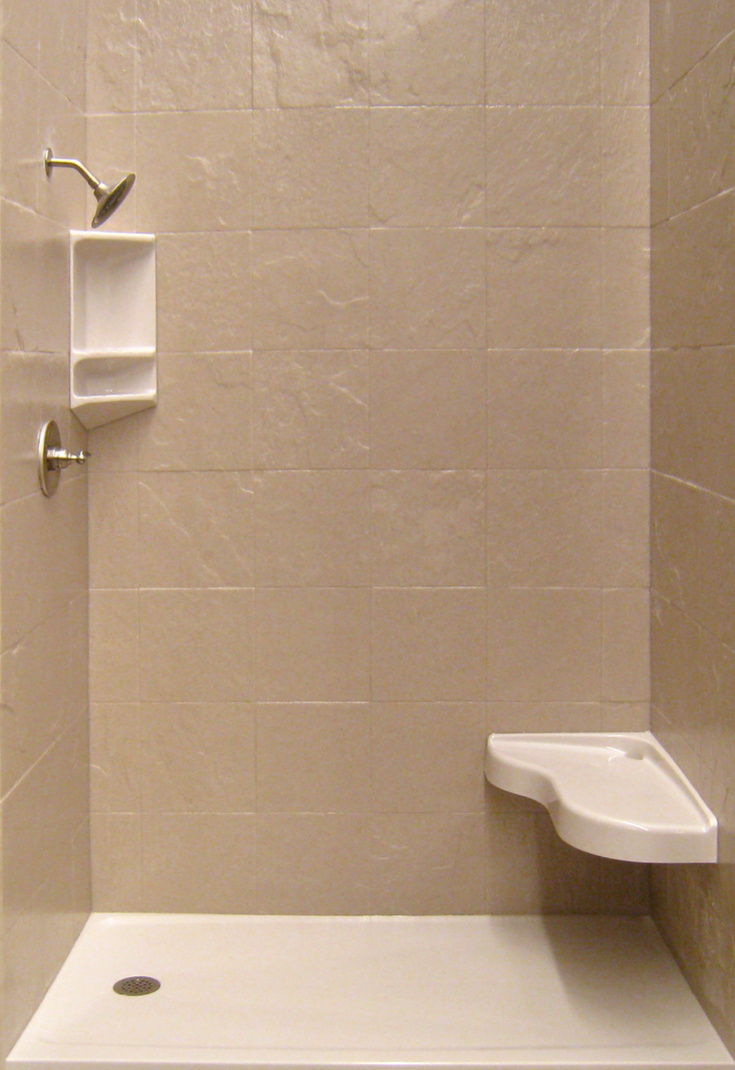 Tip #4 – Style and safety aren't mutually exclusive. Using a curb extension kit so your Mom and Dad can use your shower (if needed)  
It's tough to watch Mom and Dad get older and not do what they once did. You've talked on more than one occasion about the chance they may need to come to live with you (the thought of the assisted living and nursing homes just doesn't feel right). It will be comforting to know if you design this shower right you'll be able to help them out with an easy entry shower. The way to do this is to buy a low-profile shower pan (the threshold on this shower pan is 1 ½" high). Then if needed (down the road) you can add a curb extension kit to your shower pan to "magically" turn your enclosure into a roll in shower. What's nice is you can also remove this extension kit if you don't need it anymore.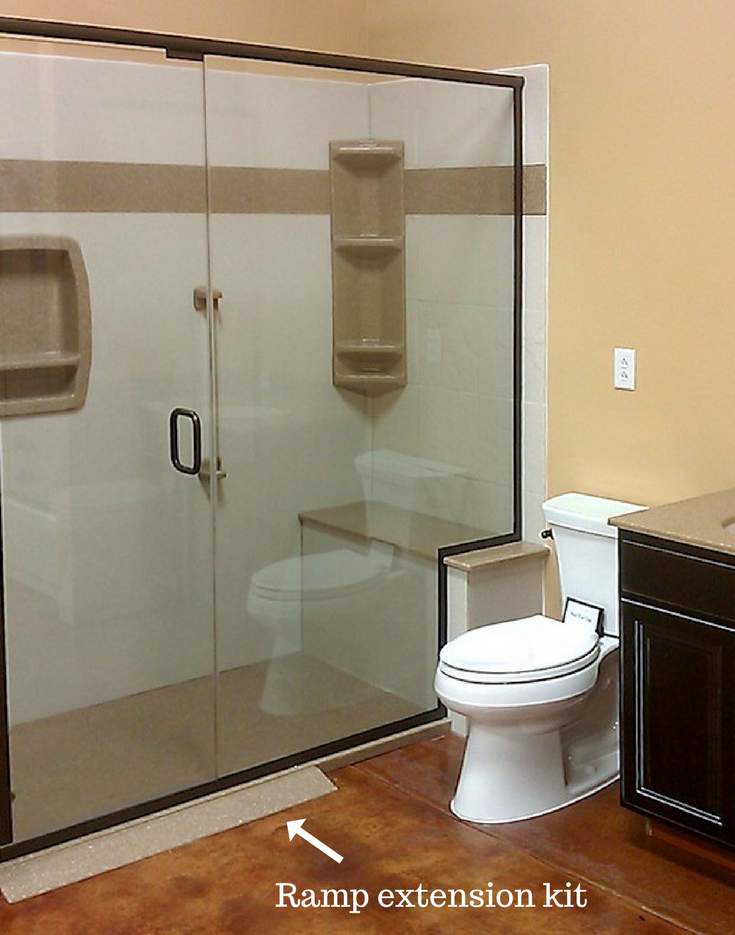 Tip #5 – Don't be a one-trick-pony, marry solid surface and tile together
Unlike using cheap acrylic or fiberglass walls systems, 3/8" thick solid surface walls are the perfect depth to integrate with decorative tiles (which are usually 3/8" thick). Doing this can provide a visual connection between the balance of your bathroom and the shower. Think about putting glass tiles inside a shampoo niche. Another idea is to use a tile border to add punch. These accent ideas are fun and functional.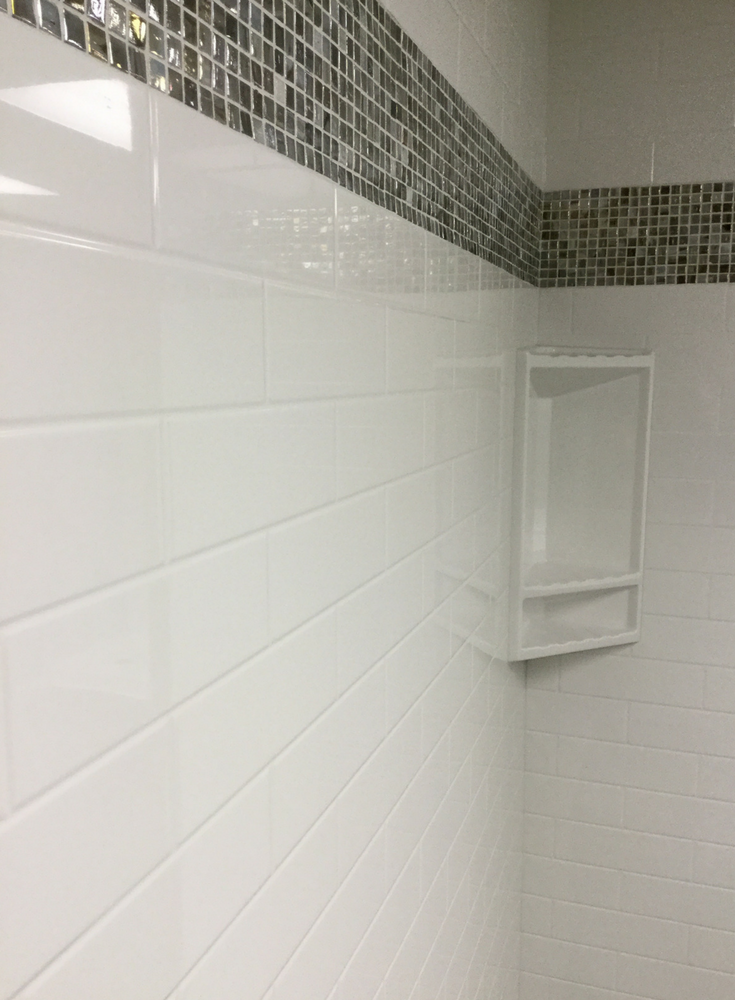 Tip #6 – Little things make the biggest difference in how your shower will live for you!
As you get older don't you notice it's often little things in life which make the biggest impact. Enjoying a sunny day walking with your husband. The smell of the fresh brewed coffee while chatting with your friend at the neighborhood coffee shop. In shower design, it's no difference. Little touches make for better designed, more useable space. Small features like a foot stool in the corner, a hook to hang your wash cloth so it doesn't fall to the floor, or a well place shelf for showering products will make a world of difference.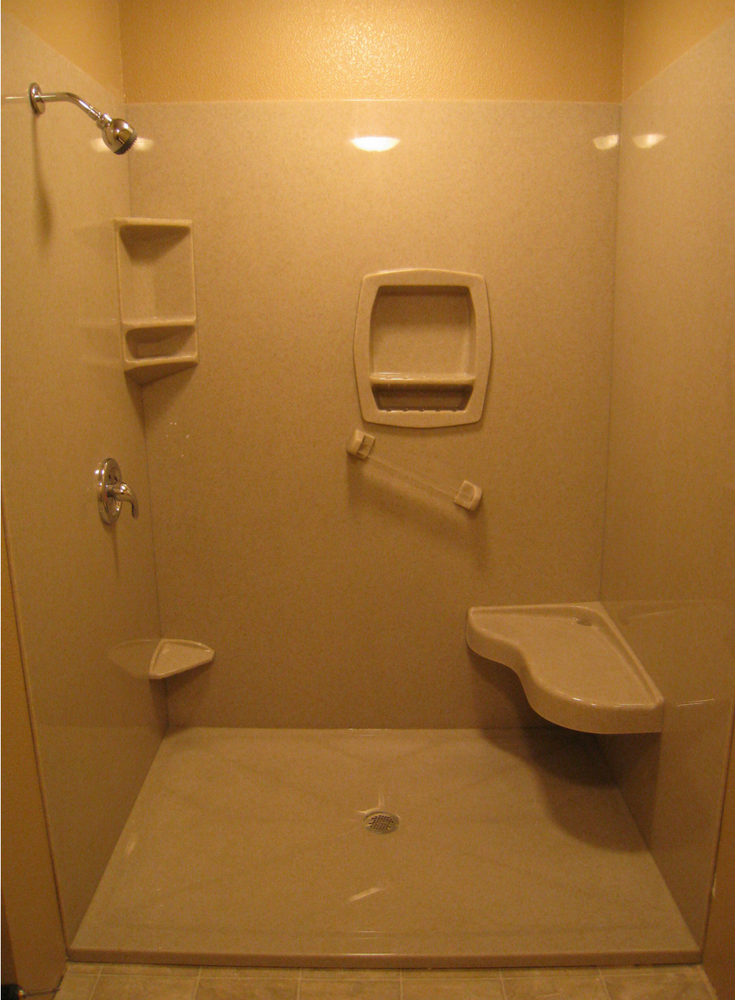 Tip #7 – A "crowning" achievement – bad pun intended!
If you wanted a generic shower you would have gone to the big box store and picked one off the shelves. This time you want something special. An elegant way to top your solid surface shower off is adding crown moldings. They are an elegant (and waterproof) way to provide a focal point for your shower remodel.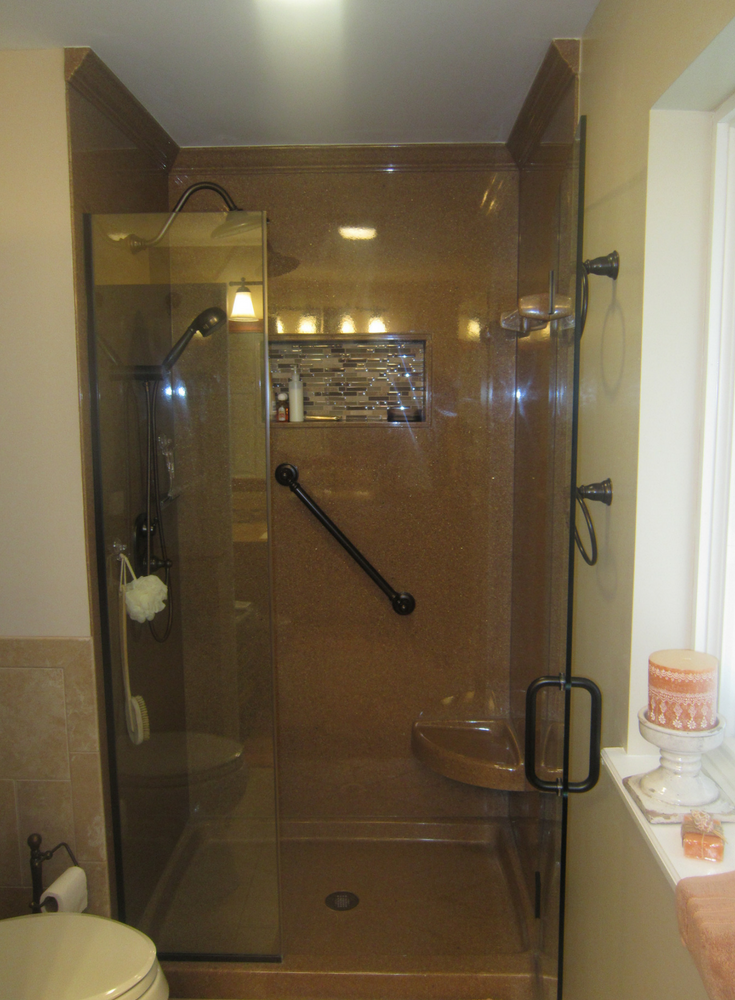 Conclusion
As you move into the "second half" of your life (that kind of sound a bit depressing – but I also resemble this remark) you deserve to add more enjoyment (and less effort) to each day. Yes – these solid surface accessorizing tips will add cost to your shower project. But as Jack Nicholson said as he played Colonel Nathan Jessep in A Few Good Men (my favorite movie), "haven't you earned it?"
If you're looking for bathroom and shower remodeling products nationwide call Building Solutions (877-668-5888). For a local bathroom remodeling project call Cleveland Design and Remodeling (216-658-1270) or The Bath Doctor in Columbus Ohio (614-252-7294).
If you're a remodeler or builder and want practical advice on remodeling products, industry trends, marketing and sales tips to grow your business (and cut day to day hassles), start reading my newest blog – Innovate Builders Blog. It's packed with ideas you can use now. Click here to Sign Up for the Innovate Builders Blog.
---
Mike Foti
President of Innovate Building Solutions a nationwide supplier and regional (Cleveland and Columbus) remodeling contractors. Some of our product lines include glass counters, floors, backsplashes, glass blocks and grout free shower and tub wall panels
---