How to Use Decorative Glass in an Interior or Exterior Door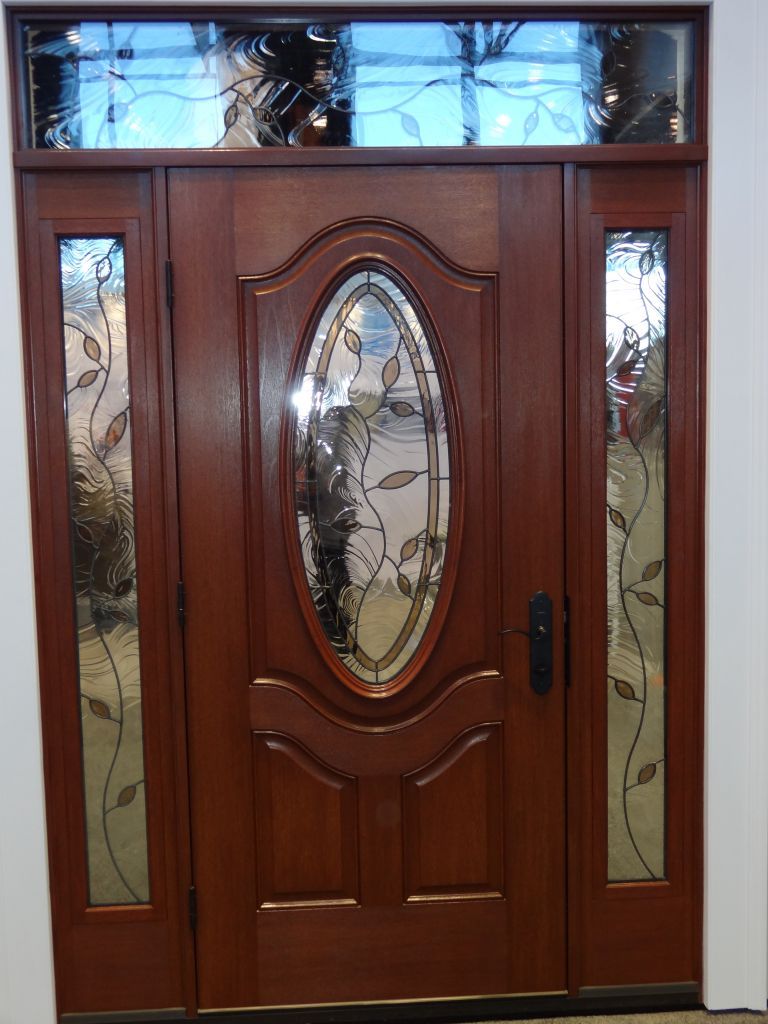 Entry doors and interior doors are not just a functional way to move through rooms – they can make a dramatic architectural statement to add economic value, interest and style to a home. There is not better way to create a one of a kind look than by using decorative door glass. This article will identify (1) where to use decorative glass in doors (2) advantages and disadvantages of decorative glass and (3) various options to choose from.
Where to use decorative glass
The most common uses for decorative glass are:
Front entry door (the door can be made of steel, fiberglass or wood).
Transom windows mounted above exterior and interior doors. These can be shaped in rectangular, curved or arched tops.
Sidelights (also sometimes spelled sidelites). These are fixed narrow panels on the side of the door.
Interior wood doors
Advantages of decorative glass
Decorative glass can provide many functional and aesthetic benefits for your entryway. Here is a partial list:
Increase home resale value – A study by Remodeling Magazine in 2010 showed that exterior entry doors provided the highest return on investment of any type of home improvement project.
Add to curb appeal – The focal point of many homes is the front door.  The addition of decorative glass can add pizzazz to this important area.
Increase energy efficiency – Decorative glass is not available in double pane low e glass and triple pane options which can often reduce heating and cooling costs vs. an existing door.
Increase privacy – By using an obscure pattern of glass you can move light through a door and maintain privacy simultaneously.
Create an architectural style – You can create virtually an architectural style (Renaissance, Contemporary, Craftsman, Frank Lloyd Wright, Victorian, Colonial, Bungalow, New American, Spanish, European etc.) using decorative door glass.
Increase light – Brighter spaces can make a home feel more open and using front door glass can allow increased natural light to stream into the home – and more energy efficient glass packages can improve the efficiency of the home at the same time.
Disadvantages of decorative glass
Although there are many positives there are disadvantages of decorative glass to consider:
Adds cost to the door – In general the cooler the decorative glass package the more expensive it is.
Provides less security – It is usually easier to break through glass than to break through the door itself.
Options
Decorative glass options have expanded greatly over the last few years. Some of the options include:
Decorative caming – Depending on the manufacturer decorative caming is available in patina, polished brass and zinc.
Fluted, beveled, leaded, glue chip, granite and art glass.
Arch top windows and transoms – above a door a decorative arch top window or rectangular transom can bring in light and add style.
Colored glass – Add shades of bronze, blue and green to add a splash of color with your light.
Custom glass designs – One of kind custom designs can even be put into a door.
Do you have any questions or advice about decorative glass or replacement door products? If so please comment below.
To learn more about decorative glass entry door systems or to get free consultation contact Cleveland Window Company (216-531-4118) or Clear Choice Window & Door in Columbus (614-545-6886) or in Cincinnati (513-744-2184) – divisions of Innovate Building Solutions.
---
Mike Foti
President of Innovate Building Solutions a nationwide supplier and regional (Cleveland and Columbus) remodeling contractors. Some of our product lines include glass counters, floors, backsplashes, glass blocks and grout free shower and tub wall panels
---