How to Use a Hedron Corner Block for a Shower Wall, Bar or Decorative Column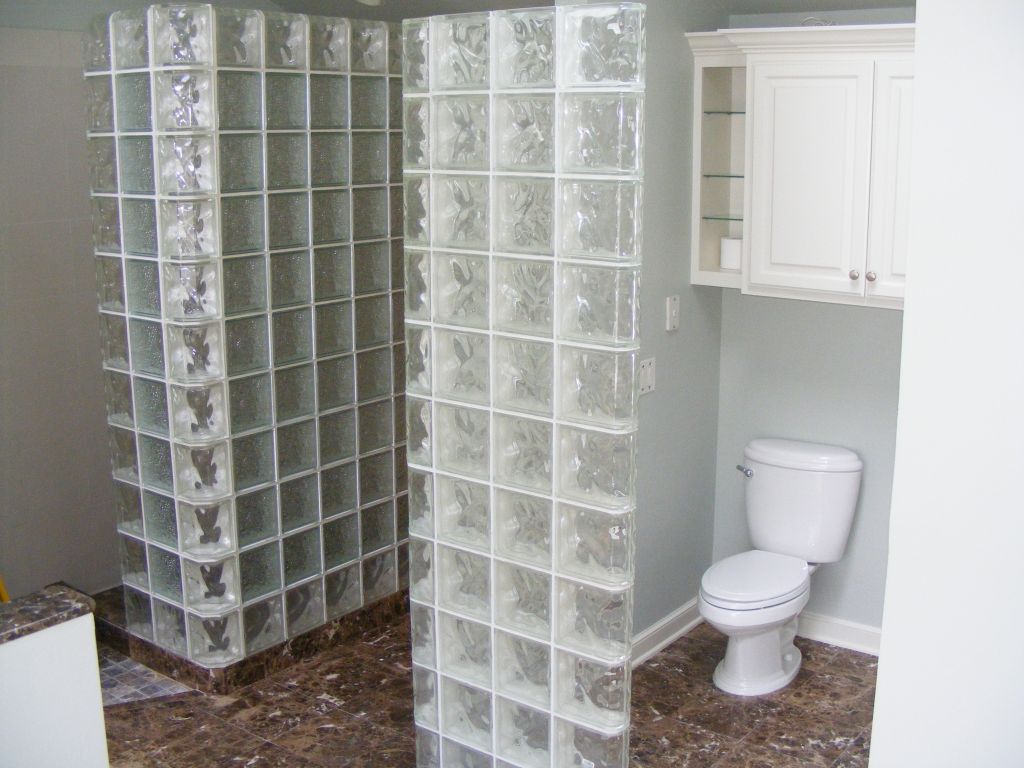 Are you looking to add some interesting shaped or design to a glass block wall project but unsure how to accomplish this? With the development of shaped glass blocks you can turn an ordinary project into an extraordinary project. This article will focus on how best to use the 90 degree angled corner glass block.
Definition – A Hedron (from Pittsburgh Corning) or 90 Angled glass block (from Mulia) are hexagonal corner units that make gently rounded 90 degree turns in a glass block wall, partition, bar of column.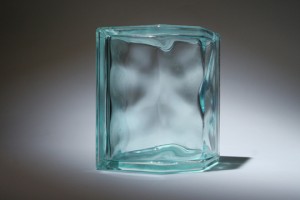 Hedron glass block sizes and patterns – This unit has 5 3/4" returns on 2 sides by 7 ¾" tall with a thickness of 3 7/8".
Advantages of using a Corner Glass Block
Create a glass corner in a small space – Using 1 hedron glass block you can create a 90 degree angle in a space as small as 5 3/4" x 5 ¾". This will allow you to create a walk in shower (in a square or rectangular design) or an L shaped glass block bar.
Makes consistent grout or silicone joints in an right angle glass block wall – Before the invention of the Hedron block the only way to make a 90 degree angled glass block wall was to use a post to make the turn or to make an excessively large grout joint (which is not recommended). Since the Hedron block is formed with a 90 degree turn the joints on the inside and outside of the wall are the same size.
Meets tempered glass codes for use in wet areas (showers, bathroom partition full and half walls).
Minimizes the effects of water spotting & maximizes privacy – Patterned glass blocks (Decora & Icescapes patterns) show very little spotting – a major advantage over clear glass shower walls – and provide privacy as well.  
Can be made in pre–assembled sections – Corner glass blocks can be pre-made with the rest of the glass block wall to improve the finished quality of a project, make the installation easier (using a stack, anchor and grout system) and cut field labor costs.
Use for a wide variety of applications – Create an angled walk in shower, partition wall, bar or even glass block decorative columns (add lighting for effect – this can make for a cool look around a landscaping post or a pool area).
 Disadvantages of using a Hedron 90 degree angled glass block
Corner blocks are more expensive than standard glass blocks – Non-shaped glass blocks are cheaper than the shaped angled units.
Available only in one size.
Requires a mortar or silicone joint between the units – Unlike angled glass the angled block wall will have a joint (which will vary between 1/8" and ¼") between the blocks.
Decorator options
Corner glass blocks are no longer just available in clear units. Have some fun with your shower, partition wall or decorative column with these design options:
Frosted or colored glass blocks – using over 104 different colors you can add a distinctive look to your wall project.
Combining different sized blocks in your wall– you don't have to use all the same sized blocks – mix it up with 2 or more different sizes to create a one of a kind design.
If you have any questions or words of wisdom about using corner glass blocks please comment below.  
If you need any help designing walk in shower, partition wall, or decorative glass column or want a quotation contact Columbus Glass Block (614-252-5888), Cleveland Glass Block (216-531-6363), or Mid America Glass Block (513-742-5900) of Dayton and Cincinnati. For a complete bathroom remodeling project contact Cleveland Design & Remodeling (216-531-6085), Columbus Design & Remodeling (614-252-7294) or Bath Doctor of Cincinnati (513-742-6674). You can also view a video about the use of shaped glass block by visiting the following link:
http://www.youtube.com/user/glassblockinfo
Related Articles
---
Mike Foti
President of Innovate Building Solutions a nationwide supplier and regional (Cleveland and Columbus) remodeling contractors. Some of our product lines include glass counters, floors, backsplashes, glass blocks and grout free shower and tub wall panels
---