How to Choose between a Steel, Fiberglass or Wood Front Entry Door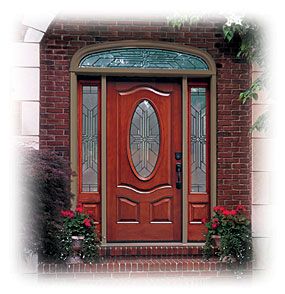 Let's face it options in entry door systems can leave most any dazed and confused. There are 3 main types of doors – steel, fiberglass and wood – and countless accessories (hardware, finishes, locksets, knockers, kick plates etc.) which can make the front door selection process daunting. To simplify this decision this article will focus on the advantages and disadvantages of the 3 entry door types to begin your selection process (most door accessories are available across each of the 3 door types).
The most commonly used door is a steel entry door. Here are the main advantages and disadvantages of this type of door.
Advantages
Lower cost than fiberglass or wood. Very easy to get a return on investment when reselling the home. It's lower cost makes it very popular for side door project as well.
More energy efficient than wood using a polyurethane foam core.
Won't rot or splinter like a wood door.
Very study door for high security.
Can provide higher fire ratings.
Disadvantages
Won't last as long as a fiberglass door.
More susceptible to dings & dents than other door styles.
More prone to paint chipping or scratches which can lead to rust.
Will conduct high and low temperatures.
Fiberglass exterior doors can combine many of the advantages of a wood door without the long term maintenance challenges or costs. Here are the main advantages and disadvantages to consider with this system.
Advantages
Looks like real wood with many textured finishes available.
Using a polyurethane foam core a fiberglass door will provide 5 times better insulation value than a wood entry door system.
Improved resistance to dents and dings than a steel door.
Resists shrinking and swelling which allows the finish to last 3 times longer than a traditional wood door.
Combines the looks of a wood door with the strength of a steel door.
Longest lasting door system vs. steel (which can rust) or wood doors (which can splinter).
Disadvantages
Usually 20 to 30% more expensive than a steel door.
Not available in the custom shapes of a wood door.
Wood Entry Doors
Wood exterior doors can create a classic and luxurious look for a high end home – but they do have their limitations. Here are the main advantages and disadvantages to consider with this door system.
Advantages
High end look with the weight and feel of real wood.
Easier to repair a dent or ding than a steel or fiberglass door.
Is warm to the touch unlike a steel door.
Can be made into custom shapes for older home architectural styles.
Disadvantages
Significantly more expensive than wood and fiberglass doors.
Requires the most maintenance of any door system (will need to be repainted or stained again to avoid splitting or warping).
Finishes can peel, bubble or fade over time.
Does not provide a high level of energy efficiency.
Do you have any questions or advice about different entry door systems? If so please comment below.
To learn more about steel, fiberglass or wood replacement entry door systems or to get free consultation contact Cleveland Window Company (216-531-4118) or Clear Choice Window & Door in Columbus (614-545-6886) or in Cincinnati (513-744-2184) – divisions of Innovate Building Solutions.
---
Mike Foti
President of Innovate Building Solutions a nationwide supplier and regional (Cleveland and Columbus) remodeling contractors. Some of our product lines include glass counters, floors, backsplashes, glass blocks and grout free shower and tub wall panels
---