Project Spotlight: Pool House Bathroom with a Serpentine S Shaped Glass Block Shower Wall and Base Design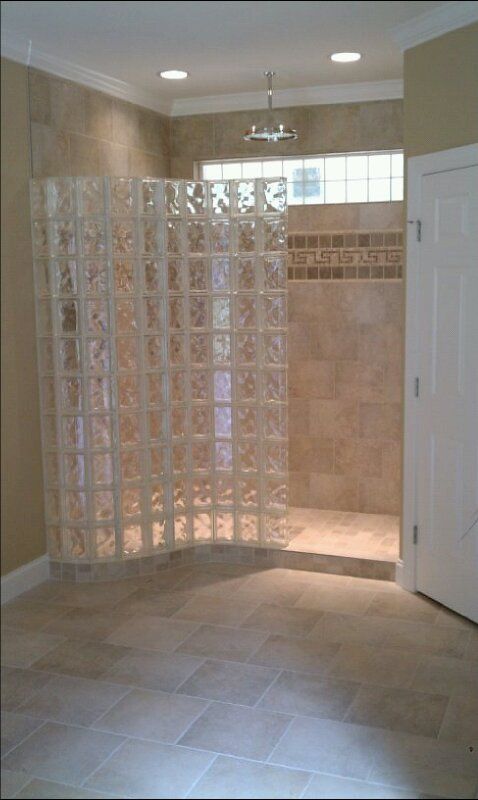 When the Mills family starting thinking about a creating a unique and functional pool house bathroom they were looking for construction products with style and substance. Working together with Larry Harp and Jon Innis of L & J Contractors of Cookville Tennessee (a high end builder and remodeler) the Mills family identified products to make a one of kind bathroom design that were also "smart" (meaning they provided long term ease of maintenance and kept costs down over the long run). Learn more below about the products used in this 1,800 square foot room addition project.
Serpentine walk in glass block shower wall – The Mills thought why install a generic shower wall when you can have an architectural interesting feature wall. Larry Harp from L & J called Tashina Defibaugh, a shower designer at Columbus Glass Block, for both inspiration and a practical construction system to accommodate the Mill's desire for an S shaped (serpentine) shower wall. Tashina recommended using a waterproof ready for tile shower base and a specialized prefabricated glass block shower wall system for the project. This shower base system ensured the curvature of the base would match the S shaped wall design. In addition the stack and grout premade wall assemblies cut the installation time for L & J Contractors while ensuring a high quality finished project.
Unique rain shower head – To create a relaxing showering experience a 10" wide Hansgrohe shower head was used. This head was equipped with a diverter to provide the ability for a hand held shower operation as well (the hand held feature can help people of all sizes to be able to use the shower and also makes it easier to clean up the space.
Using foam insulation for a warmer, "green friendly" space – The bathroom and shower in the pool house where built over a crawl space and the Mills wanted to make sure the temperatures in the bathroom were consistent with the rest of the room addition. To accomplish this objective (and to make the home "greener") L & J installed foam insulation into the floor, walls, crawl space and attic. This insulation allow for consistent temperatures and will reduce energy costs.
Decorative tile shower border – To create a calming design touch a multi piece decorative tile border was added into the shower space.
What do you think of the shower & bathroom new construction project profiled above? Do you have any other products you might have included in this project? Please comment below. 
If you'd like any more information or assistance with a new build or remodeling project in Tennessee contact Larry Harp of L & J Contractors. If you need help with remodeling or a room addition in Ohio contact Cleveland Design & Remodeling (216-531-6085), Columbus Design & Remodeling (614-252-7294) or Cincinnati Design & Remodeling (513-742-6679). If you're intrigued by the serpentine glass block wall call Columbus Glass Block (877-668-5888).
---
Mike Foti
President of Innovate Building Solutions a nationwide supplier and regional (Cleveland and Columbus) remodeling contractors. Some of our product lines include glass counters, floors, backsplashes, glass blocks and grout free shower and tub wall panels
---