Project Spotlight Update: Master Bathroom in Universal Design Living Laboratory (UDLL)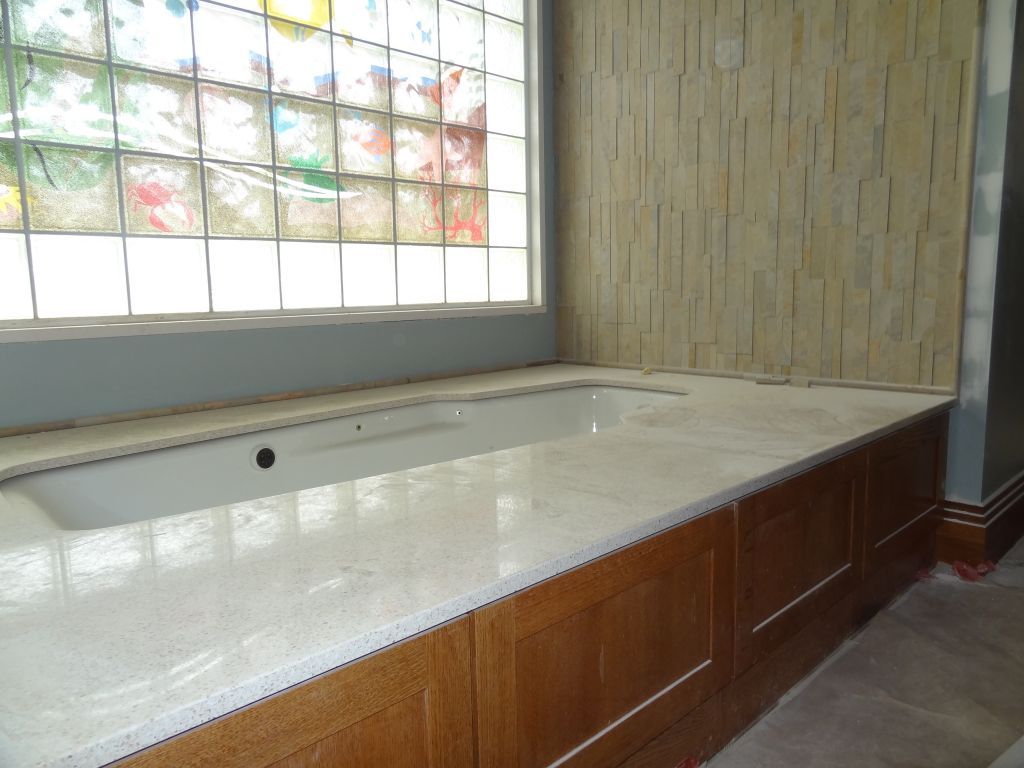 Decorative glass block window in universal design
 Seldom does a new home building project come along that can inspire, educate and liberate any person's ability to use and enjoy the home than the Universal Design Living Laboratory (UDLL) being built by Rosemarie Rossetti and her husband Mark Leder. Several months ago (see the related blog post below) I focused on one feature in this home (the glass block windows and glass mural window used in the master bathroom). In this post let's look at some features in the master bathroom to see thoughtful universal design and green building practices in action (Please note – this home – which is being built in Columbus Ohio – will be open for public touring later this year or early next year).  
Feature 1 – Long lasting barrier free walk in or roll in shower– Eliminating barriers is a key for universal design and a structure which will last a long time is important to make a home consistent with green building principles. This shower enclosure used an expanded polystyrene shower base covered with non-skid ceramic tiles and a linear drain to create a low maintenance shower which can be used by anyone.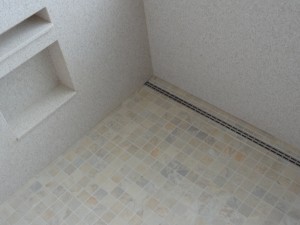 Feature 2 – Thoughtful recessed niche placement– For a shower to be easy to use the shower products need to be at the right height for all the people in your family. The soap and shampoo niches for Mark (who is 6'5" tall) were set higher than normal and for Rosemarie were set lower (Rosemarie is a small woman who gets to the soap/shampoo niches from a seated position).
Feature 3 – A bathtub transfer platform that will work for anyone – The platform to get into the bathtub was built up lower from the floor than the standard height and the depth of the platform was deeper to accommodate Rosemarie's needs (and to make it easier for anyone else using the space as well).
Feature 4 – Natural light, style and privacy using glass block windows – Since the master bathroom is on the side of the home the need for privacy was important – but maximizing light was also key so even a person with an eye impairment could enjoy the space. High privacy glass block patterns where chose for both the shower window and the decorative glass mural window by the bathtub.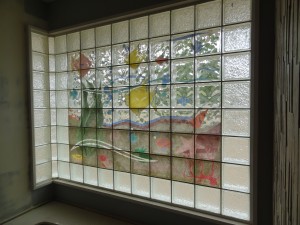 Feature 5 – Roll under sink with easy to use door pulls & raised toe kicks – For someone in a seated position a roll under sink and cabinet with wider door polls and raised toe kicks can make it far easier to use the sink. This layout is also comfortable for someone who is not using the sink while seated.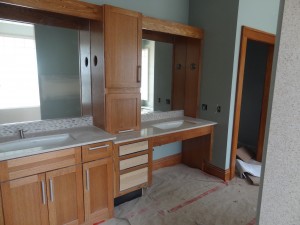 What do you think about the bathroom features in the Universal Design Living Laboratory home? Would you like them in your home? Please comment below.
###
If you need assistance with a universal bathroom design & remodeling project learn more by visiting Cleveland Design & Remodeling (216-531-6085),  The Bath Doctor (513-742-6679) (serving the Cleveland, Columbus, Cincinnati and Dayton markets). If you'd like the glass block window wall mural feature in this project visit Columbus Glass Block (877-668-5888), Cleveland Glass Block (216-531-6363), or Mid America Glass Block (513-742-5900).
Related Post
---
Mike Foti
President of Innovate Building Solutions a nationwide supplier and regional (Cleveland and Columbus) remodeling contractors. Some of our product lines include glass counters, floors, backsplashes, glass blocks and grout free shower and tub wall panels
---