Creating a Cool & Relaxing Live Work Space with LED Lighting and Glass Block Walls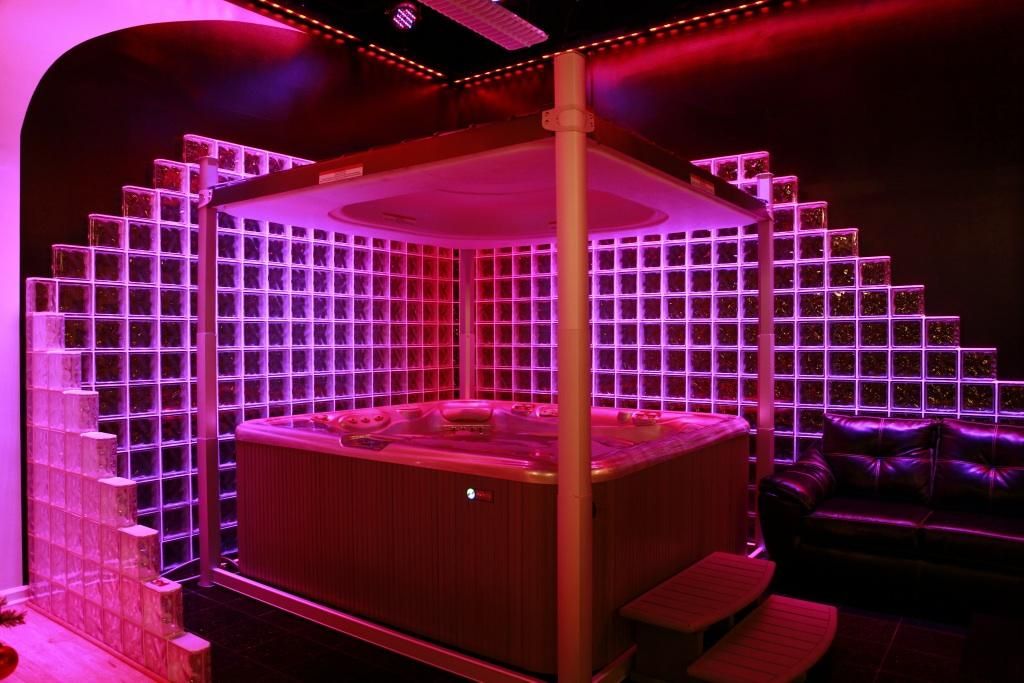 If you're looking for a way to make people say wow for an urban live work space check
this project out.
When an owner of a web marketing company contacted Cleveland Glass Block they were looking to create a fun space that could create a cool look and a relaxing space for visitors, employees and friends of the business. Combining a glass block wall, LED lighting and an indoor Jacuzzi tub which incorporated a hydraulic cover a dramatic space was developed. Here's more details about the project:
Design considerations- The glass block wall was chosen due to its flexibility (this design required a wall that could be stepped down to create sight lines into the new relaxation area, and could make  continuous 90 degree angles) and structural characteristics (this wall cannot be knocked over and was structurally sound without having to tie it into any adjoining walls).
Fabrication & installation approach –Since this project was on a tight time frame (and there over 600 glass blocks to be installed in one weekend) the decision was made by the installation team (Sean Malmsberry, Isaac Clark and Rob Klinc) to prefabricate sections using a vinyl stacking system. Each section is held together with a specialized silicone caulk. Since the new

glass block wall

was placed against an existing drywall wall (which was painted black to accentuate the lighting effect) it was possible with this system to only have to grout the front side of glass wall and still have a structurally sound installation.
Creating the lighting effects – The business owner wanted to create a dramatic lighting effect for this space. In order to do this there a total of 7

Chauvet LED light strips

pointed down on the walls. In addition the drywall walls behind the glass blocks were painted black to best reflect the LED lighting. Black granite was chosen for the floor to maximize the pop of the LED lights as well.
Making the space relaxing – Creating a cool space is one nice – making that space relaxing and enjoyable is fantastic. The finishing touch on this project was the inclusion of a 7 person Hotspring Grandee jetted tub with a hydraulic cover. Now the space is cool, fun and enjoyable.
What do you think of this live work space? Please comment below.
If you'd like any more information or assistance to use a glass block wall on a project like this contact Columbus Glass Block (877-668-5888), Cleveland Glass Block (216-531-6363) or Mid America Glass Block of Cincinnati & Dayton (513-742-5900).
---
Mike Foti
President of Innovate Building Solutions a nationwide supplier and regional (Cleveland and Columbus) remodeling contractors. Some of our product lines include glass counters, floors, backsplashes, glass blocks and grout free shower and tub wall panels
---