Features of a Luxurious Handicapped ADA Roll in Shower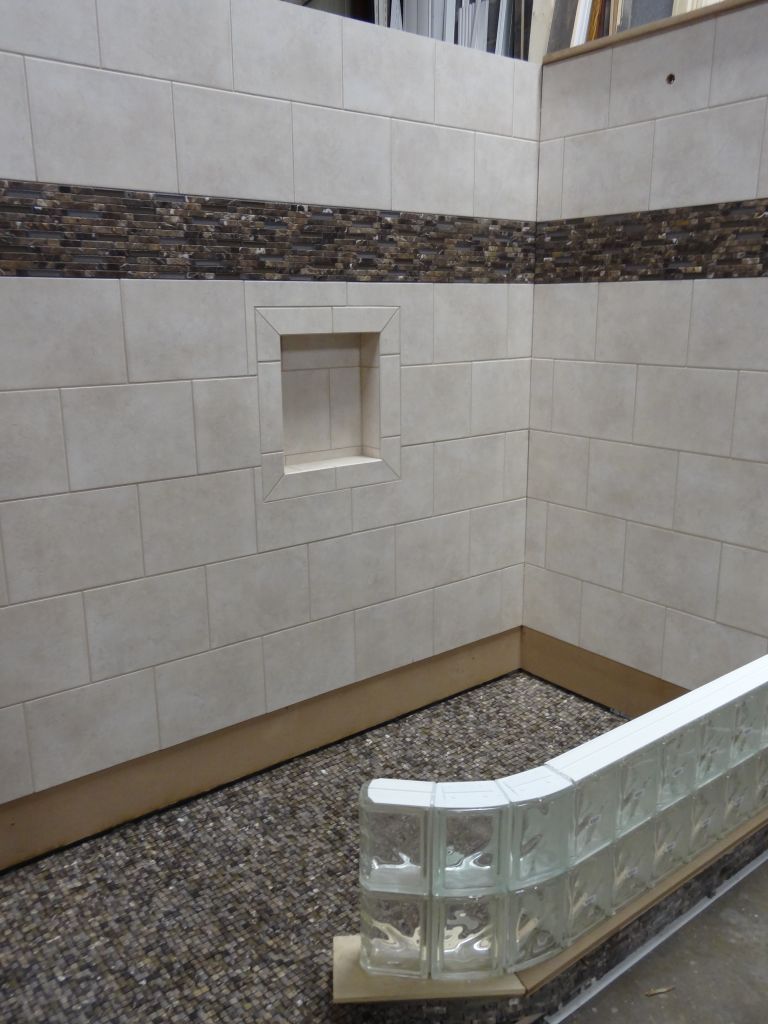 If you've got a family member with mobility challenges or special needs you know your existing bathtub or shower enclosure can be a difficult and dangerous place to maneuver. Stepping over a bathtub rail or shower curb can be an accident waiting to happen. Slippery floor surfaces and hard to reach shampoo and soap niches can be a cause for concern – especially if there are no grab bars or stable wall to grab on to.
Creating a universal design shower (one that can be used by people of all ages or abilities) or an ADA shower that looks luxurious yet is functional requires the thoughtful selection of products and construction expertise. Read the article below (or attend The Great Big Home & Garden Expo from Feburary 4th to 12th at the Cleveland I-X Center and visit the Cleveland Design & Remodeling booth #964) to see the features and benefits of an actual size luxury roll in shower.
The ClevelandDesign & Remodeling & Cleveland Glass Block booth will provide a hands-on look at the following features:
Waterproof roll in shower base with a 34" wide entrance – The foundation of a

handicapped shower

is it's base. This display will show a 92" x 46" barrier free (sloped entry) shower base made of expanded polystyrene. This base can be customized for any size bathroom and the drain can be located wherever desired (this feature can provide a significant savings and reduce hassle of not having to move the existing plumbing).
Decorative grab bar – Support (or grab bars) no longer have to look like you're in a hospital room. This project will feature a stylish chrome grab bar from the Invisia line that not only looks sleek – but it doubles as a towel bar as well.
Location of mixing valve and shampoo niches – To make this shower easier to use the mixing valve to turn out the water is located near the shower entrance so you don't have to get wet to get the shower warmed up. The shampoo/soap dish is slightly lower than standard to be reachable by someone in a seated or standing position.
Low maintenance and slip resistant tile and grout products – Slip resistant tiles were chosen for the shower base. Larger tiles shower wall surround tiles were grouted with specialized urethane grout to minimize maintenance.
Sturdy

curved glass block shower

wall – A way to add dramatic style along with practical function is with a glass block curved wall. This curved design style will move the water back towards the drain and provide a sturdy surface to help in the case of a fall. These walls are available in obscure, clear and colored glass blocks patterns as well.
What do you think of the design features in this booth display? Please visit the show from February 4th through 12th or comment below.
###
Learn more about accessible, ADA or special needs bathroom & shower remodeling by visiting Cleveland Design & Remodeling (216-531-6085), Columbus Design and Remodeling (614-252-7294), or The Bath Doctor (513-742-6679) ( serving the Cleveland, Columbus, Cincinnati and Dayton markets). If you'd like to learn more about the curved glass block wall visit or call Cleveland Glass Block (216-531-6363).
---
Mike Foti
President of Innovate Building Solutions a nationwide supplier and regional (Cleveland and Columbus) remodeling contractors. Some of our product lines include glass counters, floors, backsplashes, glass blocks and grout free shower and tub wall panels
---