New Options in Acrylic Shower Base & Pan Options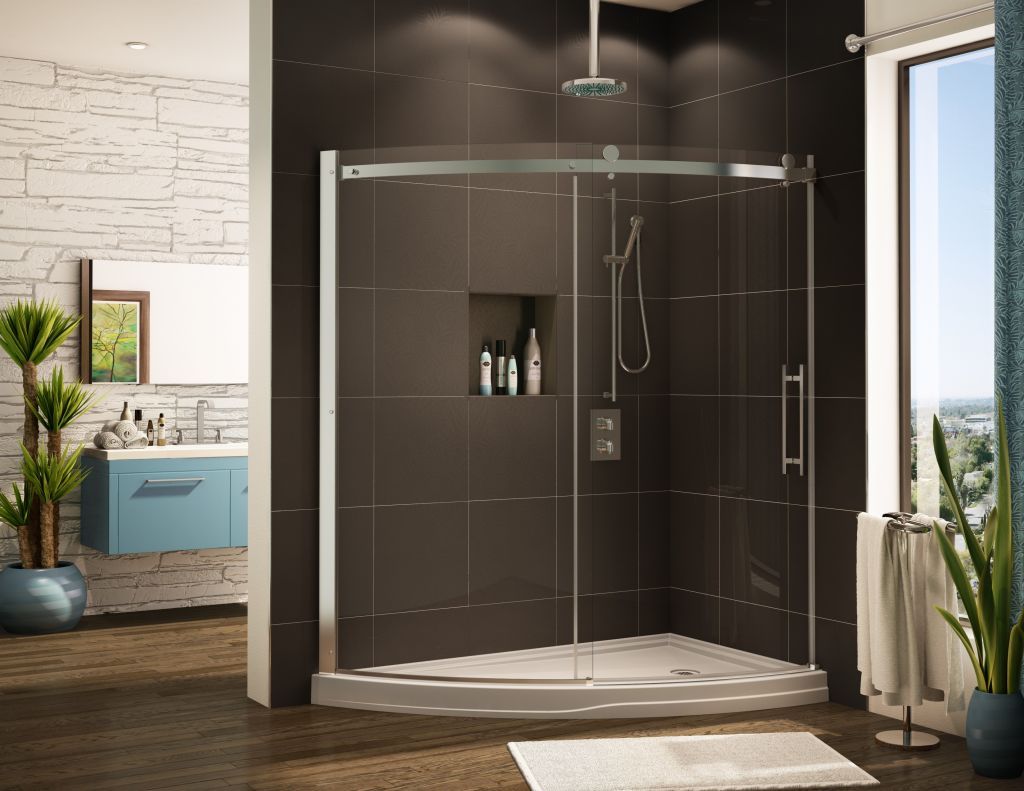 Are you looking for an easy to install, uniquely styled shower base system that doesn't require customization and won't cost a lot of money? If so you may want to consider the new shaped acrylic shower base and enclosure systems available on the market. You're no longer limited to square, rectangular and NEO angle shaped standard premade shower bases. Read below to learn how to use round, arc, bowed and a curved shower base that can offer high style at affordable prices.
Adding flexibility and style to a sliding or pivot door corner shower stall
Historically small corner showers have used NEO angle bases with hinged framed doors that swing outward into the bathroom (which frequently leaves puddles of water on the floor and makes for a cramped space). A smarter, and more contemporary, way to create a dramatic flair in this space (and to keep the water in the shower and not on the bath floor & save space) is by using a round, arc or curved shaped acrylic shower pan with frameless sliding doors. These bases are sized in 32" x 32", 36" x 36" and 40" x 40" sizes.
If you have a medium to large bathroom where you still want or need to put the shower in the corner there are innovative curved acrylic bases and elegant pivot door systems. The Slice shaped base (which is 66" x 38") or the "Wedge" shaped base (54" x 54") are two options. There are framed, semi-frameless and frameless door options to fit different budgets for these pans as well.
Adding interest and function in an alcove or 2 sided shower enclosure
The most popular size alcove (i.e. between 2 stud walls) shower space (which is often created in a remodeling project when someone is converting a tub into a shower) is 60" wide by 30", 32" or 34" deep. For most of these applications a rectangular shaped 60" x 32" shower base is used. While this standard 60 x 32 base is cost effective (because it is manufactured in large quantities) – the negatives are that it lacks style and doesn't maximize the amount of space for showering.
A space expanding and style enhancing option now available is a curved "Bowfront" base with a curved sliding glass door. By using a curved glass and base system the effective inside space of an alcove in line type shower is increased by 4" at its widest point – making the shower area more spacious. If a hinged door (pivoting function) is desired there is also a "Roman half curved" acrylic base in a 60" x 36" size which will enhance an alcove space.
What questions or experiences do you have with different shapes, styles and shower base systems? Please comment below.
If you're looking for more information or an estimate on remodeling a bathroom or nationwide supply (877-668-5888) for a shower enclosure and base system email or call The Bath Doctor of Cleveland, Columbus  Cleveland Design & Remodeling (216-658-1270).
---
Mike Foti
President of Innovate Building Solutions a nationwide supplier and regional (Cleveland and Columbus) remodeling contractors. Some of our product lines include glass counters, floors, backsplashes, glass blocks and grout free shower and tub wall panels
---