Understanding Vinyl Replacement Windows & Glass Block Window U and R Values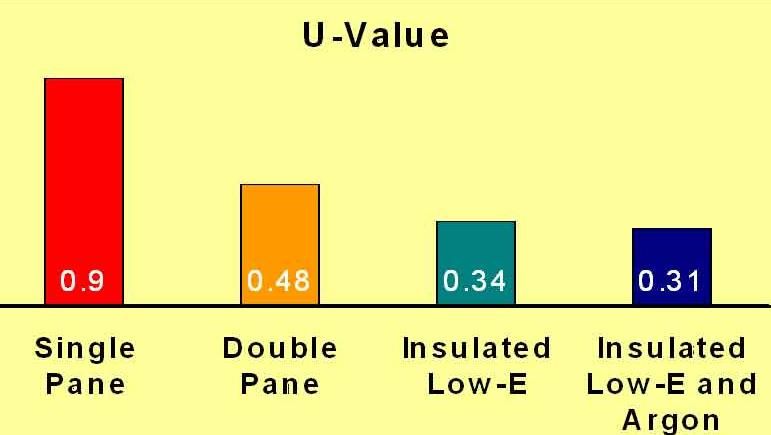 Choosing the best vinyl replacement windows or glass block windows can be tough. Not only do you want to consider their looks, function and cost it's also crucial to know how energy efficient the windows will be. While many people focus in on looks and initial purchase price often the homeowner can make the best long term choice by focusing in on a windows' energy efficiency as well (it's estimated that anywhere from 20 to 30% of all home energy is lost through windows and doors).
In the article below we'll provide some of the basics to understanding how to evaluate window energy efficiencies and what types of window systems can be used to lower future home utility costs and make a home more light filled and comfortable.
Evaluating Window Energy Efficiency – U & R values
The most common statistics used when comparing energy ratings across various products (whether they be windows, doors, roofing, walls etc.) are "U" and "R" values. When comparing windows & door a "U" value is used most often. "U" values are the measure of heat conductance (the lower the U value the better). For roofs and wall cavities an "R" value is generally used. The "R" value is the measure of heat flow resistance (the higher the R value the better). If you like math a U value =(1/R value) – the U value is the inverse of the R value.
How can a replacement window's U value be improved? 
Fortunately window technology has greatly improved – so it is now possible to have large expanses of windows and still have an energy efficient home. Here are ways to lower utility bills and make a home more comfortable with a new replacement window:
Replace single pane windows with

double pane windows

– A single pane window can have U values ranging from .9 to .98 (basically they are the worst performing window). Even a standard window with double pane glass will vastly improve performance (a standard clear insulated glass unit has a .49 U value).
Replace windows with rusted or rotten frames with frameless glass block windows – Glass blocks are durable, offer high privacy, vastly improve security and can be mortared into masonry foundations or installed in upper floor bathrooms and garages. Depending on the style and thickness of glass block chosen their U rating can range between .57 (for a 3 1/8" thick glass block) to a .30 with the newest energy efficient window system.
Use a

low E glass

and

argon gas

window system– Low e (or low emissivity) glass is a process of applying multiple layers of an undetectable metal coating to the surface of the glass to block out solar energy in the summer while retaining furnace heat and allowing warm solar rays in the winter. Argon gas is a colorless, odorless and safe gas that is heavier than air. When the air between the two window panes is replaced with argon the window will be more efficient and also provides a sound barrier as well. This window option is usually only about 10% more costly than a standard double pane window but can improve (i.e. lower) the U value to .36 to .31  (offering a 36% – 58% efficiency improvement for only 10% more in initial purchase cost).  
Don't just focus on the window, focus also on the installation methods– While a windows' efficiency is important the method and materials used around the window can either add or take away from the project. A good installation method is to use a closed cell expanded polystyrene foam with an R 15 insulation value around the perimeter of the window.
Did this article help you to better understand more about window efficiencies and what to look for? Please comment below.
If you need help with a vinyl replacement or glass block windows or a free estimate for a window or door project visit Cleveland Window (216-531-4118) or Clear Choice Window & Door in Columbus (614-545-6885) or Cincinnati (513-744-2184) – divisions of Innovate Building Solutions.
---
Mike Foti
President of Innovate Building Solutions a nationwide supplier and regional (Cleveland and Columbus) remodeling contractors. Some of our product lines include glass counters, floors, backsplashes, glass blocks and grout free shower and tub wall panels
---