How to Compare Bathtub Liner Installation Methods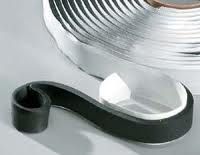 If you're looking to improve an old steel or cast iron tub with a bathtub liner you may have heard that there are two installation methods being used which are (1) two sided butyl tape and (2)  liquid adhesive system that creates a hard surface between the liner and the existing tub. Read below the answer to the three frequently asked questions to evaluate these two installation methods.
FAQ 1 – Which of these two systems is used the most and why? The butyl tape system is used by all companies in the bath tub liner industry except one national franchise (which uses the two part adhesive approach). Butyl tape is by far the most popular because of its ability to stop water from getting into surfaces (it is actually used in the roofing industry to protect against leaks) and it is safe for anyone (including small kids) that might come into contact with it.
FAQ 2 – Is it better to have a rock solid surface under a bath liner or to have a flexible system that allows for some movement? While at first thought the rock solid surface may sound good it is actually better to have a flexible system like the one provided by the butyl tape because it allows for expansion and contraction – which is important in a bathroom spaces which are subject to a good amount of moisture. A hard surface does not have this flexibility which could lead to a tub liner cracking.
FAQ 3 – How are these two systems used and applied at the project site?
       The two part chemical adhesive system is mixed at the job site. Since it's a flammable chemical material care should be taken to not mix the materials near pets or small children. The liquid adhesive is then poured between the liner and the overflow drain (care needs to be taken to not get this liquid down the drain because it will harden and could cause damage). Water bags are then placed inside the liner to move the material to fill in the spaces under the liner. With this system it is not possible for a homeowner to see how much adhesive is actually used under the tub.
       The butyl tape system is applied to the bottom of the tub by rolling out the two sided tape material onto the existing cast iron or steel tub (note: the amount of butyl used is clearly visible during the installation process). The butyl tape is safe for anyone (including kids) who might touch it. The new bath tub liner is then placed on top of the old tub.
Do you have any questions or experiences with these two bathtub liner installation methods? Please comment below.
If you're looking for more information or an estimate to install a bathtub liner visit The Bath Doctor of Cleveland (216-531-6085), Columbus (614-252-7294), Cincinnati (513-742-6679) or Dayton (937-299-3822) – divisions of Innovate Building Solutions.
---
Mike Foti
President of Innovate Building Solutions a nationwide supplier and regional (Cleveland and Columbus) remodeling contractors. Some of our product lines include glass counters, floors, backsplashes, glass blocks and grout free shower and tub wall panels
---