How to finish the top of a glass block wall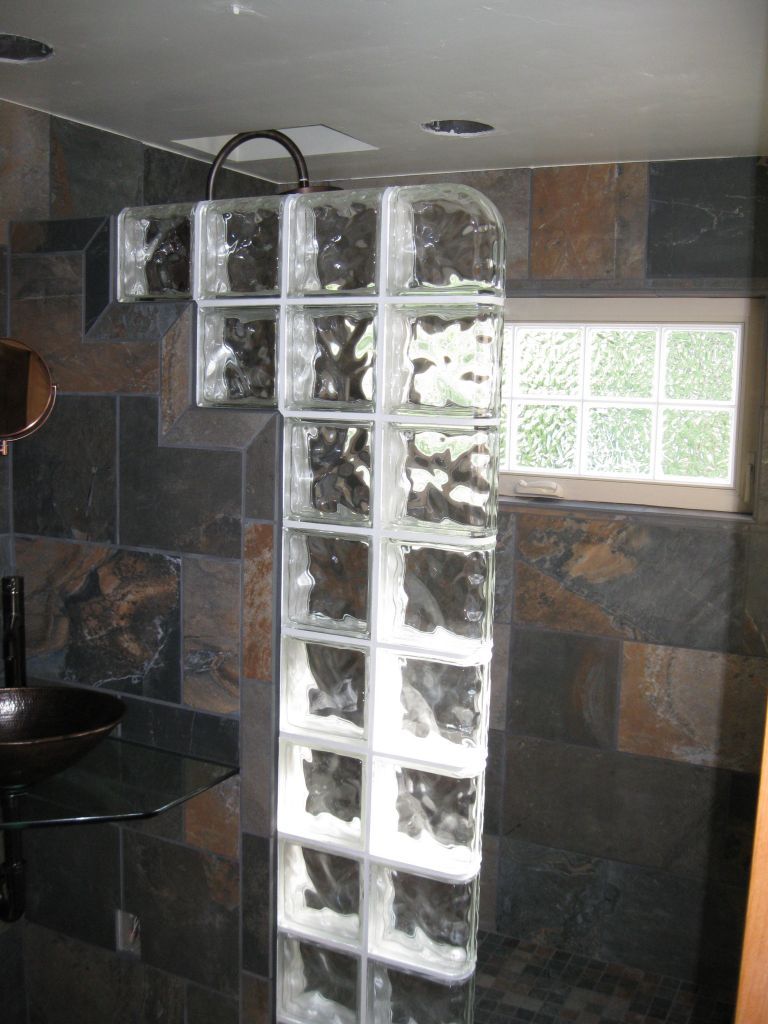 Glass block shower wall that used finished end blocks on the top & sides of wall
A recurring question for people who want to build a glass block wall is how to finish the top of the wall. Similar to the answer to most questions is it all depends. Learn below the most common options to finish the top of a glass block wall (whether it is used as a partition or conference wall or shower enclosure) and what factors you should consider when choosing the best option for your project.
5 common ways to finish the top of a glass block wall
Listed below are the 5 most common ways to finish the top of this type of wall:
Finished glass blocks – Finishing end and double ended glass blocks are an excellent choice to create a polished look on the top of the wall. These blocks are only available in 8" size increments (for straight – not curved or angled glass blocks) which can sometimes limit the flexibility on where you can use these units.
Solid surface materials – Especially in shower or bathroom applications solid surface materials like Corian, granite, Silestone etc. are excellent ways to compliment the shower space and provide the necessary protection for areas that are damp and wet. If you cut these solid surface materials 5" to 7" wide you also will have space to put plants, nick nacks or store shampoo and other

shower accessories

.
Glass tiles (also called style caps) – There are glass tiles which are specifically made to go over glass blocks that can be adhered with grout or construction adhesive.
Grout – Simply grouting over the blocks can be a cost effective way to finish the top of a block. This method works well especially when the top of the wall is not visible (such as in the case of a

glass block shower

wall that is 80" tall or greater).
A wood cap for the top – Wood is simple to cut and adhere to the blocks and can be a nice compliment in residential or

commercial partition wall

that use glass blocks to separate two spaces. The obvious drawback of wood is it is not suitable for wet areas like showers and bathrooms.
What factors to consider in choosing the best finishing option
The 4 questions below will help to guide you to the best selection of a finishing option for your wall:
Where is your wall located? If your wall is in a wet space the finished glass blocks, solid surface materials, glass tiles or grout options will work best (wood in a wet space is not a good idea). If the wall is a partition between areas that don't get wet a wood cap will also work fine.
How high is the wall? If the wall is lower than 80" the grout option is usually not preferred because a grouted top isn't that visually appealing.
What is your budget? If you've got a tighter budget the wood and grout options will be the cheapest. The glass tile blocks are pretty cost effective. The most expensive options will be the glass block finishing blocks and the solid surface caps.
What is the length of the wall? Can it be designed in 8" increments? In the case of wood, solid surface, glass tile blocks and grout the wall can be any length – but in the case of the glass block finishing units you'll need to work in 8" sizes because these units are only manufactured in this size.
Do you have any additional questions about determining the right finishing materials for a glass block wall? Please comment below.
To learn more about glass block wall designs or get a free consultation visit or call Innovate Building Solutions on a nationwide basis (877-668-5888) or for a local project their divisions including Columbus Glass Block (614-252-5888), Cleveland Glass Block (216-531-6363) or Mid America Glass Block (513-742-5900) of Cincinnati or Dayton.
If you're a remodeler or builder and want practical advice on remodeling products, industry trends, marketing and sales tips to grow your business (and cut day to day hassles), start reading my newest blog – Innovate Builders Blog. It's packed with ideas you can use now. Click here to Sign Up for the Innovate Builders Blog.
---
Mike Foti
President of Innovate Building Solutions a nationwide supplier and regional (Cleveland and Columbus) remodeling contractors. Some of our product lines include glass counters, floors, backsplashes, glass blocks and grout free shower and tub wall panels
---