Sliding Shower or Tub Doors – Advantages, Disadvantages and Product Options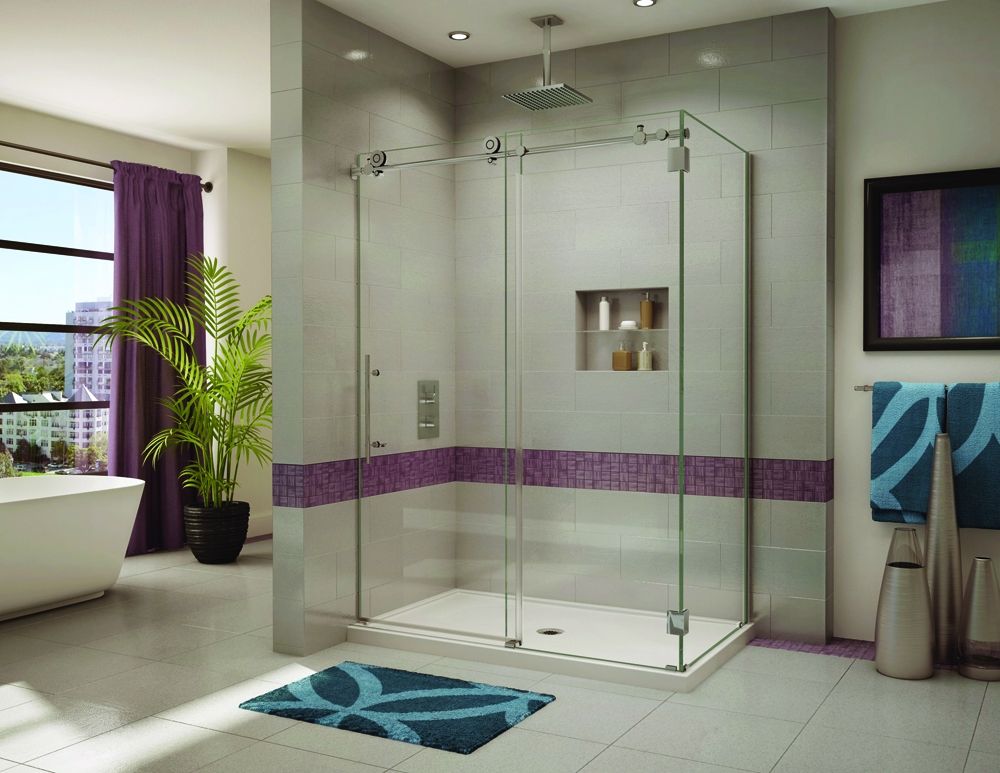 When you're thinking about remodeling a bathroom and need a new shower enclosure you'll find many options in doors. The most common are sliding doors, pivot doors and no door at all (also known as a walk in shower). In this article learn what a sliding (or bypass) door is, it's advantages, disadvantages and options.
What is a sliding bypass shower door? – Sliding doors are simply those that move from side to side. Some of these doors will have a track at the bottom and others do not.
Advantages
Efficient use of space & good in small bathrooms – Because this type of door does not open out into the bathroom it provides an efficient use of space – especially if you've got a small bath.
Provides access to both sides of the tub or shower – Since there are 2 doors that move it can make it easier (than a pivot door) to turn on the water to get it warm without having to step into the stall or tub.
Easy to operate – since these doors slide from side to side they are easy to work – this can be helpful for a universal design shower.
Disadvantages
Tracks at the bottom can be a pain to clean – If you choose a framed bypass system the tracks the door moves in can be a collector of hair, shampoo and other nasty things associated with a bathing or showering.
Provides a smaller entry area than a pivoting door – Since the doors slide into each other the space to get into the enclosure is usually smaller than a hinged door or a shower or tub screen.
Door options – The options are many. Choose from framed (usually the least cost), semi-frameless to completely frameless (this is for luxury high end bathrooms and will be the most expensive). If you want more privacy select an obscure glass pattern– if you want to show off cool tile or marble designs the clear glass is the way to go.
Glass thickness will range from ¼" (generally in a framed design) up to ½" thickness in a frameless door (this is the priciest unit and will feel sturdier than the thinner options). What can also be really neat is to select a sliding curved glass door – this will provide more space and will create a unique style as well.
The quality and cost of the sliding door hardware can vary. For people looking for state of the art design and ease of operation Fleurco makes frameless designed sliding door systems with 3 wheel rollers that glide with the push of a finger! Selections of door hardware include oil rubbed bronze, bright chrome, brushed stainless, polished & brush nickel.
Base options – Whether you are looking to do a tub to shower conversion, a small corner shower or a large luxury enclosure there are many choices in the shape of the shower bases. Some of these include the basic square and rectangular designs – but for more style consider a "bowfront" curved base, slice, round, half-round or arc shower base designs.
Do you have any questions or experience with sliding bypass shower or tub doors? Please comment below.
If you're looking for more information or an estimate to install a sliding door or shower stall visit The Bath Doctor of Cleveland (216-531-6085) or Columbus (614-252-7294).For nationwide direct product sales call Innovate Building Solutions (877-668-5888). For complete bathroom remodeling contact Cleveland Design & Remodeling (216-658-1270).
---
Mike Foti
President of Innovate Building Solutions a nationwide supplier and regional (Cleveland and Columbus) remodeling contractors. Some of our product lines include glass counters, floors, backsplashes, glass blocks and grout free shower and tub wall panels
---