5 Glass Block Window, Shower & Wall Design Trends & Ideas for 2013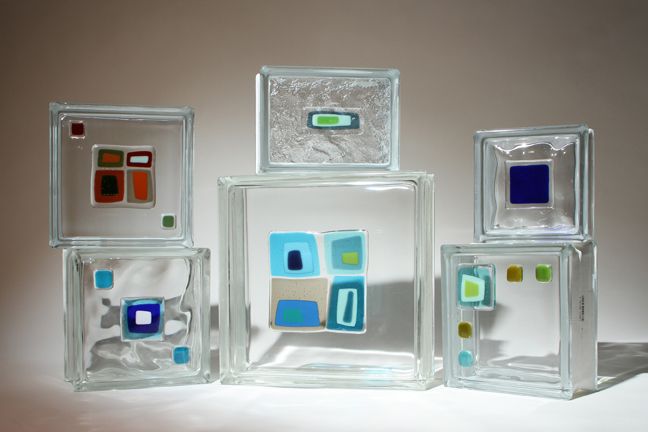 Glass blocks are a building material that has stood the test of time – but like many building materials it is evolving in new & exciting ways. Read below how 5 new glass block products are tying into the design, needs and market trends for consumers and businesses in 2013.
Product #1  & Market Trend – The Protect All Glass Block Window for improved security – Unfortunately the need for security is not going away in 2013 (we have too many examples like Columbine and Sandy Hook Elementary School to keep us on guard in this country!). For years glass block windows have been used in basements, bathrooms, garages and commercial buildings for just this purpose. There is now a new window fabrication system using vinyl spacers that not only provides the maximum protection to secure a home or building – but it also offers a higher level of protection against water intrusion. This product has already begun to take off in markets like Cleveland, Columbus and Cincinnati for just these reasons.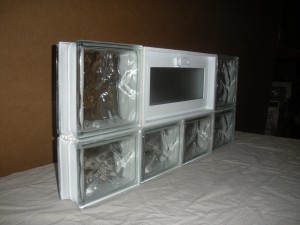 Product #2 & Market Trend – Glass tile blocks for unique style and ease of cleaning – In kitchen and bathroom remodeling the use of glass tiles has been on the rise because they provide a sleek contemporary look and are easy to clean. With the introduction of glass tile blocks a person can combine both of these cool materials into one wall, kitchen backsplash or window. Through a unique process these artist created glass tiles are fused to the glass blocks to move light through a space and offer a one of a kind look. This will be a hot product in 2013.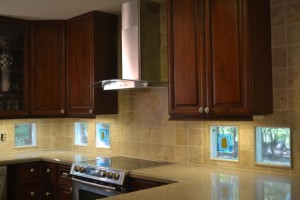 Product #3 & Market Trend – Thinner shaped glass blocks for lower cost & less weight – Many people are going to start 2013 by going to the health clubs to take off the holiday weight– well glass blocks also have gone on a diet (and this diet will not only create a lighter product it will also save money!). An exciting new introduction has just taken place. Mulia Inc. has introduced thinner glass blocks for shower, wall and bar projects. These new thinner shapes are available in obscure and clear patterns and allow an interior designer or homeowner to use graceful curved, angled or finishing glass blocks to make cool shower or partition wall.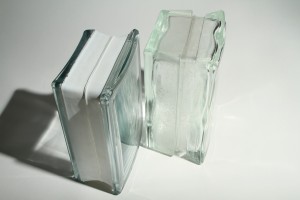 Product #4 & Market Trend – Etched glass blocks for a one of kind style – More and more we're able as consumers to customize our hobbies and homes to our own desires (just look at the ability to custom organize your music through sites like Pandora or Slacker as an example). Building materials like glass blocks are undergoing the same evolution. Now it's possible to put a custom etched mural into a glass blocks for a window, shower or wall.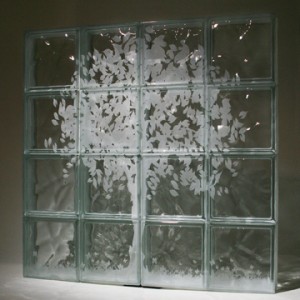 Product #5 & Market Trend – Colored & frosted glass blocks to create a relaxing or vibrant color scheme – Every new year interior designers are looking at what the hot new Pantone (the standardized color matching system) will be – style and color are certainly joined at the hip! For many years in the United States glass blocks were only available in clear glass units – well this is certainly not the case today. With over 104 different frosted and colored glass blocks it's possible to create a glass transmitting wall or window with a splash of color. The use of these products (which grew greatly in 2012) is predicted to be hot in 2013 as well.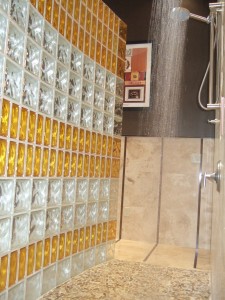 What do you think about these 5 glass block product trends and ideas? Please comment below.
###
To learn more about the 5 new product ideas or get a free estimate on a glass block project visit or call Innovate Building Solutions on a nationwide basis (877-668-5888) or for a local project their divisions including Columbus Glass Block (614-252-5888), Cleveland Glass Block (216-531-6363), West Side Glass Block (216-398-1020) or Mid America Glass Block (513-742-5900) of Cincinnati or Dayton and Akron (330-633-2900).
---
Mike Foti
President of Innovate Building Solutions a nationwide supplier and regional (Cleveland and Columbus) remodeling contractors. Some of our product lines include glass counters, floors, backsplashes, glass blocks and grout free shower and tub wall panels
---