Using a Shower Screen to Create a Sleek European Design with Improved Function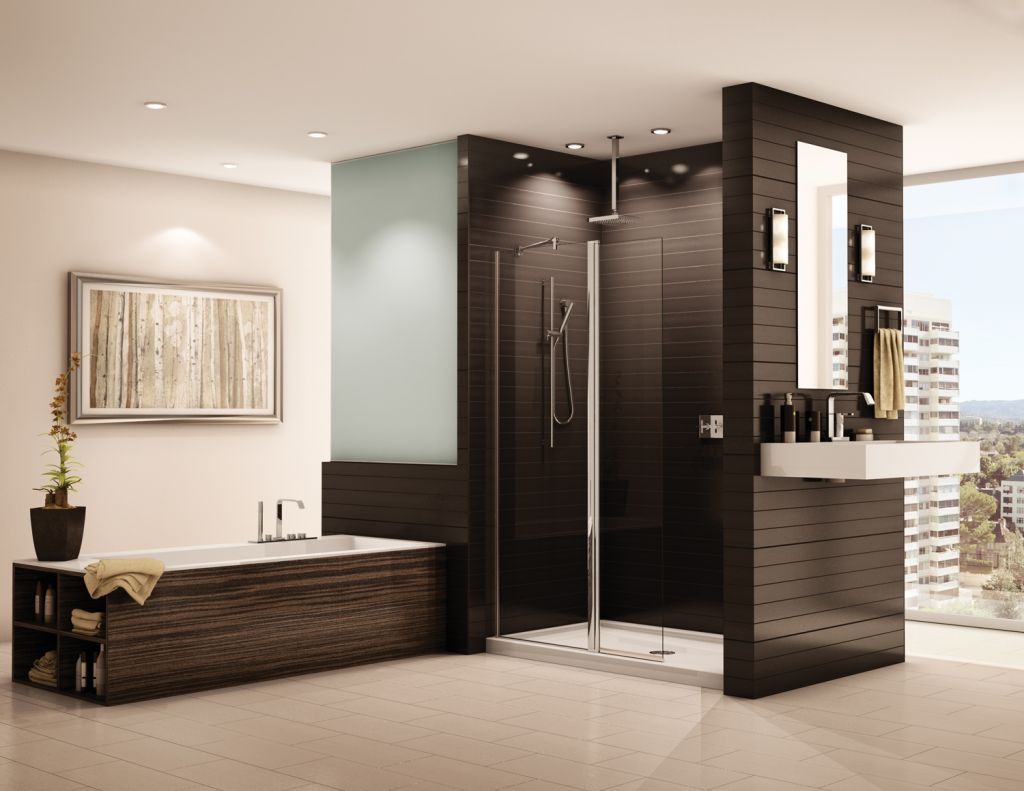 Contemporary sleek shower enclosures are in. So if you're climbing into a bathtub with a nasty curtain or framed sliding glass doors it may be time to consider a shower screen to create a bathroom that fits today's styles. Learn below what a shower screen is, the advantages of this type of glass enclosure, where you can use this product and also the various options to select from.
What is a shower screen (also called a shower shield) – A shower screen is a large section(s) of glass with hinges for a pivoting shower door operation. The pivot section allows it to open inside and outside of the enclosure space. These doors have a minimalist contemporary look and are available in frameless designs for easy cleaning. This pivoting screen creates a walk in shower environment.
Advantages
This product has several advantages over standard shower stalls with curtains or glass sliding doors:
Easy to get into – Since there is no bottom track it is easier to get into an enclosure using a shower screen (because there is a larger opening space). This makes the space safer for people of any ages.
Doors that pivot – These doors move in and out of the enclosure using pivoting hinges. This feature helps to minimize water on the bathroom floor.
Clean contemporary European shower design – The look in showers today is sleek and contemporary and this product provides a look consistent with a modern style.
Cleaning is easy – Many stand up stall showers have framed doors with tracks at the bottom which are a pain to clean with their tracks that capture shampoo, hair and other nasty bathroom materials. With a shower shield there is no bottom track – so cleaning a shower is much easier.
Better safety with improved light transmission – Many showers use curtains which block the light – a shower screen maximizes light transmission making it safer for people whose eyes may not function as well as they'd like.
You won't feel closed in – Since a shower screen has an opening at the end it creates a walk in shower – which makes the space feel more open.
Where to use a shower screen – The product can be used for a one sided (alcove), two sided (generally used as a corner shower) or 3 sided design in any size bathroom. A shower shield will be chosen when you want the combination of a walk in design with the additional flexibility of a pivoting door. From a style standpoint screens can fit any design from traditional to contemporary and all styles in between.
Product Options – These units are available in square and round top designs and 4 different hardware styles in a frameless door design. The glass thicknesses can range from ¼" to 3/8" thick in both clear and obscure (called mist) designs.
What do you think about using a shower screen or shield in your bathroom in place of curtains or a standard stand up shower? Do you have any questions about them? Please comment below.
If you're looking for more information or an estimate to install a shower screen visit The Bath Doctor of Cleveland (216-531-6085) or Columbus (614-252-7294).For nationwide direct product sales call Innovate Building Solutions (877-668-5888). For complete bathroom remodeling contact Cleveland Design & Remodeling (216-658-1270).
---
Mike Foti
President of Innovate Building Solutions a nationwide supplier and regional (Cleveland and Columbus) remodeling contractors. Some of our product lines include glass counters, floors, backsplashes, glass blocks and grout free shower and tub wall panels
---