Cathedral Style Colored Glass Block Windows Create a Dramatic Viewing Area for the Art Work of Josiah McElheny at OSU Wexner Center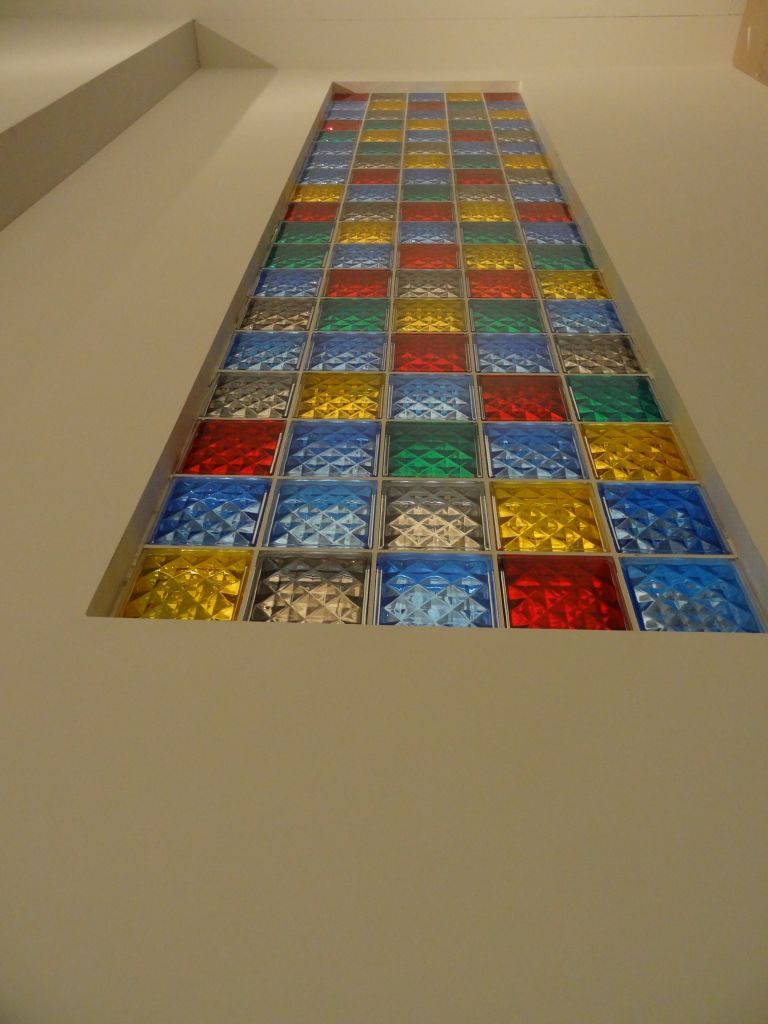 What do you get when you combine cathedral style colored glass block windows with the modernist utopia artwork of renowned artist Josiah McElheny? You get a really cool exhibit that will inspire and dazzle the senses. Starting on Sunday January 27th through Sunday April 7 2013 at the Ohio State University Wexner Center you can check out really interesting sculptures, films and projects in a viewing area filled with color created by decorative glass blocks.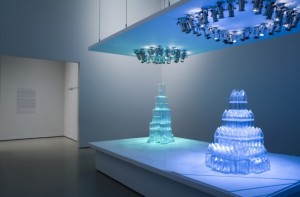 Learn more below about this important art gallery showing and the color glass blocks used in the project below.
The Work of Josiah McElheny at the OSU Wexner Center Exhibit
If you're unfamiliar with Josiah McElheny his work combines glass with other materials to visualize complex concepts. He is the recipient of the MacArthur Foundation Fellowship – which is also called the "genius" grant.
The exhibit at the Wexner Center provides a dramatic display of sights and sounds. The highlight of the exhibit will be McElheny's most recent film called The Light Club of Vizcaya: A Women's Picture (2012) which is a version of a 1912 novella called The Light Club of Batavia. The display will also feature classic abstract films (Three Screens for Looking at Abstraction) that are projected on mirrored sculptured pieces.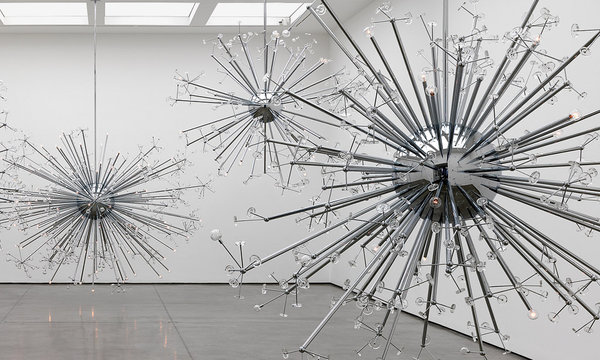 If you're a fan of large scaled sculptures that combine a modern architectural style you'll see dramatic colored glass pieces and some performance based pieces as well.  
How the Venue has been enhanced with Colored Glass Blocks
The goal of this exhibit was to create a color and light filled space that would evoke the feeling of cathedral windows. To accomplish this objective diamond shaped colored glass blocks in a kaleidoscope of colors (including amber, cranberry, emerald, evening sky, smoke and storm) were selected. The glass blocks were prefabricated into sections by Columbus Glass Block and installed inside the stark white walls to literally pop out from the walls and fill the enclosed art viewing area with colored light. It's truly a magnificent site and adds to the dramatic works of Josiah McElheny.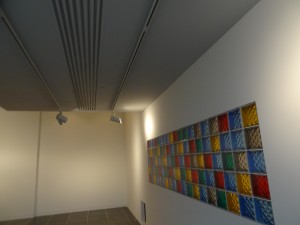 What do you think about some of the art work of Josiah McElheny shown in this article? Do you like the use of color glass blocks to enhance the space? Please comment below.
###
To learn more about colored glass blocks for any type of project (whether it be an art gallery, commercial building or residential home for a window or shower wall) visit or call Innovate Building Solutions on a nationwide basis (877-668-5888) or for a local assistance their divisions including Columbus Glass Block (614-252-5888), Cleveland Glass Block (216-531-6363), West Side Glass Block (216-398-1020) or Mid America Glass Block (513-742-5900) of Cincinnati or Dayton and Akron (330-633-2900).
---
Mike Foti
President of Innovate Building Solutions a nationwide supplier and regional (Cleveland and Columbus) remodeling contractors. Some of our product lines include glass counters, floors, backsplashes, glass blocks and grout free shower and tub wall panels
---