7 Bathroom Remodeling & Makeover Planning & Budgeting Tips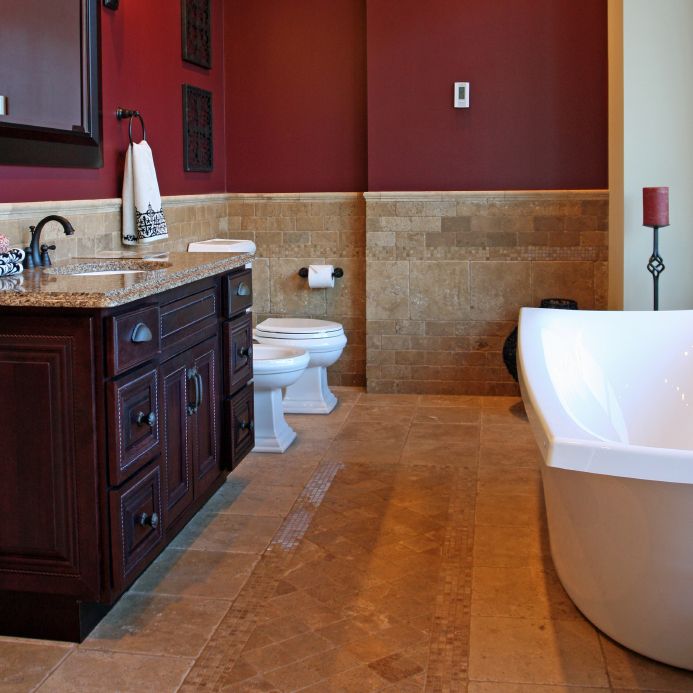 Really cool bathrooms don't happen by magic – they take careful thought, planning and budgeting. Learn below 7 bathroom planning tips to get you going in the right direction and save money in the process.
Tip 1 – Define what you don't like about your current space – The first step in a successful project is thinking through what you don't like about your existing bathroom and how to make it better. Is the area unsafe? Is your bathroom too dark and the fixtures outdated? Do you have a small bathtub (or a giant soaking tub) but would prefer to convert to a larger shower? Does your space seem cluttered and lack storage? Do you have any problems with mold and lack adequate ventilation?
Tip 2 – Focus your product research (or find a contractor or interior designer who can help) – Using the problems you identified in tip 1 look for products that will solve what you don't like. Set up physical or electronic folders by the specific items you may need (for example vanities, toilets, tubs, showers, flooring, wall surrounds, lighting, exhaust fans, safety accessories etc.). Go to sites like www.houzz.com (Houzz) if you're looking for inspiring remodeling ideas.
Tip 3 – Determine if you'll be needing a complete remodel or just a bathroom makeover – A complete bath remodel is much more complicated – it may well involve gutting the space and require skills in multiple construction trades (including plumbing, carpentry, tile setting, HVAC etc). On the other hand a bathroom makeover may simply involve changing out a toilet or vanity, or relining over an existing tub or shower unit. If you're going to DIY this project you'll obviously need far more skills for a full bath remodel than a simply changing out a toilet or adding a vanity.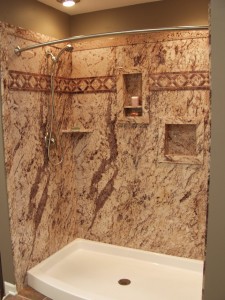 Tip 4 – Identify if you want to DIY or hire a professional – It is certainly possible to do a bath remodel yourself – if you have the skills. Considering that usually 1/3 of the cost is labor the savings can be significant with a DIY bathroom project – but sometimes the perceived savings can be eaten up if products are installed incorrectly and have to be redone. The key is to be realistic about your skill set and also the time you have available. If you're going the DIY route look for nationwide bath remodeling suppliers to save money.
Tip 5 – Research prospective companies- If you look to hire a professional understand that the type of companies that do the bathroom makeovers (like adding wall surrounds, replacing shower bases, installing a bathtub liner etc.) are usually different than full remodeling contractors. Identify which type of company you need so you don't waste any of your time getting the wrong contractor to come to your home.
Go to sites like Angies List, Better Business Bureau and Consumers Choice to identify possible companies – then visit these companies web sites and check out their profiles on sites like Facebook. Look at their Facebook page to see if (and how) they interact with the public. Is this company open and honest? Does it seem from their web sites and Facebook pages they are on top of their industry or behind the times (do they have cool trendsetting products or just the same old same old)? Are they a "one size fits all" company or do they offer multiple options? Do they work on homes of different values or only expensive ones?
Tip 6 – Identify what level of design assistance you need – If you're got a skinny budget don't call out design build remodelers that are focused on upscale renovations. On the other hand if you're looking for a high level of service and style and have the budget you'll most likely want a company that has upper end design capabilities (this is where a complete design build firm excels).
Tip 7 – Have a realistic budget – The cost of bath remodeling can be shocking. In general shower and tub makeover projects will run in the $1,500 to $7,000 range while full bath remodels are more likely in the $10,000 to $35,000 range (excluding very high end projects with expensive finishes). If these costs seems shocking evaluate your capabilities and whether you can save any money by doing it yourself (or waiting until the budget allows you to proceed).
Are these bathroom planning tips helpful to you? Do you have any other tips you'd like to share? Please comment below.
If you're looking to do a bathroom makeover contact The Bath Doctor of Cleveland (216-531-6085) or Columbus (614-252-7294). For complete bathroom remodeling contact Cleveland Design & Remodeling (216-658-1270). For nationwide direct bathroom product sales call Innovate Building Solutions (877-668-5888).
---
Mike Foti
President of Innovate Building Solutions a nationwide supplier and regional (Cleveland and Columbus) remodeling contractors. Some of our product lines include glass counters, floors, backsplashes, glass blocks and grout free shower and tub wall panels
---