Introducing a High End Curved Glass Shower Enclosure for Bathtub to Shower Conversions with a Cost Competitive Price
If you have a small bathtub you'd like to convert to a shower while improving the looks of your space and obtaining a high end look – you need to check out the new Novara curved glass shower enclosure with a "bowfront" style acrylic (or ready for tile) shower base. This unique system combines the low maintenance aspects of an acrylic shower base with the sleek styling of 5/16" thick curved glass with an easy rolling door system that slides smoothly and effortlessly. Learn more about this system below.
The Novara curved glass system – What makes this system so appealing (in addition to it's contemporary style and the 5/16" thickness of the tempered glass) is the curvature of the glass increases the space inside the shower by approximately 5" – even though the shower is still confined to the alcove space previously occupied by the tub. This extra space allows for more comfortable showering and eliminates the need for ugly curtains that can get old and moldy. The clear glass provides the opportunity to show off high end tile, wall or decorative interior wall panels. Since this curved glass is mass produced in a standard size it is much more cost effective than custom made curved and bent glass – so you'll get the style of a custom project without the high price associated with customization!
The Novara shower door hardware options – Sturdy and good looking hardware makes a door operate easily and lasts a long time. The Novara shower door system uses a heavy duty rolling system which is available in chrome, brushed nickel and ultra chrome finishes which can create a high end shower look even in a tiny tub space. These sliding shower doors can be configured to open from either the left or right hand side as well.
A curved acrylic base designed to fit the curved glass shower enclosure – Making a custom base fit a curved shower enclosure can be a coordination challenge for a bathroom remodeling contractor. With the Novara system by Fleurco the construction coordination is eliminated because the system can be supplied with a sturdy fiberglass reinforced acrylic base. This base measures 30 3/16" on each of the sides – but expands to 36" in the center to maximize showering space (a very cool design). It is 60" wide which is equivalent to the width of a standard tub enclosure. Acrylic has the advantages of being warm to step into and is easy to clean.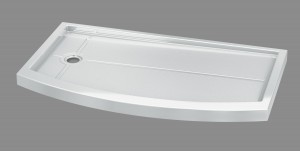 Premade custom ready for tile bases– If you're not a fan of acrylic bases there is also a custom ready for tile base available for this curved bathtub to shower enclosure system as well.
What do you think about this curved glass bath to shower enclosure system? Do you have any questions about them? Please comment below.
If you're looking for more information or an estimate to install this Novara curved glass shower enclosure visit The Bath Doctor of Cleveland (216-531-6085) or Columbus (614-252-7294).For nationwide direct product sales call Innovate Building Solutions (877-668-5888). For complete bathroom remodeling contact Cleveland Design & Remodeling (216-658-1270).
---
Mike Foti
President of Innovate Building Solutions a nationwide supplier and regional (Cleveland and Columbus) remodeling contractors. Some of our product lines include glass counters, floors, backsplashes, glass blocks and grout free shower and tub wall panels
---