Converting a jetted bathtub into a low maintenance high style shower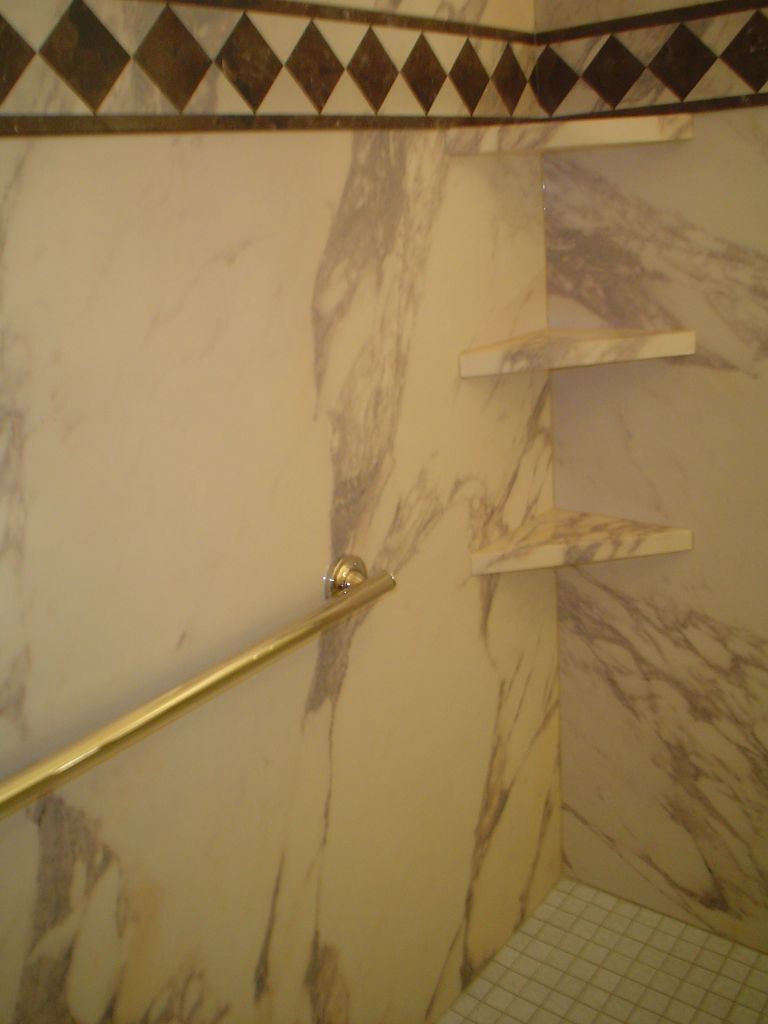 In the 70's and 80's many bathrooms used products like jetted tubs and fiberglass wall surrounds. While jetted tubs might have made sense for that time – these products just aren't a fit with homeowners today who lack the time to take baths. In addition the low cost fiberglass tub surrounds in many homes are beginning to show their age (many have yellowed or cracked) and are hard to keep clean. This is exactly the dilemma that faced the Mockabee family of Cleveland Ohio (who had an existing jetted bathtub/shower surround combination with old fiberglass walls). Learn below how they converted their tub and showering area into a low maintenance, high style and functioning shower.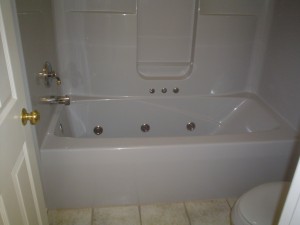 Choosing the right products
It's easy to talk about low maintenance and high style – but the key is choosing the right products. Here are some of the choices the Mockabees' made (through their contractor and supplier –Bath Doctor of Cleveland Ohio) to add style and reduce upkeep:
Decorative Sentrel interior shower wall panels – The Mockabees wanted to add some pizzazz to the space without the hassle of longer term maintenance. To accomplish this objective Sentrel shower wall panels were chosen. These walls use an advanced digital imaging process that is embedded onto a PVC backed waterproof composite material – creating the look of real stone without the cost or maintenance. In this project the Calcutta Gold color was chosen (note: there are over 20 different pattern selections in this line).
Wedi waterproof shower pan and curb – The base underneath the shower is the foundation of the entire project. To ensure a watertight long term solution an extruded polystyrene base from Wedi Corp was used.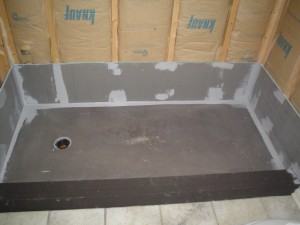 Wolverine anti-scald shower valve – Shower valves (the operating component inside the shower wall) are not a sexy thing that can be seen – but it is an important selection for the long term safety and function of a shower. The anti-scald function chosen to provide a high level of safety.
Increasing storage, function, and safety
Remodeling a bathroom is the right time to make the space (even if it is small) really work for all members of the family. Steve Vlk (the Project Manager with Bath Doctor) explained, "In this project the Mockabees used a total of 6 corner shelves (3 in the front of the shower and 3 in the back) which allow them ample storage for soaps and shampoo. A hand held shower was installed (in addition to the stationary shower head) to make showering and clean up easier. Finally decorative Moen grab bars where added to make it safer to get into the space.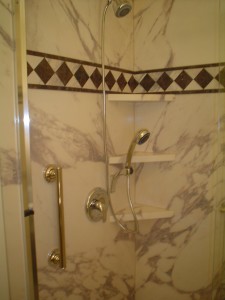 What do you think about the Mockabees conversion of the jetted tub and fiberglass walls to a new shower? Do you have any questions about the products chosen? Please comment below.
If you're looking for more information or an estimate converting a tub into a shower project visit or call The Bath Doctor of Cleveland (216-531-6085) or Columbus (614-252-7294).For nationwide direct product sales call Innovate Building Solutions (877-668-5888). For complete bathroom remodeling contact Cleveland Design & Remodeling (216-658-1270).
---
Mike Foti
President of Innovate Building Solutions a nationwide supplier and regional (Cleveland and Columbus) remodeling contractors. Some of our product lines include glass counters, floors, backsplashes, glass blocks and grout free shower and tub wall panels
---