How to use a colored glass block partition and shower walls to dress up a condo remodeling project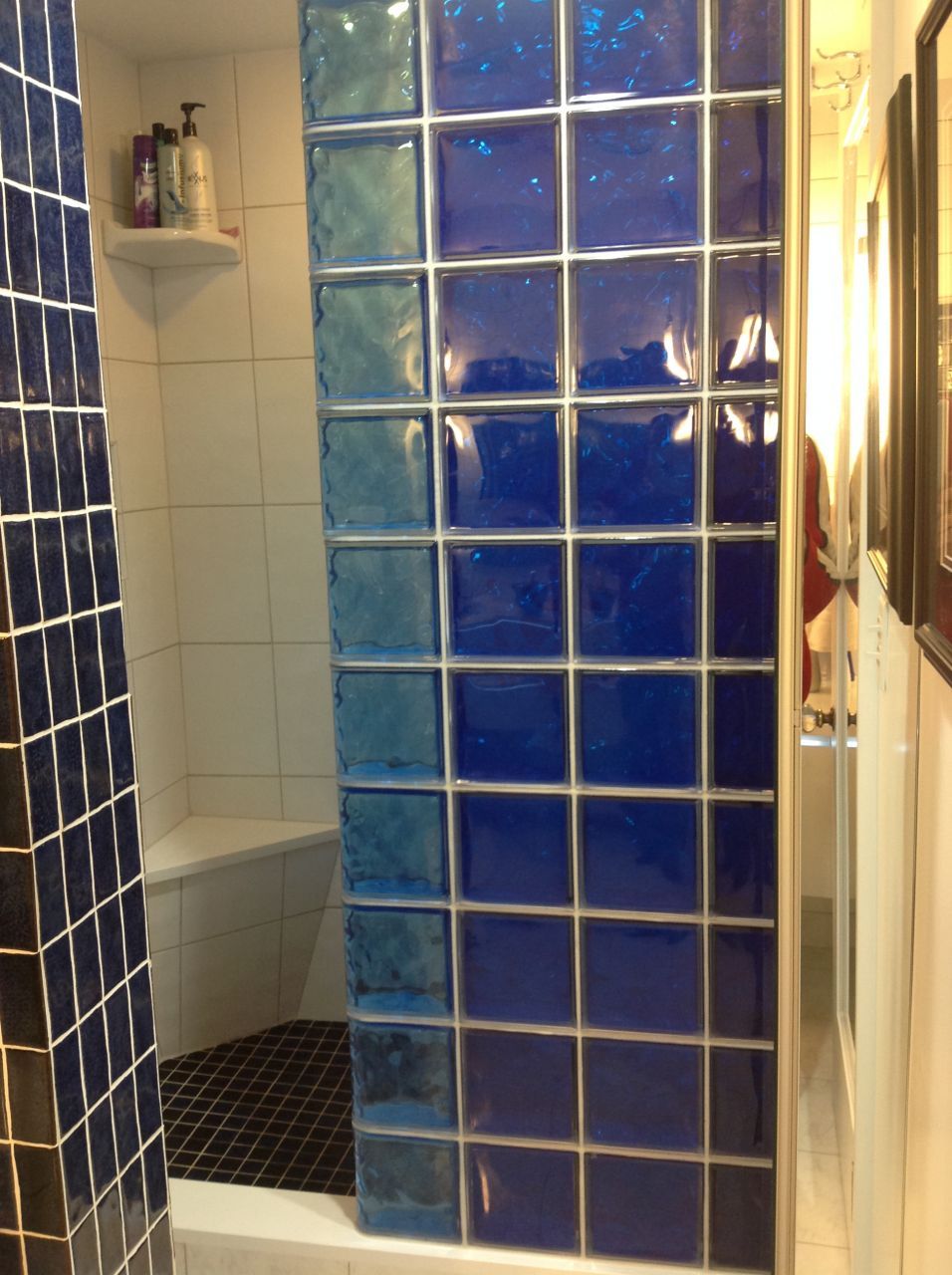 Striped colored glass block walk in shower wall
Why settle for a boring bath remodel project for your condo? This was certainly not going to be the case when Erna Hammer of Cleveland Heights Ohio decided to venture into doing 2 bath remodeling projects before moving into her condo in an older vintage style complex. As Erna said, "I really like bright colors, and the retro look of the glass blocks really connects with me. So the idea of using colored glass blocks for a walk in shower (for the full bath) and for a separator wall (for the half bath) really made sense to me!"
Learn below how Erna (with the help of Jeff Merrell, John Fronek, Steve Vlk and Jon Exton of Cleveland Design and Remodeling) used the colored glass block system from Innovate Building Solutions to create pop and a dramatic look for her two bathrooms.
The full bathroom – converting an old fiberglass tub/shower into a clean, fun retro shower
 The existing fiberglass bathtub/shower enclosure in Erna's space was outdated, discolored and the framed sliding glass doors were not nice to look at either.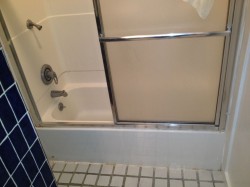 To open up the space and add some fun a colored glass block shower wall with a striped array of cobalt, sapphire, and "storm" colors was used.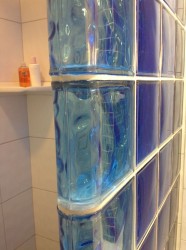 This wall was built with easier to install prefabricated sections with a durable vinyl stacking system. To minimize maintenance and add more sparkle the Starglass brand of urethane grout was chosen .
The half bath – there is no "separation anxiety" in this wall!
 The existing condo Erna recently purchased only had one full bathroom which caused her to want to add a half bath to make the space more useable when family and guests come to visit. This thought lead her to the idea to convert a 3' x 6' closet into a half bath. While this idea is not unique the challenge was how to make this small space both fun and functional.
Enter the checkerboard pattern glass block partition wall. This wall which used a thinner (3 1/8" thick) glass blocks in an aquamarine and "waves" colors creates a visual separation between the toilet and pedestal sink without the anxiety of creating a closed in feeling. Fun and functional do not need to be mutually exclusive!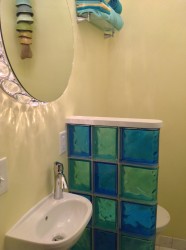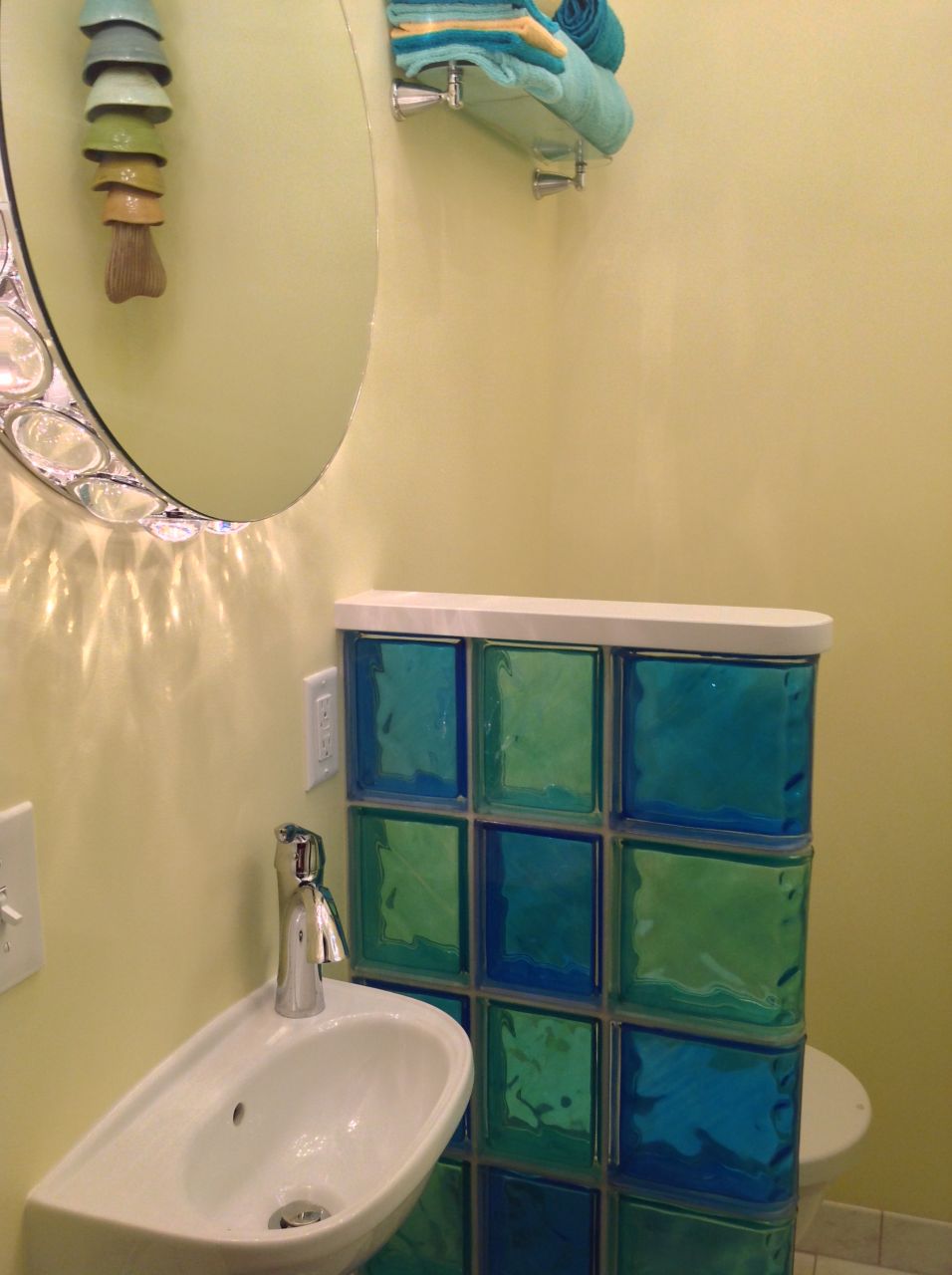 What do you think of Erna's use of colored glass blocks for the walk in shower and partition walls? Please comment below or call with questions.
###
To learn more about colored glass block partition or shower walls or get a free estimate on a glass block visit or call Innovate Building Solutions on a nationwide basis (877-668-5888) or for a local project their divisions including Columbus Glass Block (614-252-5888), Cleveland Glass Block (216-531-6363), West Side Glass Block (216-398-1020) or Mid America Glass Block (513-742-5900) of Cincinnati or Dayton and Akron (330-633-2900). If you need full remodeling service contact Cleveland Design and Remodeling (216-658-1270)
---
Mike Foti
President of Innovate Building Solutions a nationwide supplier and regional (Cleveland and Columbus) remodeling contractors. Some of our product lines include glass counters, floors, backsplashes, glass blocks and grout free shower and tub wall panels
---