Repurposing space over a garage leads to a dramatic and open bathroom remodel!
Larger completed bathroom remodel with walk in glass block shower and acrylic pedestal tub
While the house Rick and Lenore Seymour purchased in New Harbor Maine had a nice open 30' x 30' room above a garage which could serve as a "mini apartment" (it had a small kitchen, a small bathroom and a bedroom) – the space simply did not fit the needs and vision for their home. Rick and Lenore had a vision of a larger, contemporary bathroom and a spacious master bedroom.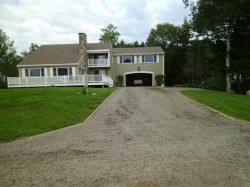 Learn below how Rick and Lenore re-purposed the space and used contemporary bathroom product selections (like a large glass block walk in shower and a stand-alone acrylic tub) to rejuvenate this space.
Removing the bad – demolition Phase – In order to make room for the larger master bathroom a smaller 70 square foot (with a corner soaking tub and toilet) bathroom was removed (note: the original cabinetry and fixtures in the old kitchenette had already been removed).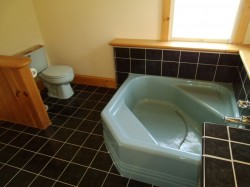 Keeping the good – maximizing natural light – Although Rick and Lenore were doing a good sized remodeling project they did not want to lose the nice amount of natural light – so the decision was made to keep all of the existing windows and the skylights in their original locations.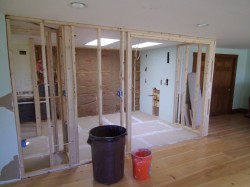 Constructing the new space – framing – The new space was reframed to make one larger open bathroom space of approximately 10' x 20'. With this space Rick and Lenore would have the room to incorporate a large walk in shower, a stand-alone tub and a visually separated toilet/sink area.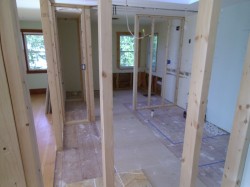 Product Selections – The choice of the right products can not only serve to make a space look great – but can provide a higher level of function as well. Here are 4 key selections Rick made:
Glass block walk in shower–

As Rick said, "An important goal I had for this remodel was to have a walk in shower – and I was able to make this a reality by using a corner glass block enclosure." Working in conjunction with Innovate Building Solutions Rick's shower measured 72" x 48" and used the gently curved "radial" shaped glass blocks from Mulia Inc. To make the shower easy to get into a barrier free entry was included which is 30" wide. This barrier free entry was created using a custom ready for tile shower base which was specifically designed for the glass blocks. A lighter colored pebble rock floor feels nice to stand on and is more attractive to look at than the old black tiles in the previous bathroom.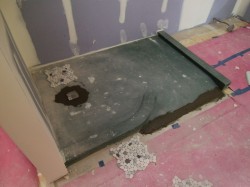 White subway tile shower and bathroom walls – The white subway tile walls create a fresh contemporary look – especially with the light streaming in for the skylights.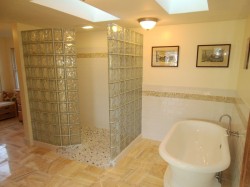 Avon acrylic double ended pedestal tub – One of the big trends in bathroom remodeling in 2014 is the stand-alone pedestal tubs. The tub Rick chose was from Signature Hardware and is made of acrylic with a stylish goose-necked faucet which protrudes 8" out from the wall – quite a stylish look!
Gold polished onyx floor – Rick and Lenore selected 12" x 12" gold onyx floor tiles. The large tile size really creates an open feeling (one word of caution is Rick mentioned these tiles are a little soft to work with).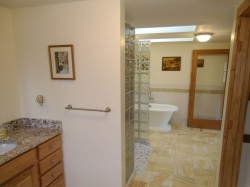 What do you think about Rick and Lenores' space repurposing on to eliminate a small kitchen and bathroom and create a larger open shower space? Are there any products in particular you like the look of? Please comment below or call with questions.
###
To learn more about the glass block walk in shower or get a free estimate on a project visit or call Innovate Building Solutions on a nationwide basis (877-668-5888) or for a local project their divisions including Columbus Glass Block (614-252-5888), Cleveland Glass Block (216-531-6363), West Side Glass Block (216-398-1020) or Mid America Glass Block (513-742-5900) of Cincinnati or Dayton and Akron (330-633-2900).
---
Mike Foti
President of Innovate Building Solutions a nationwide supplier and regional (Cleveland and Columbus) remodeling contractors. Some of our product lines include glass counters, floors, backsplashes, glass blocks and grout free shower and tub wall panels
---